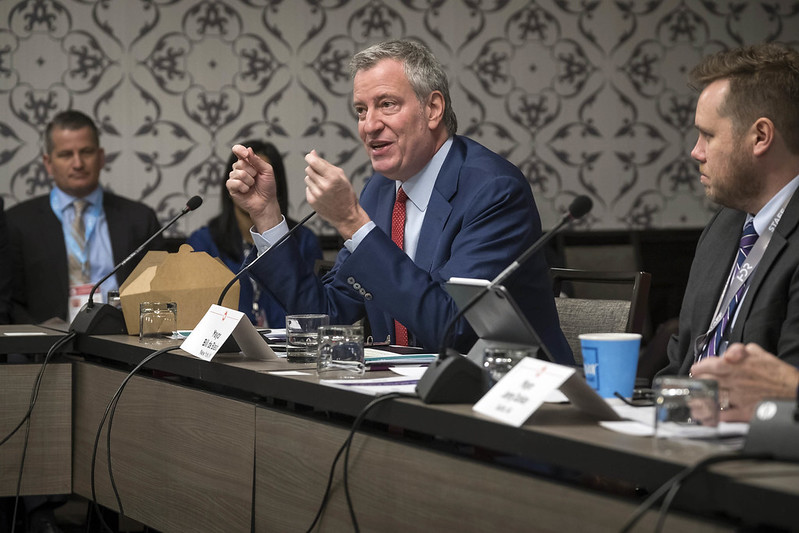 (photo: Ed Reed/Mayoral Photography Office)
---
It's been nearly a year since the New York City Council passed a law allowing elected officials to create 'legal defense trusts' to raise money to pay off legal fees arising from potential criminal or civil investigations. The law was shepherded through at breakneck speed, going from introduction to passage within just six weeks, and its intended immediate beneficiary was Mayor Bill de Blasio, who had accumulated more than $3 million in legal fees from dual investigations into his administration and fundraising practices, $300,000 of which lawyers determined he could not use taxpayer funds to settle given the relevant activity was in political campaigns.
But despite being able to use the new mechanism to raise those funds, the mayor has yet to create such a trust and his legal fees remain unpaid.
De Blasio's fundraising activity in his first term, largely aimed at donors who also had or were seeking to do business with the city, caught the eye of state and federal investigators. Though damning evidence of a pay-to-play culture emerged, both investigations were dropped without any charges filed against the mayor or his associates.
But the mayor's behavior did strike investigators as unethical – Manhattan District Attorney Cy Vance wrote that the mayor violated the "intent and spirit" of the law and then-acting U.S Attorney Joon Kim said, "We have conducted a thorough investigation into several circumstances in which Mayor de Blasio and others acting on his behalf solicited donations from individuals who sought official favors from the city, after which the mayor made or directed inquiries to relevant city agencies on behalf of those donors."
De Blasio hired an outside firm, Kramer Levin Naftalis and Frankel, to defend him and by the time the probes were completed, owed the firm about $3 million in legal fees. After initially saying he would not rely on city funds to pay off the debt, he dispensed with a large part of it that was said to relate to his government work via public funds. The remaining amount, about $300,000, stemmed from activity that was considered nongovernmental.
The mayor intended to create a legal defense fund to raise the requisite money but was advised by the city's Conflicts of Interest Board that he would not be able to solicit any individual donations above $50, the "valuable gift" limit for elected officials under local law. With those limitations, the mayor turned to the City Council, which had its own incentives for passing legislation authorizing legal defense trusts.
Council Members argued that they too at times face investigations related to non-governmental activity that turn up nothing while burying them in legal debt, which was the case for Council Member Deborah Rose of Staten Island, who faced years of legal scrutiny related to her campaign finances that ultimately did not result in any criminal charges.
The legislation passed last year, sponsored by Brooklyn Council Member Stephen Levin, allows elected officials to set up legal defense trusts and receive as much as $5,000 from individual donors. It does come with restrictions, though. Corporations, LLCs, lobbyists, and individuals doing business with the city cannot contribute to such trusts. Each trust must also publicly report its fundraising and expenditure to the COIB every three months.
No legal defense trusts have been created so far, and the COIB's online reporting portal remains empty. Last year, the mayor said he was waiting for the COIB to issue new rules that govern those trusts but he hasn't taken any action even after those rules were created.
In the meantime, as THE CITY reported in May 2019, Kramer Levin has actively lobbied City Hall and the mayor on behalf of clients with city business.
"Nothing has been set up," mayoral spokesperson Freddi Goldstein said in a text message. A voicemail left with Kramer Levin went unanswered.
As mayor, de Blasio has an annual salary of about $254,000. He owns two residential properties in Brooklyn, and received about $108,000 in rental income from them in 2018, according to a Politico NY report, while he resides in Gracie Mansion. Besides the legal debt, he also holds between $1.1 million and 1.25 million in debt from two mortgages and a secured loan, according to his latest required financial disclosure report with the Conflicts of Interest Board.