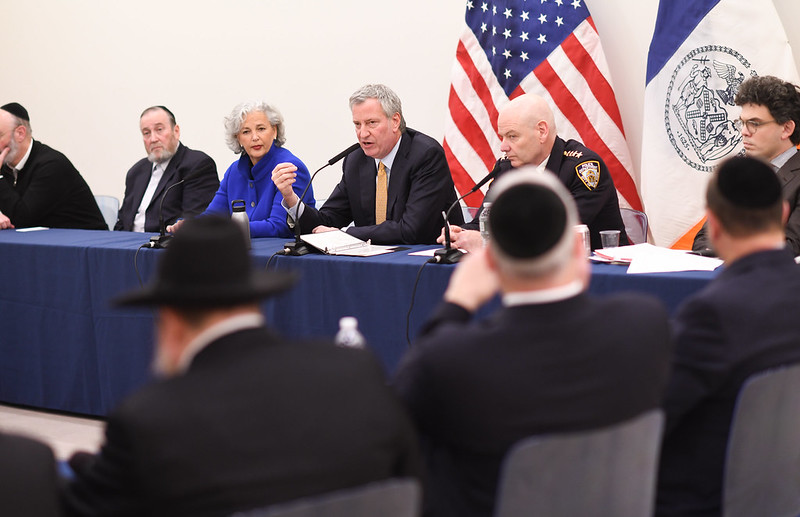 Mayor de Blasio, Deborah Lauter, & others (photo: Michael Appleton/Mayor's Office)
---
The past few years have seen a rise in hate crimes nationwide, and the trend has been the same in New York State and New York City, where the NYPD just reported a 20% increase in hate crimes, most of them anti-Semitic, in 2019 compared to 2018.
There were 428 reported hate crimes in New York City in 2019, 234 of them anti-Semitic, with the vast majority of those incidents of graffiti, including drawn swastikas, according to NYPD data. But there have also been a number of violent physical attacks, both in the city and nearby, particularly on identifiably Jewish New Yorkers in predominantly Jewish neighborhoods. The two most violent recent incidents in the area included the stabbing of five people in a Rabbi's home in Rockland County during Hanukkah celebration, and a mass shooting in Jersey City targeting a Jewish deli where six people were killed, including the two shooters.
The rise in hate crimes, especially against Jews, has led to calls for more government action to both secure predominantly Jewish communities and to root out hate. At times facing criticism for not doing enough or acting quickly to meet the crisis, city and state officials have responded with a variety of measures. Those include greater police presence in certain areas, more security cameras and license plate readers, new school curriculum, neighborhood councils, and more.
Former City Council Member David Greenfield, an Orthodox Jewish leader from Brooklyn and now CEO of Met Council, and Deborah Lauter, executive director of the city's new Office for the Prevention of Hate Crimes, recently joined the Max & Murphy podcast to discuss the rise in hate crimes in New York and what can be and is being done about it.
"The unconscionable crimes we've been seeing, which are murders and attempted murders that we've seen in both New Jersey and in Rockland County, New York, I think that it's something that has everyone concerned and it has really created a tipping point right now where there is a discernible fear within the identifiably Orthodox Jewish community," Greenfield said.
He said that people have been changing their behavior and that women especially have become more hesitant to walk around their neighborhoods alone.
Greenfield said Orthodox Jews and members of identifiably Jewish communities -- like those in Borough Park, Williamsburg, and Crown Heights -- really appreciate an increase in police presence in their neighborhoods.
"I always like to tell folks that Twitter is not real life. A lot of us like to spend time on Twitter and you'll see someone on Twitter be critical. The handful of people who have criticized the increased police presence within the Orthodox Jewish community -- guess what? They don't live in those communities, so I laugh at that," Greenfield said. "People want more police presence, they want more safety, they want more visibility, they want more deterrence and more of an ability for the police to respond quickly to these crimes that are happening."
Both Greenfield and Lauter, appearing consecutively, said that there is not one lone cause of the rise in hate crimes in New York. Lauter said there are "multiple layers that are giving rise to the expression of hate that we haven't seen in a long time."
Some of the factors Lauter referenced included extremist ideology, worsening rhetoric from elected officials, and kids not understanding the severity of their actions. Greenfield cited lack of education, mental health problems, and "good old fashioned" anti-Semitism as some contributing factors.
Therefore, Lauter said, "There's not one way to fight this hate and respond. It's going to take the law enforcement side, it's going to take community relations, and it's going to take education."
"City Council and the mayor said enough of us just coming together and condemning incidents after the fact. Let's do something more long-term and focus on preventative," Lauter said in explaining the creation of her office and the work it has begun. Mayor Bill de Blasio announced Lauter as the Executive Director of a new Office for the Prevention of Hate Crimes in September 2019.
She said the office will soon include six staff members and be working with stakeholders across the city, but that because she was hired at such a crisis point given the explosion in hate crimes, she has been in something of a crisis mode since starting, with limited time for anything but triage.
Lauter explained some of her immediate and long-term plans, including education, use of working groups, and using restorative justice for some of those who commit acts of hate.
"I would like to see us create restorative justice programs that would really educate kids about the consequences of hate and acting out on hate and then potentially have them be peer leaders to others to share what they've learned instead of being a negative force in their communities," Lauter said.
For the first time, she has brought 11 stakeholders, including the Department of Education and the New York Police Department, together to share ideas about how to address hate crimes and identify where there are gaps, she said. They are creating working groups to address different facets of hate crimes and trying to identify models that could create long-term change, Lauter added.
As of January 1, new bail reform laws have gone into effect, eliminating cash bail for many arrests, and the pre-trial detention that often came with it. Where hate crimes fit into the bail-eligible picture and the question of recidivism by those who commit hate crimes have been contentious flash points amid the increase in hate crimes and implementation of the new bail law. A number of officials and others have called for adding certain hate crimes to the bail-eligible list of offenses.
Greenfield is among them. He said this is an important part of the conversation about hate crimes, and that a judge should have the ability to remand someone who is going to get released and commit another violent hate crime "again and again and again."
"When you see someone who gets arrested and should be remanded because of the history of violence towards people of a certain ethnicity, whether they be Jewish, African-American, Spanish, or LGBTQ and that person ends up on the street again. That is frustrating people," Greenfield said, while stressing that he supports bail reform in general.
Like de Blasio, Lauter agrees that there should be judicial discretion in assessing dangerousness of a suspect, but she was cautious about saying that hate crimes have a high rate of recidivism. Lauter said she would like to see the data before making recommendations about how to proceed concerning hate crimes and bail reform.
Meanwhile, education has been part of the conversation on hate crimes as well, though often overshadowed by the policing and enforcement pieces (among other measures he's either proposed or implemented, Governor Andrew Cuomo is calling for a new state "domestic terrorism" statue related to acts of hate). Greenfield said that topics focused on hate and diversity should be integrated into school curriculum, but highlighted how important real-life experiences in partnership with organizations, such as his own, can be to enlighten minds.
"That's the kind of hands-on work where you start to see your neighbors through a different prism that shatters stereotypes that people have," Greenfield said. "When you have these kinds of opportunities where you can work together, to me, that's a lot more powerful than simply getting a lecture in one class once a year on the importance of diversity."
Lauter said her office is also trying to increase educational opportunities for New Yorkers. She cited an example of how New York City Department of Education Chancellor Richard Carranza sent out a list of resources to 150,000 educators in an effort to increase "their commitment to step up their conversations with kids about what's been going on with hate crimes and addressing them."
Lauter added that she and Carranza brought a group of students from Brooklyn to the Museum of Jewish Heritage and announced they will be bringing 14,000 students and providing four free tickets to students families. This will help educate not only students, but their parents, which she believes is "critically, critically important." (Governor Cuomo is proposing state funds to expand the museum and ensure more students are able to visit it.)
"This is not a right wing issue or a left wing issue, its an issue that permeates from every segment of society and it's something we all have to deal with and we all have a responsibility to fight hatred and bigotry no matter where it comes from," Greenfield said. "It's incumbent upon all of us to say, OK, what can we do to make the situation better."
[Listen to the full conversations with Greenfield and Lauter on the Max & Murphy podcast.]