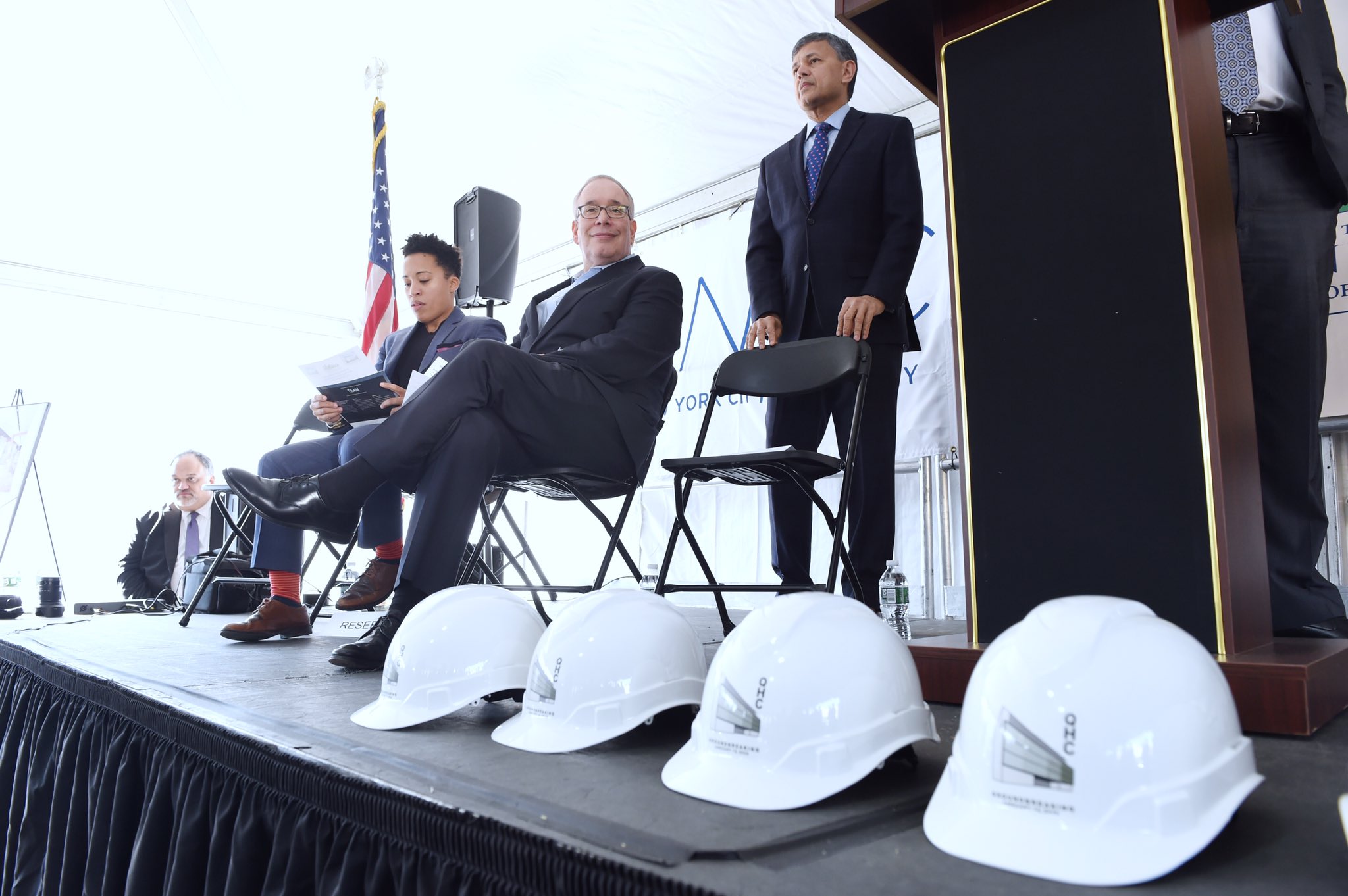 Comptroller Scott Stringer (photo: @NYCComptroller)
---
New York City Comptroller Scott Stringer on Wednesday again took aim at perhaps the most pressing issue facing New Yorkers: housing affordability, and while repeatedly criticizing Mayor Bill de Blasio's approach, unveiled a new plan headlined by a "universal affordable housing" proposal to require income-targeted units in every new development across the five boroughs.
Stringer, a fellow Democrat who hopes to succeed the term-limited de Blasio by winning next year's mayoral election, is also calling for fully using city subsidies to help create new affordable housing for low- and very low-income households, a new nonprofit land bank to better utilize city-owned vacant lots, and ending state-authorized tax abatements that he argues are not spurring enough affordable housing.
The comptroller's overall plan, which also includes a component aimed at increasing home ownership in the city, is dubbed "Housing We Need," and seeks to take a more comprehensive approach, he said, than the current piecemeal efforts that too often involve upzoning communities of color to add housing that accelerates gentrification and keeps the city racially segregated. De Blasio's approach, Stringer has long-argued and reiterated Wednesday, does not utilize city dollars to subsidize enough housing for those who are most rent-burdened, many on the verge of losing their homes.
Universal affordable housing would be a "fundamental shift" in the city's approach, Stringer stressed, more aptly responding to the affordability crisis, and requiring that 25% of all new as-of-right development with ten or more units is set aside for permanent low-income affordable housing. Such an approach may face constitutional questions, given that it would be a requirement added to as-of-right property use, while the city under de Blasio passed Mandatory Inclusionary Housing (MIH) where certain percentages of rent-regulated housing is required when developers are able to take advantage of an upzoning to build bigger or higher.
Stringer criticized MIH and its use, saying de Blasio's approach has "facilitated rezonings in a few cherry-picked neighborhoods and allows developers to build buildings that are bigger and higher than the rules would normally allow in exchange for setting aside 20 to 30 percent of new units as affordable housing," and said that even the affordable units are not affordable enough to existing residents of the impacted communities and "out of reach" for most New Yorkers.
"Our affordable housing programs were meant to be an answer to New Yorkers being priced out of their homes," Stringer said. "They were supposed to yield hundreds of thousands of affordable units. They were supposed to anchor communities against the growing costs of living in this city. Instead, they've reinforced unaffordability. Instead of solving the problem, we've made it worse."
Mayor de Blasio has a different perspective, of course, and believes that his 12-year, 300,000-unit affordable housing plan, which has evolved over the years, is a very sound one, helping to preserve and build rent-regulated housing for people of a variety of income levels, and taking advantage of neighborhood zoning opportunities where local City Council members have been willing to negotiate. De Blasio's office did not return a request for comment on Stringer's speech and plan.
On Wednesday, Stringer made perhaps his most aggressive case yet that de Blasio's housing plans are failing, especially with regard to how well they are attuned to the severity of the affordability crisis for low-income New Yorkers.
"To make sure these units are actually affordable," Stringer explained of his universal affordable housing idea, "they should all be set at an average of 60% of the Area Median Income, or a household income of $58,000 a year for a family of three." To avoid how development has spurred or reinforced segregation, the proposal applies to developments in all neighborhoods "whether it's in the Upper East Side or in East Tremont."
"A framework of Universal Affordable Housing would set a new course for the much-needed integration of all our communities. In requiring affordable housing across all new buildings in all neighborhoods, we're sending a strong and clear message that racial and economic diversity, in every corner of our city, across all zip codes, is paramount," Stringer said.
During his speech, Stringer emphasized eliminating the 421-a tax subsidy program that applies to certain developments in higher-value neighborhoods that include some affordable housing. "It costs taxpayers $1.6 billion a year, but four out of every five dollars actually supports market-rate development," Stringer said Wednesday, speaking at the YM & YWHA of Washington Heights & Inwood in front of a crowd of supporters. "With greater flexibility to tailor benefits, including property tax abatements and capital subsidies, we can steer money to where it's actually needed: to finance permanently affordable units."
A number of affordable housing activists and advocates praised Stringer's plan. "For years, New York City's affordability crisis has spiraled, perpetuated by a status quo that relies on business as usual," Jonathan Westin, Executive Director, New York Communities for Change, said in a statement accompanying the release of Stringer's plan. "Comptroller Stringer's plan upends our broken system that's pricing working people out of our city--and barring them from putting down roots. We can't allow taxpayers to continue to blindly fund the gentrification of our communities that's pushing so many long-time residents out of the neighborhoods they helped build."
Over the last five-plus years since de Blasio released his original Housing New York affordable housing plan, Stringer has been a regular critic. In the last two weeks, his office released an updated analysis showing "that the 'affordable' housing created by the plan is too expensive for at least 435,000 of the city's lowest-income households," and that only a third of newly constructed units in fiscal year 2019 were affordable for extremely low- or very low-income New Yorkers.
In a stark departure from the de Blasio approach, Stringer is proposing that "all of our current housing capital subsidies should be used to build housing for extremely and very low-income families."
The comptroller is also adding to his regular calls to leverage "1,000 vacant lots owned by the city" to provide housing for the city's lowest-income families. The comptroller's office put out a report in 2018 that said the city's Department of Housing Preservation and Development (HPD) is dragging its feet on developing the city-owned vacant lots. In response, HPD said the city is working on developing units, but that many of the lots are small or prone to flooding, which slows down the process and removes many from the buildable list, Curbed reported. Over several years, the city has stressed that it is moving as many publicly-owned vacant lots through the affordable housing pipeline as it can, and as quickly as possible.
In an effort to develop these lots, Stringer proposes creating a non-profit New York City Land Bank to "turn these vacant lots into sites that could generate tens of thousands of permanently affordable housing units for the lowest-income New Yorkers," a plan that Stringer first suggested in 2016. The non-profit would take out long-term leases, which would allow the city to enforce affordability and keep costs low.
While the mayor's office did not respond to requests for comment on Stringer's speech, criticism of de Blasio, and new proposals, a spokesperson for de Blasio recently said in a statement to Gotham Gazette, "We are attacking the affordable housing crisis from all sides – from a record number of affordable homes to free lawyers for tenants facing eviction and rent freezes for the first time in history. In the past year alone, nearly half of all of the homes produced will serve the lowest income New Yorkers, and we will continue pushing to ensure there is housing for those who need it most."
Just after Stringer's speech, the city's Department of Housing Preservation and Development tweeted some crticism of the comptroller, saying, in part, "Comptroller Stringer's proposals would actually worsen New York City's housing crisis. They'd make it next to impossible to build new buildings and lock countless hard-working families out of homes they could actually afford."
Asked recently on WNYC's The Brian Lehrer Show about his approach to neighborhood rezonings, de Blasio said that his administration has often eyed areas of the city with more available land and willing local partners, but also said, "We have to create affordable housing everywhere if we're going to keep this city a city for everyone. And that means in neighborhoods that are more privileged and every kind of neighborhood." He stressed that the conversations can be challenging in more privelaged neighborhoods, but that "some of the rezonings coming up are in communities that have done pretty well for sure," perhaps referring to Gowanus, but tempered expectations for SoHo and NoHo and beyond, saying, "what I want to be very real about, in the next two years, is where are the things that we are absolutely certain there will be the support for in the ULURP process to get it done. Because I got two years to work urgently on these issues, Brian, and I'm going to put my energy in the places where I'm convinced we can get something done."
Stringer closed his Wednesday speech by addressing homeownership rates in New York City, which he pegged at 32% of housing and half of the rate of the rest of the country. Further, he added that less than 16% of home loans are granted to black and Hispanic borrowers despite the fact they make up the majority of the city's population.
The comptroller's plan aims to help increase homeownership rates by giving tenants the right of first refusal to buy their building when it goes up for sale, waving property transfer and mortgage recording taxes for qualified first-time homebuyers, and expanding programs like HomeFirst and HomeFix, to provide "moderate- and middle-income homeowners with up to $40,000 toward down payments and loans for home repairs," Stringer said.
Some of the elements discussed Wednesday appeared in Stringer's November 2018 housing plan, "NYC For All: The Housing We Need." The plan sought to allocate $500 million in additional annual funding for extremely and very low-income housing, which included $375 million in capital costs and $125 million in operating subsidies. Stringer also suggested scrapping the mortgage recording tax and building on the city-owned vacant lots, just as this new plan says.
Stringer's new plan adds the elements of universal affordable housing and completely redirecting all city capital dollars housing subsidies, among other planks.
"We came here today to ask one question. Who is New York City for?" Stringer said. "Our answer is loud and clear. This is your city, and your city cannot be bought."
Ben Max contributed to this article.
Note: this article has been updated with comments from de Blasio and the de Blasio administration.