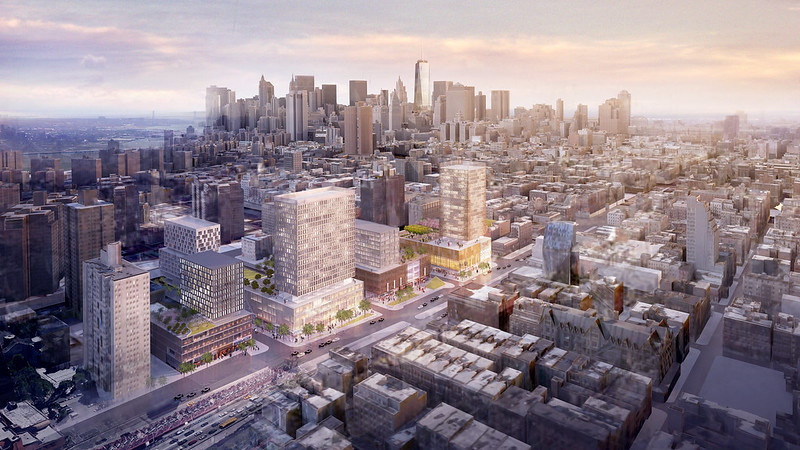 (rendering via the Mayor's Office)
---
The New York City Council is crafting legislation to mandate the creation of a comprehensive plan for the city that would guide long-term decisions on land use, zoning, and investments in infrastructure. The effort is being led by Council Speaker Corey Johnson and Council Members Brad Lander and Antonio Reynoso.
Last year, the City Council urged the 2019 Charter Revision Commission to propose to voters an amendment to the city's governing document to require a comprehensive plan every ten years. A comprehensive plan would serve as "a citywide strategic framework and vision for growth and development," the Council wrote in its recommendations to the charter commission, which included representatives from various top city elected officials, including Johnson, who appointed its chair.
"The lack of a citywide plan contributes to the overall housing shortage and exacerbates conflicts for space between different uses," the Council report reads. "The ad hoc selection of particular neighborhoods for growth-oriented rezoning plans has proved to be an inefficient and acrimonious process and is not delivering enough opportunities for development as the city needs."
Even the charter commission's staff agreed with the need for a comprehensive plan, recommending to the commissioners that it consider taking up the issue. The commission's preliminary staff report issued in April noted that there are currently 12 different charter-required documents that determine city planning. "But the Charter does not always make clear how (and whether) these plans are intended to fit together, what they must address, how they relate to one another, how progress (or lack thereof) toward their goals is measured and assessed, and how the public can affect the content of these plans (if at all)," the staff report reads.
But the commission demurred, and among nearly 20 changes proposed to voters, all of which passed in November, only put forward tweaks to the city's current land use processes. Commission Chair Gail Benjamin, appointed by Johnson, and Commissioner Carl Weisbrod, the former head of City Planning who was appointed to the commission by Mayor Bill de Blasio, both seemed opposed to the proposal, as did members of the de Blasio administration.
But where the charter commission passed, the City Council appears ready to move ahead. "Comprehensive Planning was a Council and personal priority in our testimony to the Charter Revision Commission and we continue to explore options to achieve those goals legislatively," Johnson said in a statement to Gotham Gazette. A spokesperson for the speaker did not provide any additional detail about what the legislation would contain or the timeline for its introduction.
At the end of last year, Johnson passed and de Blasio signed a "streets master plan" law that includes mandates around bike and bus lanes and pedestrian space across the city. This past week, Johnson unveiled a "holistic, long-term" approach to combating homelessness in the city and said that a corresponding affordable housing plan is in the works. In a brief interview at City Hall after he released the homelessness plan, Johnson told Gotham Gazette that the larger planning legislation will incorporate those pieces and more.
Lander and Reynoso, who helped lead the push for comprehensive planning during the charter commission's work and quickly rued the fact that the commission passed on the idea, indicated that there will be a package of several bills to accomplish comprehensive planning and related goals.
"Let's be perfectly honest, the only way we would have done it in a real comprehensive way, would have been through the charter," Reynoso said in a brief interview outside City Hall. "So what we're doing now is taking the most aggressive legislative action we could take to try to mimic what should have been done through the charter."
Lander stressed that the need to take "a more collaborative, more comprehensive, more proactive, more values-attuned approach, it just gets more and more urgent."
"If we want to have a city that matches our values and carries them into planning for our future, the processes we currently have are broken and we have to have new ones," he said during a phone interview.
Lander echoed Reynoso in pointing out that any bill passed by the Council will be more limited than what the charter commission could have accomplished. "By Council legislation, you can require a comprehensive planning process every so often, but you can't change the [Uniform Land Use Review Procedure] process to favor projects that would be aligned with that plan or make it more difficult to have projects that don't," he said.
The push for comprehensive planning also has the support of the Thriving Communities coalition, made up of advocates, nonprofits, and grassroots organizers who sought to convince the charter commission to pursue their goals. The coalition criticized the commission's refusal to take up the issue. "While the status quo might work for developers and the powerful few, it does not work for most New Yorkers, and without meaningful changes, the processes we have now will only exacerbate inequality, segregation, and displacement," it wrote in a statement after the commission issued its final ballot proposals. Spokespeople for the coalition -- which included organizations like Association for Neighborhood & Housing Development, Community Action for Safe Apartments, New York Appleseed, Regional Plan Association, and Pratt Center for Community Development, among others -- did not respond to a request for comment for this article.
Any comprehensive planning legislation is likely to face push back from the de Blasio administration.
Vicki Been was formerly commissioner of the city's Department of Housing Preservation and Development and testified before the charter commission as an outside expert at a March 21 hearing. She later rejoined the de Blasio administration when the mayor appointed her Deputy Mayor for Housing and Economic Development in April.
In her testimony, Been raised the issue of the city's Fair Share criteria, which determine how the city sites municipal facilities according to neighborhoods bearing their fair share of the burden. Over the years, the fair share policy has been criticized for largely failing to accomplish its intended objective as facilities such as homeless shelters and waste management plants began to be concentrated in certain communities, often low-income communities of color.
"Much of the criticism of the fair share criteria is that they are like an environmental impact review, all you have to do is show that you considered the fairness of the distribution. You don't have to meet any numerical or other target because one wasn't set because it's too difficult of a question," Been said at the hearing. "And so there's no reason to believe that moving the question into what we call a comprehensive planning system would accomplish anything other than what is accomplished in the conversation about fair share."
Anita Larement, executive director of the Department of City Planning, similarly raised red flags about comprehensive planning at that hearing. "On the one hand, people are looking for more community control over decision-making, which actually we know will lead to more problems in regards to siting things that people don't want in their neighborhoods. And this notion that somehow on the other hand if we can do comprehensive planning that we will solve these problems? What I would really submit is that, that is not correct," she said.
After the 2019 Charter Revision Commission declined to move comprehensive planning forward toward a ballot proposal, Lander and Reynoso wrote a joint op-ed lamenting the missed opportunity but stressing the importance of moving ahead with better city planning, especially regarding infrastructure, climate resiliency, housing affordability, transit, school seats and more, with a holistic vision for development, services, and community benefits and burdens.
"Comprehensive planning is not a panacea, but evidence from other cities suggests that it is an essential component of fair and rational progress," they wrote. Concluding that if New York City is "going to meet the collective challenges of rising temperatures and sea levels, growing population, aging infrastructure, keeping people in their homes, and addressing deeply-rooted inequality, we're going to have to start doing it."
Ben Max contributed to this story.