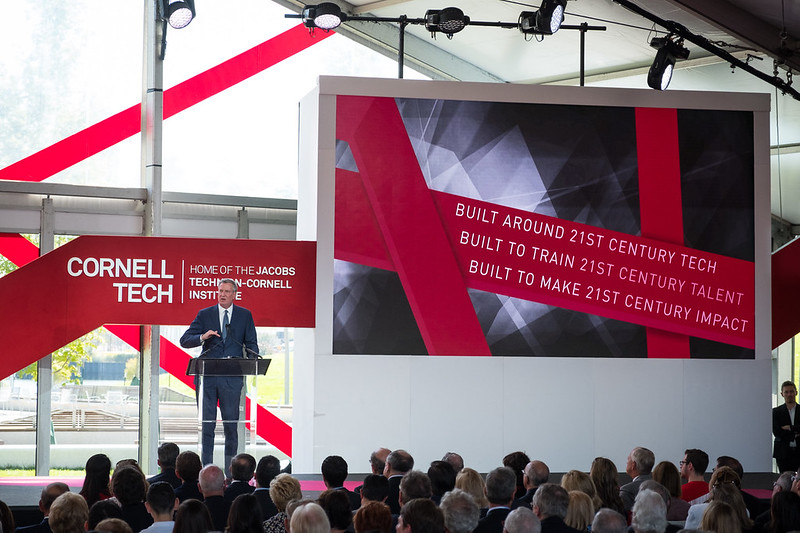 (photo: Edwin J. Torres/Mayor's Office)
---
New York City has seen a lot of growth and some large shifts in its economy and workforce over the last decade. Unemployment is near record lows, but much of the growth has been in low-wage industries and many New Yorkers are underemployed or working full-time but still struggling to make ends meet. Automation is increasing, and technology has become both its own industry and part of every other sector of the economy.
Between 2010 and 2016, the tech sector in New York City grew 57%, and tech jobs in non-tech industries increased 31%, twice the rate of other jobs, according to a 2017 report by State Comptroller Tom DiNapoli's office.
Despite an exceptionally low unemployment rate of 4.3%, there is a "donut hole" in the local economy, according to Julie Samuels, executive director of Tech:NYC, a nonprofit advocacy coalition. Samuels says that the city has a lot of jobs that are at the wage extremes, but the middle is lacking.
"We don't want a two-class system here," Samuels said during a recent appearance on the Max & Murphy podcast. "What are we doing to ensure that as we're bringing more and more jobs here, that more New Yorkers have access to them? I think a lot about what and how the city should do to attract entry-level jobs because what we have in New York is a lot of low-wage jobs and a lot of high-wage jobs. Those jobs in the middle are incredibly important for training. You need on-the-job training."
The most recent NYC Quarterly Economic Update from New York City Comptroller Scott Stringer's office confirms the "donut hole." Of new private sector jobs during the quarter, the report says 9,400 were in low-wage industries, 2,100 were in high-wage industries, and medium-wage industries saw a loss for the second consecutive quarter.
With the rapid integration of technology into so many workplaces came an influx of tech jobs and changes to what skills are necessary to be employed in so many sectors.
"The real issue is training," said Joey Ortiz, the executive director of the New York City Employment and Training Coalition, during the same podcast conversation. "Providing access to quality training for individuals from marginalized communities."
While many of these programs exist, Ortiz pointed out that many New Yorkers don't have access to them, either because there aren't enough of the programs due to limited funding, or because potential enrollees don't have the skills to even enter the training programs.
"More than anything, it's really about investment into those programs…there is a large percentage of the population that is well removed from even being able to participate in those programs, cannot access those trainings because they have certain skill deficits," Ortiz explained. "It might be language skills, math skills, or digital skills." One answer, he said, is "bridge programs" that "provide the support that they need in order to pipeline into those [training] programs."
These bridge programs, which provide training for primarily low-literacy and low-numeracy populations, are said to be important because they provide an on-ramp to the training pipeline that allows New Yorkers to be ready for the shifting job landscape. Gaps evident in the need for both the bridge and training programs also highlight that the pre-K to 12 and higher education systems could be doing better in preparing New Yorkers for the changing job market.
Samuels said there are some signs of response. One example she cited is the de Blasio administration having launched a 10-year computer-science-for-all ("CS4All") program to integrate computer science curriculum into all New York City public schools.
"It's totally working," Samuels said. "The numbers for who's taking the advanced placement computer science exams is off the charts compared to our peer cities especially in regards to who those people are. I feel really optimistic. We are thinking about the pipeline optimistically."
The CS4All program has seen huge increases of students taking the classes and the AP exams. According to a city Department of Education press release, there has been a 72% increase in students taking computer science since the program's inception, and the number of students sitting for the AP exam went from 1,137 to 5,190 in the first two years.
Ortiz agreed, saying, "There's no question that the education system requires a deep overhaul and rethinking particularly at K-12. I think that the city has done a pretty good job addressing some of these issues in recent years. CS4All is an example. Pre-K for all is a huge win for the educational system."
After a decade-plus of rapid economic change, Ortiz and Samuels predict more of the same in the coming years, highlighting the need for educational and training programs.
"We are forecasting that there will be a growth of a number of jobs but they're going to look very different and require different skills," Ortiz said.
The availability of jobs in the city is a key ongoing issue: there's been a decade of record recovery and growth since the Great Recession, but recent forecasts say to expect a significant slowdown in growth, though not a recession. The growth of the tech sector and tech jobs across sectors has been essential to the city's economic boom and its diversification, whereby the city has been less reliant on the big traditional sectors, especially finance. But there are some questions about how much the tech sector will continue to grow in the city, something Samuels is focused on every day in her work.
She said that while New York City is thriving in terms of tech jobs, the geographic diversity is not as ideal because most of the jobs are in Manhattan or downtown Brooklyn. When asked about the Amazon "HQ2" project that was said to eventually bring 25,000 jobs to a massive new Long Island City campus before the company pulled out of the deal with the city and state about a year ago, Samuels said those jobs would have been beneficial to help create that geographical diversity in the tech industry, not to mention all the opportunities for spinoff tech startups that often accompany companies like Amazon. Still, Amazon is growing its footprint in New York City, albeit in much smaller numbers of jobs and mostly in Manhattan, other than its warehouses and fulfillment centers in other boroughs.
"Yes, Amazon is now bringing thousands of jobs. Significantly fewer than would have been part of HQ2, but the fundamental difference is that those jobs are going to be in Hudson Yards and not in Long Island City," Samuels said.
Key to the Amazon debate and all economic growth in the city, Samuels reminded, "for all sectors in New York, is functional public transit...being able to live places and get to work is a part of this conversation too."
Ortiz said that the Amazon HQ2 project highlighted the need to work with communities and hear their concerns about transit or housing, all of which have an impact on one's ability to enter the workforce.
"If there was any good that came out of the process, is that people are thinking about how to integrate the communities and those concerns into an earlier stage of the process and ensuring that growth can be more inclusive," Ortiz said.
Going forward, the city must prepare workers to participate in a rapidly changing economy. Samuels said she hopes politicians at the city and state levels will have the "courage and political fortitude" to keep pushing for economic growth.
[LISTEN to the full conversation: Max & Murphy Podcast: How the City Economy is Working & Where It's Heading]