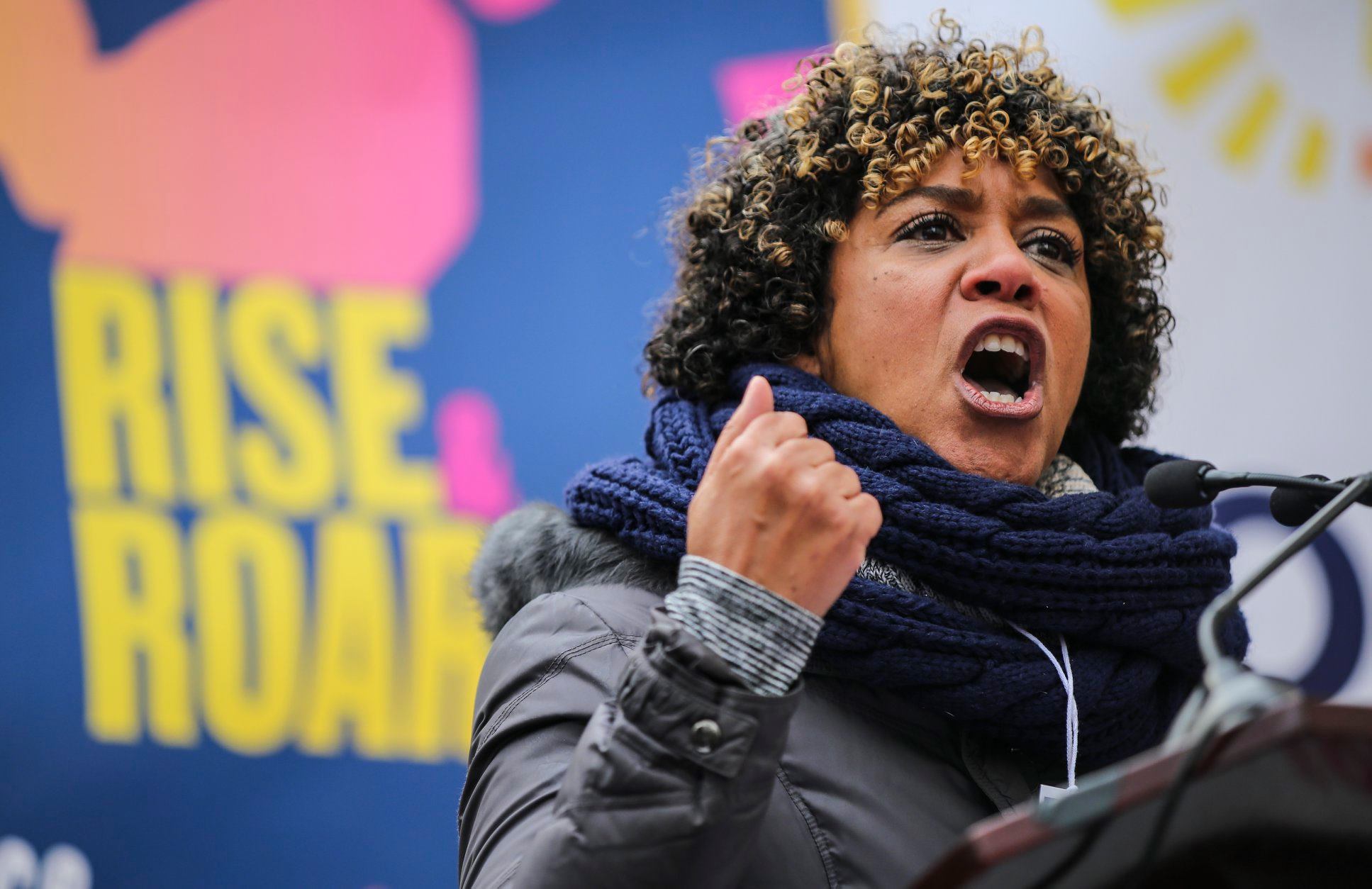 Dianne Morales, mayoral candidate, at the Women's March (photo: @Dianne4NYC)
---
Dianne Morales, a Brooklyn native and, until recently, nonprofit executive, has never run for elected office before but is seeking to become the next mayor of New York City.
"I grew up in this city and spent my last 30 years helping communities to overcome poverty through a variety of different ways," Morales said during a recent appearance on the Max & Murphy podcast to discuss her candidacy in the 2021 Democratic mayoral primary. "Whether that be through education, helping people find jobs through career pathways and here I am now, a candidate for New York City Mayor."
From Bedford-Stuyvesant, Morales served for nearly the past decade as CEO of Phipps Neighborhoods, a social services nonprofit working in the Bronx. She resigned from that post at the start of the year, she said, to campaign full-time ahead of the June 2021 primary vote that will likely determine the city's next mayor given how overwhelmingly Democratic the five boroughs are.
Morales, seeking to become the city's first female mayor, knows she faces a tough road ahead against sitting elected officials with more name recognition, political connections, and fundraising prowess than her, but believes she brings a unique perspective and skill set to the race, and plans on breaking through over time.
Setting up a distinction with at least one of her competitors, Morales made clear during the interview that becoming mayor has not been her dream for her whole life. Rather, she believes that a combination of factors came together at the right time that helped her decide to step into this race. She said one turning point for her in the decision-making process was after Hurricane Maria and her involvement in relief efforts in Puerto Rico, where communities weren't being reached by aid.
"As I've been reflecting about how I can bring my experiences and the things that I've learned and the things that I've done and have been effective at to scale on a different level and to have an impact and support larger communities in a different way," Morales said of her decision. "The idea for running for office increasingly became an option. Some of the changes that we need to make in order to have a long-term impact on communities have to be done on the structural and systemic level."
Morales said it is at this level where she thinks she can make the most valuable change for the city, and use her experience fighting poverty and other challenges the city faces to help the most New Yorkers. Rather than running for office at a lower level first, such as borough president or City Council, she said running for mayor is what made the most sense to her.
"When you think about what I'm talking about what I'm wanting to do, the kind of change and impact and scale that I want to have on the city, it's at the mayoral level," she explained. "Because I'm not someone who has aspired all my life to become an elected official and because I'm not mapping out the strategic pathway or the steps to that, it didn't make sense to me to think about City Council or a local position. I'm not planning to spend the next 20 years of my life in elected office. This is one of those 'go big or go home' moments for me. This is the place where I think I can have the greatest impact and make the biggest difference in the largest number of people's lives.This isn't going to be a second career for me."
Her campaign is focused on "basic human needs," she said, like ensuring New Yorkers have access to mental health services, that women are empowered, and everyone has access to housing. She said that while some of her background and her stances may get her labeled as a progressive Democrat or even democratic socialist, others separate her and make her hard to pin a label on, such as her belief in school choice. She doesn't fall "neatly into one box," she said, adding that she hopes that will be an advantage for her in this race.
"Women who do better, their families do better, and their communities do better. A focus and priority for me would be the economic wellbeing, safety, access to childcare, those kinds of issues that help women to live full, successful and productive lives," Morales said.
Morales said that while she likes some of what de Blasio has done during his tenure, especially on early childhood education, she also believes that there are flaws with the way those programs were rolled out. She also criticizes his work on mental health services, disagreeing with the way the resources were allocated, something Morales said will be key to her platform.
Hitting on a discussion that has been ongoing for many years, including heatedly at points during de Blasio's tenure, Morales discussed issues related to police responses to mental health crises. When someone calls 311 or 911 about such an emergency, Morales said, police are often deployed, but she wants to consider decoupling the relevant services, creating distinct response units.
"If we used those resources that are being misdirected and apply those things to support mental health services in a whole different kind of way and what would it look like in housing, again, if we were able to redirect those resources that are really needed and are directed in a much more targeted way," she said. On that issue and others, Morales appeared not fully prepared with details of how she would run the city or what specific policy plans she will show voters as she seeks their support.
Morales also said housing would be a focus for her, but did not provide any real indications of what her plans are to address the problems she's identifying with perhaps the biggest issue facing New Yorkers. Morales cited experience with various types of housing, from shelter to supportive housing to affordable housing, and said in the city's shelter system "there's a problem with the philosophy for an operator that's running a shelter is simply 'just get them placed.' There's not enough emphasis in terms of how do you not just get them placed but provide them the support they need to sustain permanent placement and permanent housing."
Morales' campaign website doesn't provide much clarity about her positions or proposals, though it is still early in the campaign, with the primary about 16 months away. "[E]very New Yorker has the right to quality housing, jobs, education, healthcare, and transportation," her "issues" page states, but it's followed by a list of broad principles and few actual policy ideas.
In the Democratic primary, Morales may be competing with Brooklyn Borough President Eric Adams, City Council Speaker Corey Johnson, Comptroller Scott Stringer, former city Veterans Services Commissioner Loree Sutton, and Shaun Donovan, a former top aide to both President Obama and Mayor Bloomberg, as well as any other candidates who jump into the race.
With the early departure of Bronx Borough President Ruben Diaz Jr. from the mayoral race, Morales is the only Latino candidate currently in the running. Asked about how ethnicity is explicitly part of her candidacy, she said, "When you look at our demographics, it's communities of color. Coming from a low-income background and having lived experiences that many of our residents are living right now and being on the other side of that and having the opportunity to build systems and structures to help people overcome that. I think that experience is valuable."
"I also think that there is something to be said about having those experiences as a woman of color and being able to understand and relate to so many in the community of New York City," she continued. "It's important to understand how to galvanize communities at large and be inclusive in creating a vision for New York City that involves everybody being able to do better and that is something that I bring to the table."
In a brief subsequent interview with Gotham Gazette about her campaign, Morales said she is currently going all over the city having meetings with civic leaders and groups, trying to reconnect with people as a candidate and introduce herself to others. She said she is spending a good chunk of her time trying to raise the money needed to run her campaign.
"I'm having meetings with all kinds of places, I'm meeting with community groups, I'm talking to policy folks," she said. "I have a very clear sense of what my values and priority issues are, but I don't need to reinvent the wheel. I think there's a lot of value in talking to folks who have dedicated their lives to these sorts of issues and have dedicated their lives to shaping the policy agenda. And I'm fundraising, that's the part of the gig that you might not like, but you have to do."
Talking just after attending a press conference about the new ranked-choice voting (RCV) system that will be implemented for special and primary elections for city offices beginning next year, Morales said that RCV is a good opportunity to re-engage communities that have lost faith in government and politics.
RCV "is an opportunity to educate those communities and bring them back into the fold and the idea of the potential of having more than just a polarized choice and the idea of potentially changing what leadership reflects in the city, with women or people of color, potentially in leadership," Morales said. "I think those are things that inspire folks who traditionally have stayed at home."
[Listen to Morales' full appearance on the Max & Murphy podcast]
Ben Max contributed to this story.