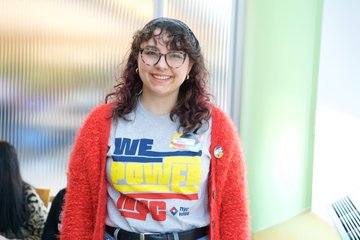 A participant in #WePowerNYC (photo: BMCC)
---
Voter and youth engagement leaders are launching a new effort to increase voter turnout among young people in New York City.
The #WePowerNYC campaign was announced on Friday by NYC Votes, the voter engagement arm of the New York City Campaign Finance Board, in partnership with CUNY Votes at a summit at Borough of Manhattan Community College that included student leaders from more than 15 colleges and universities around New York City.
According to NYC Votes, #WePowerNYC seeks "to mobilize one of the city's most underrepresented voting populations – young people" and "uplift voices, build power, and develop leadership skills among New Yorkers in their teens and twenties."
The project, which hopes to encourage engaged youth to mobilize their peers, aims to double youth turnout in 2020 and 2021. According to NYC votes, while New York City voters under 30 participate in presidential elections at about the same rate as the larger voting population, those "young voters" participate in local elections at far lower rates. In the most recent mayoral election in 2017, young voters turned out at only 13.5%.
"People don't know the importance of voting for the state and local elections and how much that actually influences things," said Margaret Stone, a student at the City College of New York.
"Our vote is our voice," said Staci Emanuel, CUNY's university-wide coordinator for voter registration, urging students to register to vote. "What matters most to you in government, comes down to your vote, so let your vote be your voice."
Students attending the event -- and all others -- are encouraged to take a pledge to vote in the 2020 elections and by taking the "Text to Vote" pledge. Registered students who sign up will receive information on voting and election day reminders. Students can text "CUNYvotes" to 917-979-6377 to receive those reminders as well as "prompts to encourage their friends to vote." Or, instead of texting, students can go to the website that's been set up for the initiative.
Chloe Cardinale, a CUNY Service Corps intern and student at John Jay College of Criminal Justice, is working to register high school students across New York City to vote. Cardinale saw the summit as an excellent opportunity to learn about techniques to drive voter registration among youth.
"When I registered to vote in high school, they just gave me the form, and I had no idea what I was doing," she said. "I filled it out wrong three times because no one informed me about anything. Giving individuals more information can help them accurately make the choice they want to make."
NYC Votes is trying to double youth voter turnout -- to about 250,000 voters under 30 -- in New York City for the 2021 mayoral election through a two-year campaign, including partnerships with nonprofits, businesses, community organizations, and others.
Friday's day-long summit with CUNY Votes included two workshop sessions where students were taught how to create change amongst their peers, a Q&A with Professor Frank Deale of University of Pennsylvania Law School, and a discussion around voter rights.
"This campaign was created by and for NYC youth," said Sabrina Castillo, Director of Outreach and Partnerships for NYC Votes, in a press release announcing the #WePowerNYC initiative. "High school and college students were involved throughout the planning and conceptual stages, and going forward our youngest staff members and student leaders will take the lead in execution."
There are three main elections in New York this year: the April presidential primary, the June congressional and state primary, and the fall general election, all of which will include an early voting period as well as the 'election day' itself. New voters must register by April 3 in order to vote in the April 28 presidential primary.
***
by Bessie Liu for @GothamGazette