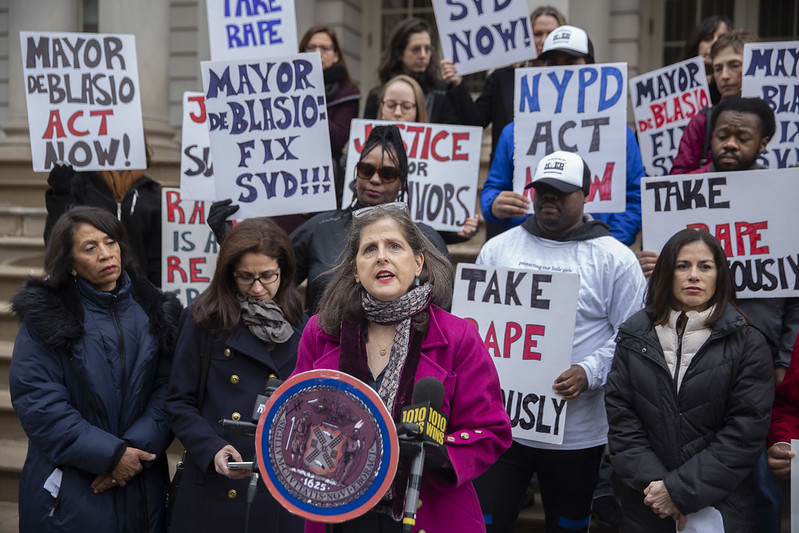 Council Member Helen Rosenthal (photo: John McCarten/City Council)
---
The City Council is set to pass a bill requiring more reporting from mayoral agencies "on efforts to prevent and address sex- and gender-based discrimination and harassment." The bill, which passed the Council's Committee on Women and Gender Equity Tuesday and is likely to pass the full Council on Thursday, deals with the city's Commission on Gender Equity (CGE) and the Department of Education.
According to Council Member Helen Rosenthal, a Manhattan Democrat who chairs the women and gender equity committee and is the lead sponsor of the bill, it "brings long buried reports into one shared context in a clear and organized public website where the data and its findings cannot be hidden anymore. The New York City Commission on Gender Equity and the Department of Education will have more tools to address gender discrimination. But like any reporting, the follow through is ultimately their responsibility. Ensuring that New York city sex- and gender-based discrimination and harassment protections are responsive, up to date, and tangibly accessible is more important than ever."
The legislation, (1536-A), requires the CGE to "include information about sex- and gender- based discrimination, including Title IX, in its annual report, change the due date for the annual report to April 1 each year and also require CGE to post links to publicly reported data from city agencies, including the DOE, relating to sex- and gender-based discrimination and harassment."
From the DOE, the bill requires annual reporting on "resources, support, policies and procedures related to preventing and addressing sex- and gender-based discrimination and harassment, as well as information related to the internal structure for central and borough employees whose work relates to sex- and gender-based discrimination and harassment."
A Council hearing held in April 2019 by the Committeee on Women and Gender Equity jointly with the Committee on Education and the Committee on Higher Education, had Council members listening to a variety of testimony from stakeholders who advocate for stronger sexual harassment reporting, among other changes. During the hearing data comparing the number of Title IX coordinators in New York City versus other metropolitan areas shed light on a problem, which Rosenthal mentioned in the Tuesday committee vote as impetus for this legislation.
Title IX is federal law that protects people from discrimination in an education setting on the basis of sex.
"The New York City Department of Education had only one Title IX coordinator for over 1.2 million students. By comparison, Chicago has 20 IX coordinators for a third as many students. After our hearing, the de Blasio administration agreed to add seven Title IX coordinators. If we were to follow Chicago's lead, New York city would have 60 Title IX coordinators," Rosenthal said in her opening statement on Tuesday.
Rosenthal and others voting in committee on Tuesday repeatedly pointed to the Trump Administration saying it will roll back Title IX protections, the specifics of which, according to Rosenthal, are set to be released "any day."
In New York City itself, Rosenthal also noted, the New York Times just reported that a rape victim came forward and was pressured by a detective in the Special Victims Division of the NYPD to not continue with her case. Subsequently, three more women were allegedly attacked by the accused.
"No wonder that women and anyone is dissuaded from coming forward. And we learn now that it starts in our elementary schools. It starts when our kids are in the school system and the victims are told not to come forward there. There are no counselors for them to talk to," Rosenthal said. "We fail them there and then we fail them when they become adults." Rosenthal has also been at the forefront of those demanding changes to how the NYPD runs its Special Victims Division and handles allegations of sexual assault.
Council Member Laurie Cumbo voted in favor of the bill, saying, "as we are about to begin Women's History Month, I couldn't be more proud to set it off in such a powerful way."
The legislation passed in an unanimous vote with five votes in the affirmative. The entire committee was present including Rosenthal, Cumbo, and fellow Council Members Diana Ayala, Ben Kallos, and Brad Lander.
"I'm proud to be a part of this bill," Rosenthal concluded. "But I think we could be doing so much more and the administration is in a great position right now to do just that. We're negotiating the budget. They could add the 52 additional Title IX coordinators they should have. This is a great opportunity for them to do that. I hope they will heed our call."