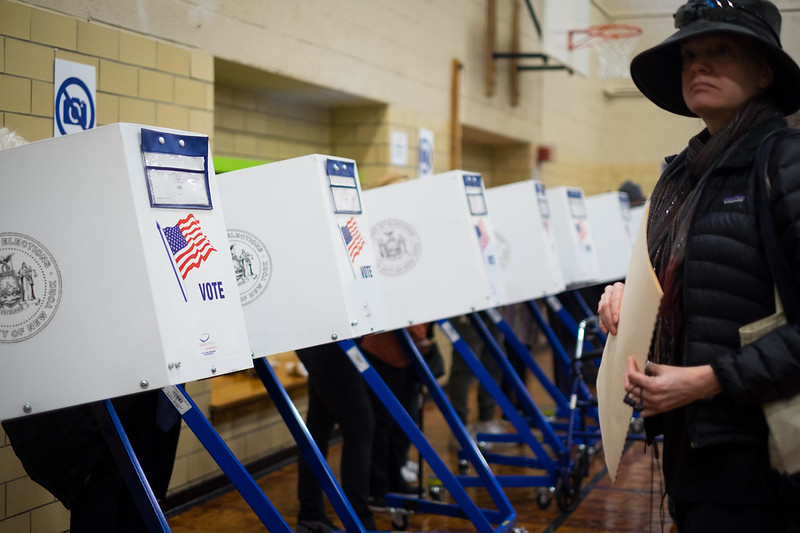 (photo: Edwin J. Torres/Mayoral Photo Office)
---
As more cases of the novel coronavirus, COVID-19, are confirmed in New York, including a rising number of people testing positive in New York City, neither Governor Andrew Cuomo nor Mayor Bill de Blasio seems inclined to reschedule elections that are on the horizon.
Each the governor and the mayor has declared a state of emergency for their jurisdiction and, along with other officials, put a number of restrictions in place to try to limit the spread of the virus. CUNY and SUNY are set to suspend in-person classes; New York City's St. Patrick's Day Parade has been postponed for the first time ever; most gatherings of 500 or more people have been banned; and businesses are being urged to have as many employees as possible work from home.
But the imminent special election for Queens Borough President will go on as planned, it seems, with eight days of early voting set to begin on Saturday, and election day of March 24 just beyond. Even as several candidates have announced plans to suspend in-person campaigning, like door-knocking and subway stop hand-shaking, de Blasio said Thursday that he believes it is important for democracy to forge ahead.
"There's been concern about the special election scheduled for March 24th for borough president of Queens," the mayor said at a City Hall coronavirus press briefing. "We are analyzing those concerns but I want to be very, very clear that election will continue as scheduled. We are dealing with an unprecedented challenge, but I think it is a signature of a stable democracy that elections happen when scheduled."
He continued: "So, we very much want that election to happen on time so long as we believe it can happen effectively. However, want to urge all candidates and campaigns to alter their activity. Right now, we're reaching out to each campaign specifically – believe that door-to-door canvassing should be stopped immediately." The mayor added that "campaigns have many, many ways to still be effective without door-to-door canvassing or rallies. Clearly, phone-banking social media, email updates, digital ads, TV ads, radio ads – there are many, many ways, including some of the most effective ways to get the message out."
"We have a lot to sort out of course about making the voting process as safe and effective as possible," he added. "But I do want to say, particularly with early voting, the voting process is being spread out. So, it's almost its own version of social distancing."
"[P]reserving our democracy is crucial," the mayor reiterated in closing.
The election is to fill a vacancy created when Melinda Katz was sworn in as the borough's District Attorney in January. Early voting for the borough president special election -- which is open to all registered voters in Queens, regardless of party affiliation -- begins this Saturday at 18 locations across the borough, including sites such as LaGuardia Community College, the Queens Library at Jackson Heights, and the Museum of the Moving Image.
The candidates including City Council Members Donovan Richards and Costa Constantinides; former Council Member Elizabeth Crowley; Jim Quinn; Anthony Miranda; and Dao Yin (Council Member Jimmy Van Bramer will also appear on the ballot, but he dropped out of the race).
There is precedent for postponing an election in times of emergency. The September 11, 2001 terror attack happened the same day of that year's primary election for New York City mayor and other offices, prompting Governor George Pataki to issue an executive order that suspended elections across the state. The polls had already been open for hours and all votes that had been cast were voided. The primary was eventually rescheduled for two weeks later.
The New York City Board of Elections has been silent on what, if any, preparations it has made to deal with the fear of coronavirus at early voting sites. Emails and text messages to a BOE spokesperson went unanswered.
At a media briefing on Wednesday de Blasio said, "I am really, really hesitant to change an election, ever, for anything. I think it's a very dangerous thing to do in a democracy. So, we'll look at it, but I would say, you know, we'll give it a very careful look. We'll talk to health care experts, we'll consider the dynamics. But right now, it is not my intention to change an existing election."
Special elections tend to have low turnout and crowds may be particularly spread out with early voting. But next month, New York will hold its presidential primary on April 28, when millions are expected to go to the polls.
Governor Andrew Cuomo would have the power to postpone both elections but has indicated no plans to do so. Asked at a news conference about whether he had considered expanding absentee voting, he said on Thursday, "No, no. Not at this time."
He was also asked if he would use his executive authority to cut the number of petition signatures that candidates need to get on the ballot. "We've had no discussion about that at this time," he replied.
State Senator Alessandra Biaggi, a Bronx Democrat, introduced a bill earlier this week that would allow absentee voting in the case of a public health risk – currently, state law only allows absentee ballots for people who may not be in the district on election day, cannot vote because of an illness or disability, are either a resident or patient in a veterans health administration hospital, or are detained in jail.
"There are many older New Yorkers and those with underlying health conditions in my district who are at a heightened risk from the virus – they should not have to choose between safeguarding their own health and fulfilling their civic duty," Biaggi said in a statement. "Nor should New Yorkers who are in quarantine be denied their right to participate on Election Day. While I hope that the current public health crisis will have calmed by the April and June primary elections, we must prepare for all scenarios, and act now to ensure that every New Yorker can safely vote in our upcoming primary elections."
At least in one county, voters may be able to cite coronavirus as a reason to ask for an absentee ballot. The Erie County Board of Elections announced on Wednesday that it had added a public health emergency as an excuse for absentee voting for the April 28 primary, which is what Biaggi's bill would accomplish across the state.