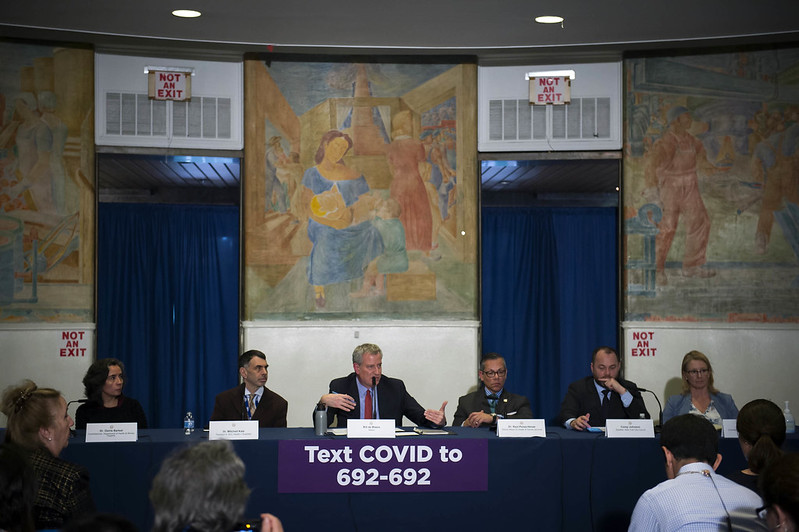 Mayor de Blasio delivers a coronavirus briefing (photo: Ed Reed/Mayor's Office)
---
An employee at 100 Church Street in Lower Manhattan, where a number of city agency offices are located, tested positive for COVID-19 earlier this week. Mayor Bill de Blasio has not disclosed the revelation publicly, even as city employees and members of the public continue to conduct business there.
The information that a building occupant tested positive for the novel coronavirus came to city agencies from both City Hall and the building's management company, SL Green Realty Corp., according to an email shared by the New York City Campaign Finance Board (CFB), which is housed in the building, after a Gotham Gazette inquiry. According to a CFB spokesperson, notice of the positive case came on Monday evening.
In an email sent Tuesday morning, the CFB notified prospective candidates coming in for a scheduled training on compliance with the city's campaign finance laws that the agency had received the reports that a person in the building had tested positive.
"The person works in a different floor and elevator bank than our offices and will not return until they are symptom free for a minimum of 24 to 48 hours," the CFB email read, in part. "While we are proceeding with today's training, out of an abundance of caution, we wanted to let you know this information in case you wish to modify your plans or postpone your attendance," it said.
A city employee told Gotham Gazette the notice from City Hall did not contain any guidance about whether agency staff should continue coming to the building at 100 Church to work.
Ten candidates still arrived at the CFB offices for the Tuesday training, according to the CFB spokesperson. The agency is now cancelling all in-person training sessions and moving to video conferencing.
100 Church Street is also home to the city's Law Department, Civilian Complaint Review Board (CCRB), Office of Administrative Trials, Mayor's Council Against Poverty, and the city's Business Integrity Commission, to name a few. There are also a number of private corporate tenants.
The Mayor's Office did not respond to multiple requests for information about whether there have been other confirmed cases in the building and what immediate steps it is taking at the address. Employees at several agencies Gotham Gazette spoke with are still reporting to work in person. A midday visit to the building Thursday showed business apparently proceeding as usual, albeit with fewer people than usual passing through the lobby.
Several of those agencies housed at 100 Church Street are regularly visited by members of the public. Candidates receiving CFB training, civilians filing police misconduct complaints with the CCRB, and participants in public hearings held by the Business Integrity Commission all pass through its lobby, for example. Some agencies, like the CFB and CCRB, also send staff out into the field, either to conduct local trainings, investigations, or even monthly board meetings. The CCRB, which often holds its board meetings outside the building at sites across the five boroughs, postponed its March board meeting in the Bronx on Wednesday.
At a Thursday press conference at City Hall, de Blasio announced that the city was nearing 100 confirmed cases of the new coronavirus and declared a state of emergency. He said he expected the number of cases to continue to rise and announced a number of moves to mitigate spread, including that 10% of the city's workforce would soon be encouraged to work from home, while another 20% would be moved to staggered shifts to reduce crowding on mass transit. The mayor did not mention specific agencies or buildings.
In an email statement from SL Green, Chief Operating Officer Edward V. Piccinich said of the COVID-19 case at 100 Church Street: "SL Green continues to take aggressive and proactive action across our portfolio to protect the health of our tenants, following guidance from City, State and Federal health officials. At the property level we have taken precautionary measures by increasing frequency of cleaning and disinfecting commonly touched surfaces."
"We are in constant communication with our tenants and their employees about these measures and to monitor any potential exposure," the statement read. "When a confirmed case is identified, we immediately conduct decontamination and promptly respond with commercial grade remediation of all tenant-accessible areas of the building. These actions are communicated quickly to all employees in the building to ensure a safe environment at all properties in our portfolio."