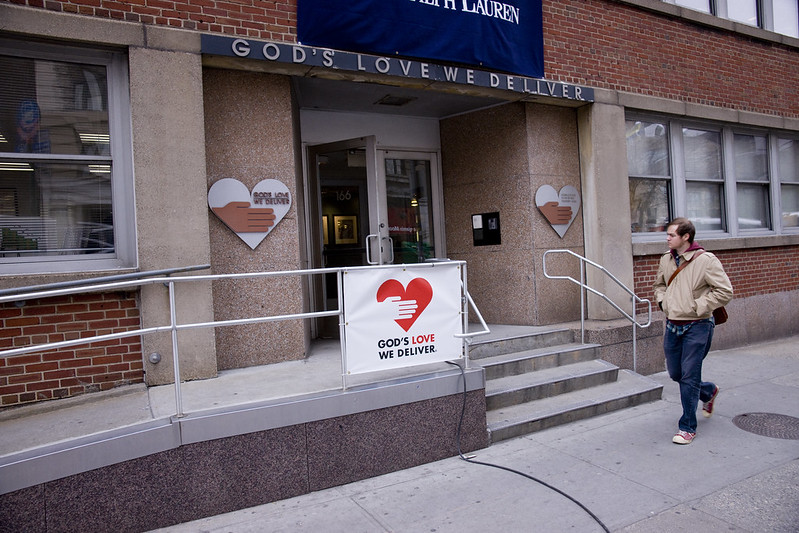 Human Services Nonprofits provide essential staff and programming to the city (photo: William Alatriste/City Council)
---
Social service organizations in recent days have been scrambling for clarity from government officials on how they will continue to get paid as they carry out essential city services for the most vulnerable populations and take up positions on the frontlines of public health, safety, and crisis management amid the coronavirus outbreak.
On Tuesday, Mayor Bill de Blasio announced that he was designated roughly 40,000 workers from human services nonprofits that contract with the city as "essential city personnel" under his state of emergency declaration, and on Wednesday de Blasio administration officials announced several other measures, including guaranteed contract payments to those human service organizations, even if they can no longer meet their contractual obligations.
New York City spent $6.8 billion on human services in fiscal year 2019, a third of all city procurement, on anything from child protective services to supportive housing for New Yorkers experiencing homelessness and mental health crises. The services they provide are necessary to keep the city government and economy running, making up an essential part of the social safety net and employing hundreds of thousands of New Yorkers.
"Providers and staff need reassurance that contract payments will continue, uninterrupted, during this period of uncertainty," wrote Chief Procurement Officer Dan Symon, in a letter to organizations Wednesday. "We want to assure providers that as long as they are working with their contracting agencies on a plan to continue, modify or suspend services, they will get paid their contracted expenses."
The letter also announces increased cash advances to handle emergency expenses and suspends all new auditing. Additionally, organizations struggling to obtain the necessary cleaning and disinfecting supplies can receive city assistance through their contracting agency.
With city, state, and federal guidance urging (sometimes mandating) people to self-isolate and businesses to drastically reduce their in-person workforce, New York City's network of nonprofit providers are seeing major changes in services as client participation drops off in some areas and new urgent needs arise in response to the outbreak. Wednesday's letter clarifies some of the most pressing questions for city contract payments, but providers say a lot of uncertainty remains as state officials continue to offer little information.
Particularly critical are out-of-home programs that must remain open in a disaster, including residential services like foster care, homeless and domestic violence shelters, and senior assisted living. With the sector's long tradition of community-based care, human services organizations are often the best and, in many cases, only professionals able to provide the immediate resources needed in a crisis.
"We would love to see blanket language from both our city and state governments that say nonprofits will be held harmless on their contracts," said Michelle Jackson, acting executive director of the Human Services Council, a trade association with 160 nonprofit members, in an interview with Gotham Gazette Tuesday, a day before the letter was issued.
"We think this guidance is an important step forward and appreciate the quick response to the letter we sent in collaboration with other coalitions," she added in an email Wednesday in response to the new information from the city. "This will help providers make clearer decisions around finances and being able to support staff."
The letter formalizes de Blasio's announcement that the 40,000 city contracted health and human service workers will be considered essential workers in an emergency, but Human Services Council estimates the full human services workforce in the city to be over 200,000, including state-, federally-, and privately-funded positions.
"Nonprofit workers who need to continue to work because they work in congregant living or because they've been redeployed to do other work need to be treated as first responders. They need to be given access to emergency childcare, financial assistance, and transportation. They need access to supplies, like gloves, masks and cleaning supplies, so that they can maintain safe facilities," Jackson said Tuesday.
Good Shepherd Services is one of the largest healthcare, child welfare, and social services providers in New York City, serving over 30,000 children and families in the Bronx, Brooklyn, and Manhattan. About 85 percent of its $100 million annual budget comes from government contracts, according to executive director Michelle Yanche. Some of its initiatives, like afterschool programming, have been suspended; but others like its residential services, which serve some of the most at-risk and marginalized populations, must remain operational in a state of emergency.
Good Shepherd runs several residential programs including foster care, domestic violence shelters, and supportive and transitional housing, providing roofs for roughly 540 clients, a vast majority of whom are children in foster care. Henry Street Settlement, which operates "Tier 2" shelters, provides extended-length emergency apartments for children and families with 24/7 onsite support services, like social workers and resource coordinators. President and CEO David Garza told Gotham Gazette it receives about 65 to 70 percent of its annual budget from city and state contracts, a substantial amount of which is from the city Department of Homeless Services.
On Saturday, the de Blasio administration put out guidelines for health and human service providers who are struggling to meet their contractual obligations with the city, either because of programs being forced to close or be modified to meet unforeseen and unprecedented demands.
"We are familiar with the guidance and we think it's helpful. It's certainly more informative than what the state has put out, but a lot of it is opaque," Jackson said Tuesday, before Symon's announcement. "It is not as clear as we need it to be."
"Businesses, governments and non-profit providers are all grappling with the impacts of COVID-19, and we are calling on our Federal partners to deliver the resources we all need to continue to serve all New Yorkers" wrote Freeman Klopott, a spokesperson for the New York State Division of the Budget, in an email. Representatives for Governor Andrew Cuomo did not respond to questions about the state's efforts to recoup contract advances from organizations that have seen a decline in client participation, an issue raised in a recent letter from City Comptroller Scott Stringer to the de Blasio administration for city contracts.
Under the city's previous guidance, the de Blasio administration only committed to reimbursing certain expenses and contract modifications, leaving it unclear whether missed service targets would be penalized and how organizations would come up with the money if they have large new capital needs, like purchasing laptops for remote learning and case work, that hadn't previous been contracted for (an article recently published in The City explores debt incurred by human service organizations as they await payment from city contracts).
Under the new guidelines, "if you work with your contracting agency and agree to a plan for moving forward, you will get paid for executing on that plan. And, if that plan costs more money than the contracted services, you will get paid for the additional expenses. If the plan calls for a suspension of services, you will get paid your contracted expenses," according to the de Blasio administration letter issued Wednesday.
'Waves and Aftershocks'
Continuing to pay for suspended services puts the future of the city's afterschool programming, for instance, on more certain footing but it is also a boon for other essential services that are provided by multi-service agencies that rely on a number of government contracts.
Both Good Shepherd Services and Henry Street Settlement have scaled back some programming during the coronavirus (COVID-19) outbreak and are exploring how they can best serve their client populations now. That task requires them to consider how to maintain and even expand their current budgets, while losing critical revenue from government contracts (including from the state) that will no longer be fulfilled.
"Each area has been impacted differently by this as it unfolds," said Garza of Henry Street. "Clearly program modifications across the board, sometimes program suspensions, but sometimes an intensification and increase in programs depending on what it is. Right now we are trying to place a really acute focus on our residential programs and shelter because people in high-density situations, they are vulnerable populations, they tend to be way more at-risk."
Issues around food insecurity, primary health care, and mental health care all become intensified at a time like this, he said, adding that the unpredictability of needs exacerbates the crisis.
Consistent with their missions, organizations say they want to be thinking through ways to redeploy unused sites and staff to be responsive to the specific needs that communities now have. "But because we're really so challenged with being able to fully put contingency plans in place for our residential and out-of-home care we're not able to fully focus on some of those other areas," Yanche said.
Garza sees the pandemic in the long-term. "From everything we know [the outbreak] is going to continue to have a huge impact and I think at a point it's going to shift [onto] some of the other programs that we operate, like access to employment opportunities. It's in waves and aftershocks," he said.
For Yanche, the coronavirus outbreak shows that the network of human services nonprofits throughout the city "is one of New York City's greatest assets, that they have us like boots on the ground to be activated to be responsive in a crisis like this. A lot of other places don't have that."
But there's a caveat. "I think because of our lack of preparedness and none of us really having thought through how to respond in a health crisis, we haven't yet been able to fully take advantage of activating that network," she added.