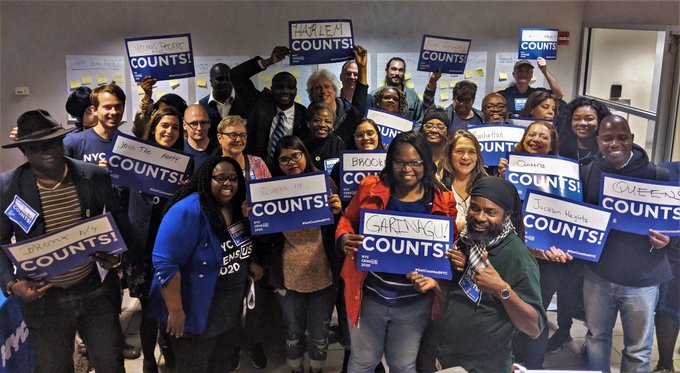 Census organizing efforts before coronavirus (photo: @JulieMenin)
---
Officials at the city, state, and federal levels had for years planned varying efforts to conduct a robust outreach campaign this year for the 2020 Census, to ensure an accurate count of New York's population that will determine the level of federal funding the state receives and its representation in Congress. But the coronavirus outbreak has upended those plans, which relied heavily on person-to-person contact, especially in the hardest-to-count communities, and officials are beginning to course correct as they worry that an accurate count may be more necessary now than ever before.
With as many as 17,856 confirmed cases of COVID-19 in the city as of Wednesday afternoon, out of a total of 30,811 cases statewide, New York City has quickly become the country's epicenter of the pandemic. The very density in the city that has contributed to the rapid spread of the virus is also partly what makes it a city where there are numerous challenges to conducting a precise population count.
"We're in unprecedented times, we're in a crisis of epic proportions," said New York City 2020 Census Director Julie Menin, in a phone interview, noting that city has had to shift its census strategy, which had been months in the making and was originally intended to press a large ground operation into service. "Post-COVID, we've made a number of very quick shifts," she added.
The two main phases of the Census are the initial self-response phase, where individuals are encouraged to fill out the census themselves, and the enumeration phase, which involves enumerators hired by the U.S. Census Bureau going door-to-door to count those people who did not respond.
In a letter sent last week, Mayor Bill de Blasio called on U.S. Census Bureau Director Steven Dillingham to extend the current timelines for the Census, including by delaying the self-response deadline from July 31 to September 30; the Bureau has already extended it to August 14. De Blasio also said the Bureau should postpone its early non-response follow-up efforts to the end of summer, otherwise it would miss the many students of colleges and universities that have left the city amid the outbreak and could return later. The Bureau has already postponed that operation from April 9 to April 23, while also changing its protocols for counting people in group quarters. On the same day as the mayor's letter, the Bureau also suspended all its field operations till April 1.
"Maintaining the current timeframe for census operations in New York City would not only risk severely damaging the accuracy and credibility of the population count, it would also likely exacerbate an already severe public health crisis," the mayor wrote.
In New York City's dense population are concentrations of those who tend to have lower self-response rates such as seniors, homeless people, residents of public housing, people with limited English-proficiency, non-English speakers, African-American communities of varying income bands, Native Americans, undocumented immigrants, people living in group quarters, and more.
Self responses yield the most accurate data. But the city's self-response rate of 62% in 2010 was far below the national and state averages of 76%. That's why city officials were hell-bent on making sure to invest early in efforts to make sure people proactively fill out the census questionnaire. New York City's $40 million allocation towards census outreach, including $19 million in direct grants to 157 community-based organizations, was the largest investment in such an effort.
The city's focus on the first phase seems to have already paid some dividends. Early self-response rates are up from 2010, though this might also owe to the fact that the Census Bureau is mostly asking people to fill out the Census online for the first time. The city's self-response rate was 16.8% as of March 24 – 16.3% in the Bronx, 15.1%, in Brooklyn, 19.5% in Manhattan, 15.9% in Queens, and 19% in Staten Island. By March 23 in 2010, the self-response rate was only 6% citywide.
But the city had hoped to conduct a broad field operation, particularly through the community-based organizations that were granted funding that would help them reach communities that they interact with each day, that can often go overlooked by the government or may not trust the government for various reasons.
Menin's office had created Neighborhood Organizing Census Committees that had trained thousands of volunteers, who in turn were training others, to conduct in-person census outreach. There were meant to be 300 pop-up centers where people could fill out the Census. There was an $8 million advertising campaign, with $3 million of it pegged for community and ethnic media. And there were partnerships with private sector businesses and city agencies (110 public library branches were to provide census assistance).
As the actual scope of the COVID-19 pandemic became evident, the city census office quickly shifted tack. They suspended all the door-to-door and street canvassing operations that its partner CBOs were carrying out. Organizations shifted to phone- and text-banking. The office reconfigured its advertising approach, clawing back all its ad contracts with the MTA as ads on the subway, with its plummeting ridership, will no longer have the reach they originally envisioned. Instead, they're doubling down on digital, social media, television, and radio ads.
"Now it's more vital than ever, in light of COVID-19," Menin said, to get an accurate count. "Because funding for hospitals, funding for the Children's Health Insurance Program is directly linked to the Census. We want to make sure that New Yorkers know in this time of crisis for our cities, it becomes more important than ever to feel the sense of that."
She noted one particularly germane instance of census data being used for a public health response. During the recent measles outbreak in the city, the city Department of Health used census data to determine how many vaccines it would need.
On Sunday and Monday, the city conducted a "Text Out the Count" campaign – 1,157 people, mostly volunteers, texted 978,195 New Yorkers and received 116,159 responses. Of those, 35,116 said they had already filled out the census while another 4,925 promised to do so, according to the city census office.
"One of the ways in which we've pivoted is that we now know we need to double down on that strategy," said Amit Bagga, deputy director of NYC Census 2020, noting that the infrastructure was already in place. "We've built it in such a way that it is allowing us to be nimble quickly and pivot very, very quickly."
While the city had the benefit of laying months of groundwork, including 500 events around the city before the Census even began, the state has repeatedly dragged its feet. When Gotham Gazette inquired, the state had little to offer about how its own efforts have undoubtedly been hobbled by the pandemic.
Governor Cuomo had pledged a $60 million overall effort, including $20 million in grant funding that has not been sent out to nonprofits, many of which are already working on census outreach. The rest of the spending was meant to reflect state agency operations shifted toward census work, while the governor was seeking another $10 million in the upcoming state budget.
Much of the state's plans prior to the outbreak, which were provided by the Division of Budget, involved using the public-facing aspects of state entities to get out the census message. For example, the MTA would have used its ad space to tell people to fill out the Census. The Metro-North Railroad could have informed people at its monthly customer forums and "Station Talk" initiatives, where station managers meet and greet commuters.
The State Athletic Commission would have provided census materials at its events. Various departments such as the Divisions of Licensing, the Division of Consumer Protection, and the Department of Motor Vehicles would have posted signage at their offices, visited by millions each year.
But virtually all those proposed efforts fall apart when the public is told to remain at home to avoid exposure to the COVID-19 outbreak. There are no long lines at the DMV. Subways are running with far fewer passengers. The Athletic Commission is suspending events.
Asked specifically about how the state was revamping its efforts, spokespeople for the governor did not provide any details or make anyone available for comment. Freeman Klopott, a state Division of Budget spokesperson, said in a statement, "State agencies continue to advance outreach plans and deploy resources as applicable in the current environment as part of the statewide campaign to ensure every New Yorker is counted. As soon as is possible, direct outreach efforts will move forward."
But with the governor himself predicting that the crisis could last up to nine months, it's hard to imagine how soon direct outreach will be possible. State Senator Zellnor Myrie, a Brooklyn Democrat who has focused on the Census, said he's hoping the state will recalibrate its efforts but hasn't heard anything about how.
"For those of us who have been talking about the Census for the past six months, this is the worst case scenario," Myrie said. "This is exactly what we did not want to happen. We did not want the count to begin and for us to be behind the ball. It's why we were so persistent in our calls for the release of the money."
He also noted that the federal government's lackluster response to New York's pleas for more resources to fight the outbreak are the very debate central to the Census. "Part of the fight with this crisis is not getting what we deserve from the federal government," he said. "New York is at the epicenter of the COVID-19 crisis, yet we are not receiving the requisite resources. That's the exact argument that we have made for why the Census should be the most important thing, because we don't get the federal money that we deserve on a consistent basis. So I'm hoping that we can invest to avoid that catastrophe."
[You can fill out the census online here. A digital code is not required though one might have been/be sent to you in the mail. You can also fill it out by phone by calling 844-330-2020. The Bureau also offers assistance and different phone lines for various languages. You can find those here.]