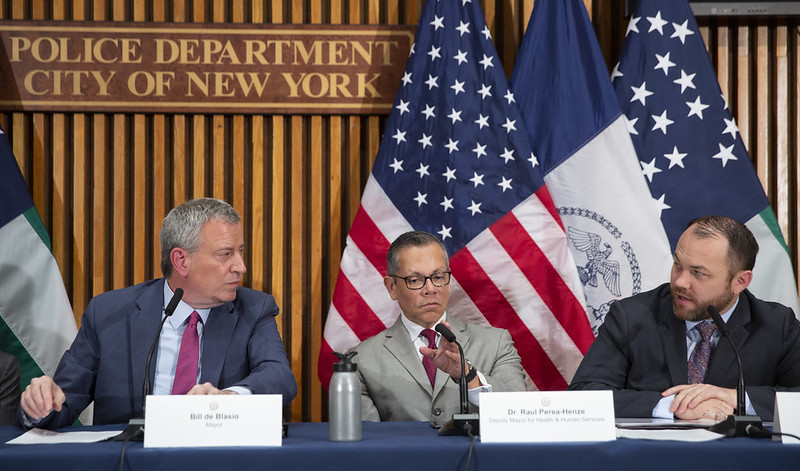 Mayor & Speaker at a coronavirus briefing (photo: John McCarten/City Council)
---
Governor Andrew Cuomo on Sunday gave New York City officials a 24-hour deadline to provide plans for enforcing social distancing in public spaces as the coronavirus continues to rage through the city and the governor said there was too much group activity in the five boroughs under his "pause" orders. Mayor Bill de Blasio has since announced some of the measures his administration is taking but his approach differs from what the New York City Council under Speaker Corey Johnson has proposed.
Despite repeated requests, neither the mayor's office nor the governor's office provided the de Blasio administration's enforcement plan to Gotham Gazette. The City Council did make its own plan available and it goes much further than what de Blasio announced during his near-daily coronavirus briefings earlier this week.
Cuomo had expressed disappointment with the early days under his tighter stay-at-home and social distancing orders, and repeatedly stated that he had demanded a plan from de Blasio and Johnson for greater enforcement, especially in parks, while also suggesting that the city should open more streespace to pedestrian use.
De Blasio said Tuesday that the city's enforcement efforts had begun, with NYPD patrols across the five boroughs attempting to ensure that people stay at least six feet apart to avoid exposure to the coronavirus, unless they are members of the same immediate family. Though people can still go to parks and playgrounds, the mayor has warned that he will close them if people do not follow the city's guidance.
"[W]hat we are seeing is broad adherence to the rules and we're going to make clear through NYPD enforcement and enforcement by many other city agencies that we must have a real respect for these rules," he said at a Tuesday news conference. "And anyone who is not following the rules will be quickly corrected. They'll be warned, they'll be educated, and NYPD will be out making very clear to people, using our patrol officers and with messages that'll be electronically transmitted all over parks as well as all the person to person contact that we need people to deal with this new reality of social distancing."
The mayor said he had agreed with the state and City Council to wait till Saturday (March 28) to decide whether playgrounds would remain open. "We will be doing all the enforcement, but if by the end of Saturday, it is not sufficiently clear that New Yorkers are following these new rules, at that point we'll be prepared to shut down playgrounds for the foreseeable future," he said. The city has already begun removing basketball hoops at 80 courts where people had refused to abide by social distancing guidelines, the mayor announced Wednesday, out of 1,700 across the city.
He also announced a pilot program to close a small number of streets to vehicular traffic to provide pedestrians more space for social distancing while getting needed fresh air and movement. From Friday through Monday, from 10 a.m. to 7 p.m., traffic will be barred on Park Avenue between 28th and 34th Streets in Manhattan; On Bushwick Avenue from Johnson to Flushing in Brooklyn; on 34th Avenue from 73rd Street to 80th Street in Queens; and on the Grand Concourse between East Burnside and 184th Street in the Bronx. That pilot will be closely monitored by the NYPD and reevaluated, de Blasio said, while some worried he was just creating new opportunity for people to too-closely congregate and others said his initiative was so miniscule to be not even worth bothering.
Council Speaker Johnson said in an interview on PIX11 on Thursday that he would have liked to have seen the street closures be more expansive. "I want it to be a bigger area, more streets, but one of the issues that we've run into is the lack of personnel that we have to make sure that those areas remain safe, that you're not seeing crowding there and that you are protecting folks when you are closing streets," he said, apparently referencing, in part, the fact that the NYPD is starting to see a significant chunk of its workforce out sick or quarantined. "But I wanted wider swathes, longer avenues to actually accommodate folks that may be crowding into parks," he said.
The Council's social distancing plan, a two-page document, also opts for more restrictive measures. It calls for closing and locking all children's playgrounds, athletic fields and courts; and for the removal of all tennis nets, basketball hoops and any other equipment that is not being cleaned for the entire duration. The plan also suggests removing barbecues in parks.
The plan acknowledges what Johnson raised in the PIX11 interview, that staffing may be the biggest hurdle. It calls for increased enforcement "using creative models that do not lead to over-policing or profiling," including increasing the number of park enforcement police, redeploying 1,000-1,500 parks personnel from maintenance work and recreation centers to bolster enforcement, reassigning school crossing guards to parks, and speeding up the launch of the NYPD's Youth Coordination Officer program to recruit more people to help educate the public about new social distance rules.
In a statement to Gotham Gazette, Johnson said, "Opening a couple of streets per borough to pedestrians is a good first step, but we need to provide more open public spaces for New Yorkers. Social distancing is a key component in the fight to mitigate the effects of this unprecedented public health crisis. As we battle this pandemic, this initiative once it is expanded could provide some relief to the city's parks as individuals look for places where to walk, exercise and get some fresh air while at the same time taking precautions to protect themselves and fellow New Yorkers."
It's not the first time since the coronavirus outbreak in New York City that Johnson and de Blasio have disagreed. The speaker called for both closing the city's public schools and more restrictive stay-at-home orders days before the mayor adopted those positions.
The Council plan also outlines various ways to create new open spaces, particularly in dense parts of the city that lack existing open and green space. Besides restricting vehicles on streets, it suggests expanding pedestrian plazas based off the city's Summer Streets and Play Streets initiatives and looking at the streets under those initiatives for traffic closures. That push lines up with Johnson's running focus on creating more space for pedestrians and bike-riders, a key piece of the "streets master plan" legislation he passed last year.
Besides public areas, the Council also recommended that the city look at the possibility of utilizing private spaces such as college campuses with outdoor space, botanical gardens, and finding recreation space in the Brooklyn Navy Yard, Brooklyn Army Terminal, or Bush Terminal.
The plan envisions a mass-media campaign to inform New Yorkers of the new rules, with signage at all parks, playgrounds, and athletic fields, and a multilingual citywide PSA campaign.