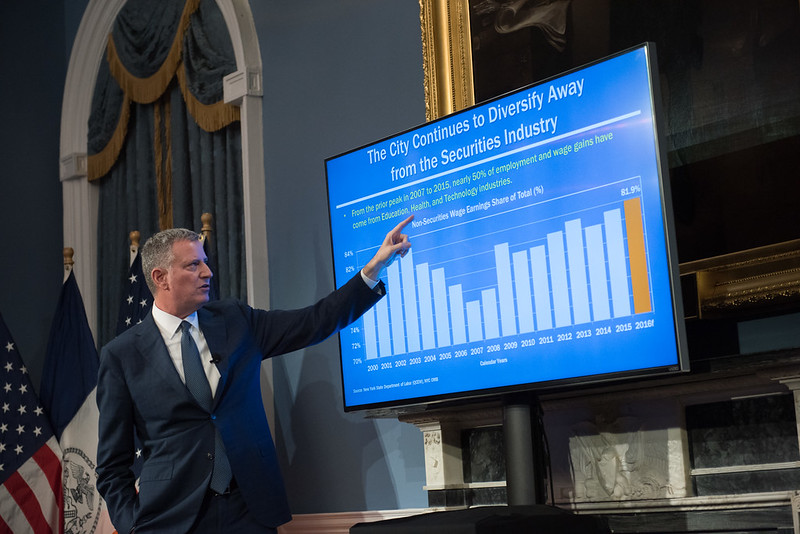 Mayor de Blasio gives a budget presentation (photo: Michael Appleton/Mayor's Office)
---
As Mayor Bill de Blasio desperately searches for solutions to the city's financial woes caused by the coronavirus outbreak, lawmakers and fiscal watchdogs are advocating for legislation that, had it been approved years ago, would have helped the city better weather just such a storm by allowing it to create a dedicated fund for fiscal emergencies.
In January, de Blasio had proposed a $95.3 billion budget for the next fiscal year, which begins July 1, that was a more than $20 billion increase in spending since he took office in 2014. But the coronavirus burst the bubble of consistent economic growth that the city had enjoyed for nearly a decade and allowed de Blasio and the City Council to so drastically expand spending. The recession brought on by the pandemic now threatens to lead to a more than $6 billion drop in projected city revenue, which will need to be made up for through some combination of reserves, cuts, federal funding, and other measures.
It's the kind of rainy day that budget watchdogs including City Comptroller Scott Stringer and organizations like the Citizens Budget Commission and the Manhattan Institute had been sounding the alarm about for years, insisting that the city's reserves, just under $6 billion currently, would be completely wiped out in the face of a sustained economic downturn. And none of those predictions came close to imagining a scenario where the city would be the country's epicenter of a viral outbreak wreaking havoc across the world.
The city's current reserve funds include $1 billion in the general reserve, $250 million in the capital stabilization reserves, and $4.7 billion in the Retiree Health Benefits Trust fund. But those funds cannot be placed in a separate savings pot and built up each year, because of the state law that determines how the city budgets its money. A dedicated "rainy day fund" is prevented by the Financial Emergency Act of 1975 – passed by the state Legislature when the city faced insolvency – which requires the city's budget to be balanced. Revenues must equal expenditures -- even the reserves are achieved through a form of annual fiscal tricks.
State Senator Brian Benjamin, a Manhattan Democrat who is exploring a 2021 run for city Comptroller, proposed legislation in October that would give the city the authority to create a municipal contingency and tax stabilization reserve fund. Though it is too late for the city to put away additional rainy day funds for this fiscal crisis, Benjamin said the coronavirus fallout highlights the need to create a savings system for the next eventual crisis the city will face.
"This is the moment where this makes the most sense from a forward planning standpoint," Benjamin said in a phone interview. "What I have every intention to make sure we get
this year is, in this moment when we're feeling the pain, when we're making the cuts that we have to make on the state level, we have to make big cuts on the city level, we make the right decision to create a rainy day fund to help the future legislators have more options."
In last year's general election, New York City voters overwhelmingly approved a ballot question that would change the City Charter to facilitate the creation of a rainy day fund. It now only requires state authorization.
"It doesn't say you have to put in $5 billion now, $10 billion now, $20 billion now," Benjamin said of his bill. "It just creates the apparatus that can then allow things to occur. So that to me should be a no brainer."
Benjamin's bill comes with strict safeguards for when the city could dip into a rainy day fund. It would only be allowed in the case of an economic recession, where the city sees two consecutive quarters of negative economic growth. He insisted that provision is crucial so the city does not use the fund for one-time purposes that would otherwise be unjustified.
Assemblymember Robert Carroll has sponsored a companion bill to Benjamin's proposal. Last week, the two legislators and Brooklyn Borough President Eric Adams wrote to Governor Andrew Cuomo, calling on him to support the legislation and quickly activate a rainy day fund for the city.
Despite the companion bill, however, it seems any final legislation may end up being a compromise. A separate bill has been proposed by Assemblymember Edward Braunstein, though it does not contain the same safeguard as Benjamin's and Carroll's proposal. Benjamin has been negotiating with Mayor de Blasio's office and Braunstein to create a version they can all agree on, and he said that the Senate leadership has been supportive.
"We're reviewing the bills," said Laura Feyer, a mayoral spokesperson on budget matters.
Mike Murphy, a spokesperson for Senate Majority Leader Andrea Stewart-Cousins, said in an email, "It is something we will have to discuss as a conference." A spokesperson for Assembly Speaker Carl Heastie did not respond to a request for comment.
Budget watchdogs have been pushing de Blasio to create more robust reserves for years, particularly as they watched expenditure skyrocketing under his tenure with inadequate controls on waste and inefficiency.
Citizens Budget Commission, which helped lead the charge for the rainy day ballot measure put forth by a Charter Revision Commission, last year recommended that the city put away the equivalent of 17% of tax revenues in order to survive a recession like previous ones, which could lead to an estimated $15-20 billion drop in revenue over three years. Deposits in the fund should be mandatory during times of growth, and the fund should be established with strong criteria for when it is utilized.
"If we had this rainy day fund in place and had followed CBC's guidelines for the recovery that is now over, we would be in a radically different position in the city," said Andrew Rein, CBC president, in a phone interview, estimating that the fund would have held $9 billion by now.
Rein emphasized the importance of restriction on using the fund. "If you open it up wider, it can be used for a slush fund, for a minor occurrence, to fund new programs," he said.
Besides an economic recession, CBC also recommends allowing the fund to be used in "severe emergencies" that are clearly defined in the law. "There should be some sort of guideposts to tell you what is 'severe' and so we recommended something like at least a 1% drop in expected revenues or 1% increase in spending so that you're not tapping the funds for what is sort of smaller expenses that come up," said Ana Champeny, CBC's director of city studies.
Though the mayor has repeatedly insisted that city reserves are at "historic levels" compared to past administrations, fiscal watchdogs like CBC and the Manhattan Institute's Nicole Gelinas note that the $4.7 billion Retiree Health Benefits Trust fund does not count as a true reserve. That money, they say, should only be used for its intended purpose, to provide retirement benefits for municipal employees, rather than to help the city cover its expenses in times of emergencies.
"I think that it's worth creating a rainy day fund as part of the next state budget cycle and trying to look beyond the crisis to long-term reforms," said Gelinas, noting that it's far too late to be useful for the current crisis.
She also pointed out that the lack of a robust rainy day fund has left the city riddled with uncertainty and couched in a wait-and-see posture as Congress negotiates over the next round of emergency relief.
De Blasio has already announced some steps to shore up city finances, including a new Program to Eliminate the Gap (PEG), which requires agencies to identify certain savings for the mayor to evaluate, to cover some of the shortfall. But the administration has so far only found ways to reduce $1.3 billion in spending. Those cuts are mostly programmatic, and are neither recurring savings nor actual efficiencies in government function, experts have pointed out. Many of them simply reflect lower-than-expected expenditures because of the fallout of the coronavirus outbreak.
De Blasio has indicated more cuts to his spending plan are likely when he presents his Executive Budge, due April 23. That outline will then form the basis for further negotiations with the City Council. The city is also awaiting the possibility of a federal bailout of municipal finances in a fourth coronavirus package that is being negotiated.
And the mayor has also floated the idea of short-term borrowing to meet expenditure needs, which is also precluded by the Financial Emergency Act.
"If we did have a $5 billion or $10 billion cushion, we would be in a much better position to say, 'Okay, let's see where things are in six months,'" Gelinas said. "Is the pandemic over? Have people come back to the city? Have businesses reopened? But we have very little room for error. We're basically so dependent on the federal government right now."
Note - this article has been updated to reference Assemblymember Robert Carroll's bill and a letter sent by him, Senator Benjamin and Brooklyn BP Adams to Governor Cuomo.