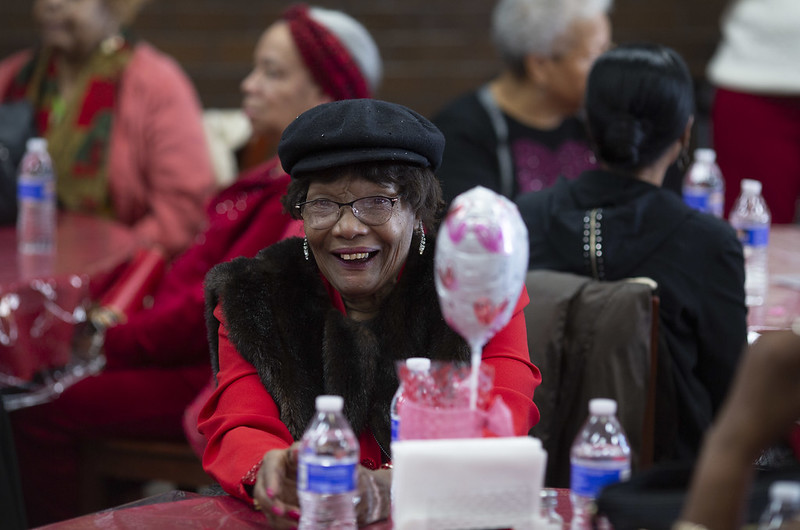 Seniors are especially vulnerable to isolation, now more than ever (photo: John McCarten/City Council)
---
Senior centers are closed. Visitation to nursing homes has been suspended. Social distancing orders have been broadly applied to businesses. Older people are the vast majority of those dying after contracting the virus. The COVID-19 era is marked by death, vulnerability, and isolation for older New Yorkers, with social interaction increasingly difficult to come by. The resulting isolation, already a major problem for seniors in more normal times, is of significant concern as New York City attempts to save as many people as possible from both the novel coronavirus that has already taken roughly 17,000 city residents and the worst social traumas of its fallout.
"A quick call could help an older adult in your life avoid social isolation," reads a banner on the homepage of the New York City Department for the Aging, encouraging New Yorkers to call their older loved ones and providing a number, 212-244-6469, for the agency's recently-launched "Aging Connect" service.
The lack of visits and social interactions can have serious repercussions for older adults. Recognizing that "Loneliness and isolation are increasingly part of the experience of growing old" because of "Reduced inter-generational living, greater social and geographical mobility, [and] the rise in one-person households," a study of older adults from the United Kingdom showed "individuals with strong social ties have a 50% greater likelihood of survival compared with those who have poor social relationships and networks."
The drastic COVID-19 era reductions in social interactions for older New Yorkers -- with no trips to senior centers, no visitors at nursing homes, and, if following social distancing rules, no home visits from friends or relatives -- is also putting lives at risk. And while these measures are important to public health, advocates are increasingly worried, and pushing the use of telecommunications to try and maintain connections for seniors.
Many organizations are seeking new and innovative ways to engage older adults during this crisis and help ease the effects of social isolation.
At the Chinese-American Planning Council (CPC), a nonprofit that seeks to "promote social and economic empowerment of Chinese American, immigrant, and low-income communities," staff are conducting wellness checks at least once a week to socialize and check in with their older members. Staff check in more frequently with those who are living alone, helping to break the monotony and forge essential connections, according to Edgar Pereira, chief program officer at CPC.
Beyond that, CPC is introducing older adults to Chinese checkers online, hoping it will enable them to play with their friends, and links to an English class where they can continue the learning process despite the upheaval of the organization's offerings.
"It's been challenging, but they've been very creative in how they're reaching out," Pereira said.
The Center for an Urban Future (CUF), a nonprofit think tank, recently released a report with a series of 40 policy recommendations compiled from various organizations aimed at helping seniors through the coronavirus crisis, including ideas from CPC and others on combating social isolation.
Ed Friedman, the executive director and co-founder of Lifetime Arts Inc, suggested drafting volunteers to call older adults on the phone to converse and to hold participatory online classes for older adults.
Through the calls, Friedman wrote, "those who live alone will feel less isolated, and if there's a dire problem, the organization sponsoring the volunteers may be able to solve it."
Combating social isolation by holding the participatory classes, including literary, performing, and visual arts, "will provide meaningful social engagement among participants as well as a meaningful activity that doesn't have to focus on the epidemic," Friedman said.
Terry Kaelber, director of the Institute for Empowered Aging at United Neighborhood Houses, a nonprofit, said in the CUF report that government at all levels must help combat social isolation among seniors, especially at this time, and should do so by providing more resources to community organizations to "access and use conference call and video streaming technologies to support virtual support groups, discussion groups, exercise, and other programming," and "develop phone trees, where CBO staff work with older people to conduct daily check-in calls, thereby activating existing friendship and support networks," as well as including older adults in the recovery effort, and providing updates on the status of the virus.
The city's Department for the Again launched Aging Connect, "its in-house contact center," in mid-February. The phone service, which is in partnership with 311 and the state service for older New Yorkers, connects the caller with an "Aging Specialist" to find "services and supports available for older adults and their caregivers, and volunteer opportunities," according to the announcement of the service's launch.
Older adults, their caregivers, representatives from community-based organizations, and others are encouraged to call. "[The] launch of Aging Connect will allow older New Yorkers to speak directly with an expert who has been trained to provide comprehensive solutions for the most complex situations," said Department for the Aging Commissioner Lorraine Cortés-Vázquez in a statement. "This is yet another exciting step in our ongoing effort to adapt our services to the growing, multifaceted needs of older adults."
The press release stressed that multilingual support is available, as well as the "capability to translate more than 240 languages over the phone through LanguageLine Solutions." Specialists are available weekdays from 8:30 a.m. to 5:30 p.m. while other days and hours New Yorkers can call 311.
Another approach being advocated to fight isolation is including older adults in the response to the pandemic. Ensuring seniors are informed and have a say in how the response and recovery impact them might help them feel more in touch with the larger society.
Kaelber, in an interview with Gotham Gazette, said that if older adults are included in the response, it could easily be stronger.
"As we think about recovery and whatever shape that looks like, we know that older people have really good ideas," Kaelber said. "They've lived in their neighborhoods for a long time. They've been in New York in a bunch of different ways and making sure we get their input and recovery will be important and also be a good way to make sure that people are connected and not isolated as the recovery efforts start to happen. It's important that we don't just go to older people and say, okay, we've figured out what you need and there it is. But rather we do it together, we have a concerted effort with community organizations, like settlement houses, to really engage older people and let them define what it is we need. And we're probably going to come up with a much better solution if we do that."
Pereira also discussed ensuring seniors have accurate information. In the Chinese community, WeChat is a major venue for conversation and disseminating information. Pereira said seniors who are a part of CAPC turn to WeChat for news regarding the pandemic and its fallout. The problem is that "it's not as accurate" as it should be, and part of CPC's response is to "provide updates and get accurate information" to its members.
"There's no way to really check with people, when people pull out their WeChat, but we have a sense of control and the responsibility to provide the information through the media. So it's been very helpful, and a lot of seniors appreciate that," Pereira said. "That's why we teamed up with local media to say, 'hey, listen, we want to provide accurate information versus false misinformation.'"
Ben Max contributed to this story.