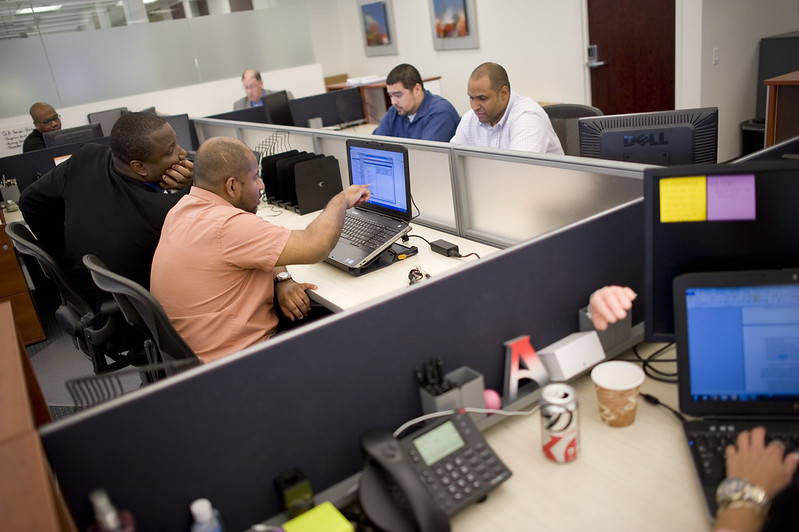 Considering an inclusive recovery in New York City (photo: William Alatriste/City Council)
---
As the COVID-19 public health and economic crises continue, so does the conversation about recovery. This past week, the Center for an Urban Future (CUF), a nonprofit think tank focused on economic opportunity and equitable growth, hosted a digital discussion, "Ensuring an Inclusive Economic Recovery in NYC," featuring several public policy experts.
Jonathon Bowles, the executive director of CUF, opened the discussion saying "the immediate priorities are clear: keep people safe, get people back to work, and help our small businesses survive." He then posed the question to the panelists to kick start the conversation, asking if there is an opportunity in this crisis to build a more inclusive economy.
The panelists were Maria Torres-Springer, Vice President for US programs at the Ford Foundation and formerly Commissioner of three different New York City government agencies for housing, economic development, and small businesses; Maya Wiley, professor at the New School and former counsel to Mayor Bill de Blasio; Harry Holzer of the Brookings Institution and Georgetown University; David Jones, President and CEO of the Community Service Society of New York; and Joey Ortiz, Jr., executive director of the New York City Employment and Training Coalition.
One of the broad themes in the panelists' responses was that this situation offers an opportunity to do things differently and fundamentally change how New York thinks about economic recovery. On tangible ways to spur economic growth and improve equitable access for all New Yorkers going forward, two focus areas emerged: the roles of education and job training.
Torres-Springer said New Yorkers must first identify and be real about who has suffered the most and the fact that the community-level impacts of a disaster, like food insecurity, afflict marginalized populations on a daily basis.
She added that everyone must "resist the temptation to make false choices. False choices between equity and growth, between public health and individual civil liberties, between fiscal prudence and strengthening, for instance, the not-for-profit sector, and instead take this opportunity and turn this crisis into a time when we can identify the types of strategies that strike a better balance and bend towards better outcomes."
Panelists agreed that economic growth should not be considered in a siloed way, but must be embedded into a conversation that encompasses public transportation, affordable housing, food security, workforce development, and how each impacts the economy. The pandemic disproportionately affects black and Hispanic communities and low-wage workers, Torres-Springer said. Holzer agreed, and said, "first we learn, do no harm. But there is a lot of harm out there, and Maria is right, it falls, and especially in New York City, very heavily on people of color, disadvantaged workers, low-wage workers."
Jones, who is also on the MTA Board that oversees the city's massive public transit system, pointed out that black and Hispanic populations are suffering a higher COVID-19 death rate and that the hospitals serving communities of color in the city lack resources.
"The pandemic has really exposed entrenched inequalities but it has laid bare the interdependence and interconnectedness," Torres-Springer said. "And really shown us we are only as safe as the least protected among us."
To do recovery the right way, Ortiz said the city needs to bring people in from the most impacted communities, and ensure that they are part of the planning.
"I think what often happens in any of these discussions is we bring incredible people together to talk about the challenges without the perspective of who may be living it on a day-to-day basis," he said. "It's important for us to be empathetic, it's important for us to understand and care very deeply about the communities we serve, but we need to invite them into this discussion in a very active way."

Jones described the interruption of education, especially for those who were only marginally involved in the system an "unmitigated disaster," adding that "we already knew we were having trouble in terms of retaining kids of color from poor communities in K-12, but we've done reports that show that the community college system in the State of New York can't be considered a great provider of job skills yet, and the assumptions that the community college system would be a feeder to the four-year system doesn't happen in New York."
Wiley agreed, pointing to how essential educational opportunity is for people of color and low-income communities and saying that, historically, city investment has been lacking. Limited funding for education, along with public transportation, technology, and job training -- which impact an individual's ability to access education -- are "historic failures we keep reinforcing," Wiley said.
"It's a combination of multiple pieces here," Ortiz said. "The pieces that were raised before, in terms of K-12, and certainly the higher education CUNY system is essential here, but I think there is also meeting folks in between, the workforce development system, and smaller community-based organizations have done an incredible job of supporting people here in New York City."
Jones likened the CUNY system to apartheid, saying New York has an overwhelming number of black and Latino students concentrated in two-year schools. "It's resource allocation, we're not really adequately resourcing our community college system. I do think it's a potential springboard." But we have to be serious, he said. "We have to think more holistically and make community college perhaps a centrepiece."
Holzer agreed that community colleges are a key piece. "I do think there is lots of good training at the community college level that does lead to good-paying jobs, some of them involve associate's degrees, especially associate's in science," he said. "Some of them are good certificate programs and people have a greater likelihood of completing, but again it's hard to build up capacity in these programs without money."

Education is directly related to access to the job market, of course, and over the last decade, there was huge growth in both low-wage industries and jobs for college educated individuals. Holzer said that jobs that used to only require a high school diploma now often require some kind of post-secondary education, and employers have a harder time filling certain gaps. To address this problem and increase access to the labor market, all the panelists agreed there are two main strategies: building the skill-building sector, and working with employers to create better quality jobs that can lead to a career.
Wiley cited "three legs of a stool," with the need for a stronger education pipeline, better quality jobs, and especially more affordable housing, saying "unless we're addressing the affordability problem then we are not going to be doing enough just to be doing jobs or just to be doing education, we need the three legs of that stool."
"It requires a vision that says a New York that we all want to live in, a diverse New York that has all of us in it. We can become San Francisco and watch people of color get pushed out and still be unaffordable for a white middle class, that doesn't help any of us," Wiley said.
The city's plan for addressing recovery is also dependent on the level of funding support that might be offered from the federal government. "The point of this particular crisis is, is the federal government going to step in and provide more resources or not those two scenarios create different opportunities," Wiley said.
New York State and City face many billions in lower-than-expected tax revenue given the economic shutdown and recession brought on by the coronavirus outbreak, and are seeking bailouts from the federal level.
"The services they end up cutting back on most severely are those that are trying to help those at the bottom who don't have political clout, who aren't considered economically viable," Jones said of likely city budget cuts, some of which the mayor has already outlined for the next fiscal year, which begins July 1. "And if we persist in that kind of behavior we are going to have the inequality system that we have now just explode."
One program that the mayor has put on the chopping block is the Summer Youth Employment Program (SYEP), which seeks to connect "NYC youth between the ages of 14 and 24 with career exploration opportunities and paid work experience each summer," according to the SYEP website.
"Summer youth is a good example of when something is hard, let's just scrap it rather than say let's try to find the best possible plan to keep our young people safe," Ortiz argued. "This was an incredible opportunity for them to develop the technological infrastructure that was required to learning or investing in the system from a distance. And now we have a situation where, during a health crisis, 100,000 young people won't have anything to do. These types of moments are when we need to take our big ideas and apply them so we can move forward in a really positive way."
"We can't have young people who are already marginally connected to the economy with no summer plan, no school," Jones said. "You can't do that. You can reconfigure it to have social distancing but we've got to get young people in these communities engaged and some income coming in for them and their family and some hope they can participate in the economy going forward."
Holzer added that a program like SYEP "has strong evidence it actually helps students graduate from high school, it reduces engagement in crime, it reduces incarceration, violence and homicides and things of that nature, as an example. It's such a short-term mistake to not fund those types of things."

Torres-Springer pointed out that how New York recovers is uncertain because the city is still very much in the midst of the crisis. She added that there are a number of policies that are emergency measures, such as direct cash and paid sick leave, that months ago would have been unthinkable, but a key question is the transition from the short-term triage to the long-term policies.
"We need to make sure people's lives are secure and people have good wages, have a dignified and rising standards of living," Torres-Springer said. "We can't fool ourselves that this is the job only of local and state policy-makers. We cannot let Washington walk away from their obligations."