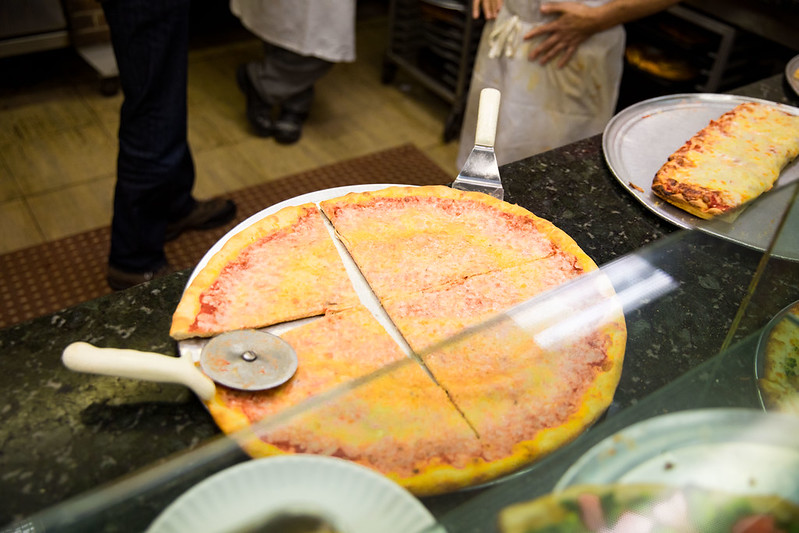 Restaurants are struggling to survive during the lockdown (photo: Benjamin Kanter/Mayor's Office)
---
As New York City's mom-and-pop restaurants struggle to survive in lockdown conditions owing to the coronavirus pandemic, the New York City Council appears poised to help them cut costs by passing a bill to cap fees charged by third-party delivery services, which have proliferated in recent years via phone apps.
Small restaurants that cannot afford delivery workers or have recognized the popularity of the apps rely on the third-party services like Grubhub, Seamless (which is owned by Grubhub), DoorDash, and Uber Eats, which charge significant fees that eat into an establishment's profits. Those fees, hidden from customers who use the services, can include charges for processing, delivery, and commissions, and can end up hurting, rather than helping a food establishment's business.
A particularly harsh example made waves on social media when a pizza restaurant owner, Giuseppe Badalamenti, in Chicago posted details of a Grubhub invoice on Facebook. Orders that totalled about $1,042 over the month of March only netted him about $376 after Grubhub took its cuts. "Stop believing you are supporting your community by ordering from a 3rd party delivery company," Badalamenti wrote on Facebook in a post that went viral.
Grubhub defended the fees in a statement to the Chicago Tribune. "Restaurant owners select the services they want and only pay a commission to Grubhub when we help generate sales. Grubhub is happy to work with restaurant partners to help them manage costs and grow their business," the statement said.
Restaurant owners and trade associations in New York City have been complaining about the fees charged by the app-based delivery companies for some time, with the temperature significantly raised amid the coronavirus shutdown wherein restaurants are only allowed to offer delivery and takeout. "The third-party delivery platform situation was a crisis before we were in this crisis," said Andrew Rigie, executive director of the NYC Hospitality Alliance, in testimony before a remote Council hearing on the bill on April 29. "What companies like Grubhub and Seamless are doing is using sophisticated techniques to basically extract as much money as possible out of businesses pre- and during this pandemic."
The bill before the New York City Council, which its lead sponsor says will soon pass, will limit any fees charged by a third-party delivery service at 10% of the total purchase price of an online order.
The bill was introduced by Queens Council Member Francisco Moya in February, well before the coronavirus made it a far more urgent issue, and has since been amended to account for the pandemic. In the case of a declared public emergency, the bill limits delivery fees to 10% and prohibits any other fees. The law would go into effect immediately and carries a hefty $1,000 penalty for each violation. Moya told Gotham Gazette the bill will be voted on and passed at the next full meeting of the City Council, which was originally scheduled for May 5 but has been recheduled for May 13. "Yes," Moya said, when asked if the bill will be voted on and passed by the full Council (it will have to be passed in Council committee first).
A spokesperson for Council Speaker Corey Johnson declined to comment for this article.
When the outbreak began, Moya and others were somewhat optimistic that delivery service companies would come to the aid of small businesses. On March 13, Grubhub had announced that it would temporarily stop collecting commissions of up to $100 million, and set up a charitable fund for drivers and restaurants in several cities, including New York, San Francisco, Boston, Portland and Chicago, where the company was founded and is headquartered.
"Independent restaurants are the lifeblood of our cities and feed our communities. They have been amazing long-term partners for us, and we wanted to help them in their time of need. Our business is their business – so this was an easy decision for us to make," said Matt Maloney, Grubhub Founder and CEO, in a statement at the time.
But, as Badalamenti found out the hard way, Grubhub is still making a tidy sum off commission, delivery, and processing fees. His invoice also included charges for promotional services that he chose.
"There's a word for things that feed off the lifeblood of others and that's of course is leeches," Moya said in a phone interview. "Grubhub is still coming after these [restaurants], and they're gonna suck them dry if we don't help level the playing field."
He added of his district that includes Elmhurst, Jackson Heights, and Corona, "I represent an area where it's a large immigrant community. These are small family-owned restaurants. They can barely afford to keep the doors open, let alone sustain the fees that they're being charged."
Inquiries to Grubhub went unanswered. Harry Hartield, a spokesperson for Uber Eats said in a statement, "Restaurants have the option to choose different services at different commission levels. With Uber Eats, they can choose to pay a lower commission and pay for full-time delivery people themselves. Many restaurants don't have the resources to do that and they choose to have Uber Eats cover all the costs and logistics of delivery. This law would simply shift the costs back onto small, local restaurants who can afford it the least."
A DoorDash spokesperson made a similar argument, noting that the company has cut commissions in half for small restaurants as part of a $100 million effort at commission relief and marketing support. "Unfortunately, an arbitrary cap could limit the services we can provide to local restaurants and ultimately hurt couriers who need these work opportunities more than ever," the spokesperson said.
The bill doesn't yet make a distinction between those different types of arrangements. For instance, restaurants with their own delivery workers and those that rely on the service's delivery workers would be subject to the same cap. Moya did say, however, that final negotiations about the bill are ongoing before it is passed, and that it could be tweaked to separate caps on delivery fees from caps on commission and processing fees. The bill has 14 co-sponsors so far in the 51-seat Council.
Moya's bill is also part of a larger package of regulations regarding third-party food delivery services that were the subject of the remote hearing on April 29, held jointly by the Committee on Consumer Affairs and Business Licensing, Committee on Small Business, and Committee on Housing and Buildings. Other proposed measures include requirements for disclosure to consumers of the fees and commissions charged to restaurants as well as requiring a license from the Department of Consumer and Worker Protection, among other bills.
Bronx Council Member Ritchie Torres said on Twitter the bills aim to "protect struggling restaurants from outrageous fees from food delivery apps & to ensure delivery workers receive their well-earned tips in full. We must protect restaurants so they're able to return & thrive."
In the virtual hearing, Amy Healy, a Grubhub representative, called the bills an example of "government overreach." Brooklyn Council Member Justin Brannan pushed the company to voluntarily commit to a fee cap, but the company said that would force it to operate with losses. "Restaurants may have been deemed 'essential' during #COVID19 but it ain't peaches & cream. They are all struggling to make ends meet with take-out & delivery as their only means of staying afloat. NYC must institute an emergency 10% cap on all delivery apps," Brannan tweeted.
Other proposed measures include requirements for disclosure to consumers of the fees and commissions charged to restaurants as well as requiring a license from the Department of Consumer and Worker Protection, among other bills.
"[M]y agency and administration, generally we agree with the issues that the Council is trying to address with these bills," said DCWP Commissioner Lorelei Salas, a de Blasio appointee, at the hearing. "Given the ongoing emergency and fiscal situation, it would be challenging for us to contemplate taking on a broad area of new regulation. With that said, we want to work with the Council to figure out the best pathway forward and what we can do to help small businesses that most need this help right now."
Note - this article has been updated to note that the next full Council meeting has been rescheduled for May 13.