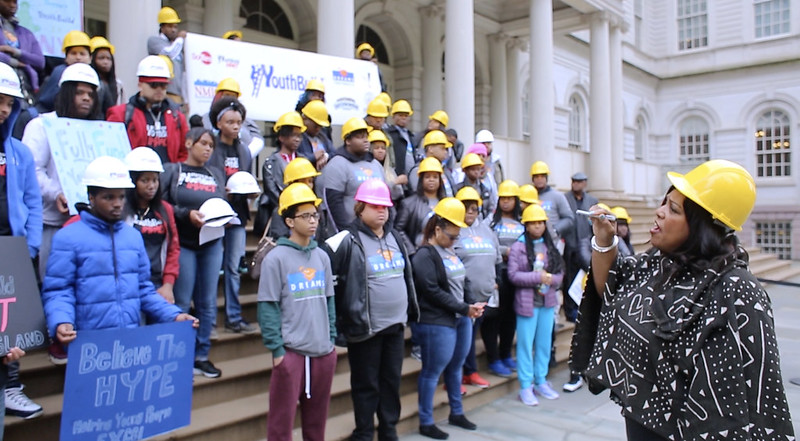 Council Member Debi Rose with youth workers (photo: William Alatriste/City Council)
---
With New York City facing a massive budget gap and severe social restrictions because of the coronavirus pandemic, Mayor Bill de Blasio made the unpopular decision to suspend the Summer Youth Employment Program, which in past years gave tens of thousands of young people jobs over the summer. But as de Blasio faced swift and sweeping criticism for the move, administration officials testified before the City Council that an alternate plan is in the works and will be unveiled soon.
Over the last few years, at the urging of activists and elected officials, the de Blasio administration has significantly expanded SYEP, which gives summer jobs to youth between the ages of 14 and 24, many from low-income communities and communities of color. Last year, the city funded 75,000 slots in the program, and about twice as many youth applied for those jobs, which include placements in government, nonprofits, and businesses.
Facing a dire budget situation given the coronavirus shutdown and a projected $7.4 billion in lost revenue by the end of the 2021 fiscal year next June, de Blasio made the program one of the first victims of budget cuts. Suspending SYEP this year is expected to save the city $124 million, according to the mayor's executive budget plan, which is now the subject of hearings and negotiations with the City Council.
De Blasio hasn't completely ruled out a version of the program that can still be implemented if social distancing restrictions are still in place over the summer. "The Council cares deeply about SYEP. I care about it too. It's expanded greatly during my administration," he said at his daily coronavirus briefing on May 5. "I've said, one, we don't have money right now. Two, we don't have a logistical framework to make it work because people can't gather and it is wholly dependent on people gathering in the same place. So I don't see a way to do it right now, but I'm always going to have an open door to the Council and budget adoption is not until the middle of June or later June. Things could change by then so don't see it now, but the conversation is open."
The mayor's decision was quickly greeted with outrage, especially from City Council Members who questioned the rationale behind cuts he made to various agency budgets. As several of them pointed out at a May 6 hearing on the mayor's executive budget proposal, while the Department of Youth and Community Development (DYCD) saw almost all youth programs eliminated, the NYPD, with its nearly $6 billion budget, saw minimal reductions in planned spending.
[Read: City Council Questions De Blasio's Priorities at First Executive Budget Hearing]
Council members and advocates for SYEP have repeatedly noted that de Blasio's characterization of the program requiring "people gathering in the same place" is not necessarily accurate, given that with so many workplaces going remote amid the city's near-shutdown, so could these summer jobs, not to mention other safe opportunities for employment like outdoor, socially-distanced work.
At the May 6 hearing, Melanie Hartzog, director of the Mayor's Office of Management and Budget, went further than the mayor and said that DYCD and the Department of Education are actively exploring how to move forward with a remote program. "DYCD and the Department of Education are working in partnership for that and looking at different opportunities, on which there'll be more to come in the coming weeks," she promised.
Later in the hearing, she addressed the larger spate of youth programs. "There are a number of remote learning opportunities that we're looking at as well as providing direct supports. So those plans are forthcoming. You will be hearing more from both agencies on what they intend to do," she said.
The mayor's office has offered little in the way of details. Siobhan Dingwall, a mayoral spokesperson, said in an email, "We are facing an unprecedented health crisis and the loss of $7.4 billion in tax revenue. Suspending SYEP this summer was a painful, but necessary, choice as we prioritize saving lives and the health and safety of New Yorkers. We will continue to work with our providers and the young people they serve to alleviate the effects of this suspension."
The Staten Island Advance reported last month that Council Member Debi Rose, who chairs the Committee on Youth Services, was presenting the mayor and Council with her own proposal for a remote youth jobs program, funded at the same levels as the mayor's initial budget proposal. Calls to Rose's office for this story went unanswered.
On April 10 Rose reacted to de Blasio's "abrupt announcement" of SYEP suspension in a newsletter to constituents, saying the "program has a decades-long history of uplifting impoverished youth who would otherwise struggle to access the labor market, while providing an economic lifeline to their families" and that it would be a "devastating blow" to the students and their families, as well as the host organizations.
"Even in the midst of this crisis, this is unacceptable," Rose went on to say. She added that she had already asked de Blasio to "work with providers to explore new and creative ways to engage youth — and provide SYEP participants with some form of a paycheck. During this crisis that is magnifying glaring disparities in our city, it is even more imperative that we provide a safety net for these young people before they fall even farther behind."
Rose's committee is holding a remote executive budget hearing on Wednesday where DYCD officials are expected to testify, though it's unclear if they will present any plans for a remote jobs program. Dingwall, the mayoral spokesperson, did not respond when asked if those plans would be in place by the time the hearing is held.
A spokesperson for City Council Speaker Corey Johnson said in an email, "Speaker Johnson and the Council are very concerned about the proposed cuts to the SYEP and other youth programs. The Council has provided the administration with feedback on these cuts and looks forward to hearing their alternative proposals."