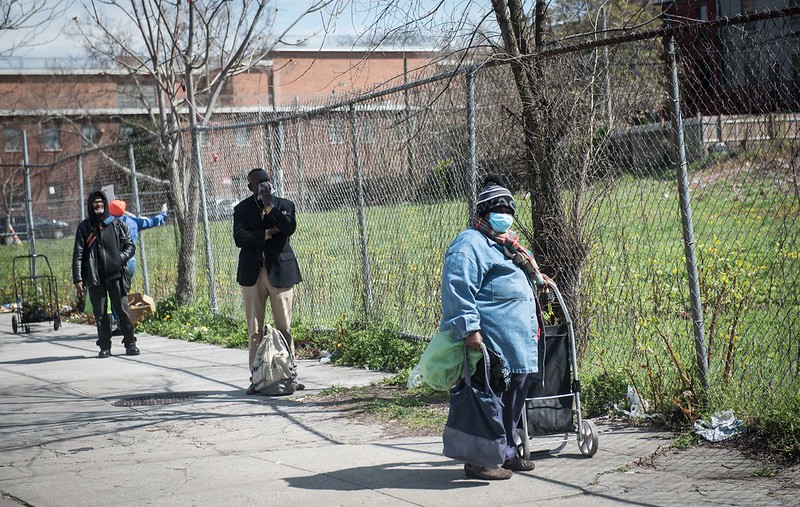 New Yorkers wait on line for food (photo: Michael Appleton/Mayor's Office)
---
As New York City shut down amid the coronavirus outbreak, and hundreds of thousands of people lost their jobs and livelihoods, the city saw a massive increase in applications for food stamps and cash assistance.
According to new data from the city's Human Resources Administration and Department of Social Services, applications for the Supplemental Nutrition Assistance Program (SNAP), more commonly referred to as food stamps, and for cash assistance have surged since the state's stay-at-home order went into effect in March.
In March, 59,179 individuals applied for SNAP benefits, which are available to low-income New Yorkers, compared with 24,271 in March last year. The month of April saw an even larger jump, with 84,171 applications for SNAP, a 207% increase compared to 27,416 in April last year. In total from February through April this year, 170,446 people have applied for SNAP, a stark contrast with the 73,533 who applied in the same period last year.
Applications for cash assistance -- which is available to those who are eligible "based on income and resources, household composition, and other factors," according to the HRA website -- have also jumped, albeit not as high. There were 34,213 applications in April, compared to 25,677 in April last year; 37,734 people applied for cash assistance in March this year, compared to 24,136 last year. From February through April, 94,634 New Yorkers have sought cash assistance, compared to 72,077 in the same time last year. According to HRA, applications have since leveled off and returned to pre-pandemic levels in the last week of April.
Along with the immense volume of applications, the city's social service agencies have had to quickly adapt to the conditions imposed by the pandemic. HRA already had a system in place to allow individuals to apply for SNAP online and on the phone. But cash assistance applications required in-person visits to an HRA office, which became infeasible after the city went into lockdown. The city then requested and received a waiver from the state Office of Temporary and Disability Assistance, which was granted in late March. Online applications for cash assistance increased from 8% in the first week of March to 93% in the week ending March 28. They have since decreased.
"In response to this unprecedented crisis, we've taken unprecedented steps at DSS-HRA to increase access to vital benefits and resources for New Yorkers in need––and we continue our top-to-bottom review of our policies and procedures to see how we can keep adapting and go further," said HRA-DSS spokesperson Isaac McGinn, in a statement. "In the past several weeks, we've implemented sweeping reforms at a scale and speed never before seen to ensure the 3-million-plus New Yorkers who count us to make ends meet remain connected to essential benefits and don't have to worry about losing services, which is more important than ever."
At Mayor Bill de Blasio's daily coronavirus briefing on Thursday, HRA-DSS Commissioner Steven Banks told reporters his agency has faced applications at "unprecedented levels that nobody could have predicted."
"In order to address that, we have reassigned 1,300 members of our staff to address this on precedent demand, and we're working through those applications," he said.
According to new data released Thursday by the U.S. Department of Labor and New York State Department of Labor, the seasonally-adjusted unemployment rate in New York City jumped from 4.1% in March to 14.2% in April. The increase was "the largest on record...since current record keeping began in 1976." The data shows that New York City was down 891,800 jobs from April 2019 to April 2020.
As of May 16, more than 2.27 million New Yorkers (from New York City and beyond) had applied for unemployment insurance through the state government, according to Department of Labor data. The state has paid out more than $10 billion in benefits, according to Governor Andrew Cuomo's office, up from $2.1 billion paid out all of last year.