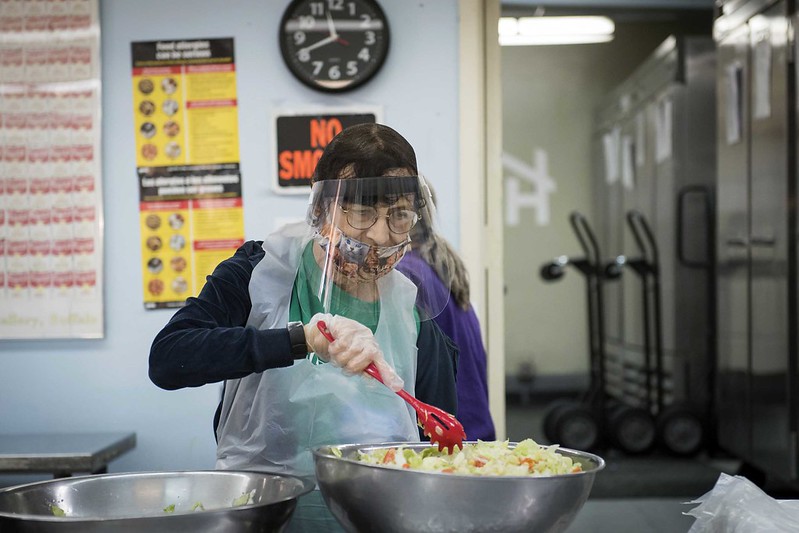 Food being prepared during the coronavirus crisis (photo: Ed Reed/Mayor's Office)
---
Brooklyn Borough President Eric Adams and New York City Council Member Ben Kallos of Manhattan, both Democrats, announced new legislation last week that would mandate nutrition standards for the "grab & go" and home delivered meals provided by the city, which have become essential sources of food for hundreds of thousands of New Yorkers during the coronavirus crisis.
As unemployment in the city has skyrocketed from 4% to past 14%, children are not attending schools where they often get free meals, and older New Yorkers are not going to senior centers where they get fed, the city has provided tens of millions of free meals over the course of the more than two-month near-shutdown of the city. But as the city has ramped up its food operation, there have been some issues and questions, including over the healthfulness of the meals.
The announcement by Adams and Kallos, who have both taken an interest in food and wellness since well before the pandemic, comes "as several New Yorkers throughout the five boroughs have expressed concern about the quality and nutritional standards of the food distributed through the GetFoodNYC initiative, launched in response to the growing number of New Yorkers who have lost jobs or income due to the COVID-19 pandemic," their announcement of the bill said.
The bill would set nutritional standards for snacks and meals funded directly or indirectly by city government, as assigned by the city's health department or another agency chosen by the mayor. Some exceptions would apply, such as when the meals are regulated by federal or state entities. The legislation would require the city to review menus and food distribution on occasion for compliance and to provide support so that regulated providers meet the nutritional standards, and the agency in charge would have to garner feedback at least once a year from food recipients.
As the crisis took hold of the city, the administration of Mayor Bill de Blasio established the GetFoodNYC hub, where New Yorkers can access various resources and information, including access to SNAP (food stamps) benefits from the Human Resources Association (HRA), a map of hundreds of food pantries and meal pick-up sites in the city, and food delivery assistance. The "grab & go" meal system now provides 500,000 meals per day to anyone who needs food, no questions asked, between 7:30 a.m. and 1:30 p.m., Monday through Friday, at 435 sites across the five boroughs.
Halal meals are available at all sites, and Kosher meals are available at 18 sites. Food delivery is ramping up to reach 1 million meals per day by this week, de Blasio recently announced.
"We have sick care in our city, our state and our country," Adams said at a press conference, explaining the rationale behind the bill. "Wait until people get sick and we treat them instead of the underlying cause. The real irony is that our city, literally and figuratively, feeds the health-care crisis through the non-nutritional, sometimes unhealthy food programs. Our tax dollars are being used to make us sick, and that needs to be emphasized. Our tax dollars are used to make us sick."
During the press conference, doctors spoke about the value of nutrition and how it can be preventative and help New Yorkers have better health outcomes, which is increasingly important during a pandemic. Yami Cazola-Lancaster, a health-care professional who spoke during the press conference, suggested that certain plant-based foods, such as lentils or canned beans, are nutritious, would not be more expensive for the city to provide, and would help produce better health outcomes.
"I think that the most important thing that government can do is to lead and protect its people," said Cazola-Lancaster. "Now, it's a sensitive issue because right now we want to address hunger, we want to address true scarcity. However, we have evidence based information about the power of food, the power that food has to both prevent and potentially reverse disease. So this is really important all the time for our citizens, but it's especially important right now because we're dealing with the COVID-19 pandemic and New York has been hit so hard. So right now as the government provides food to people who need food, it's in the best interest of everybody to provide more whole plant foods and it doesn't have to be more expensive than what we're already able to do."
On May 21 de Blasio was asked specifically about seniors, many of whom are getting home-delivered meals during the pandemic, and issues with the food that some have reported. The mayor said the food seniors are getting is held to a "high standard."
"While this is emergency food to ensure no New Yorker goes hungry, the city also ensures meals meet nutrition requirements. For the senior meals program, for example, meals have sodium limits and required servings of protein, fruits and vegetables, and whole grains," de Blasio said. "Due to scale, some vendors are providing shelf-stable boxes, while others are providing fresh food or frozen food as well. If food quality does not meet the program's standards, the city addresses it directly with the food providers, and has ended contracts with providers who were not living up to their commitment."
"It is important that we utilize everything in our power to ensure we do not feed the health-care crisis," Adams said. "The legislation that Councilman Kallos is introducing today, would use smart, innovative ways of looking at the foods that we eat everyday. New York is on our dime to make sure that food is healthy and nutritious, to not to react to chronic disease but to start the process of giving people a healthy diet so that they can live a healthy lifestyle."
"But what happens for those who don't have a choice, those relying on our 'grab & go' meals or home delivered meals from our city and when they don't even have a choice," Kallos said. "Candy and potato chips and Bugles and things like that. That is a sometimes treat. That is not something that is part of a core diet and we need to make sure that for those who don't have a choice in the matter or literally relying on the city for their food, that we are providing them with healthy options so that if they eat that diet, they will not only be healthy but lose weight."
Even before the pandemic and its fallout, the city was home to more than 1 million food insecure individuals, while hundreds of thousands of New Yorkers have lost their jobs since mid-March, drastically increasing the need for emergency food. New York City is home to over 1.1 million seniors, according to a 2017 report by the City Comptroller, many more of whom are homebound due to social distancing restrictions and senior center closures, increasing the need for meal delivery and other food programs. As more New Yorkers rely on meals provided by the city, nutrition becomes more important.
"We are dealing with low-income communities that are already facing this epidemic where we are seeing higher numbers," Kallos said. "We're seeing an increase of diabetes amongst our black and brown population, particularly New Yorkers who are black are seeing more diabetes than most other populations. And when we're literally handing them candy, that's not something that's going to help. Additionally, I'm a person of the Jewish faith and we're seeing seniors, Holocaust survivors, who are trying to get access to healthy food and they're being provided non-Kosher meals that they literally have to choose between their religion, where they were able to keep Kosher during World War II and the Holocaust, and trying to survive this pandemic. And that's just not a choice anyone should have to make."
Adams said he was set to meet with de Blasio's emergency food team on Friday to discuss nutrition, which is largely absent from the Feeding New York plan that the city released. There are no specifics about nutrition in the plan beyond saying the city will "provid[e] meals that not only are nutritious, but are also culturally and ethnically appropriate." Kallos said that nutrition is on the radar of de Blasio's "food czar," Kathryn Garcia, but said he and Adams are pushing the new legislation because no action has been taken so far to remedy the problem.