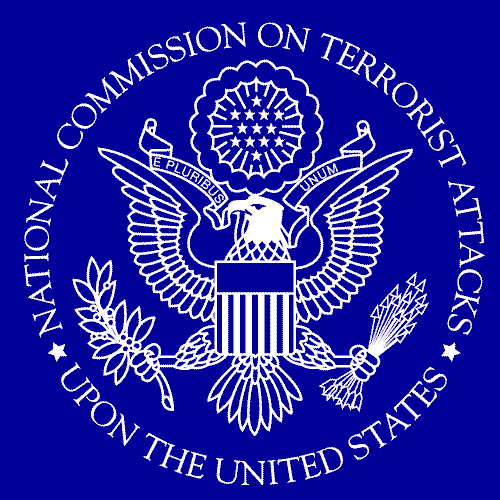 BEFORE THE NATIONAL COMMISSION ON TERRORIST ATTACKS UPON THE UNITED STATES
Individual Testimony (.pdf Format)
Bernard B. Kerik
Former Commissioner, New York Police Department (NYPD)
Submitted Testimony
Thomas Von Essen
Former Commissioner, Fire Department of New York (FDNY)
Submitted Testimony
Richard Sheirer
Former Director, New York City Office of Emergency Management (OEM)
Submitted Testimony
5/18/04
Chair Thomas H. Kean: Thank you. The questioning is going to be led today by Senator Kerrey, followed by Senator Gorton.
Commissioner Bob Kerrey: Well, first of all Commissioner Sheirer let me agree with you. There is no way that we can thank all those who gave their lives and the thousands of others who rallied at the cause on the eleventh who, as all three of you have said, saved so many people that otherwise might have perished on that day. And to all of you, and to all who you known, to everyone who's involved, I do feel an enormous debt of gratitude and thanks.
I also agree, Commissioner Von Essen, that we ought to try to, that our work ought to be in the context of 9-11, which is why we try to recreate at least some of what happened on that day.
And with you, as well, Commissioner Kerik, who I'd like to begin with, I do believe your desire to make certain that we provide the resources, that you said the ammunition to fight the war, which I presume means resources altogether.
And I just say at the outset, one of the concerns that I've got is that I see that we're not doing that. I mean, for example, we all know on that day that in a horribly tragic and perverse way as a consequence of there not being a lot of live casualties our hospitals weren't over-taxed. And the American Hospital Association, the GAO is saying today that we're nowhere near close to being able to fight a biological war, deal with the aftermath of a biological - not even close.
So that there's evidence, and I could cite others, I'm sure you could as well, where we're talking but we're not ponying up the resources necessary to get the job done. We come to the wall and say, well, we can't do that and maybe we'll get lucky and they won't attack us again which is, I think, what got us, in many ways, in trouble before.
Let me ask you, Commissioner Kerik, in your, page 3, you talk about the City, through OEM, had coordinated plans for many types of emergencies and those plans were tested frequently. On the drills, exercises you talked about - Chem, Bio, mass transit, against a mass transit system, actual emergencies like blackouts, building collapses, storms, plane crashes. Noticeably absent on this list is any kind of table-talk exercise dealing with the potential of Al-Qaeda attacking New York City one more time. Is that - did you do a scenario analysis of what Al-Qaeda might do in New York City?
Former Commissioner of the New York Police Department Bernard B. Kerik: I think the overall - the tabletop exercise with regard to a biochemical attack may not have been dealt with solely with regard to al-Qaeda, but it was with regard to a terrorist attack, whether it's al-Qaeda or Answar al-Islam or some terrorist group by a different name. And they were, in all of the other things that we prepared and practiced for, were in the same vein, the same mindset.
Kerrey: When you're talking about a plane crash, you're talking about a plane crash in the city itself? Did you prepare - certainly where the building are 1350 feet high, with Newark and LaGuardia and Kennedy and commercial aviation in the area, that must have been on the list of possible tabletop scenarios that you evaluated.
Kerik: We did plan for and do tabletops and drills for plane crashes. I want to say, because I heard earlier some of the testimony, when it comes to crisis and it comes to preparation and planning, I'd just like to take a moment to explain to the commission. Unfortunately, how well we did this, because two months from the day the towers were attacked, Flight 587 dropped out of the sky over Queens, dropped in the middle of a community. It was the second largest airplane crash in US history. And unfortunately, we had gotten so good at doing our job, within 24 hours from the minute that that plane hit the ground, we had the community cleaned up, we had the bodies removed, we had the gas on, we had the electric on, we had the streets open, the water was on. And minus the devastation, minus the devastation and destruction and the death that it caused, minus that everything was back to normal within a period of 24 hours, unlike anywhere else in this country.
Kerrey: But did the feds come to you, did the FBI, CIA, and the joint task force that were being put together after the seventh of August 1998 or after the 12th of October 2000, in other words after East African embassy bombings and the Cole, and say al-Qaeda's in the United States of America. They obviously had tremendous and very sophisticated capability, far beyond what they demonstrated in February 1993, and we must do some scenario analysis to protect the people of New York City. Did that ever happen?
Kerik: I can't say that they volunteered or requested us to do scenario analysis, but what I can say, and I have said this consistently, I really personally, I didn't need anybody to come to me and tell me that al-Qaeda was here. If you look at interviews by bin Laden in '97 or '96, he said he was coming, he said he was going to send people. He said he despised this country. And, for those of you who do not know, I lived in Saudi Arabia from 1978 to 1980. I lived in Saudi Arabia from 1982 to 1984. I heard a lot of the same rhetoric from bin Laden that I heard and witnessed in Saudi Arabia. So, I understood the mentality, I understood his threat.
I also had a very positive relationship, and a good relationship with John O'Neill, who I consider one of the greatest investigators in US history when it comes to al-Qaeda, or when it comes to the radical holy war Muslims that want to devastate this country. And in the last few weeks, or the last few months I should say, as this commission has been ongoing, I personally, trying to sort of sort it out myself, I reached out to people like Murray Weiss, that wrote the book about John O'Neill, I reached out to other people that knew John even better than I did, and I said ÔWas there ever a time, maybe I missed something maybe I didn't get it, was there ever a time that John O'Neill said that they would come with planes? Did I not hear it? Was there something I missed?' And it just - it was never said.
Kerrey: But on the list of things that you indicate you do tabletop exercises are the possibility that a commercial airliner, undirected by al-Qaeda, could crash accidentally into a building in New York City. Is that not correct? Did I get that correct, in this paragraph you talk about plane crashes, do I presume correctly that plane crashes into building in New York City were among the things you did scenario analysis of, whether or not you prepared for it?
Kerik: We had a functional drill of a plane crash at Kennedy, we did not have a tabletop of a plane crash into a building. A plane crash into a building would be handled basically as a hi-rise fire which it would have caused. We received no information from anyone that I was aware of.
Kerrey: No, but, I mean, the only information needed is you've got a lot of planes taking off from LaGuardia and a lot of planes taking off from Kennedy and lot of planes taking off from Newark. Were among the things that you did as you did possible problems in New York City, say, one of these planes could crash into one of these 1350 feet places? A lot of us, when the first plane hit, thought it was an accident. And I presume that you look at a 1350 foot building and say, oh my god maybe a plane someday will hit it, and I wonder if you, did you do scenario analysis?
Kerik: We did not -
Kerrey: Did you analyze, is your communication system going to capable of handling this job, do you have a good evacuation system in place. The sorts of things that you've all talked about.
Kerik: They relate very closely. A plane crash into a hi-rise building would be, ultimately, a hi-rise fire. And all the agencies drill both functionally on tabletops and functional drills on hi-rise incidents. It was part of our All-Hazards plan, but whether we did specific tabletop incidents on a plane into a hi-rise building, no we did not. I just want to go back a little bit on terrorism.
In May of 2001 we did a tabletop exercise called Red X. Red X was an attack of bubonic plague in the city, a terrorist incident. It was conducted at OEM with about 70 different entities, agencies, and locales from the entire metropolitan area. Five minutes into that drill, everybody forgot it was a drill it became so intense. And as part of that drill, we quarantined Manhattan because we did not have enough information as to what we were dealing with. That drill, the second part of that drill was scheduled for September 12th on Pier 92. And that was the point of dispensing the medications in a biological attack.
Both those drills served as the basis for how we responded to the anthrax attacks in October of 2001. And we all had thought that the next area that we would be attacked would not be a chemical bomb, but would be chemical biological warfare, and we were really focused on preparing for that.
Kerrey: Help me on this one, I mean I've been living in the city for a little over three years and one of the things I know is that it's hard to figure out where everything is because the buildings are awfully tall. I've stopped looking up and rubbernecking all the time, and we heard Joe Morris earlier and we heard other people as well talk about how they could see what was happening as long as they were watching television, but the minute they got down to the site they didn't have the eyes to be able to tell what was going on and I'm wondering if you think as a consequence of that the city shouldn't have UAD's or some sort of eyes in the skies that give us the capability of doing that and I wonder if in your post-mortem analysis you haven't said maybe that's something we should have done after 1993.
Sheirer: I think that what we need to take a look at, on the technology side, is the communications issue. Critical issue. Has been, not from 9-11, but for decades. Public safety communications, a lack of spectrum for them, the ability - we fought for years even when I was in the Fire Department to get additional radio frequencies. There's much competition, as you know, for the limited spectrum space. Hopefully there will be a change in that. Public Safety needs that spectrum.
You heard Tom talk about the limited number of handy-talky frequencies they have to operate on. That's a product of spectrum. The technology that's available for command and control, much of the technology that the military's now using, I think the Department of Homeland Security, in their looking at new technology has to look at that and see how those applications can be used in our country.
We, in hindsight, looking from September 11th on, we have to think very differently. We can no longer think that acts of terrorism like this were simply something going to happen to other people not us. I lived through '93, in the pit of the World Trade Center. I lived through '97 when we had a small group of bombers that had planned to blow up the subway. We now know that the technology is there, the military uses it, we have to think about how we can use that technology to better equip the first responders to insure the quality of life and safety if another event like this happens.
And what usually happens as you plan for those catastrophic events, they help you in the smaller, the everyday emergencies. One of the things that enabled us to respond on the 9-11 and the days and weeks afterwards when we lost our entire infrastructure in lower Manhattan was our experience with water main breaks and power outages and telephone disruptions. We have to look at IT disruptions, what they can do to us in everyday life, and ask to be more focused on that.
Kean: Senator Gorton.
Comissioner Slade Gorton: Thanks. Mr. Sheirer, the phrase Office of Emergency Management is somewhat of a misnomer, is it not? You worked on training, on coordination and the like, but when you got to WTC One, you were not managing the incident, were you? You did not have command authority over the police or the Fire Department personnel there.
Sheirer: Absolutely not, absolutely not. And the office of emergency management serves a variety of roles, as you said. Planning, training, practicing. But there's also the execution role, and at the Trade Center it was my job and my responders at all the various command posts to make sure that the fire incident commander had everything that he needed. If he had a question he could turn to us and we could find out the information. The same with the police incident commander. And our job was to make sure that if they needed anything and it was a coordination issue we could do that. OEM should be invisible. OEM should be there so that the incident commander does not have to worry about extrinsic things beyond what their mission is during that mission.
Gorton: Well, in your testimony, however, you said that OEM is seldom the incident commander. Are there circumstances under which it is incident commander?
Sheirer: There are circumstances, very rarely and remotely. When you have a citywide or an area wide blackout the OEM emergency operations center becomes the central command center. The utilities are there, you are able to deal with them, the levels of different issues that you're dealing with is such that it spreads over all the agencies. Each individual agency is responsible for what they do, I would never ever consider that OEM would tell the Police Department you do it this way. What we would tell the Police Department Ôwe need this done.' And that's the role of OEM.
I'll give you an example: the major water main break. While we're not the incident commander, technically it's the Department of Environmental Protection, but the Department of Environmental Protection's expertise is shutting down the water and getting it restored. It's not getting the schools in the area relocated, it's not transportation, it's not in evacuation of buildings, it's not in perimeter in control. So in those instances, OEM would take that role as incident commander and work with the other agencies and each of them would do what they're supposed to do.
Gorton: And you think that the functions that you have outlined are the appropriate functions for OEM?
Sheirer: Absolutely. I think that - you have to remember my background. I spent 28 years in the Fire Department, starting as a dispatcher in communications. I spent four years at the Police Department. So I have a real wide breadth of knowledge and understanding, not only of what the departments do, but of the culture. And, you know you talk about the competition of police and fire, everybody who knows me, I always talk about my five sons. There are days that they're great together, you don't have to do anything, they're having a wonderful time. But there are days that they get that burr, that you don't know what's causing it but they can't deal with each other and it takes an outside person just to put them back on track and back out and get out of their way. I've seen that.
These are the proudest agencies of public safety in the world, they are the best agencies of public safety in the world. I've seen them literally walk through fire. I've seen guys like Joe Viggiano that Bernie spoke about who I know and I knew his father very well, John Viggiano, who's a retired fire captain. There's a lot of pride. But sometimes you get the occasional, as your staff said, the occasional knucklehead that can create a problem. And that's where OEM is very good. Low profile, neutral, able to get things back on course, back out of the way and get the job done.
Gorton: Thank you. Comissioner Kerik?
Kerik: Yes sir?
Gorton: One of the truly agonizing elements of the presentation this morning had to do with 911, the only way for many of the civilians, most of the civilians, to have any communication. And yet 911 didn't know what to tell them to do. I think some imaginative ones later on said yeah, do get out of the building, even though that wasn't policy. Was there anyone in September of 2001 in the Police Department in charge of having some kind of overall view of what was going on and communicating that with 911 people so that 911 people could provide up to date and valuable information to people who called in?
Kerik: There is a 911 supervisor that's on duty around the clock with each shift, or each tour, and I'm sure there was a 911 supervisor there that day. Whether there was communications from the field to that 911 supervisor, I personally don't know if there was communications, and I'm sure this is something your staff is looking at now.
Gorton: Do you know whether there's been any change since September 11th, 2001.
Kerik: No sir, I do not, and I think Commissioner Kelly could probably address that.
Gorton: Commissioner Von Essen, 911 was not a part of the Fire Department, but did the Fire Department on September 11th 2001 have any institutionalized way, any formal way of communicating what was going to the best of their knowledge with 911 so that 911 people could properly advise those who were calling in frantically asking for advice?
Former Commissioner of the Fire Department of New York Thomas Von Essen: Institutionally, I really don't know what you mean.
Gorton: Was there someone in the Fire Department whose duty it was to see that 911 was kept up to date?
Von Essen: The Fire Department dispatchers or 911? There's two different centers. You know, if you understand how -
Gorton: I just want to know whether there was someone in the Fire Department whose duty it was to tell 911 supervisors in another entity what was going on so that those 911 operators could properly advise people who called in. Is that a Fire Department function?
Von Essen: I would believe that the supervising dispatcher would be responsible for doing the best he could in that area.
Gorton: Do you know whether or not that kind of communication was in fact taking place on that morning?
Von Essen: I have no idea.
Kerik: Mr. Gorton, if I may, the one thing I left out, and I think this is something that should be looked at. There is a 911 supervisor on every tour, as I indicated. Those supervisors also monitor every frequency. So, for example, the special operations division frequency, which consists of the harbor unit, aviation, the emergency services personnel. That frequency is monitored by that supervisor that's on duty -
Gorton: Were they monitoring Fire Department frequencies, as well?
Kerik: I cannot say, sir.
Sheirer: I can tell you, sir, that normally they wouldn't. Coming from a communications background, the procedures within the fire dispatch center, fire dispatchers receive a significant amount of training on how to handle calls from persons in distress in a hi-rise fire. There were basic principles that they follow. 911 operators also have a standard procedure for giving information on a hi-rise fire, whether they had available to them immediate updates I couldn't -
Gorton: It seems to me you just told me, did you not, that the 911 supervisor would not normally be tuned into Fire Department frequencies.
Sheirer: No, you have to remember that they would be - the amount of activity, the frenetic activity in terms of communications both in the Police Department and in the Fire Department, was exponential from what normally happens. When you listen to those radio tapes the people in the field and the people in the communications offices were dealing with numbers of transmissions radio transmissions that in my years in public safety I have not heard. The sheer amount of activity, where people were stepping on each other. They're trying to deal with each agency's response and activities.
Gorton: I understand that, but I am more troubled now than when I began this series of questions. [Applause.] There is no one then or now at 911 who is just regularly assigned to listen to all or as many communications both from the Police Department and Fire Department as possible in order that the 911 operators can pass that information on to victims? Is that what you're saying? That no one has that duty?
Sheirer: I can't tell you. As Commissioner Kerik said, you'll have to ask Commissioner Kelly.
Kerik: Mr. Gorton, I think the answer for today is you have to ask Commissioner Kelly and Commissioner Scoppetta. You have to ask them what's going on today. I can't answer that.
Gorton: Alright, but I'm asking the two of you what was going on September 11th.
[Applause.]
Kean: Please, we're going to run out of time if you continue.
Kerik: On September 11th, there was a supervisor in 911. That supervisor has the ability to monitor SOD's radios for the NYPD. Whether that supervisor was listening to the Fire Department radio, I cannot say. I know your investigators are looking at it, I cannot say.
Gorton: Okay. But that supervisor didn't have the do so? Only had the duty to be on police frequencies?
Kerik: That may be the case.
Gorton: Thank you, Mr. Chairman.
Kean: Commissioner Ben-Veniste.
Commissioner Richard Ben-Veniste: Let me follow up on Senator Gorton's question, but before I do I would be remiss if I did not, as a native New Yorker, express my appreciation to the NYPD and the New York Fire Department for the extraordinary efforts that were made on 9-11. And while we hope to learn from the imperfections that existed systemically at that time and improve our ability to react to disasters and hope that New York as it has been for many many decades the beacon of cutting edge technology and practice for the rest of the country. At this point I can only say that I am humbled by the individual efforts of heroism that we have seen recounted time and time again, in looking at the history of 9-11.
Unknown: Thank you, Sir.
Ben-Veniste: With respect to the question that Senator Gorton asked, I think that a legitimate follow up is, not withstanding what was in place on September 11th, 2001, and recognizing that this is the place that we are all trained to go to to find out information and to report information, so it's an interactive process, when you call 911 if something bad happened, what do we do? The what do we do part was obviously lacking, as far as we can tell, on 9-11. So people who were calling in information which other people would benefit from knowing on that day were not having that information processed in an interactive effective way.
Going forward, does it not make sense, as Senator Gorton suggested, that a process be in place so that in circumstances of significant emergency, 911 becomes the go to place where not only you report information but you receive information? That the 911 supervisors become the contact point for receiving instructions, which should then be given to callers who call in in such circumstances.
Kerik: I think, sir, that that should be the case. There are two elements to 911. One is the operators. The second element is the dispatchers. There is a police supervisor that oversees them. I honestly don't believe that it should be that police supervisor that acts in the capacity that you're talking about at this point, but I think in an emergency such as this or a major crisis there has to be an element or should be an element possibly put in place that a command level police supervisor winds up in 911 to interact with the command level personnel in the field, and that way there's direct communications, command to command, and that information could be relayed down to the operators and the dispatchers, operators dealing with the people calling in, dispatchers dealing with the command and the field personnel in the field. I think that may be feasible, yes sir.
Ben-Veniste: And commissioner, should not that individual who would then be charged with synthesizing information, have authority to receive and should in fact be receiving multi-source information, not just from one department, at least under the current system, that can then be integrated and passed along to 911 operators so that they can provide effective information to people calling in?
Kerik: Yes, sir.
Ben-Veniste: Thank you. Mr. Sheirer?
Sheirer: I would just like to add to that. In a post 9-11 world, where the prospect of having these type of effects of this magnitude. I don't believe any time in our history did we have three five alarm fires plus additional two alarm fire in a sixteen acre area, with tens of thousands of people calling not only from within the complex but from miles and miles away. I don't know if there's any communication system in existence that could handle that kind of activity.
Ben-Veniste: Well, Mr. Sheirer -
Kean: This is the last question.
Ben-Veniste: It could be worse. It could be worse in the future. So that we need to plan for an emergency system that will be able to respond effectively to advising people, and it may be that there are other - going over emergency networks, radio networks, internet networks, a multi multi media response to providing information such as we have had in place in this country for a long time but it needs to be accessed and accessible, it seems to me.
Sheirer: I believe it's being worked upon, but you're absolutely correct. We need a way to get out mass information quickly, accurately, and if you can't talk to each individual person there has to be a way to try and make sure that you can convey the situation and what to do.
Ben-Veniste: Thank you, Mr. Chairman. And thank you, Gentlemen.
Kean: Commissioner Lehman.
Commissioner John F. Lehman: Thank you. Gentlemen, I'm aware of the history and of the traditions and of the politics that have shaped the public service agencies in this city over many many years. And I agree with you all that we certainly have the finest police and Fire Departments, port authority police, anywhere in the world. And as you said, Mr. Sheirer, they're the proudest. But pride runeth before the fall. And I think that the command and control and communications of this city's public service is a scandal.
[Applause.]
Kean: I'll ask the audience; you're just taking time away from the hearing when you do that, so please, do not.
Lehman: It's not worthy of the Boy Scouts, let alone this great city. It's a scandal that you, as Emergency Preparedness Manager, did not have line authority to select - find the best technologies of radios and dictate what would be procured to solve these problems instead of being an auxiliary advisory service. I think it's a scandal that the fire commissioner has no line authority. It's a scandal that there's nobody that has clear line authority and accountability for a crisis of the magnitude that we're going to have to deal with in the years ahead. It's a scandal that after laboring for eight years the city comes up with a plan for incident management that simply puts in concrete this clearly dysfunctional system.
I would like to hear from each of you why there shouldn't be a commissioner of public safety with line authority, why there shouldn't be a procurement agency that can solve these inter-agency problems. It's not rocket science. It's just overruling the pride of the individual agencies. Why there can't be regional commanders, joint commanders, like the military has.
You already have it partially with the Port Authority. Something happens at LaGuardia, the Port Authority is the on-scene commander. Why can't you have the same thing so that you don't get into fistfights over who's in charge when it's an ambiguous situation. Whoever is in Tribeca is designated, whether it's the police chief or the fire chief or whether - on any incident, until it becomes clear, and then he makes clear line authority. Why do we have to live with this lack of line authority, and this hope that everybody is going to get along and work it out?
Kerik: Commissioner, if I may. I have to say, there is no lack of line authority in the New York City Police Department. If I tell one of my commanders to do something and he refuses, he will be terminated. The authority that the police commissioner has is very different than the fire commissioner, and I'll let Tom talk about that. That has a lot to do with the laws of New York City and the negotiations of unions and other things. In the New York City Police Department, I appoint every commander from captain up. From captain to deputy inspector, inspector, deputy chief, assistant chief, bureau chief, chief department, and first deputy.
Lehman: You missed my point. I'm not criticizing any of the agencies, I think they do have very fine line authority and accountability. I'm talking about, amongst the agencies, like in the war today in Iraq we have the Central command has the top line decision making about who's going to do each task. Most other big cities in this country have a public safety commissioner with line authority to say you're in charge of this. You don't have to read through and get a Talmudic scholar to interpret what the core competencies are in a given situation. It's not complex.
Kerik: Well, I would say this. I can't go through each individual ones, but I know most of the other big cities. They don't have public safety directives. Chicago does not, LA does not, Miami does not, New York City does not, and I think the reason being, from my perspective is, Line authority has to do with individual departments and we do two different very separate and apart jobs. When we have to respond to jobs that we're going to work on together, then there has to be a determination, what jobs each of us will handle. But we don't have line authority across the board because we're not the same type of agency.
It's not like the military. The military is all focusing on one operation. We're not, we don't do that. I don't do stuff that Fire Department does, I do other stuff. And the Fire Department does their thing. Well, if we have to work together, well then so be it and we come up with conclusion on what the specific things we will do with those functions. Such as the mayor's - the most recent order by Mayor Bloomberg and the 1997 order by Mayor Giuliani. Then, when those determinations are made, who's gonna do what, who's gonna act as the event or incident commander at the scene, I have a very simplistic rule. If my guys don't do what they're supposed to when they get there, then they'll answer to me. Period. That's command accountability, and that's the way that we operate.
Von Essen: I couldn't disagree with you more. I think that one of the criticisms of this committee has been statements like you just made, talking about scandalous procedures and scandalous operations and rules and everything else. There's nothing scandalous about the way that New York City handles its emergencies. We had strong leadership with the mayor, we had strong leadership with the fire commissioner, and the same with the police commissioner.
When you talk about line authority with the fire commissioner, I don't know what you mean. There's the chief of department that's responsible for the operations and the safety of the firefighters and all the chiefs at the scene. The fire commissioner's not in charge of that. He's in charge of everything else, he's in charge of deciding what money gets spend on resources, on what's available, decisions on procuring radios and getting money for training, building new firehouses, getting new equipment the best equipment we can get, getting new clothing, everything else. Those are the decision made by the fire commissioner with the interests and the conditions he has to deal with with the budget which a strong major decides what's going to be.
There's been talk about having a public safety commissioner in New York City in the past. We went on with that for years. People think you should, people think you shouldn't. That's a management decision that the mayor should decide whether he believes it's necessary. When you have a strong police commissioner, a strong fire commissioner, good fire chiefs, good police chiefs, you don't need that. You make it sound like everything was wrong about September 11th or the way we function. I think it's outrageous that you make a statement like that.
We operated, we had thousands of fires, thousands of fires, thousands of fires were operations work, where we worked together. Hundreds of collapses and operations where we worked together with the Police Department. Yes, were there isolated incidents where a police officer, an aggressive emergency services guy and an aggressive guy from our rescues is trying to take control of an incident, yes, and we worked all those out. OEM came in, OEM was that arbiter for issues like that. When we couldn't agree with OEM, OEM went to the mayor and the mayor made a decison. That was strength and that was leadership, and that's what we did. And we proudly did it, and it goes throughout both departments, from top to bottom.
Sheirer: I want to add several things. On September 11th, there was no more coordinated effort than there could have been . And with all the criticism that has been made, I have yet to hear a single instance where anybody shows me where the agencies did not work together and coordinate their efforts.
I strongly urge - I have a very strong background in communications, and I urge the commission to take a very close listen to the tapes on all the various agencies and very carefully listen to them. Because there's a lot of cross communications regarding relaying information, conferring with each other, that I haven't heard about until I sat down and listened for six hours. Because I keep hearing that we didn't do that.
In terms of radio systems, if you can find a way for us to get more spectrum, please do, because public safety has been fighting in this city since 1989 when I was in communications to get additional radio spectrum to allow for greater interactibility, to provide additional frequencies to meet the needs of the public in this city, to provide the Fire Department with additional fire ground handy-talkie channels for a changing world. And we were unsuccessful.
But it wasn't unsuccessful for a lack of trying, it was unsuccessful because the bureaucracy that awards those frequencies has chosen to give into media, has chosen to hold them away from public safety, has chosen not to address the issues, and hopefully now we're very close to seeing that addressed.
Right now - a few days ago this city had a drill and they used a piece of equipment called the TRP-1000. The TRP-1000 is there because we sought to find a way to have the Fire Department and the Police Department to be able to communicate. They are on ten different frequencies that you can't talk to each other. There is no way right now, with the exception of this new piece of equipment that was tested last week, for them to talk.
And it takes time to develop, it takes time to procure, and with the help with DOJ we did that. But to say that we haven't done that, that's just not true. There are very few incidents where the Police Department and the Fire Department have to turn to OEM as an arbiter. We had anthrax incidents day in and day out for a period of time. In one day we had 80 anthrax incidents. The Police Department and the Fire Department worked hand in hand where the FBI should have been the incident commander. But we handled that in the city, and they worked hand in hand.
There was no problem, and there was not necessarily a problem . It's an individual problem. We're no different from any other city, and if you think we are then you're really being foolish. But I think you should take a very good careful look on 9-11 and see what issues of coordination, or lack thereof, existed. Because I have yet to be shown a single concrete instance. I've heard rumor, I've heard speculation, but when you dig into facts, you find that is wrong.
Kean: Commissioner Gorelick.
Commissioner Jamie S. Gorelick: Thank you, Mr. Chairman. Let me say this at the outset. Nearly half of this panel either lives in New York or was born here. Probably true of half the country. And we have affection for the city, and a passion about it. So I would start out by noting that the bravery and the courage of the men and women that you led in the face of unspeakable humanity and horror is - has been impressed upon us in a dozen ways. And what you saw this morning, what people here this morning saw, is just a small fraction of the information we have gathered about the bravery and selflessness of the people whom you led.
We have to ask hard questions, though, because if we don't we cannot ensure greater safety from this day forward. So the hard questions that we are asking are no way in deregation of the reality of that heroism and that bravery. And I just want you to understand that as we ask these hard questions.
In fact, our staff has found lots of miscommunication. Now, a lot of that is attributable to the sheer magnitude of these horrific acts and the targeted towers, which were so huge and concentrated. To be sure, extraordinary. But nevertheless, the staff has found fissures between stovepipes, just as we have in the federal government, but fissures between stovepipes within the New York City government that we need to explore, whether it is about the interoperability or lack therof of radios or the too-narowly construed role of the 911 operators, these are real problems.
Now, I want to drill down on one of them, which has to do with this notion of what is an incident commander. To a layperson, the notion that Mayor Giuliani designated who would be an incident commander in each situation suggests that he thought that where there was a emergency, one person would have the lead, even if it meant that they would have the lead over a different agency. Now, maybe that's not true, because, Mr. Sheirer you have talked about the incident commander for the firemen and the incident commander for the police, where I would have thought there would have been one.
So, I have really two questions for the panel. One, in the procedures promulgated by Mayor Giuliani, which seem to list one - one entity as the incident commander for each type of event, was it your understanding that one person should be the incident commander? And the second question I have is, if you look at the procedures promulgated last Friday by Mayor Bloomberg, instead of listing one for each type of incident, there's now a list of two or three or in some cases for or five lead incident commanders for a particular incident. And so my second question is, is this an improvement? Who would like to start?
Von Essen: I'll take part of it. Mayor Giuliani's work to coordinate all of those responses, all of those protocols, he would ask all of us what we thought when there was a question that came up. He would listen to my best argument, and I would bring with me the best chiefs that I had to make the argument, then he would throw me out and he would have Commissioner Safir or Commissioner Kerik come in with his best chiefs, and they would make their argument, then he would sit down with Jerry Hauer or Richie Sheirer, whatever the time was, and make a decision, and whatever the time was and whatever it was it worked.
Gorelick: He would make - let me interrupt so I can understand. He would do this in real time when there was an incident?
Von Essen: No, certainly not in an incident. He-
Gorelick: You're talking a policy -
Von Essen: These are when we're trying to work out the protocols that would be signed off, in place when you had situations. We talked before - you asked Joe Morris about plane crashes. The way we understood it, a plane crash on land the Fire Department was in charge, a plane crash in the water NYPD was in charge because NYPD had a much more sophisticated harbor unit, helicopters where they could drop divers into the water, a much greater scuba team, scuba operation than we had at FDNY.
Gorelick: Let me interrupt just for some clarity. So, it was your understanding prior to 9-11 if there was a plane crash on land, the incident commander would be the Fire Department. Is that correct?
Von Essen: Yes.
Gorelick: And, so why is it then there was a separate police incident commander on 9-11?
Von Essen: You have to remember how big an incident we had. The police mission on 9-11 - Bernie should talk about the police mission.
Kerik: Yeah, let me. There was a separate police incident commander, and the event commander for the NYPD was Joe Esposito, was the Chief of Department. He was not running the event or the incident, he was doing everything else that the police had to do. We had to secure the scene, we had to create safety zones, we had to secure the rest of the frozen zone downtown, we had to deploy our troops. That's what the chief of department was doing. The incident commander for the event, the overall event, was the Fire Department.
Gorelick: So, when your ESU's, the special groups that went into the World Trade Center, were they supposed to report to the incident commander from the Fire Department and say Ôsir, here I am reporting for duty, what do I do, tell me what do to'?
Kerik: They would be deployed on the initial mobilization, I think you heard earlier today they talked about a level four mobilization. When that mobilization occurred, different units come from the five boroughs, including emergency services. When they get downtown, their commanders downtown will say, okay, emergency service truck 1, truck 2, whatever they are, you're going into the building. You three - you two teams are going over here. Well, the guys that's going to the building, they will report to the fire commander, whoever's in that building, and say we're here, what do you need. And that's the way they operate. And we saw, I saw video this morning where that occurred, They went into the building, reported to the fire commander. That's the way they're supposed to operate.
Gorelick: So, let me move on then, because I only have a very limited time.
Kean: This is the last question.
Gorelick: Yes, I'm only re=iterating my second question from before, Mr. Chair.
Kean: Accepted.
Gorelick: I'm not a New Yorker for nothing. [Laughter.] So, is it helpful then to go from a situation where there is at least facial clarity on which one of your departments would have been the lead commander for the incident in the World Trade Center to one in which there is a jump ball? Is that helpful to have people have to have a discussion when there's an aviation incident among the Police Department the Fire Department and augurs as to who's in command?
Kerik: Ms. Gorelick, I was the police commissioner from August of 2000 to December 31st of '01. In the time I was police commissioner I never had a problem with the protocols. So I've never worked under the new protocols. And I think those determinations by Commissioner Kelly and Commissioner Scoppetta in conjunction with the mayor, Mayor Bloomberg. They're the best one's to answer the question.
Gorelick: Anyone else want to answer the question? I guess not.
Sheirer : I want to add something. I'm going to jump into the pool without the water being in there.
Kean: That's a very fast jump, though.
Sheirer: It'll be a very fast jump, Governor. The only way that is unified command where agencies are very different functions and there can be this tension of who's in charge, the only way that works is if you have a very strong and empowered office of emergency management. If you don't, it won't, period.
Gorelick: Thank you very much.
Kean: Governor Thompson.
Commissioner James R. Thompson: Mr. Chairman, Commissioner Sheirer has earlier answered my questions.
Kean: You have none?
Thompson: Right.
Kean: Alright. Well, I'll just ask one final question, really just of Commissioner Kerik. We've learned in Washington that that summer before the tragedy occurred, there was a very high level of threat coming in, particularly in July, and intelligence agencies were full of talk of this threat and what it might mean. Was that communicated to you, that there was a heightened sense of insecurity, that sense in Washington. Somebody called you or called your department and said look, we don't know what it is but something going to happen, we're very worried, and you ought to be on high alert?
Kerik: This threat that you're talking about, was in the summer of '01, it was during the course of the time I think that I was revamping our intelligence division in the New York City Police Department and basically I think that intelligent base would serve as a model to the federal government and others on creating a central clearing house for intelligence, taking every federal database and putting it into one centralized center. Well, that's what we were doing in the NYPD and during that course of time I had met with and attended a terrorism meeting with the International Association of Chiefs in Washington. John O'Neill was at that meeting so we had a long discussion.
He basically said then there's an enormous amount of chatter, there's something that's going to happen, it's going to be big, it's going to be enormous. His assumption at the time, and what he told me personally, and what I heard sort of you know through others, I trusted his insight, they honestly believed whatever was going to happen was going to happen outside this country. And regardless, whether they thought it was outside or inside, it doesn't take away the alertness or the awareness that we had, dating back to 1997 and 1998 when the mayor closed down City Hall and implemented different steps to raise our alert status to Bravo in the city in anticipation of a problem. But I did hear, I just didn't hear it was about New York.
Kean: No, I was just interested in how the communication worked from the Federal level to your level. I'm glad there was some communication. Last question from Congressman Roemer.
Commissioner Timothy Roemer: Thank you, Mr. Chairman. I'm not a native New Yorker, and I certainly have a great deal of respect for the great citizens, first citizens of this citizens who were first responders in many ways and helped save tens and dozens and hundreds of lives, I have a lot of respect for the three of you who as commissioners showed heroic actions towards your fellow citizens and helped save people's lives as well. And I'll never forget reading the eulogy delivered by a father of a firefighter who happened to be his son. And the last words in this eulogy given by the father about his son was Ă'He is now in good hands. I wish he were in my hands.Ă" I'll never forget that.
And one of our missions is to try to make sure that while you helped save thousand and thousands of lives, if we can save a hundred with our recommendations the next time, if we can save fifty, if we can save a dozen, or one, we want to do it. And we're not here to blame the three of you or anybody else, but to find answers. Learn and fix it. Because we know they're coming and we know they might be coming back to New York City.
So, along those lines, Mr. Sheirer, I've got a question for you and a question for the other two commissioners. They'll be very brief. For you, Commissioner Sheirer, there was a decision made to locate the Office of Emergency Management at the World Trade Center building 7, right in the nest of where the terrorists had struck in 1993. Why put it in one of the most likely places ,where people are going to come back and hit us again, and where it could be knocked out and not help us save lives. That's the first question.
Sheirer: First I want to make a quick comment. I think I speak for all of us that you're speaking to the choir. We lived through this, we know these families, we lost friends and colleagues. Nobody here feels as strongly about this, other than the people behind us that lost their loved ones, than we three do. On the issue of the location of OEM. I was not involved with that decision.
Roemer: Did you agree with it?
Sheirer: You're going to have the opportunity to ask the person who's most responsible for that questions about it tomorrow. I did not agree with it. I will tell you why I did not agree with it.
I did not agree with it for the very reasons that you said. I did not agree with it simply because it was on the 23rd floor of a building, and do I look like a guy that wants to walk up 23 flights? And tell me that the elevator's going to work - yeah, Murphy was an optimist. It'll work. It won't work the time I'm walking up 23 flights. OEM should be located in a hardened and secured location. I understand the reasoning for putting it there. To get it there quickly. It was the most technologically advanced center.
When I became director, I will tell you, there was no better emergency operations center. None. None in the world. The military came there, everybody came there. I have to give Jerry a lot of credit. That center was the most technologically advanced, it allowed us to deal with anything. The only problem is it had to be available to us when we really need it. And you really have to think beyond that simple location to that simple date. It's not simply 9-11, it's much further than that. It's every city in this country when they locate them in a common office building and don't think of what they're doing, because, well, they just need a little office space. You need to make the commitment to understand this is a vital, vital facility. It should be in a hardened and a secured facility, where people can walk up if there's no power, that people can get to in the event of weather, that nothing should impede your ability to use.
Roemer: Thank you, Commissioner. I wish that wisdom had prevailed. Commissioner Von Essen, you had, according to the interview you conducted with the 9-11 staff, one of the last conservations with Ray Downy, and expert, very very respected expert on building collapse. And he says something to you along the lines of ÔBoss, I think these buildings could collapse.' How does that inform your decision making, or your communication with other people, and what is the context of this remark?
Von Essen: He said that to me, it was right after the second tower was hit, we were still in the lobby. We all heard a rumbling, we didn't know what it was, then it was confirmed that it was the second tower. It was also confirmed that the Sears tower was hit, that the Mall of America was hit, that the Pentagon was hit, and that there was another plane that wasn't accounted for. So you couldn't really go by confirmations.
You know, misinformation in the heat of battle like that is common. But we knew that the south tower had been hit, and Ray said to me, just in, and what always gave me strength afterwards was that he was so knowledgeable, and if there was a person in the country that you would go to to ask for advice in a situation like this it would be him. Of all the hundreds of phenomenal fire chiefs in the country, Ray was top of the line when it came to special operations and collapses and things like that. So for him to say to me, so matter of factly, just looking at me and saying ÔBoss, these buildings can collapse,' and it wasn't, you know like he would say to me in a different situation ÔTommy, get everybody out of here, you know, make sure the mayor knows, make sure Gancy knows, you got to getÉ' it wasn't like that. It was, ÔThese buildings can collapse.' Which gave me the sense that there was a lot of time that he É.
Roemer: Égalvanize this community to really do something about this issue. Commissioner Sheirer said, about an hour ago, the problem's still not fixed. We still have problems trying to get the dedicated broadwidth in the spectrum. What can galvanize this community to talk about one of the basic problems in trying to make sure the next one doesn't result in thousands of people dying, and that's improved communications. I would hope we could all gather together to address this. Is there some way you could lay out an answer and get some of the people in office now to address this issue?
Kerik: Well, I think it is something that's being looked at, and has been looked at, and has been looked at and continually looked at since 9-11, particularly with all the focus on it. But I just want to remind the commissioners: on 9-11, there were major communications problems. But the people behind me and the people in the public and the people on this commission, they should also know that they weren't necessarily problems - a lot of those problems didn't occur from radio frequencies.
You know, when the towers went down, the cell sites were lost. I had communications with the mayor on the way to the scene, when I got there, they were gone. As the cell sites dropped, so did the communications. We operated on Nextel, the Nextel dropped. Then they came back up. You know, and the thing with the walkie-talkies, listen. I'm not an expert, but I can tell you this. Go to any of the communications companies out there. Go to the best. Go to Motorola, go to the best there is.
Show me one radio, show me one radio that they will guarantee you this radio will go through that metal, it will go through the debris, it will go through the dust. You will have 100% communications 100% of the time. There is none. It's been two and a half years. Show me one today, everybody's looking at it. There is none. So there's a number of issues. But it is something that people are looking at.
Roemer: Thank you, Commissioner. I just think we really have to solve that. We can't go year after year after year saying we're close. Thank you, Mr. Chairman.
Kean: Thank you. I would ask now if my guests in the audience would remain seated just a moment so that our panel can leave.