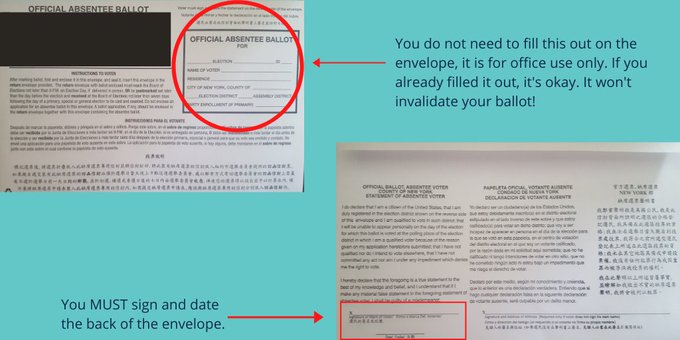 Absentee voting is complicatd (image via @kimmosc)
---
NOTE - 10/16/2020: You likely arrived here looking for information about absentee voting in the 2020 general election in New York. The article further down below was originally published before the June primaries, but we've added an update here at the top - some of the steps are the same but there are several important changes to be aware of:
All registered New York voters are again eligible to vote absentee, though now due to legislation recently passed by the State Legislature and signed by Governor Andrew Cuomo, as opposed to the governor's executive order for the primaries, issued because of the dangers of COVID-19.
But now voters must request an absentee ballot on their own, without being mailed an application to do so as was ordered for the primaries, though they can still cite temporary illness, which includes the threat of contracting or spreading the coronavirus.
And while absentee ballots themselves arrived with pre-paid postage for the primaries, for the general election voters are expected to pay for postage. (Legislation was introduced to mandate postage be covered but it did not pass.)
New York City voters can request an absentee ballot online, through the city BOE's website, or by calling 1-866-VOTE-NYC. Printable applications in five languages are also available.
The deadline to apply online or by phone or by mail for an absentee ballot this election is October 27 -- you may apply in person by November 2.
Absentee ballots must be put in the mail by Election Day, November 3, in order to be counted. This fall, the city BOE is setting up drop-boxes at all early voting and Election Day poll sites, where voters can drop off their completed absentee ballots.
Early voting is nine days from October 24 to November 1. Election Day is November 3. Early voting sites in New York City are assigned based on the voter's address and may not be the same at the Election Day poll site. The BOE has an online poll site locator. Even if a voter has sent in an absentee ballot application or a completed absentee ballot, they can vote in person and that vote will be the only one counted.
In order for an absentee ballot to be counted the voter must sign, date, and fully seal the inner envelope, known as the "oath envelope." If the signature is missing or if it does not match the one on the voter registration the ballot will be disqualified, which was the case for tens of thousands of votes in June. This time around elections administrators have redesigned the envelope and placed a large red 'X' where the signature belongs.
Another new law in place for the 2020 general election requires the Board of Elections to notify voters when their ballot has a missing or incorrect signature (or witness signature for voters who do not sign themselves) and give them an opportunity to correct this. The additional step has never been required before, nor has absentee voting ever occurred in such volume. Election administrators are anticipating a high number of so-called ballot "cures" and the Board of Elections is predicting it will take three weeks to get election results.
********************
Published June 5, 2020:
New Yorkers worried about going to the polls to vote in this month's party primary elections don't have to, thanks to a gubernatorial executive order expanding the definition of those eligible to vote absentee.
Amid the ongoing risk of spreading COVID-19, Governor Cuomo made the changes in April, giving voters across the state the option to vote via mail-in absentee ballot in addition to traditional in-person voting on primary day, June 23, or one of nine days of early voting, June 13-21.
Depending on location and party affiliation, there are primaries, mostly in the Democratic Party, for president and the U.S. House of Representatives, as well as State Senate and Assembly, Queens Borough President, and other races.
Voters can find out about primary contests that apply to where they live and both their early voting and primary day poll site(s) via the Board of Elections' online poll site locator.
But many New Yorkers will take advantage of the expanded right to absentee ballot, which is being widely encouraged as New Yorkers continue to battle COVID-19. Cuomo's order brings the coronavirus and the risk of contracting it under the "temporary illness[es]" that qualify a voter for using an absentee ballot. But absentee voting is somewhat complicated and there is important information New Yorkers need to do it right.
Cuomo said he was constrained by the state constitution, which does not allow him to order a ballot simply be mailed to all eligible voters. The most he could do was expand the eligibility to all and to order that absentee ballot applications be sent out to all eligible voters.
For those in New York City, there are several tricky steps involved in the process.
Getting an Absentee Ballot
All registered voters should receive an absentee ballot application by mail automatically, per the governor's order. But if a voter does not receive one -- or to be more sure to get one --, there are other ways to apply for an absentee ballot with the New York City Board of Elections, the simplest being to apply via the board's website.
Registered voters can also email or fax applications to the board (This email address is being protected from spambots. You need JavaScript enabled to view it.; 212-487-5349), mail one to a local borough office, or call the BOE's hotline: 1-866-VOTE-NYC.
The deadline to apply for a ballot in person is June 22, but the other options required applications to be submitted by June 16.
If all goes well, absentee ballot applications arrive with a prepaid return envelope.
All applications ask voters to fill out their information (Name, Borough, Zip Code, and Date of Birth) "exactly as it appears" in the voter record. Applicants must select the reason for applying "in good faith" from a list that includes the expanded Temporary Illness category, as well as being absent from the county on election day, having a permanent disability, or having to care for someone who does. (The New York City BOE has a note on its site informing voters that COVID-19 is covered under Temporary Illness.)
Being in jail or prison also qualifies as a valid reason for voting absentee, as is being a patient or resident in a Veterans Health Administration hospital.
Upon submitting an application online with the city BOE, voters are notified that: "Applications will be processed in the order that they are received. You do not need to take any further action. Ballots will be mailed beginning the 2nd week of May." The website says that voters who do not have primaries to vote in will not receive a ballot even if they submit an application, but that the BOE will make efforts to notify applicants when this is the case.
When applying for a ballot by mail, the same information is required on the paper form, except the name and address as it appears in the BOE's voter rolls arrives pre-printed. Voters must still select a reason for requesting an absentee ballot and where they want to receive it. On the paper form, voters must provide a signature and date.
Casting the Absentee Ballot
Absentee ballots should come with one ballot and two envelopes that must be used.
Voters should confirm the ballot is indeed theirs when it arrives and carefully review all of the races on the ballot, filling it out where appropriate and desired.
One envelope is a prepaid envelope addressed to the appropriate local board of elections borough office. After completing the ballot, New York City voters must seal it into the other envelope, which is smaller, making sure to sign and date the back, then put it in the larger envelope that's already addressed to the BOE.
A federal court recently approved an agreement between state elections administrators and disability advocates allowing local elections boards to email absentee ballots that can be filled out and signed electronically, printed, and mailed (not emailed) back. The advocates say the provision, which is in addition to absentee ballots received by mail, will expand access to registered voters with difficulty writing by hand, though it still presents the challenges of printing and mailing.
Voters are given the option to receive the ballot at a mailing address of their choice, or to pick it up in person at the BOE office. Those seeking an emailed ballot under the new agreement must apply through the State Board of Elections, after which local boards of election provide a prepaid envelope to be used in mailing or returning in person the ballot application to the local board, according to a press release issued by the coalition of disability rights advocates.
Governor Cuomo signed legislation on June 7 to allow ballot to be postmarked on the day of the election and received within seven days of the election in order to be counted. With primary day June 23, this means postmarked by or on June 23 and received by or on June 30.
Voters can also hand deliver absentee ballots to their local borough BOE office Monday through Friday, from 10 a.m. to 4 p.m.
The NYC BOE is also taking inquiries by direct message on Twitter if voters want to check the status of their absentee ballot.
Voters wishing to cast their ballot the old-fashioned way -- in-person at a poll site -- still have that option. The June primaries will be the second major election in New York City to have early voting, after its inaugural run in the general election last fall. Seventy-nine assigned early voting locations will be opened across the five boroughs over nine days before the election beginning June 13 and ending June 21.
Note - this article has been updated.