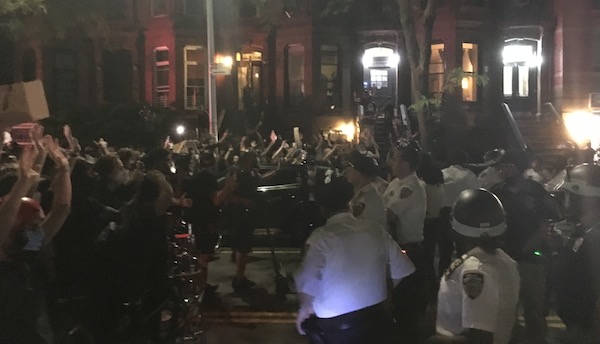 Thursday evening in Brooklyn (photo: Ethan Geringer-Sameth/Gotham Gazette)
---
A tense standoff between peaceful marchers and police on a brownstone-lined block in the Clinton Hill section of Brooklyn could have turned violent Thursday night, if it was not for the intervention of local elected officials on the ground who negotiated the peaceful release of protesters corralled by cops intent on enforcing the mayor's curfew.
What began as a large march that set off from Barclays Center shortly after the 8 o'clock curfew numbered in the hundreds around 10 p.m. when it was cornered by police at the intersection of Washington and Atlantic Avenues. For 20 distressing minutes, it was unclear whether the protesters decrying police brutality against black people would be allowed to leave safely and without a significant number of arrests.
The incident is an example of what many observers are calling arbitrary enforcement of the curfew set by Mayor Bill de Blasio and Governor Andrew Cuomo in the face of looting and vandalism during the initial nights of what is now more than a week of unrest throughout the boroughs. It is also an example of the luck of a group of marchers on a night where police aggressively charged demonstrators across the city -- the first of two where Public Advocate Jumaane Williams and City Council Member Brad Lander made their way through the crowd of kettled protesters to reason with commanding officers.
On the eighth day of citywide demonstrations for police accountability and reform, these protesters had spent hours marching in the humid night through Brooklyn Heights and Cobble Hill without incident, while police followed at a distance. As the after-curfew hours turned from dusk to dark, the police contingent became a small army of officers blocking streets and pressing forward, funnelling the marchers into the largely residential Clinton Hill.
On Washington Avenue, they encountered a line of officers waiting with helmets on and batons in hand cordoning off the intersection of Atlantic Avenue. Behind them on Fulton Street another throng of police had sealed the block. With no outlet, the atmosphere changed.
Trapped in close quarters, the crowd bristled nervously against the backdrop of two Baptist churches and rows of pre-war houses, in a neighborhood that has become heavily gentrified in recent years. Some clambered over brownstone gates, attempting to take refuge on private stoops or in bushes, but were routed out by police back into the street.
A video later uploaded to Twitter by journalist John Knefel shows officers at the back of the pack swarming and hitting protesters with batons as they attempt to walk away from police ("completely unprovoked," Knefel wrote). A few people appear to have been arrested in the interaction.
"It's been non-violent the whole time. And all of a sudden you see aggression. Cops rush in. I'm literally like, 'What happened?' I thought maybe an officer was hit or something the way they--" Williams told Gotham Gazette at the scene after the ordeal.
"And they just kept saying, 'It's curfew, they need to go home, they're blocking traffic,'" Williams said of police officers that night. "If that is the criteria they are out here over-policing. Over-policing a curfew is not the answer."
"Look at all the cops here for a non-violent" protest, he said.
The mayor has been unclear in the face of questions about when police will use force on peaceful protesters who break curfew. De Blasio has said he wants to see "as light a touch as possible" by the NYPD and that officers should not use batons on peaceful protesters, while denying evidence that such an aggressive approach is being taken.
On the morning of the standoff, in response to reporters seeking specificity on the policy, de Blasio was vague: "If at a certain point officers say, 'OK, it's time, we need to go now,' people need to listen to that. It's not an unfair action to say in the context of crisis, in the context of curfew, 'There is a point where enough is enough.'"
Apparently for the officers monitoring the Brooklyn march on Thursday night, they decided it was "enough" about two hours after curfew and without any apparent act of violence or other provocation from the group.
Critics of the mayor's handling of the protests have pointed out that the curfew, first imposed Monday as a measure to curb attacks on stores and police officers, is now being used as a way to snuff out non-violent demonstrations.
There is also still the COVID-19 pandemic, and the threat of spreading the new coronavirus in dense gatherings remains. Most protesters wore face coverings Thursday night, in line with health guidelines and organizers were handing out masks, hand sanitizer, and water.
That evening, as officers advanced, Williams and Lander, who had also been with the demonstrators, stepped forward from the crowd to try to speak with police brass.
"They want to protest non-violently," Williams told Officer Frank DiGiacomo of the 78th Precinct. "That's what this is. Civil disobedience." Protesters and reporters looked on from behind him and a huddle of higher-ranking officers gathered around, a line of cops in helmets at their backs. Also present that night was Chief Jeffrey Maddrey who oversees the precincts in north Brooklyn.
"Enforcing the curfew is the problem," Williams told the officers, not knowing whether they would soon begin a charge.
But the encounter proved serendipitous, as Lander recognized DiGiacomo from programs they had collaborated on in his surrounding district. DiGiacomo told the electeds the protesters were blocking roadways in addition to breaking curfew, but Lander and Williams implored him to let the marchers continue non-violently.
"Tomorrow you and I will have a story to tell about how you build bridges in your precinct and then you're able to actually deescalate when it matters," Lander told him.
With press holding up cameras and protesters chanting "The whole world is watching," police relented. Officers with plastic riot shields began letting groups of 10 to 20 marchers leave the block on the sidewalk, sealing off the pavement again after each group. Some protesters believed those allowed to leave were being arrested as they turned the corner.
But the truce, at least at the time, was honored and over the course of 20 minutes the march disbursed. A few people were arrested, Williams and Lander told Gotham Gazette, but not as many as there could have been. According to Lander, DiGiacomo deserved credit for the outcome. Images of bloody police crackdowns from other parts of the city and state circulated in news and social media throughout the night.
"Let's be clear, if we had not been there at that moment and recognized a couple of inspectors then this would have been violent. They would have started making more arrests," Lander said as he and Williams walked away into the open streets.
The Next Day
On Friday, Williams and Lander held a video press conference to discuss the prior night's events and the larger context where they reiterated calls for the end of the curfew.
De Blasio and Police Commissioner Dermot Shea have insisted that the curfew -- the city's first since 1943 -- has been working to reduce chaos and destruction at the hands of protesters and interlopers, but the duo from Brooklyn and dozens of other elected officials and civil rights advocates have said it has enabled brutality by police.
The New York Civil Liberties Union, Legal Aid Society, Center for Constitutional Rights, and others have threatened to sue the city if the mayor extends the curfew. (Legal Aid Society also appealed a Manhattan judge's decision Friday to allow law enforcement to arrest protesters for more than 24 hours without seeing a judge, which the group says violates fundamental due process rights.)
As protests continued into their ninth night Friday, a similar scene transpired at Grand Army Plaza at the north end of Prospect Park in Brooklyn, where a crowd had been contained after dark by a heavy police presence on a stretch of roadway near a traffic circle.
Video posted to Twitter by journalist Noah Hurowitz shows Williams and Lander again approaching the line to negotiate with commanding officers in white shirts, who appear to recognize and greet the officials. Videos from Williams and Lander also posted to Twitter that evening show march leaders making the decision to comply peacefully with the curfew and go home.
In a call and response with an organizer, the crowd stated its desire for non-violence: "I was informed / that no harm will be done / we will allow peaceful protest / and we are to go home / unharmed / and uncuffed / and I will obey."
Eventually, the demonstrators were again allowed to disperse along the sidewalks. But a short time later, about a mile away, on Nostrand Avenue and Montgomery Street, officers descended on a group in the street apparently making their way home and arrested dozens, according to accounts on Twitter from local reporters.
The NYPD did not provide comment on what happened during these events in Brooklyn Thursday and Friday night.