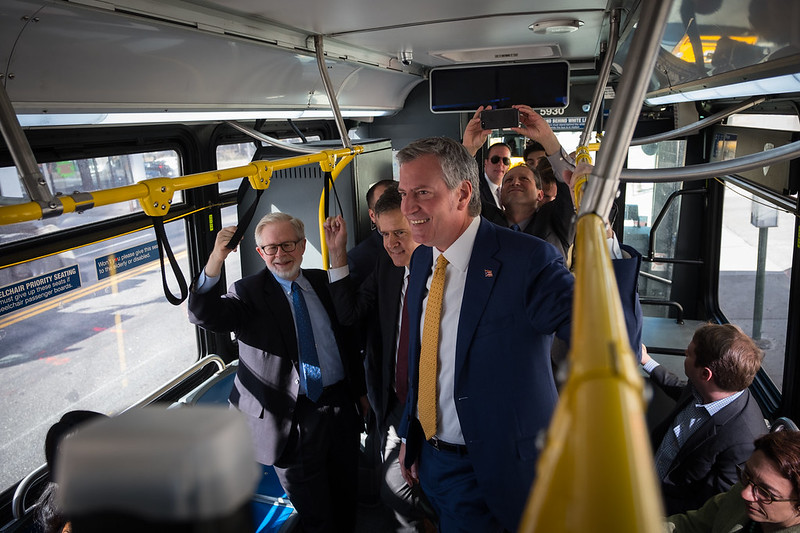 De Blasio rides the bus (photo: Edwin J. Torres/Mayor's Office)
---
As the coronavirus public health crisis waned and New York City headed toward entering the first phase of "reopening" its economy after the government-ordered near-shutdown, Mayor Bill de Blasio was under increasing pressure to develop transit plans to help New Yorkers returning to work get around by various and safe means. This was especially true regarding buses.
While the city's subways and buses are run by the state-controlled MTA, de Blasio does have significant sway over the bus system given the city's street-design power.
On June 8, the first day of the city's phase one "reopening," where hundreds of thousands of workers were allowed back to their workplaces, the mayor unveiled his intent to add 20 more miles of bus lanes throughout the city as part of a plan for "safer transit" to help maintain social distancing and get people where they need to go efficiently. He also announced that the 14th Street "busway" would be made permanent and that the city would be rolling out five other busways between July and October.
The new bus lanes will become permanent if successful after a yearlong trial. The mayor also announced that the Staten Island Ferry will increase rush hour service to run every twenty minutes.
But while de Blasio called the announcement "a major step," many policymakers and transit advocates say the plan doesn't go far enough, even if some are celebrating it as an important step. For example, the mayor's 20 miles of new bus lanes is a third of what Sarah Feinberg, the interim president of MTA New York City Transit, requested in an open letter to the mayor four days before his announcement.
Previously, in May, four of the five borough presidents called on de Blasio to add 40 miles of new bus lanes to the city ahead of phase one. TransitCenter, a nonprofit think tank and advocacy organization, has also pushed for 40 new miles of bus lanes, while various advocates and elected officials have sought an expansion of the busway pilot.
Leading up to the start of the city's economic reopening, there was widespread frustration that de Blasio had not put forward any plans to expand city transit options to better balance public health, commuting, and street congestion concerns.
"As New Yorkers head back to work, they'll be relying on the bus more than ever – and I'm proud to offer them faster and more reliable options," the mayor said during the June 8 announcement. The mayor himself last rode the bus in November of last year, when he rode the 14th Street busway for the first and only time, six weeks after it launched. Prior to that, the last time Mayor de Blasio rode a city bus was in 2017, according to public records. He did so twice that year, in September and October, while commemorating the start of Select Bus Service on the BX6 and M23 routes, respectively.
De Blasio's plan includes five new busways and four new bus lanes, but only one busway and two bus lanes will be operational this month. Main Street in Queens will see the city's second busway, launching later this month. Jamaica Avenue, also in Queens, and 5th Avenue, in Manhattan, will have busways launched in July. Brooklyn's Jay Street will get a busway in August and 181st Street in Manhattan will get a busway four months from now, in October.
The bus lanes, with signage and street markings, will be added to East 14th Street in Manhattan and 149th Street in the Bronx this month, Hylan Boulevard on Staten Island in July, and Merrick Boulevard in Queens in August.
The mayor's plan is far cry from Feinberg's request, outlined in her letter to the mayor, which called for triple the new bus-lane mileage de Blasio announced. While some of Feinberg's proposals were heeded, the letter's request for busways on Archer Avenue in Queens and Livingston Street in Brooklyn went unanswered.
Feinberg also wanted to see several additional new bus lanes, including four more in the Bronx (E.L. Grant Highway, Tremont Avenue, Fordham Road, and University Avenue), one in Brooklyn (Flatbush Avenue), and two on Staten Island (Bay Street and Richmond Terrace).
Feinberg's proposal would have represented a 42% increase in the miles of bus lanes in the city, while the mayor's plan will increase the city's miles of bus lanes by 14%.
Feinberg has noted that the bus system saw over 715,000 daily weekday riders during the week before her early June letter, compared to a mere 400,000 at the system's lowpoint during the crisis. On the average weekday in 2018, by comparison, an estimated 1.8 million New Yorkers rode the bus. Bus ridership has jumped higher as the city entered phase one of reopening, with some indications that more people are returning to the buses than the subways, a trend de Blasio has acknowledged.
City Council Speaker Corey Johnson criticized both the timing and substance of the mayor's bus plan in a statement to Gotham Gazette, calling the roll out "haphazard" and saying "the administration has had months to think about how to make it safe and easy for New Yorkers to return to work using mass transit, and now we're reopening without a robust plan in place for increased bus service and protected bike lanes."
"The administration needs to do better, quickly," said Johnson.
According to a spokesperson, Johnson believes the mayor and MTA New York City Transit should have worked on proposals together instead of talking past each other.
In his own letter to de Blasio on May 29, Johnson outlined what he saw as the most-needed transportation fixes ahead of a reopening. He advocated for "a bold vision for rapidly expanding safe transportation alternatives, including dedicated bus lanes and increased service along the routes with highest ridership, the rapid expansion of the city's protected bike lane network, and dramatically increased open space for pedestrians to ensure computers are not cramped together on the city's narrow sidewalks."
Danny Pearlstein, a spokesperson for Riders Alliance, called the mayor's plan "an unprecedented and bold commitment to riders." Pearlstein notes that "bus riders are overwhelmingly low-income people of color" and "nearly half of bus riders are essential workers." He says "bus riders literally got us through the worst of Covid."
According to Pearlstein, "with most people staying home, bus riders experienced major speed and reliability improvements. City policy must make every effort to cement those gains."
When asked about the de Blasio proposal and his daily press conference on Monday, Governor Andrew Cuomo said "obviously, there's a disparity between what the MTA asked for and what the mayor's doing."
He then deferred to Janno Lieber, the President of the MTA Construction and Development Corporation, who happened to be at the briefing that day. Lieber said that "from the MTA's perspective, 20 miles of bus lanes is a step in the right direction, but we asked for 60 for a reason." He cited the need to accelerate the speed and frequency of bus service for both economic and public health reasons.