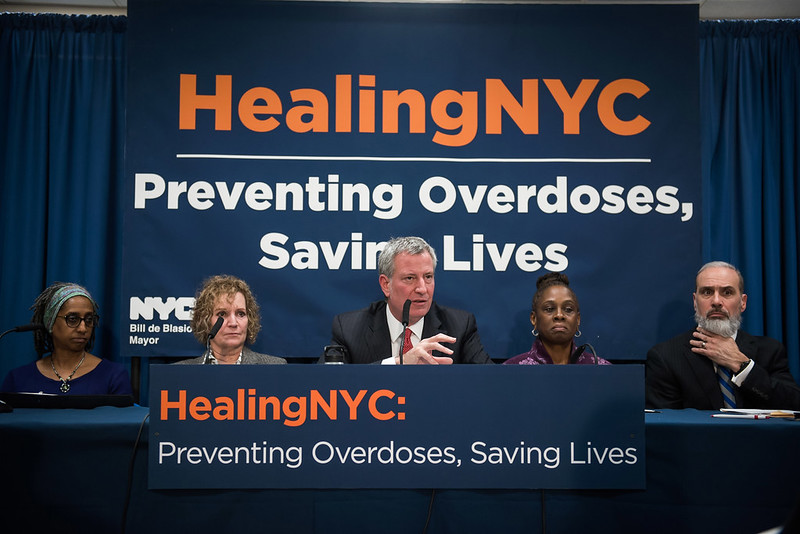 Mayor de Blasio makes an announcement (photo: Ed Reed/Mayor's Office)
---
As the coronavirus ravaged New York, hospitals were flooded with patients and city services ground to a halt. Activists and elected officials worried that in the fray of the pandemic, with New Yorkers ordered to mostly stay inside and millions losing work, the already prevalent opioid epidemic in the state could be further exacerbated. But city and state health officials don't have full grasp on the scope of the problem, and may not know for months, because of a lag in how drug overdose data is tracked and classified.
The NYPD, on the other hand, reports that while overdoses have fallen overall in the first half of 2020, overdose deaths appear to have significantly increased during that period, according to preliminary reports.
Reports from across the country indicate that overdose deaths have likely increased as a result of COVID-19. In a brief report, updated June 18, the American Medical Association's Advocacy Resource Center noted, "More than 30 states have reported increases in opioid-related mortality as well as ongoing concerns for those with a mental illness or substance use disorder in counties and other areas within the state." Among the examples the report cited were reports from New York.
But city and state officials say it's too soon to tell if there has been a spike in overdose deaths or hospitalizations. "Fatalities may still be pending classification and more data is needed for a reliable comparison to previous years," said Michael Lanza, a spokesperson for the city's Department of Health and Mental Hygiene, in an email earlier this month. According to Lanza, since March, just before the coronavirus outbreak in New York, there has not been a larger increase in overdose-related hospital intensive care unit (ICU) visits than what was expected based on historical data. At the state level, a Department of Health spokesperson said the most recent confirmed data is from 2019, even as the calendar shows 2020 nearly halfway over.
Asked about overdose data from this year so far, Edison Albany, a spokesperson for the state Office of Addiction Services and Supports, said in an email, "Official data regarding relapses and/or overdoses for this period is not available at this time. OASAS recognizes the potential consequences of isolation during the pandemic, and how it relates to the possibility of increased alcohol and substance use. To combat this and other risk factors, all OASAS providers remain open during the pandemic, and we are committed to ensuring that all of our services remain available."
A New York City health department spokesperson said it's hard to definitively say whether overdose deaths have gone up since classifying them takes time because of the need for additional investigations and to conduct toxicology reports. The department monitors several metrics, including ICU visits, for this data.
The lag in data production is evident from past reports. It was only in August 2019 that the city health department released a full picture of overdoses in 2018 and the first three months of 2019. The report found that drug overdose deaths fell for the first time eight years, to 1,444 from 1,482 in 2017. In the first three months of 2019, there were 45 fewer overdose deaths than in the same period in 2018.
The NYPD's overdose squads, created in 2016, investigate all overdose deaths in the city and also respond to hospitals to interview people who have survived overdoses. The department also holds quarterly RxStat meetings, which involve about 35 different law enforcement and public health agencies, to discuss data on overdoses.
According to an NYPD spokesperson, preliminary data shows that overdoses overall are slightly lower, even during the months of the pandemic peak, but overdose deaths have increased over last year. The numbers will likely change after further investigation but there does seem to be an indication of a spike.
The Queens and Staten Island District Attorney offices have also noticed local spikes in overdoses. Queens District Attorney Melinda Katz's office, in a June 1 press release, pointed to 86 suspected overdoses in the first five months of 2020, a 56% increase compared to the same time in 2019, it said. The data is sourced from the NYPD and the city Office of the Chief Medical Examiner.
"We are living through an extraordinary time. We are fighting battles no one would have expected, but still we push forward with hope and unrelenting resolve to succeed," Katz said in a statement at the time. "Unfortunately, the coronavirus pandemic has made the opioid epidemic even worse for those fighting for their sobriety."
Ryan Lavis, a spokesperson for Staten Island District Attorney Michael McMahon, said that through June 18 there has been an apparent year-over-year increase in overdoses in the borough, from 35 to 47, based on data collected by the office's Overdose Response Initiative which collaborates with the NYPD. Lavis emphasized that data for 2019 and 2020 is "preliminary, incomplete, and subject to change as additional information is collected, including completed toxicology reports from the Medical Examiner, which have been delayed due to the effects of COVID-19."
The confusion in the data is part of a persistent problem, said Jasmine Budnella, drug police coordinator at Vocal-NY, an advocacy group. Budnella said that activists like herself have seen anecdotal evidence that suggests an increase in overdoses across the state. "What that looks like in actual numbers, I don't think we'll know for a long time," she said.
The pandemic, she said, has illustrated the need to track overdoses in real-time, just as the city is tracking covid infection rates on a daily basis. "I think if we can get covid numbers out that fast, then we should be able to get overdose numbers out that fast," she said.
Budnella noted that the pandemic has posed particular challenges for those struggling with addiction. The state and city lacked a clear plan for dealing with the coronavirus outbreak, let alone specifically for those with a substance use problem. "Covid kind of goes against everything that we tell people, like don't use alone…don't isolate," she said. If the city had a better system to track overdoses, they could have "responded in real time to a public health crisis on top of a public health crisis," she said.
The city did eventually respond in May, just over two months after the lockdown, rolling out a program to deliver methadone to people sick with COVID-19 or a similar illness and those at high risk of contracting the virus. The program was first piloted at certain city-run isolation hotels. Additional measures were also taken to expand eligibility for the home delivery program, which was possible after the federal government eased certain regulations for the medication.
A separate issue that Budnella raised concerns about, particularly at a time when protests to defund the police have taken place across the country, is the NYPD's involvement in overdose investigations. Treating overdoses as a police issue, she said, could discourage people from calling 911. Budnella's group, Vocal-NY, is among those leading the advocacy for establishing safe injection sites for people suffering from addiction. Though Mayor de Blasio has outlined a plan to create four such "Overdose Prevention Centers," with a strong police presence around them, the city has yet to receive permission from the state to follow through.
City Council Member Mark Levine, a Manhattan Democrat who chairs the Council's health committee, noted that the city has seen a staggering 5,000 more deaths above normal that haven't been attributed directly to COVID-19 but have been caused by the conditions created by the pandemic.
"We were losing a New Yorker approximately every six hours prior to the pandemic," he said of the overdose crisis, while noting that since then, people have lost access to primary care and addiction treatment services. "We have every reason to fear that the number of overdose deaths has only increased over the last three months."
Levine said he is considering holding an oversight hearing to press the administration on its response to the overdose crisis, though the Council and his committee have a full docket because of the outbreak and its many impacts. Levine said he has also submitted a request to draft legislation that would require monthly reporting by the health department on the number of overdose deaths in the city.
As the Council negotiates the budget for the next fiscal year with the de Blasio administration, Levine said the city will need to invest more funds in services for people struggling with addiction. "We have to respond now by ramping up our efforts," he said.
For those who need help, the state's "HOPEline" is at 1-877-8-HOPENY or text 467369.