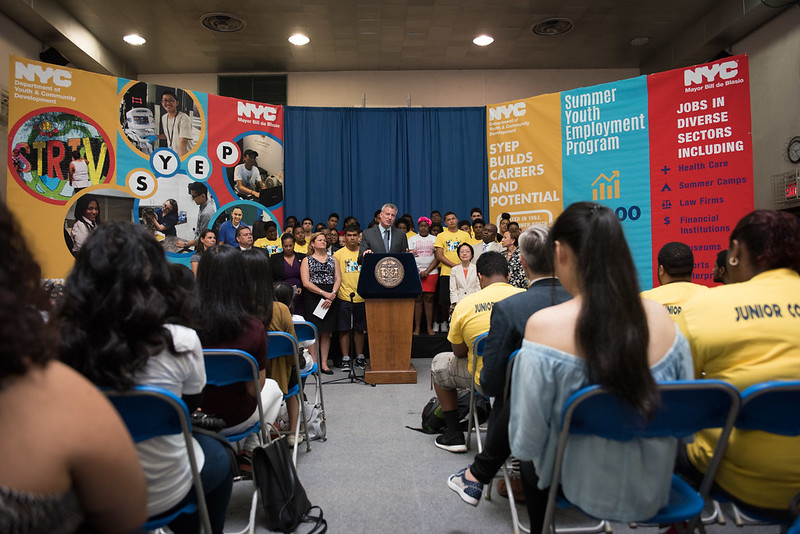 Mayor de Blasio makes a summer youth employment announcement (photo: Michael Appleton/Mayor's Office)
---
Teens Take Charge, a youth advocacy group, held a town hall Tuesday where its members demanded Mayor Bill de Blasio announce his decision regarding the Summer Youth Employment Program by Friday, June 26, or they will take to the streets to protest.
"We've been screaming this message at the mayor for the past two-plus months," said Kai-Lin Kwek-Rupp, one of the hosts of the town hall and leaders of Teens Take Charge, about the importance of SYEP and a clear plan from the mayor. "We need to make sure that we have constant pressure up until June 26, the last day of school, so that we really do get a commitment from him, and providers can start planning SYEP, and participants can start planning their summers."
Amid the coronavirus shutdown and severe budget crunch, the mayor announced in April the cancellation of SYEP, which last summer offered 75,000 summer job placements at partner organizations for young adults across the city. City Department of Youth and Community Development Commissioner Bill Chong wrote a letter to nonprofits citing the uncertainty of COVID-19 as the main reason for the cancellation, while the mayor also cited the city's cratering tax revenue based on mandated economic closures.
Since the mayor's announcement, advocacy groups like Teens Take Charge and a variety of elected officials and others have criticized the decision and organized to reinstate SYEP for this summer. Teens Take Charge has held forums, including one with Public Advocate Jumaane Williams, written op-eds, interviewed with various media outlets, and pushed their supporters on social media to demand funding for SYEP. Along with the public advocate, more than half the City Council and over 100 SYEP providers have supported their cause, according to Teens Take Charge's online tracker.
The significant blowback de Blasio received plus the eventually improving public health crisis led the mayor to say he was reconsidering SYEP and that his administration was in discussions about how to have a version of it in the age of social distancing and with many offices still mostly using a work-from-home model.
"This is a particularly important initiative to people all over the city. The City Council has raised important ideas, proposals, ways of addressing how we revitalize the Summer Youth Employment Program in the context of this pandemic," said de Blasio during a June 11 press conference. "That is an ongoing conversation with the City Council. That will be part of our budget decision making with the City Council over the next two weeks or so."
With many arguing that some version of SYEP could take place and de Blasio saying it might be possible, Teens Take Charge also developed a proposal with HERE to HERE, ExpandED Schools, and dozens of SYEP providers on how to conduct a remote youth employment program. Their initiative, which they named the Youth Empowerment Summer, or YES, would combine public and private funding to provide 40,000 digital internships, with stipends ranging from $700 to $1,000, according to the proposal. They are looking to raise a total of almost $2.9 million in private investments and secure a little less than $50 million from the city in SYEP funding. The city projected to save about $124 million from cancelling SYEP, according to the executive budget de Blasio released in April.
With the Black Lives Matter movement's resurgence, members of the City Council and Public Advocate Williams have called to move $1 billion from the police department's $6 billion annual budget to youth and social services in the new city budget. SYEP has positively impacted Black communities, advocates and elected officials point out -- last year, almost half of SYEP participants identified as Black, according to DYCD's numbers, which means more than 30,000 Black youth received work, wages, and growth opportunities.
De Blasio promised in early June to work with the City Council to move some funds from the NYPD towards youth and social services, but did not provide a target amount or any other specifics, instead saying he would be negotiating with the Council in crafting the new city budget due by July 1.
During Tuesday's town hall, Teens Take Charge invited former SYEP participants and organizations to speak on the importance of the program for youth development and organization capacity. The teens cited financial independence, skill-building, and career exploration as some of the benefits of the program. Nonprofits such as City Growers and Faith in New York said they base their summer programs on the inclusion of youth employees, and without them the programs cannot operate the same way.
Brooklyn State Senator Julie Salazar and City Council Member Carlos Menchacha, both Democrats, as is de Blasio, also attended the town hall to show their support.
"Budgets are a reflection of our priorities, it's already been said, and it's so true," said Salazar. "Mayor de Blasio, show us that you care about young people. Show us that you care about their education, their future, and investing in them by continuing to fully fund SYEP."
The town hall hosts, teens Carmen Lopez Villamil and Kwek-Rupp, saved their demand for the mayor until the end of the event. Lopez Villamil said if de Blasio fails to make an SYEP decision by Friday, Teens Take Charge will plan a protest near Gracie Mansion. She said this protest would most likely happen on Monday, June 29.
As of now, de Blasio and Deputy Mayor Phil Thompson have released the Neighborhood Opportunity Network Summer, or NeON Summer, as a summer youth employment alternative. The program offers six-week, paid learning opportunities to young people in certain low-income neighborhoods, youth on probation, and those who reside in the hardest-hit COVID-19 communities. However, Teens Take Charge noted that NeON Summer only serves a fraction of New York City youth, with just 2,700 total slots.
The City Council also held a hearing Tuesday that included leadership of the Council's Committee on Youth Services advocating for the reinstatement of SYEP. During her opening remarks, Council Member Deborah Rose, a Staten Island Democrat who serves as the chair of the committee, stressed the importance of the employment program and that the Council would keep putting pressure on de Blasio for New York City youth.
"We know SYEP and other employment programs uplift impoverished youth who historically struggle to access the labor market," said Rose. "Tragically these are the very youth whose communities have been ravaged the most by COVID-19, and whose futures we as a city must be investing in more than ever.
***
by Melissa Lent, Gotham Gazette
@melmollyrose @GothamGazette