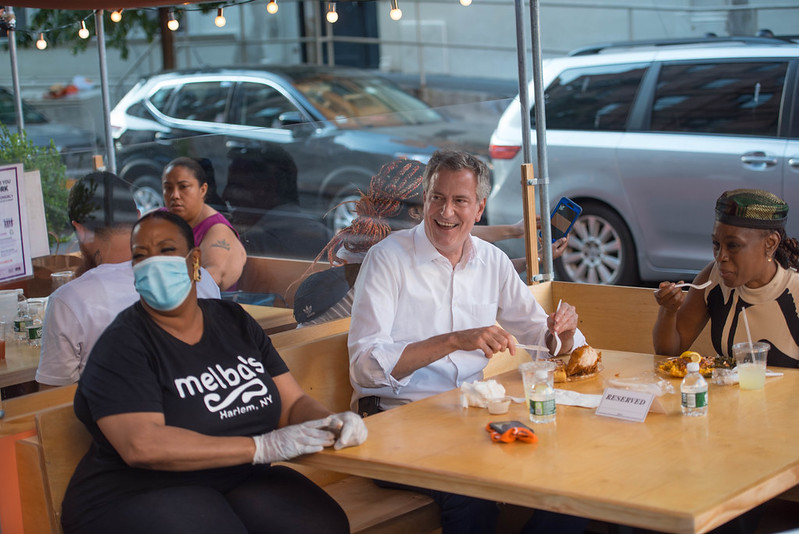 Mayor de Blasio & Chirlane McCray dine at Melba's in Harlem (photo: Michael Appleton/Mayor's Office)
---
Miriam Milord, the Black owner of BCakeNY in Brooklyn, had to completely reimagine her custom dessert business when the coronavirus pandemic hit New York. She usually served events of around 75 to 100 people, but, with social distancing guidelines, customers cancelled those gatherings. All of her orders disappeared.
"So that stopped, you know, from one day to the next pretty much," said Milord. "So not only were we not selling cakes, we also were actually returning deposits."
Milord is one of many Black small-business owners in New York City who have faced unique challenges because of COVID-19, but also experienced new waves of support with the resurgence of the Black Lives Matter movement. Although 2.2 million small businesses operate in the city, only 2 percent of businesses of any size are Black-owned, according to city and federal government data.
Small businesses have faced immense challenges because of mandated pandemic-related closures like lost revenue, laid-off staff, and access to funds. But Black-owned businesses, according to a recent report by the U.S. Chamber of Commerce, have lower revenues, hire fewer employees, and are more vulnerable to a crisis like COVID-19, on average, than their white counterparts.
The city, state, and federal governments, local chambers of commerce, and other entities have implemented a range of policies, grants, loan programs, and other services to help small businesses during COVID-19, including targeted programs for Black-owned businesses. These solutions have met varying degrees of success, with some Black business owners leaning on aid and others struggling to access it, leading some entrepreneurs to use other strategies to stay afloat.
The U.S. Chamber of Commerce report says 95 percent of Black-owned businesses in the U.S. are sole proprietorships with no paid employees, compared to about 70 percent of white-owned businesses that have no paid employees. Black entrepreneurs are also almost three times more likely than white entrepreneurs to have their business impacted by a lack of capital. Lower family wealth overall means Black entrepreneurs have a harder time accessing personal and family savings to start a business. The report also says lack of "human capital," or experience and mentorship, also discourages the creation of Black-owned businesses.
As the pandemic unfolded, 41 percent of Black-owned businesses nationwide closed in April, compared to 17 percent of white-owned ones, according to a study by the University of Santa Cruz. In a July MWBE report conducted by the office of New York City Comptroller Scott Stringer, 85 percent of minority- and women-owned businesses (MWBEs) said they could not survive for six more months.
Many Black business owners have welcomed extra sales from those involved in or supportive of the Black Lives Matter movement. Milord said she lost more than half her staff in the first few days of the city shutdown, although the city allowed her to stay open because she sold food.
With her remaining employees, Milord said she changed her business concept so her customers could design from home and shifted the sizing options for her desserts to accommodate smaller groups, like two-person weddings. With the resurgence of the Black Lives Matter movement, she said she sees more support on social media and remains optimistic that new customers will return.
"We received a lot of genuine support as well, just people ordering a cake, like when you put your money where your mouth is, you're actually really supporting," said Milord. "I think everyone's temporary discomfort can result in a lot of growth and good for everyone."
Government Policies and Aid
The city, state, and federal governments have passed several policies and started many loan programs aimed at small businesses during the COVID-19 crisis.
At the end of March, Mayor Bill de Blasio initiated a small business relief program in a public-private partnership between Goldman Sachs 10,000 Small Businesses, Tapestry Inc.'s Coach Foundation, and Pursuit that would provide loans of up to $75,000, according to a press release from the mayor's office. Due to overwhelming demand, the fund stopped accepting applications. According to the July report by the city comptroller's office, only 40 MWBEs applied for the New York City Business Continuity Loan, of which just six were approved.
The most sweeping small-business survival program during the coronavirus crisis has come from the federal government in the Paycheck Protection Program (PPP), launched on April 3 by the U.S. Small Business Administration and implemented in two phases for a total of almost $660 billion. The PPP aims to help small businesses stay open and keep their employees on payroll, though it, along with other federal measures, did not prevent millions from losing their jobs due to the pandemic recession.
Although the PPP has helped more than 300,000 small businesses in New York State, according to SBA data, others struggle to access it, especially Black entrepreneurs. Small, Black-owned businesses frequently lack a human resources manager or administrator beyond the owner to gather extensive paperwork in a short period of time.
Mikey Cole, owner of Mikey Likes It Ice Cream in Harlem and the Lower East Side, said he lacked guidance on how to apply and is currently on the waiting list for the loan.
"If someone tells you, 'Hey we gave you this fund to help your business survive' but then you have to come up and show a mountain of information," said Cole, "it's like, how do you expect us to get all these records all at once so fast?"
Some business owners who have received the PPP, while grateful for the money, said they felt confused on how to spend it to obtain loan forgiveness, especially with changing guidelines. A bill approved by Congress in the first week of June changed the spending period for forgiveness from a mandatory eight weeks to an optional eight weeks or 24 weeks and lowered the amount that had to be spent on payroll from 75 percent to 60 percent. It also extended the period a business owner could rehire staff.
As of June 30, about $130 million in nationwide PPP funding remains unallocated, according to a new report by the U.S. Small Business Administration.
Locally, the New York City Council passed several bills on May 13 to aid small businesses, like capping fees from third-party food delivery apps, suspending indoor and outdoor cafe fees, prohibiting threats from landlords to commercial tenants, halting enforcement of personal liability provisions in commercial leases or rental agreements, and delaying renewal requirements for licenses and permits from city agencies during the duration of the emergency.
Deputy Mayor of Strategic Policies Initiatives and Co-Chair of the mayor's Racial Inclusion and Equity Task Force J. Phillip Thompson said small businesses owned by people of color have been disproportionately impacted by COVID-19 and are among those most struggling to survive.
"The bills signed today will give small business owners in our hardest-hit communities the support they need to get through this pandemic, and help ensure a fair and equitable recovery in New York City," Thompson said when de Blasio signed the legislation into law on May 26.
On May 22, exactly two months after the state 'shutdown,' Governor Andrew Cuomo announced the $100 million New York Forward Loan Fund, which provides flexible and affordable loans for small businesses, especially for those owned by people of color and women (often referred to as MWBEs, or women- and minority-owned business enterprises).
"Minority-owned businesses face a far greater risk and have received less in federal relief," Cuomo said during a briefing. "We're going to focus on MWBEs that did not receive federal assistance and focus on really small businesses." The state assigned five community development financial institutions to start reviewing applications on June 1, and they will distribute funds on a rolling basis, according to the Empire State Development website.
The city's Department of Small Business Services, or SBS, oversees various economic initiatives for entrepreneurs across the five boroughs. When the city entered phase one of reopening under state guidelines on June 8, SBS also released new resources that included a small business hotline, digital resource fairs, face covering distribution sites, and plain language industry guides that relay mandatory guidelines and best practices.
The mayor started the Small Business Emergency Grant Program on June 4 with $500,000 of initial funds from SOMOS Community Care. The grant provides up to $10,000 to small businesses, with a focus on MWBEs, as well as those with less than $1.5 million in annual revenue, according to a press release from the mayor's office.
On June 11, de Blasio announced Signature Bank would donate $750,000 in funds to the grant to further support small business owners across the five boroughs who experienced damage to their storefronts during recent looting. The program was to start in the Bronx, which saw one night of looting in a concentrated area home to many MWBEs.
The same day, de Blasio also initiated the Restaurant Revitalization Program. The plan provides restaurants with short-term payroll support for restaurants, up to $30,000 each to pay subsidized employees wages of at $20 an hour for at least six weeks, according to a press release. The statement also says it prioritizes the city's hardest hit communities as well as those restaurants that commit to paying the minimum wage with tips on top and race and gender equity among employees within three to five years. The mayor also announced a collaboration with the advocacy organization One Fair Wage for the launch of the High Road Kitchens program in the city, which made $1 million available for local restaurants with up to $35,000 per establishment, according to the press release.
On June 18, Mayor de Blasio signed an executive order easing sidewalk cafe laws and rules, and encouraged business owners to self-certify through the city's new Open Restaurants program, allowing more outdoor dining as the city eased some restrictions.
Melba Wilson, owner of Melba's Restaurant in Harlem and the board president of the NYC Hospitality Alliance, a trade advocacy group, said she always wanted to have tables outside but the process seemed too taxing before the mayor's executive order.
"It literally took us all of four minutes to self-certify," said Wilson. "And you know, nothing really happens that quickly with the city, right?"
Wilson's restaurant became the first recipient of the DineOut NYC program, a partnership between David Rockwell's Rockwell Group and the NYC Hospitality Alliance to build pro bono outdoor seating. DineOut NYC will create outside arrangements for four other Black-owned restaurants, one in every other borough, according to Wilson.
Mayor de Blasio and his wife, Chirlane McCray, tested out the new sidewalk seating at Melba's by eating outdoors, right after the city entered phase two of reopening, which allowed restaurants outdoor dining on top of the takeout and delivery they had been allowed to continue throughout the shutdown.
Chambers of Commerce
Local chambers of commerce can serve as on-the-ground conduits for businesses to access resources, and some of the five borough-based chambers have especially focused on Black-owned businesses during the current crisis. Chambers help provide financing, connect members to each other, answer questions about running a company and provide other services. Several chambers reported they've employed an adaption of their "Chamber on the Go" program during the pandemic.
The program usually involves an on-site assessment of a member's business to recommend SBS, chamber, and local resources or instantly provide support, but some have shifted to phone calls to survey their members' needs.
After monitoring their businesses, the Brooklyn Chamber of Commerce, which serves the borough with the most Black businesses according to the Center for an Urban Future, launched their Bring Back Brooklyn Fund in April. The initiative provides no-interest loans of up to $30,000. The Brooklyn Chamber of Commerce earmarked 65 percent of the money towards MWBEs, according to a press release.
The chamber found in an April survey that 90 percent of Brooklyn MWBEs had not received funding from the federal PPP. By the end of June, the chamber raised almost $230,000, according to a press release, and as of this past week, four small businesses received a total of $28,000 in funding, said Tondalaya London, Vice President of Business Services at the Brooklyn Chamber.
Many small businesses have also faced difficulty in rehiring employees. Owners have said their staff feel unsafe returning to work or want to continue collecting unemployment, which sometimes pays them more than their job had. The current pandemic unemployment compensation includes an extra $600 a week under the federal CARES Act, which President Trump signed on March 27, and which will last until July 31.
To address workforce issues, the Queens Chamber of Commerce is trying to partner with local colleges, universities, and trade schools to act as a liaison between students or recent graduates who need jobs and small businesses who need employees, according to President and CEO Tom Grech. He said that of the QCC's 1,150 members, about 90 percent have fewer than 10 workers.
"I think the chamber, and we, have a moral imperative to retrain all those folks who have lost their jobs," Grech said. "Now it's time to really work together. The new normal is not whatever the normal was in the past, right?"
As small businesses push further into phase three of reopening, they may need to adjust their operations to survive through the pandemic. The Manhattan Chamber of Commerce announced their "Pivot to Win" program at the end of June, which will offer small and medium-sized businesses support through webinars, training sessions, large-scale marketing efforts, connections to corporate suppliers and vendors, and time with expert mentors that will help them rethink their business model.
Chamber President and CEO Jessica Walker said the program will especially target Black-owned businesses and other minority-owned firms.
"Right now, we need to help businesses through the long haul," said Walker. "So really what we're trying to do is provide resources that a lot of big companies have and make sure small businesses are empowered to really run an efficient, profitable, competitive business. I do think there's so much creativity that has not been tapped or maximized."
Business Adaptations
Black small-business owners have had to adapt to the setbacks all small businesses are facing right now during COVID-19, but also confront their own set of challenges. Small businesses in the city have dealt with drops in revenue and staff as well as less access to loans or grants. But Black-owned small businesses have also contended, historically, with less financial capital than their white counterparts, less of a savings cushion to fall back on, and a greater lasting impact on their communities from disasters, according to the 2020 report by the U.S. Chamber of Commerce.
Without the PPP, Cole implemented different ways of selling his ice cream that focused on the close community bonds he has formed over the years. He said he prepackaged pints of ice cream for pick-up, and would also personally deliver his product to his customers.
"As the weekend came I would jump in the vehicle and deliver the stuff myself," said Cole. "People were happy like, 'Wow, Mikey, it's actually you!' I'm like, 'Yeah, I'm gonna give you the scoop, it's gonna be just like how it is when you're in the store.'"
Wilson, of Melba's, said she furloughed two-thirds of her staff and lost 85 percent of her revenue within the first few weeks of closing her comfort-food eatery. She now manages to make 75 percent of what she once did before COVID-19, but that means expanding service by six hours, increasing social media outreach, creating new family-style food packages, and introducing liquor takeout (made legal during the pandemic), she said.
"We had to be creative," said Wilson. "We had to pivot and I think that's what you do, when times are different, you have to pivot."
Business owners are also banding together to convince the government to implement policies that lessen the challenges caused by the coronavirus. The NYC Hospitality Alliance, a non-profit organization representing restaurant and nightlife establishments, pushed for the simplified sidewalk cafe process, the cap on delivery fees through third-party food delivery apps, and takeout alcohol, according to Karl Franz, board member of the Alliance and owner of the Harlem cocktail bar 67 Orange Street.
With the Black Lives Matter resurgence, Franz said the Alliance is also focusing on finding access and recognition opportunities for Black business owners, including connections to capital, awards, and media exposure.
Black Lives Matter's Influence
As Black-owned small businesses grapple with a string of challenges, they also feel the effects of the Black Lives Matter movement. The protests have heightened calls for racial justice and have also ushered an influx of support for Black-owned businesses. Social media posts, articles, and online spreadsheets have lifted word of local and online Black companies where people can spend their dollars. Crowd-sourced tools like Shop Black Owned by Coast, a workplace productivity app company, and Janet Gardner, a copywriter and creative strategist, have mapped businesses in the city for consumers to locate potential places to shop.
Milord said she saw an increase in new customers ordering her custom cakes.
"I definitely feel like we had calls and emails from people who usually wouldn't call and email," said Milord. "So overall I think it's great. Obviously, there's lots of work to do but I definitely appreciate progress."
While anecdotally Black entrepreneurs have noticed a boost in customers, it remains difficult to quantify. According to Franz, at the end of May, 67 Orange Street generated 40 percent of its usual revenue. By the end of June, that number increased to 66 percent, but this rise may be attributable to a variety of factors, such as Franz's use of his PPP and EIDL funds, phase two of reopening, or new government policies, not only Black Lives Matter supporters' consumerism.
However, other products, such as books, are easier to link to Black Lives Matter's influence. Wilson said all of her cookbooks sold out, which she attributes to the lists of Black entrepreneurs shared online. (Broadly, books related to Black Lives Matter, race, and similar themes have been selling in large numbers through many avenues and by several metrics.)
While business owners generally welcome the support, they feel wary of its sustainability. Milord said stores like hers have existed for years, and she questions whether new supporters will treat buying from Black-owned businesses as a short trend or a more permanent habit. Others like Cole said while many do come in with the intent of supporting the cause, the quality of his ice cream will compel them to return.
"I love it if someone comes in and says 'Is this Black-owned?'" said Cole. "But at the end of the day, what did you come here for? You came here for some good ice cream? Just come and see if we have good ice cream. Let the product speak for itself."
Phase Three Moves Ahead
Although the city has now moved into phase three of reopening, which opened nail salons, massage centers, spa salons, tanning salons, and tattoo shops, Black entrepreneurs must still address new and ongoing setbacks.
While many restaurants implemented outdoor dining options during phase two, sidewalk seating offers less room for customers than usual. After seeing the apparent negative impact of indoor dining on coronavirus infection rates in other states, de Blasio and Cuomo decided to delay it indefinitely in the city to prevent an increase in COVID-19 cases.
"If you open your eyes, you see the citizen compliance slipping. You see government compliance not correcting it," said Cuomo during a July 1 briefing. "What's going to happen? The virus is going to spread."
De Blasio decided to try to alleviate some of the impact of this decision last week by introducing 22 new locations designated for further expanded outdoor dining. This initiative combines the Open Streets and Open Restaurants programs and will extend restaurant seating onto car-free streets throughout the five boroughs, according to a July 2 press release.
"I hope to see this program expand in the coming days to areas in Brooklyn that have not historically been prioritized for safe streets and economic development initiatives, like East New York and Canarsie," said Brooklyn Borough President Eric Adams.
Rent also poses an immense challenge to Black business owners. In a June 2020 survey by the NYC Hospitality Alliance, almost three-fourths of landlords did not waive rent in relation to COVID-19, but only a fifth of respondents reported paying their full rent. Franz said more people have started to pay attention to the economic disparities that always existed in Black communities now that COVID-19 has devastated them.
"It's increasing the awareness of things that, if you're a Black or brown entrepreneur, you knew all along, you've been yelling about all along," said Franz. "Just like George Floyd revealed the reality of what policing in Black communities is really like, the reality is, when you look at the economic disparities that exist in Black communities, the fact that you have these things happening makes a lot more sense."
Franz said he wants to see the city and state eliminate interest on all past tax-related debt, which he has seen burden Black-owned businesses because of lack of funding, and provide access to capital for struggling businesses with the fewest strings attached.
Along with rent, Black business owners in particular have spoken out against what they see as racially discriminatory enforcement. Borough President Adams joined Bronx City Council Member Fernando Cabrera, The Black Institute, and Black and brown business owners on July 3 to demand a halt to what they called "overly punitive enforcement on Black and Brown businesses" by the NYPD, the New York State Liquor Authority, and other city and state entities, according to a press release from Adams' office. Business owners spoke out against steep fines, required changes to a business's method of operation like shorter hours, and liquor license revocations.
"I am calling for an immediate moratorium on the issuance of summonses and violations except in egregious circumstances, and for the New York Attorney General's office to immediately conduct an investigation into whether this enforcement is being applied in a racially discriminatory manner," said Adams.
Another issue that disproportionately affects Black and other minority-owned businesses is contract procurement. Through June 18, the city has registered over $3 billion in contracts to businesses to address the COVID-19 crisis, including for food, personal protective equipment, temporary staffing, technology, medical supplies, and building testing centers, according to Comptroller Stringer's office. In its July MWBE report, the comptroller's office found that although 325 of the 500 MWBEs surveyed said they were ready and able to receive these city contracts, only 62 could compete due to what the comptroller's office called "onerous restrictions and non-responsiveness from the City." Only 10 of those who competed received contracts, according to the survey.
While more businesses can reopen, owners must still secure PPE for their workers. SBS offers small businesses five face masks per employee through partner organizations throughout the five boroughs, according to their website. They also created a list of non-medical PPE manufacturers and suppliers if companies want to buy additional PPE.
Chambers of commerce have also stepped up to provide PPE. The Brooklyn Chamber of Commerce found in a June survey that nearly half of MWBEs in the borough lacked PPE, although 70 percent would reopen. The chamber partnered with NY Presbyterian and unveiled a $500,000 grant program so businesses could buy masks, gloves, shields, contactless payment devices, and deep cleaning services, according to a June press release. It will source PPE and cleaning services from "local small businesses and vendors, a majority of which are minority, women or immigrant–owned businesses," the press release said. As of early July, 18 local small businesses have been approved for PPE grants totaling about $25,000, according to BCC Vice President of Business Services London.
Milord interacts with customers behind a shield, a drastic change from sitting down with her clientele to design custom cakes. She said she feels hopeful as people start making plans again.
"In situations like that you learn a lot that you can later implement going forward, so we're working on that silver lining to take the positive from it," said Milord. "It's definitely getting busy again, which is great."