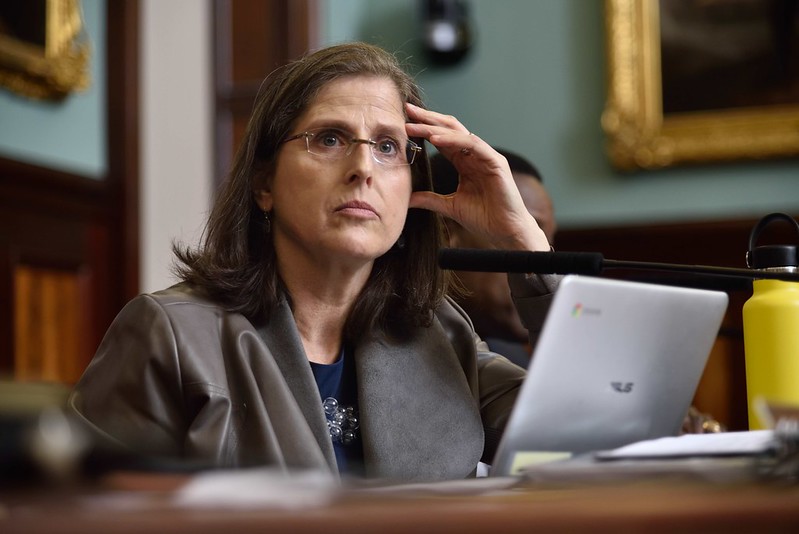 Council Member Helen Rosenthal (photo: John McCarten/City Council)
---
New York City Council Member Helen Rosenthal, a Democrat from Manhattan, is dropping out of the 2021 race for Comptroller, she told Gotham Gazette in an interview Friday morning.
Next year, the entire city government – the mayor, comptroller, public advocate, five borough presidents and 51 City Council seats – will be on the ballot. Rosenthal is currently serving her second term representing District 6 on Manhattan's Upper West Side, and cannot run for reelection due to term limits. She was among several Democrats seeking to replace outgoing Comptroller Scott Stringer, who is also term-limited and is running for mayor.
Rosenthal said she no longer sees a path to victory. "I think the campaign was going very well in 2019. We were very well received and it was very encouraging," she said of the initial phase of her run. "But at the beginning of 2020, I knew that I had to hit some pretty significant benchmarks in order to have a viable campaign. And I knew that there was going to be a lot of work involved and I was going to have to really invest a lot in the work. And the way 2020 unfolded, it became very clear that I wasn't going to be able to hit those marks."
Rosenthal said she needed to make community-based and political connections throughout the city that she did not pursue earlier this year, instead staying fully focused on her work as a Council member. She also lags behind other candidates in fundraising and was going to have to make that ground up throughout this year and into next ahead of the June 2021 primary that is all but certain to choose the next Comptroller, the city's chief fiscal officer, given Democrats' seven-to-one voter registration advantage over Republicans.
Having previously served for seven years in the Mayor's Office of Management and Budget, Rosenthal has particular concerns about the city's current budget and fiscal situation and said she was able to use her candidacy to elevate those issues.
The city had to fill a $9 billion revenue gap to balance the recently approved $88.2 billion budget and Rosenthal was among those who expressed support for a proposal put forward by Mayor de Blasio to allow the city to borrow funds for operational expenses. Though that idea has not yet been approved by the state Legislature, the city may still need that recourse if revenue deteriorates further and the federal government does not bail out the city, she said.
"Especially in the lead up to the passage of the fiscal 2021 budget, I was able to amplify my calls for borrowing, for opportunities for the state to pass laws to raise money, in particular from the Stock Transfer Tax rebate, and it's given me the platform to talk about the investments that the city has to make in order for the economy to recover," she said.
Rosenthal voted "no" on the budget because, owing to the lack of borrowing power, the city was forced to make cuts to services and programs for the most needy. "I think over the next six months, we have to bring together support for borrowing in the city," she said. In her remarks when voting no, she critiqued Stringer for his opposition to the city borrowing, which appears to have had some impact on the state's hesitance. Rosenthal also said the budget did not go far enough to cut funding from the NYPD and invest in youth services.
Rosenthal hasn't decided yet whether she will throw her support behind another candidate. "It's very much too soon and we'd have to be much closer to the election," she said. "Given everything that's going on around us, I think the field is still in evolution."
Other candidates include fellow City Council Member Brad Lander from Brooklyn, Manhattan State Senator Brian Benjamin, and Assemblymember David Weprin of Queens. State Senator Kevin Parker from Brooklyn has also filed initial papers to run but his campaign has not shown any activity. There are currently no Republicans who have declared a comptroller campaign.
As of the last campaign filing, all the way back in January, Lander had $250,914 in campaign cash, Benjamin had $252,225 and Weprin had $84,927 (he also owes the city Campaign Finance Board $320,000 from past fines). Rosenthal had just $13,808 (she has raised $136,520 and spent $122,712). Parker has yet to raise any funds. None of those totals take into account the public matching funds that will eventually be available to qualifying candidates. A new campaign finance filing deadline is imminent, the numbers from which will provide information about fundraising and spending thus far this year.
Rosenthal said she hopes that the remaining candidates will pay attention to her campaign platform. "I laid out some pretty good ideas and a clear path to balancing the city's budget in a way that doesn't hurt people, and that story's not going to end for the next at least two or three years," she said.
With eighteen months left in her term, Rosenthal said she has "a lot of work ahead of me." Along with her focus on fiscal and budget matters, which has included a lot of attention on contracting and nonprofit service providers, Rosenthal has also led the Council's Committee on Women, which under her leadership has in part focused on deficiencies in how the NYPD handles sexual assault.
Rosenthal said she does not have any immediate plans for what comes next, though she wants to remain involved in public service. She does not intend to run for another elected position in 2021.
"I will be looking for a job where it's a good fit, where the skills I bring can be meaningful and used as a public service. And we'll see where that takes me," she said.
[Read: 2021 Comptroller Candidates Offer Differing Ideas for Addressing City's Fiscal Woes]