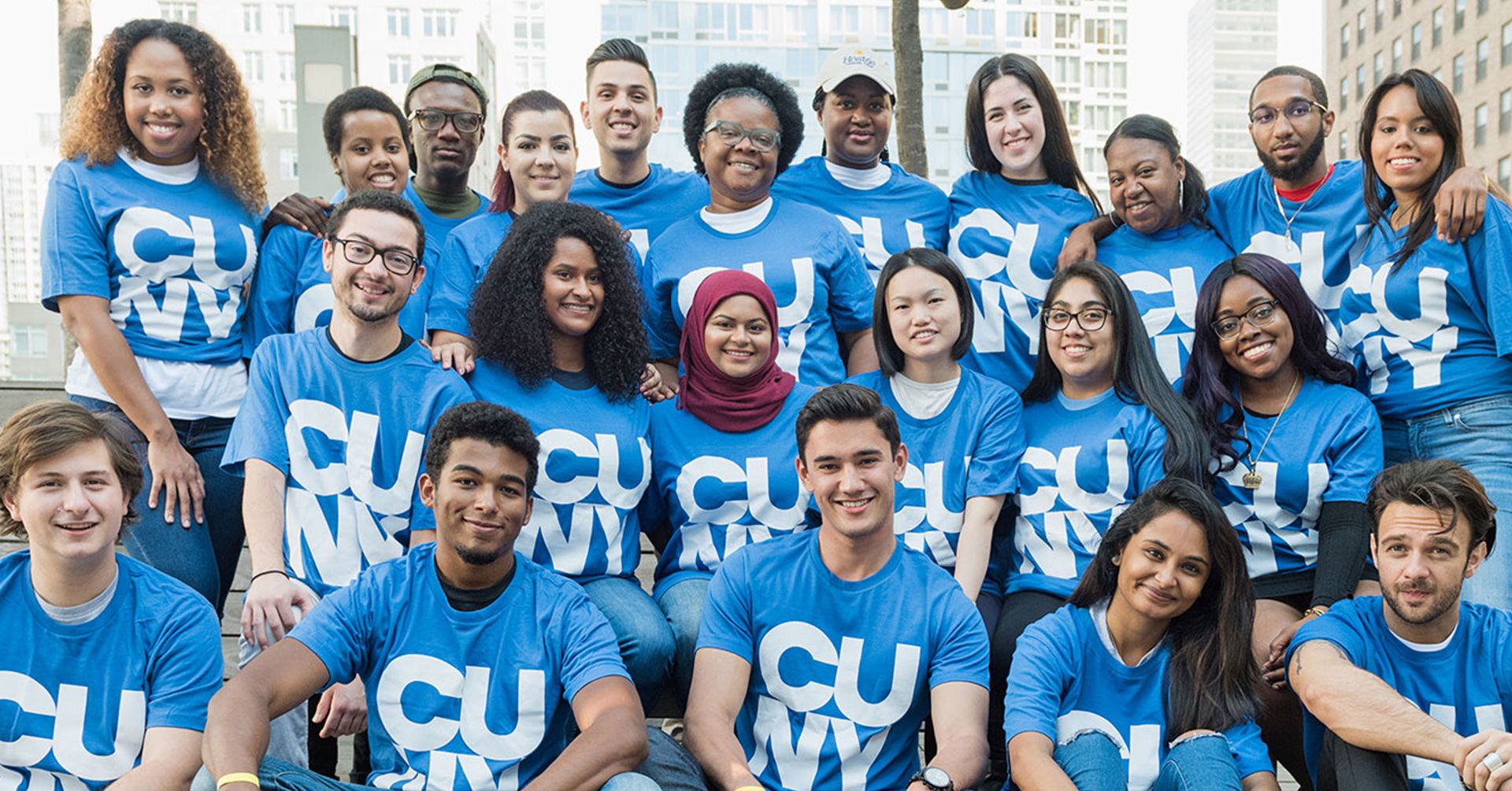 CUNY students (photo: CUNY)
---
UPDATE: Not long after the publication of this article, the Trump administration rescinded the directive at hand regarding international students, visas, and remote learning. "This is welcome news for more than 100,000 international students in New York, more than one million students across the country, and millions of additional families across the world," said New York Attorney General Letitia James, who had filed suit. See more background below:
CUNY Chancellor Félix V. Matos Rodríguez released a statement on Friday, July 10 that confirmed some in-person instruction for the fall semester as long as state and university guidelines are met, which he said will partially benefit the public university system's over 9,000 international students.
Rodríguez mentioned that CUNY had already scheduled almost half of its Fall 2020 courses for hybrid or fully-online instruction, a schedule it will build out in the coming weeks and said the schools plan to offer in-person instruction for science labs, theater, clinical placements, and performing and studio arts. Rodriguez said the CUNY Board of Trustees' July 9 resolution gave the university more flexibility in making decisions, which tied into alternatives for those studying on visas whose status in the United States was under a new federal threat.
"We are also devising plans to help our international students in response to the misguided policy announced by Washington earlier this week," said the chancellor. "The resolution approved by the Board last night also helps us in this matter by providing maximum latitude to offer them some degree of in-person instruction. We will leave no stone unturned to make sure our international students are able to stay and continue their studies at CUNY."
On July 6, U.S. Immigration and Customs Enforcement, or ICE, released modifications to the temporary exemptions for nonimmigrant students taking online classes because of the pandemic in the fall 2020 semester through their Student and Exchange Visitor Program, or SEVP. Nonimmigrant students have been approved to take more online courses in the spring and summer semesters than allowed by federal regulations due to COVID-19 safety guidelines. Now these students may not take a fully online course-load for the fall semester and remain in the United States, according to the announcement.
Members of the House of Representatives and Senate sent at least three letters to the Trump Administration to oppose the changes to SVEP. One letter with dozens of signatures from both houses addressed to leadership of ICE and the Department of Homeland Security said ICE's guidance was "motivated not by public health considerations, but rather by animus toward immigrants, by a goal of forcing schools to reopen even as COVID-19 cases are rising, and by a desire to create an illusion of normalcy during this unprecedented public health emergency."
On July 8, Harvard University and the Massachusetts Institute of Technology filed a lawsuit against the Department of Homeland Security and ICE to instate a court order stopping the SVEP directive, which applies to students on F-1 and M-1 visas.
New York City, along with 26 other cities, counties and towns, filed an amicus brief in support of the two universities' lawsuit, Mayor Bill de Blasio announced on Monday. "This is yet another cruel and senseless immigration policy from the Trump Administration," de Blasio said in a statement. "All students are welcome in New York City, and we will continue to ensure that our colleges and universities can reopen based on public health guidance, not threats from the President."
The mayor's office stressed that there are over 70,000 international students in New York City and said they "contribute $3.26 billion to the economy and support almost 36,000 jobs, according to NAFSA: Association of International Educators."
Earlier Monday, New York State Attorney General Letitia James announced a separate suit against the Trump Administration for a preliminary injunction and temporary restraining order on the reversal of ICE policy from its guidelines during the coronavirus. Announcing her suit, she said the federal directive threatened the wellbeing of students and New York's economy.
"International students should never be used as political fodder to force colleges to reopen their doors, but the president's inability to remove politics from public health decisions endangers us all," James said in a statement. "Schools should never have to choose between enrolling international students in in-person classes and maintaining public health, which is why we will use every legal tool at our disposal to stop the president."
Schools in the city like Columbia University, which enrolls about 12,000 international students, and New York University, which enrolls the highest number of international students in the U.S. at over 19,600, condemned the announcement and said they would have advisors work with international students to have them enroll in hybrid courses, which offer some in-person and some remote learning, so they could remain in the country.
The CUNY Board of Trustees provided leeway for the chancellor's announcement by voting on the continuance of the online and distance learning instructional modality. During the July 9 meeting, the board added two new sections to its resolution, which stated that "the preference of the university is to offer in-person instruction and services to students for the Fall 2020 semester where practicable and prudent," but "in supplement to or in place of in-person instruction and services, online or remote instruction and services may become the preferred method of faculty and students, and may ultimately become necessary by order or by public health circumstances." They also replaced the word "decision" with "preparation" in their reference to extend online learning, which softened their position towards the type of instruction they would offer.
Chancellor Rodríguez said this amended resolution by the Board of Trustees gave the CUNY system flexibility in planning the fall semester. In his Friday statement he also added the in-person classes and services must meet New York State and university guidelines for re-opening and the city must enter "phase four" of reopening based on state guidelines, which it appears on track to do this month.
Along with in-person classes, the chancellor said food pantries, child care, counseling centers, computer labs, and library services may also reopen. Gosia Kujawa, a sophomore at CUNY Hunter College and an international student from Poland, said she approved of the chancellor's statement in light of ICE's decision, although she is awaiting more specifics.
"While I am stressed by the lack of detailed information and knowledge of my college's plan, I am proud that my college wants to defend us against the discriminatory decision of ICE," said Kujawa, who lives in the city by herself, in a statement to Gotham Gazette. "There is more than a month to the beginning of the fall semester, but I hope that our college authorities will not wait until the last moment to announce a detailed plan." Kujawa said as a lesbian, she does not want to return to Poland because of a heightened anti-LGBTQ sentiment from the current administration under President Andrzej Duda.
Members of CUNY's University Student Senate, or USS, had been placing pressure on CUNY to make a decision regarding fall instruction in light of the new ICE directive. On July 9 they held a press conference with Queens State Senator Toby Ann Stavisky and Manhattan Assemblymember Deborah Glick, who is the chair of the Assembly's Higher Education Committee, to criticize the ICE directive. Several CUNY international students gave testimony on why they disapproved of the announcement and what it would mean for their education.
Nicole Agu, the USS vice chair of international affairs and a student from Nigeria, said lack of technology, tutoring, counseling, or other services will distress students who may have to return to their home countries for remote learning, along with whatever time difference they will contend with. Agu herself also dealt with relocating to a new dorm, losing her internship because of COVID-19, and food insecurity this past semester, on top of advocating for her peers to continue to study at CUNY.
"International students invested so much emotionally, academically, financially, to be here," said Agu, who attends the College of Staten Island and majors in accounting and international business. "And I don't see how the primary mission of ICE is related to international students being here 'legally,' it doesn't make sense. All of this is just faulty logic."
USS also called for more action from the university to help international students in a July 9 statement. The university student senate filed an amicus brief with 15 other universities in support of the Harvard and MIT lawsuit. Agu said she still wonders if professors who have international students will adapt their classes to a hybrid model or what specific steps CUNY will take if the courts decide to uphold the ICE policy during the new lawsuits, especially for those students who still reside in another country. Although she awaits a more detailed plan, Agu said she believes the university will come through.
"My final thought is CUNY will be ready and prepared to save these students regardless of the outcome," Agu said.
In the Monday announcement from Mayor de Blasio's office, the city's Commissioner for the Mayor's Office of Immigrant Affairs, Bitta Mostofi, said, "International students with questions should reach out to their designated school official for support. For connections to free, safe immigration legal help, students in New York City can call ActionNYC at 1-800-354-0365."