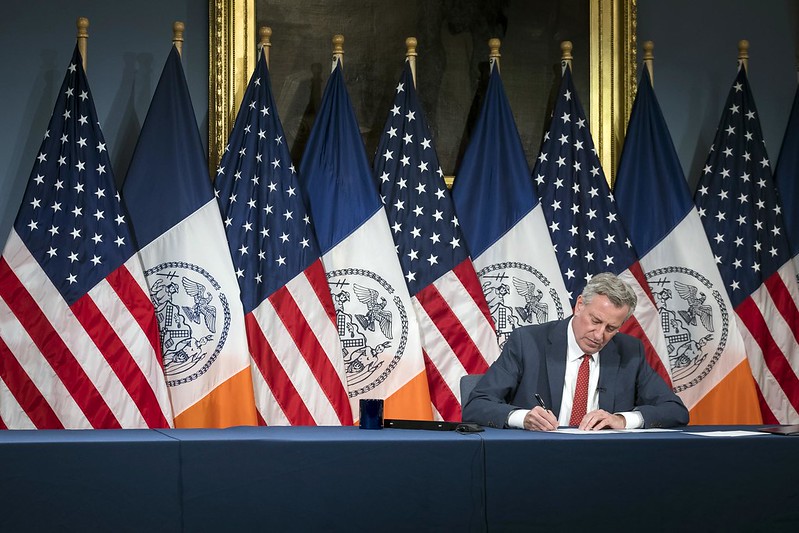 Mayor de Blasio (photo: Ed Reed/Mayoral Photography Office)
---
When Mayor Bill de Blasio said in late April that he was creating a task force to lead a "fair recovery" from the COVID-19 pandemic, nestled in his announcement was a brief statement that he also intends to call another Charter Revision Commission. But the mayor hasn't yet convened that commission, which would be the third to be created while he has been mayor, the second by him alone, and hasn't explained his rationale for it.
There have already been two commissions created in the last few years to examine and propose amendments to the City Charter, the document that establishes the central functions of city government and its officials. Amendments considered and proposed by such commissions are placed on the ballot for city voters to approve or reject.
A spokesperson for the mayor said there is no set date for when the mayor will create his new commission. The timing will depend on the city's recovery planning process, the spokesperson said, and on whether the commission can help overcome any roadblocks to that "fair recovery." The mayor's announcement also stated that his Fair Recovery Task Force will consider questions that could be taken up by the commission. De Blasio said he expected a "preliminary recovery road map" by June 1, though his spokesperson did not say whether that plan had been created or if it would be made public.
De Blasio previously created a charter commission in 2018, convened, he said at the time, to improve voter participation and limit the influence of money in elections. That commission placed three questions on the November 2018 ballot, all of which passed with overwhelming support, that significantly reduced individual campaign contribution limits, established term limits for community board members, and created a new Civic Engagement Commission.
Another commission was created that year through legislation passed by the City Council, with commissioners appointed by various officials including the mayor, based on a push by Manhattan Borough President Gale Brewer and then-Public Advocate Letitia James, which was embraced by City Council Speaker Corey Johnson. It was said at the time to be tasked with a more sweeping review, and potential overhaul, of the city's key government functions and processes.
In the end, it also produced mostly modest reforms, put forth as five ballot questions in the 2019 general election, all of which also easily passed. The questions covered 19 specific proposals in all, including the implementation of ranked-choice voting in special and party primary municipal elections, expanded powers for the Civilian Complaint Review Board (a police oversight agency), independent budgets for the public advocate and borough presidents, among other technical changes to land use policy and the city's budgeting process.
It's unclear what solutions to the city's current crises might require or inspire a change to the city charter. "[W]e're going to build something new and we're going to build something better and not just better because it's more modern," de Blasio said in his April 26 announcement of the Fair Recovery Task Force. "We're going to build something more fair. We're going to build something for everyone. This recovery has to have that spirit, that New York spirit, that everyone matters."
He explained that a Charter Revision Commission would be part of that recovery "because if ever there was a moment, a breakpoint moment in the city's history, this is it. And it's time to look anew at everything we do and see what works, what doesn't work, what about our city government structure might be outdated or less effective, what do we need to build a fair recovery."
More than two months later, the City Council is "not aware of any formal efforts by the administration to create another Charter revision commission," according to Jacob Tugendrajch, a spokesperson for Council Speaker Corey Johnson.
At this point, it appears all but certain that any charter revision commission assembled by de Blasio would do its work to put proposals to voters on the 2021 general election ballot, rather than this fall.
For some who participated in the previous charter amendment processes, a new commission offers an opportunity to revive proposals that weren't taken up by the previous commissions as well as push for new needs that have become apparent in recent months.
Comptroller Scott Stringer pushed the previous commission to consider an amendment mandating the appointment of a chief diversity officer at City Hall and at every city agency, as he has done in his own office. Though Stringer insists the mayor could create that position administratively, it's possible he may push a new commission to take up the proposition.
"A CDO for New York City would function as city government's executive level diversity and inclusion strategist, driving the representation of people of color and women across government, tracking and overseeing the city's M/WBE programs, and determining whether agencies' daily practices are equitable," he wrote in a July 8 op-ed at Gotham Gazette. "A citywide CDO could begin to tackle long-standing disparities that are now coming into stark relief -- from analyzing how taxpayer dollars are spent through an intersectional lens to removing barriers to doing business with the city to making sure public service is a viable option for people from diverse backgrounds and experiences."
A spokesperson for Stringer did not provide comment for this article when asked for which proposals the comptroller may put forward for a new charter commission. When he testified before the 2019 commission, Stringer presented a 102-page booklet of 65 ideas and proposals, including the chief diversity officer concept, which was his number one focus.
Public Advocate Jumaane Williams said he wants to see his office strengthened under the charter and would push for additional changes to the city's budget process, where the mayor currently holds far more authority than the City Council. He also expressed support for a proposal to give the City Council advice and consent power over the appointment of the NYPD commissioner, an idea that was pushed by police reform advocates to the 2019 commission but not taken up and that could gather momentum following the recently renewed movement against police brutality that has subsumed New York City and the country at large.
On that note, Williams said a commission could provide a valuable opportunity to reimagine the institutions of public safety in the city, beyond just the NYPD. "If all we do is look at the police, we're going to miss the mark," he said.
City Council Member Brad Lander, a Brooklyn Democrat who is running for city Comptroller in 2021 and pushed for a comprehensive city planning process to be taken up by the prior charter commission, has recently suggested that New York follow Minneapolis' lead on police and public safety reform.
"If another Charter Revision Commission is truly on the table again, then New York City should consider following the lead of Minneapolis, where they are proposing a charter amendment to dismantle their police department and create a department of community safety and violence prevention that leads with a public health and restorative justice approach," Lander said in a statement. "That would be a good use of a commission, to transform our city's approach to public safety."
The previous commissions both considered issues of police reform but sweeping proposals were either rejected or watered down. The 2019 commission did lead to the adoption of certain transparency and accountability measures. The CCRB's composition was expanded, giving the public advocate an appointment while another appointee chosen jointly by the mayor and Council will serve as chair. The Council also no longer needs approval from the mayor to appoint members to the board. The agency's executive director also received the authority to issue subpoenas and the CCRB can now also prosecute police officers who make false official statements during an investigation of which they are the subject.
Carolyn Martinez-Class, a spokesperson for the Communities United for Police Reform coalition, hopes that the next commission will go further. But she has doubts since it will be appointed by the mayor, whose office attempted to sabotage some of the 2019 commission's CCRB reform proposals and who has favored incremental changes to the police department through his own initiatives.
"Mayor de Blasio has consistently undermined efforts to reform the police in New York City including the last charter revision process," Martinez-Class said in a phone interview, noting how the mayor's appointees on the Council-created commission voted against the CCRB proposals. "There's little faith that if the mayor's the person who is going to control the process in its entirety, that substantive reforms can come out of this process," she said.
Among the reforms CPR would like to see included in the charter are increased accountability for police misconduct, greater transparency, particularly with regards to the NYPD's notoriously opaque budget, and greater oversight of police surveillance technology. "The last few months have only reiterated how critical all three of these pieces are," she said.
At least part of those demands have already been met with the Council's recent passage of the Public Oversight of Surveillance Technology (POST) Act, which will require the NYPD to disclose the types of surveillance mechanisms it uses. De Blasio has said he will sign the bill into law despite his initial reluctance to support the legislation. He has also promised changes to NYPD disciplinary practices, though administrative measures do not carry the same force as a charter provision.
The police budget's size and lack of transparency have been particularly pertinent considering the fraught passage of the recent $88.2 billion city budget for the 2021 fiscal year, where the central sticking point was a proposed $1 billion cut to the NYPD's roughly $5.5 billion operating budget. The mayor and Council agreed upon a combination of cuts and cost shifts that amounted to hundreds of millions of dollars, though there has been debate over how significant changes really are, with many advocates and some elected officials disappointed.
Martinez-Class said the charter should be modified to require reporting on line-item spending, disclosure of funds raised by the department from private sources, as well as giving the Council and public the ability to weigh in on, and veto, the purchase and renewal of surveillance technology.
CPR does not have a position on a controversial proposal to create an elected CCRB that was advanced last year by some advocates but failed to be taken up by the charter commission. The group also has not weighed in on the police commissioner advise-and-consent proposal that Williams supports and was also pushed by a number of individuals who testified before the charter commission at its public hearings.
The charter currently gives the mayor the upper hand in crafting the city's budget, but the City Council and Comptroller Stringer have both previously proposed amendments that could redistribute some budget-making power while also bringing city spending in line with actual performance measures. Both the Council's and comptroller's reports before the 2019 commission advanced similar ideas including greater reporting on individual capital projects, allowing the Council to jointly decide on "units of appropriation" with the mayor, and creating strict deadlines for the mayor to seek the Council's approval for mid-year changes to the city's financial plan.
Both the 2018 and 2019 commissions barely touched on land use policy and comprehensive planning, which the Thriving Communities Coalition (TCC) of urban policy and housing nonprofits has repeatedly championed.
"Our focus was in particular how to really change the way that the city does both land use but also planning more broadly so that includes budgeting, infrastructure investment, as well as land use," said Emily Goldstein, director of organizing and advocacy at the Association for Neighborhood and Housing Development, a member of TCC.
The coalition proposed a slew of ideas before the previous commission, including enshrining a "right to housing" in law, limiting the disposal of public land, equitable budgeting, and more. "Unfortunately, what we saw was that almost no changes were made. Only very, very minor modifications," she said.
Goldstein also worried that the mayor's commission will largely follow whatever direction he intends for it, rather than a broader mandate. "Charter commissions are not the most democratic process," she said. "There's tons of space for input but in the end, it's just whatever the appointed commissioners decide to do."
If another commission is convened, Goldstein said the TCC will definitely push for the passage of comprehensive planning, something that Lander and Council Member Antonio Reynoso have been vocally supportive of and have said they are drafting legislation to pursue a version short of what a charter amendment could require.
"When we talk about comprehensive planning what we mean is actually looking honestly through data at the needs of the entire city," Goldstein said. "Looking at existing needs, not just projected growth. Looking at, regardless of wealth or race, where and how can communities' needs be met. Looking at historic disinvestment and patterns that sort of need to be made up for, looking backwards...and putting in place a planning process that grapples with those challenges and that equalizes the power balance."