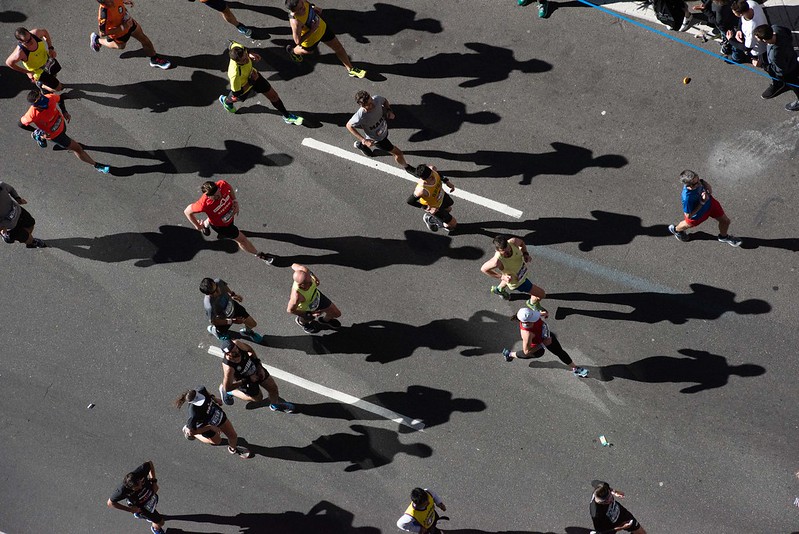 Who's running? (photo: Michael Appleton/Mayor's Office)
---
The party primaries for New York City's 2021 elections are rapidly approaching. All of city government will be on the ballot next year, with most of the seats "open" due to term limits while some incumbents seek reelection. Two of three citywide elected officials -- the mayor and the comptroller -- are term-limited out of office, as are four of the five borough presidents, and most of the 51-seat City Council.
While a lot will change between now and November of 2021, when many races will ultimately be decided, most of the action in heavily-Democratic New York City will be in the Democratic primaries set for June. Any primaries in the Republican Party or other parties will also be in June.
2021 will also see the launch of ranked-choice voting in New York City, for special and party primary elections only. The system is likely to get its first implementation in one or more special City Council elections that could be held early next year if Donovan Richards ascends to become Queens Borough President and Ritchie Torres wins the election in the 15th Congressional District in the Bronx -- both won their respective primaries. There are other possible and likely special elections for next year as well.
There are already hundreds of candidates who have filed to run for various city government seats in 2021, with somewhere in the neighborhood of 500 candidates expected by the time the races really heat up late this year into next. Many candidates have begun reporting fundraising to the New York City Campaign Finance Board.
Between those filings with the CFB and other sources, below is a developing list of who is running for what in 2021.
The list does not include party labels (almost all of the candidates are Democrats) and includes mostly confirmed candidacies, as well as some that are apparent, in consideration, or rumored but not yet declared. An asterisk (*) denotes an incumbent.
This list is a work in progress that will be updated many times. Have an addition or correction? Email us at This email address is being protected from spambots. You need JavaScript enabled to view it. with subject line "2021 candidates."
Mayor (current: Bill de Blasio)
Eric Adams
Art Chang
Kevin Coenen
Eddie Cullen
Shaun Donovan
Cleopatra Fitzgerald
Aaron Foldenhauer
Kathryn Garcia
Max Kaplan
Barbara Kavovit
Abbey Laurel-Smith
Ray McGuire
Fernando Mateo
Dianne Morales
William Pepitone
Paperboy Prince
Julia Qing Reaves
Curtis Sliwa
Scott Stringer
Loree Sutton
Joycelyn Taylor
Sara Tirschwell
Maya Wiley
Andrew Yang
Public Advocate (current: Jumaane Williams)
Theo Chino
Gwen Goodwin
Anthony Herbert
Jumaane Williams*
Comptroller (current: Scott Stringer)
Brian Benjamin
Michelle Caruso-Cabrera
Zach Iscol
Corey Johnson
Brad Lander
Terri Lifton
Kevin Parker
Reshma Patel
David Weprin
Brooklyn District Attorney (current: Eric Gonzalez)
(not technically a city office)
Eric Gonzalez*
Manhattan District Attorney (current: Cy Vance)
(not technically a city office)
Tahanie Aboushi
Alvin Bragg
Liz Crotty
Diana Florence
Lucy Lang
Eliza Orlins
Dan Quart
Tali Farhadian Weinstein
Bronx Borough President (current: Ruben Diaz Jr.)
Fernando Cabrera
Nathalia Fernandez
Vanessa Gibson
Victor Gutierrez
Rafael Salamanca
Brooklyn Borough President (current: Eric Adams)
Robert Cornegy Jr.
Kimberly Council
Khari Edwards
Mathieu Eugene
Pearlene Fields
Antonio Reynoso
Jo Anne Simon
Lamor Whitehead-Miller
Manhattan Borough President (current: Gale Brewer)
Lindsey Boylan
Elizabeth Caputo
Brad Hoylman
Benjamin Kallos
Mark Levine
Kimberly Watkins
Queen Borough President (current: Donovan Richards)
Elizabeth Crowley
Donovan Richards
Jimmy Van Bramer
Staten Island Borough President (current: James Oddo)
Steven Matteo
Leticia Remauro
City Council District 1 (current: Margaret Chin)
Sean Hayes
Gigi Li
Jenny Lam-Low
Maud Maron
Christopher Marte
Denny Salas
Tiffany Winbush
City Council District 2 (current: Carlina Rivera)
Carlina Rivera*
City Council District 3 (current: Corey Johnson)
Leslie Boghosian Murphy
Erik Bottcher
Phelan-Dante Fitzpatrick
Marni Halasa
Aleta LaFargue
Arthur Schwartz
City Council District 4 (current: Keith Powers)
Jordana Lusk
Keith Powers*
City Council District 5 (current: Ben Kallos)
Billy Freeland
Joshua Kravitz
Rebecca Lamorte
Julie Menin
Kim Moscaritolo
Tricia Shimamura
Christopher Sosa
City Council District 6 (current: Helen Rosenthal)
Gale Brewer
Sara Lind
Seth Rosen
Zack Weiner
City Council District 7 (current: Mark Levine)
Shaun Abreu
Marti Allen-Cummings
Daniel Cohen
Stacy Lynch
Maria Ordonez
Lena Melendez
Carmen Quinones
Corey Ortega
Luis Tejada
City Council District 8 (current: Diana Ayala)
Diana Ayala*
Manuel Onativia
City Council District 9 (current: Bill Perkins)
Joshua Clennon
Kristin Jordan
Ruth McDaniels
Bill Perkins*
Sheba Simpson-Amsterdam
City Council District 10 (current: Ydanis Rodriguez)
Carmen De La Rosa
Manny De Los Santos
Angela Fernandez
Johanna Garcia
Josue Perez
Everett Reed
Nayma Silver
City Council District 11 (current: Andrew Cohen) - special election likely for early 2021
Eric Dinowitz
Jessica Haller
Abigail Martin
Daniel Padernacht
Marcos Sierra
City Council District 12 (current: Kevin Riley)
Kevin Riley*
City Council District 13 (current: Mark Gjonaj)
Mark Gjonaj*
Marjorie Velázquez
City Council District 14 (current: Fernando Cabrera)
Adolfo Abreu
Fernando Aquino
Haile Rivera
Pierina Sanchez
Socrates Solano
Yudelka Tapia
City Council District 15 (current: Ritchie Torres) - special election will take place early in 2021
Ischia Bravo
Elisa Crespo
Oswald Feliz
City Council District 16 (current: Vanessa Gibson)
Leonardo Coello
Abdourahamane Diallo
Uniqua Smith
Althea Stevens
City Council District 17 (current: Rafael Salamanca Jr.)
Lattina Brown
Rafael Salamanca Jr.*
City Council District 18: (current: Ruben Diaz Sr.)
Michael Beltzer
Amanda Farias
Darlene Jackson
Eliu Lara
City Council District 19 (current: Paul Vallone)
Tony Avella
Adriana Aviles
Nabaraj KC
Richard Lee
Vickie Paladino
John-Alexander Sakelos
Austin Shafran
City Council District 20 (current: Peter Koo)
Hailing Chen
John Choe
Sandra Ung
Neng Wang
City Council District 21 (current: Francisco Moya)
Ingrid Gomez
Francisco Moya*
Talea Wufka
City Council District 22 (current: Costa Constantinides)
Andy Aujla
Jaime-Faye Bean
Leonardo Bullaro
Tiffany Cabán
Jesse Cerroti
Evie Hantzopoulos
Felicia Kalan
Nicholas Roloson
Rod Townsend
City Council District 23 (current: Barry Grodenchik)
Christopher Fuentes-Padilla
Jaslin Kaur
Linda Lee
City Council District 24 (current: vacant; most recently: Rory Lancman) - special election will take place in early 2021
Moumita Ahmed
Stanley Arden
James Gennaro
Neeta Jain
Dilip Nath
Deepti Sharma
Mohammed Uddin
City Council District 25 (current: Danny Dromm)
Fatima Baryab
Lucy Cerezo Scully
Suraj Jaswai
Shekar Krishnan
Manuel Perez
Alfonso Quiroz
City Council District 26 (current: Jimmy Van Bramer)
Amit Bagga
Jonathan Bailey
Tavo Bortoli
Lorenzo Brea
Julia Forman
Heajin Kim
Sultan Maruf
Brent O'Leary
Julie Won
City Council District 27 (current: I. Daneek Miller)
Jermaine Sean Smith
Timothy Turane
Nantasha Williams
City Council District 28 (current: Adrienne Adams)
Adrienne Adams*
City Council District 29 (current: Karen Koslowitz)
David Aronov
Evan Boccardi
Avi Cyperstein
Eliseo Labayen
Sharon Levy
Howard Pollack
Lynn Schulman
Edwin Wong
City Council District 30 (current: Robert Holden)
Juan Ardila
Robert Holden*
City Council District 31 (current: Donovan Richards) - special election will take place early 2021
Latoya Benjamin
Selvena Brooks-Powers
Monique Charlton
Latonya Collins
Alicia Hyndman
Franck Joseph
Nancy Martinez
Pesach Osina
Shaun Rux
Manuel Silva
City Council District 32 (current: Eric Ulrich)
Kaled Alamarie
Ruben Cruz
Michael Scala
Shaeleigh Severino
Felicia Singh
Kenichi Wilson
City Council District 33 (current: Stephen Levin)
Elizabeth Adams
Victoria Cambranes
Toba Potosky
Lincoln Restler
Stuart Sherman
Benjamin Solotaire
April Somboun
City Council District 34 (current: Antonio Reynoso)
Sean Esrafily
Jennifer Gutierrez
City Council District 35 (current: Laurie Cumbo)
Alejandra Caraballo
Renée Collymore
Curtis Harris
Michael Hollingsworth
Crystal Hudson
Regina Kinsey
Terrance Knox
Deirdre Levy
Hector Robertson
City Council District 36 (current: Robert Cornegy Jr.)
Henry Butler
Regina Edwards
Gregory Green
John Joyner
Chi Osse'
Reginald Swiney
Jason Walker
Robert Waterman
Ralph Yozzo
City Council District 37 (current: Darma Diaz)
Misba Abdin
Kimberly Council
*Darma Diaz
Ricarte Echevarria
Sandy Nurse
City Council District 38 (current: Carlos Menchaca)
Alexa Aviles
Rodrigo Camarena
Yu Lin
Ceasar Zuniga
City Council District 39 (current: Brad Lander)
Jennifer De Luca
Shahana Hanif
Mamnunal Haq
Nicole Hunt
Justin Krebs
Briget Rein
Douglas Schneider
Brandon West
City Council District 40 (current: Mathieu Eugene)
Cecilia Cortez
Brian-Christopher Cunningham
Maxi Eugene
Kenya Handy-Hillard
Rita Joseph
Kenneth Lee
Vivia Morgan
Blake Morris
Josue Pierre
Edwin Raymond
City Council District 41 (current: Alicka Ampry-Samuel)
Alicka Ampry-Samuel*
City Council District 42 (current: Inez Barron)
Charles Barron
Wilfredo Florentino
Nikki Lucas
Gena Watson
City Council District 43 (current: Justin Brannan)
Justin Brannan*
Paul Mendez
City Council District 44 (current: Kalman Yeger)
Kalman Yeger*
City Council District 45 (current: Farah Louis)
Anthony Beckford
Farah Louis*
Cyril Joseph
Louis Cespedes
City Council District 46 (current: Alan Maisel)
Gardy Brazela
Donald Cranston
Zuri Jackson
Mercedes Narcisse
Judy Newton
Shirley Paul
Tiffany Tucker-Pryor
Dimple Willabus
City Council District 47 (current: Mark Treyger)
Ari Kagan
Alec Brook Krasny
Joseph Packer
Steven Patzer
City Council District 48 (current: Chaim Deutsch)
Amber Adler
Boris Noble
Steven Saperstein
Harold Tischler
Inna Vernikov
City Council District 49 (current: Deborah Rose)
Phillipe-Edner Apostal-Marius
Amoy Barnes
Selina Grey
Kamillah Hanks
Troy McGhie
Morounranti Ogunleye
Kelvin Richards
Nicholas Robbins
City Council District 50 (current: Steven Matteo)
Sal Albanese
David Carr
Jordan Hafizi
Sam Pirozzolo
George Wonica
City Council District 51 (current: Joseph Borelli)
Joseph Borelli*
***
Did we miss someone or make an error? Please email us at This email address is being protected from spambots. You need JavaScript enabled to view it.