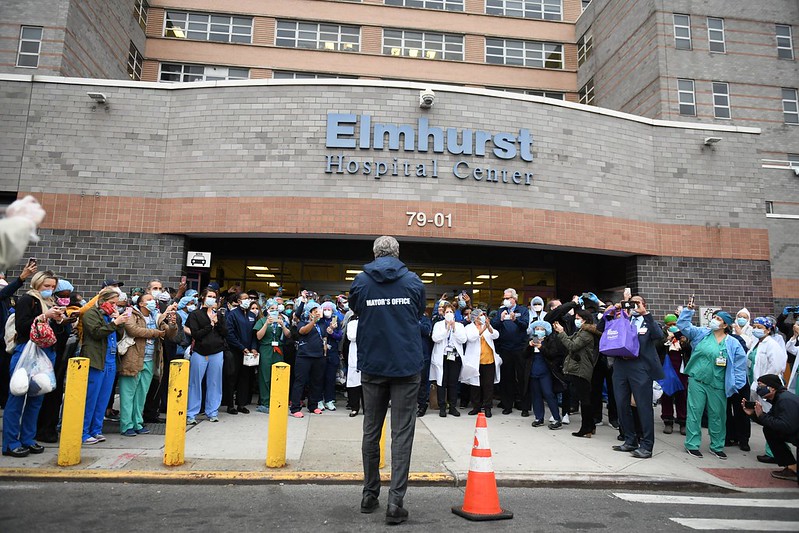 Mayor de Blasio visits Elmhurst Hospital (photo: Ed Reed/Mayor's Office)
---
New York City and State governments' lack of support for the city's public hospitals left them underprepared in almost every way for the COVID-19 pandemic, even when the disease seemed likely to come to the city and despite warnings dating back to 2006 about the very conditions that would lead to an overwhelmed hospital system that became a real-life nightmare for New Yorkers, according to a preliminary report by New York City Comptroller Scott Stringer
And when COVID-19 inevitably did come to the city, miscommunication and poor management of the city's public hospital system worsened the outcomes for many New Yorkers, even "at a cost in human lives," Stringer wrote in a letter to New York Governor Andrew Cuomo about the report, which was launched at Cuomo's request amid some of the worst days of the crisis in New York, where more than 30,000 people have died of COVID-19.
"[T]he reported conditions in our public hospitals during this unprecedented public health crisis are alarming, and my office is committed to working with the Governor and the Mayor to find answers," Stringer said in a statement. "Our public health system serves families and residents that already face significant barriers to quality health care, and our frontline workers can't take care of us if we fail to protect them. We must ensure that our public hospitals have the funding, protections, resources and support they need, properly managed and coordinated, to protect New Yorkers during these uncertain times."
In his preliminary report released July 17, Stringer outlined in detail the factors that contributed to New York City Health + Hospitals being overwhelmed by the pandemic that left New York as the worst-affected state (thus far) in the worst-affected country, with more than 23,000 of the 30,000-plus deaths among New York City residents, and over 400,000 cases across the state.
And although H+H is a public benefit corporation, it is in significant ways run and funded by city government as a quasi-city agency, receives federal funds distributed through a formula in state law and, like all hospitals in New York, receives guidance from state entities, including in regards to preparing for and addressing a pandemic. For these reasons, Stringer's report has implications as to how city and state government, including Governor Cuomo and Mayor Bill de Blasio, could have put H+H in a better position to respond to the crisis.
Cuomo had asked Stringer to perform the review that was launched on May 14 during a time when public hospitals like Elmhurst Hospital in Queens and Jacobi Medical Center in the Bronx were inundated with coronavirus patients. At one point, the two hospitals had patient-to-worker ratios of 23:1 and 15:1 in their emergency rooms, a ratio that normally should be kept at 4:1, according to The New York Times.
At Elmhurst Hospital and others, trucks with built-in freezers had to be sent to be able to preserve the increasing number of dead bodies. With variations among the facilities, Health + Hospitals' 11-hospital system appeared completely overwhelmed, with new accounts every day of staff working without PPE, huge surges in patients and deaths, and other harrowing stories. Questions quickly became evident as to why a small number of the 11 hospitals were exceedingly overwhelmed and not able to rely more on other facilities within the system. This led to Cuomo to ask for Stringer's review.
But one answer quickly provided by elected officials and experts was the leadership of Cuomo and de Blasio, which has come under scrutiny due to their slow responses during the early stages of the coronavirus outbreak in New York, around decisions like closing schools and businesses or issuing a stay-at-home order, delays experts have said cost lives. Stringer's initial findings in an ongoing investigation into Health + Hospitals further highlight issues with city and state leadership, and within H+H itself, in preparing New York's public hospitals for a major public health crisis and addressing issues that arose during the COVID-19 pandemic's peak.
Stringer's finding that problems at the city's public hospitals cost lives appears to contradict a claim Cuomo has repeatedly made during the crisis, that no one died in New York because they did not get the care they needed.
In his letter to Cuomo, Stringer noted that, partially due to a lack of funding, public hospitals already served more people, and particularly more underinsured and minority populations disproportionately impacted by COVID-19, than private hospitals. And H+H hospitals were short on personal protective equipment (PPE) and ventilators vital to safely treating infected patients and keeping those with the worst cases alive. The lack of equipment mirrored a lack of planning on how to deal with such a situation, leading to "on the fly" solutions, as Stringer's report puts it, to problems New York officials had been aware of since as early as 2006.
The most prominent issue highlighted in the report was hospitals seemingly complete lack of a plan for transferring patients from overwhelmed hospitals to those that still had open beds, despite past warnings from experts who testified to or developed plans for elected officials regarding pandemic preparedness. At first, individual staff at overwhelmed H+H hospitals would make calls to another hospital to try and arrange a transfer. But this inefficient system is partially what led to the accounts at hospitals like Elmhurst, which was completely overwhelmed and where staff worked inordinate and dangerous shifts.
While Elmhurst was overwhelmed, other hospitals were not, leading to inequitable conditions across H+H that were eventually addressed through a daily conference call and then an email portal to manage patient transfers, according to Stringer's report.
Stringer made multiple recommendations, such as codifying ad hoc solutions like the email portal that was developed, as well as increasing training — especially critical care training — for H+H doctors and nurses and creating a set protocol for dealing with the types of situations that arose during the pandemic.
"The lack of preparedness forced all players to improvise responses, sometimes successfully, sometimes not — but inevitably at a cost in human lives," Stringer said in the letter to Cuomo. "Several deficiencies were noted, including inadequate access to needed supplies and equipment, a lack of systems and procedures for managing patient loads across hospitals, and insufficient protocols for deploying staff."
Cuomo's office did not specifically address multiple requests for comment regarding the apparent fact that Stringer's findings contradicted the governor's comments about lives lost or regarding the state's role in H+H challenges outlined in the report that the governor had requested.
"We commend the comptroller for undertaking this effort, we will review these preliminary findings, and look forward to his final conclusions," Cuomo senior advisor Rich Azzopardi said in a statement.
In a statement, Health + Hospitals press secretary Stephanie Guzmán largely ignored criticisms brought up by Stringer and focused on the efforts H+H has made to save lives.
"NYC Health + Hospitals has been on the frontlines of the COVID-19 crisis, providing the highest quality care to all New Yorkers in the face of an unprecedented global pandemic," Guzmán said. "Throughout this crisis, we acted as a system, coordinating across facilities and with our central office. Lives were saved across our city at the virus's peak thanks to the heroic efforts of our staff, who tripled and quadrupled, ICU capacity, surged resources and personnel, and even came to the aid of our city's private hospitals in their times of dire needs. We remain focused on providing the highest possible care for New Yorkers across our 11 hospitals for the duration of this crisis and beyond."
Some of the findings in Stringer's review provide significant insight into Health + Hospitals' struggles during the pandemic. Despite repeated warnings, the city and state did not seek to increase its stockpiles of ventilators or PPE before it was too late, the review showed, leading to dangerous conditions for patients and health-care workers.
For example, the New York City Department of Health and Mental Hygiene published its Pandemic Influenza Preparedness and Response Plan more than a decade ago in 2006, which suggested the city maintain a six- to eight-week stockpile of masks and gloves. However, hospitals did not maintain stockpiles of PPE, which Stringer attributed in part to a recurring problem for H+H — not having enough money to both address current needs and prepare for future ones.
And when H+H sought to get its hands on more PPE in January, they had already become a global commodity that was near-impossible to obtain. With many hospitals across the world facing similar shortages, though, the Centers for Disease Control changed its guidelines regarding how often a protective facemask could be used, which Stringer's report alleges was "driven by lack of available supplies, rather than by science and medical standards."
"The State Department of Health disseminated the CDC guidelines, despite their obvious deficiencies, and H+H and other hospitals followed them: the lack of sufficient supplies precluded them from following more medically sound standards," the letter reads. "The changing guidance and ensuing confusion rendered H+H health care workers even more vulnerable to COVID-19, with many becoming sick and dying."
According to the letter, at least 35 members of the New York State Nurses Association had died of COVID-19 as of early June. In an attempt to address unsafe conditions related to a scarcity of PPE, Cuomo announced on May 3 that New York would be working with neighboring states to buy PPE and that he would mandate all hospitals to have a 90-day stockpile of PPE. But, Stringer's letter says, "the State has yet to issue such order promised on that date. In addition, fulfilling the order would be nearly impossible in the current supply-constrained circumstances."
The same 2006 New York City response plan also predicted a shortage of ventilators, and said the city could be short as many as 9,500 in the case of a pandemic. Stringer's review also showed that additional concerns about ventilators, PPE, and other issues (like a shortage of hospital beds) the city ended up experiencing were expressed in a presentation on Medical Emergency Preparedness in 2007, a hearing on the city's response to H1N1 held by the City Council's Committees on Governmental Operations, Health, and Public Safety in 2009, and New York State's November 2015 Ventilator Allocation Guidelines.
The only time the city had acted on these concerns was when, in 2006, it acquired a few hundred ventilators that were soon auctioned off due to the cost of maintaining them, something mentioned in Stringer's letter and reported by ProPublica in April.
Another issue past public health experts had the foresight to see, but the city was unprepared for, was that of hospitals being unable to transfer potentially contagious patients, especially in the face of some facilities reaching max capacity.
"The surge of patients requiring medical treatment at an H+H hospital was uneven across the H+H system," Stringer said in the letter. "In an effort to address the disparities between the demand at each facility and its available resources, individual H+H staff would telephone another facility to attempt a transfer."
The lack of a centralized system resulted in inefficiencies as public hospitals already struggling to deal with unprecedented numbers of patients with a highly contagious virus needed more space. "The surge of patients requiring medical treatment at an H+H hospital was uneven across the H+H system, as press accounts about issues confronted by Elmhurst Hospital revealed," the letter says, referring to the Queens hospital that on March 24 had 13 deaths in one day and faced severe shortages of PPE, ventilators and staff.
H+H eventually developed an email portal to streamline transfer requests, and a process using a 1-800 number for the distribution of PPE to hospitals that needed it most, according to Stringer's review. The city Department of Health and Mental Hygiene began a weekly distribution of PPE from its warehouses to all hospitals, public and private, in late March, according to Stringer's report.
But patients weren't the only ones whose transfers were mismanaged, according to Stringer, as some staff were deployed to areas they should not have been due to a lack of recent — or any — training required to complete the tasks they were assigned. Struggling under great strains and running out of qualified staff, H+H assigned existing staff to areas where the need was greatest.
"[S]uch action resulted in doctors and nurses being redeployed to assignments that required specific skills they either did not have or had not used in many years, often without adequate or needed training," Stringer said in his letter. "This included, for example, assignment of neonatal nurses to the intensive care unit, or of a physical therapist who had not worked as a respiratory therapist for decades to treat COVID patients in respiratory distress."
And when H+H used paid volunteers, some of whom were recruited through city and state efforts, it exacerbated these issues.
"[I]ntegrating those volunteers magnified redeployment issues. The volunteers needed to be credentialed and did not have access to or knowledge of H+H computer systems," Stringer's letter says.
As experts had dating back to at least 2006, City Council Member Carlina Rivera, chair of the Council's Committee on Hospitals, also said she had been calling for H+H preparation and management issues to be addressed for some time.
"Many advocates and I have been calling for New York hospitals to work together in this sort of fashion since before the COVID-19 pandemic, and long before the capacity situations at Elmhurst Hospital and elsewhere reached crisis levels," Rivera said in a March 30 statement, after Cuomo announced plans for intersystem hospital coordination across the state. "There are specific reasons that certain hospitals are facing more challenges in responding to this pandemic, and they often go back to issues of further contraction of our inpatient hospital systems as well as inequitable funding and distribution of under or uninsured patients. Some of these issues would also be easily solved in the long-term through a universal healthcare system."
Rivera had also called for the city to increase preparedness efforts for coronavirus as early as January, per a statement she released at the time. The mayor and top city health officials said in late January and into March that the city was well-prepared and ready, including at a March 5 City Council hearing on that preparedness, which was chaired by Rivera and City Council Member Mark Levine, chair of the Council's health committee.
In a statement responding to Stringer's report, she reiterated another aspect of its findings: that many of the issues highlighted within it — from a lack of supplies and staff to no centralized management — stem from insufficient funding. In his report, Stringer notes that because H+H patients are disproportionately either uninsured or on Medicaid (70% of H+H patients fall under these categories, compared to 40% in private hospitals), H+H hospitals rely on public subsidies to fill their budget gaps.
The report also notes that those gaps may be widening, as after falling in recent years, the number of uninsured H+H patients rose by 8% in the first four months of the 2020 fiscal year (July-October 2019). With many New Yorkers losing their employment, and so their insurance, due to COVID, it is likely the situation has worsened. Yet, the recent state budget adopted at the start of April cut Medicaid funds by $2.2 billion, which the report says, "could affect H+H's bottom line."
In a recent statement, Rivera said H+H funding shortfalls likely made worse issues of insufficient stockpiles of key medical supplies, not enough beds or staff, and more.
"H+H worked to alleviate some of these challenges, and while there are certainly numerous issues that H+H must reckon with and improve, the ultimate failure lies with the State for never pursuing real health care equity and reform," Rivera said. "The same crises that every hospital system faced were magnified at H+H by a State budget that unfairly allocates more Medicaid and Medicare funds to private hospitals over our public system, by a State health insurance system that forces uninsured and under-insured New Yorkers to use H+H emergency departments as their only source for medical care, and by State health leaders who never sought to explore a universal healthcare model where patient loads and supplies could be more easily shared and planned between hospital systems. We're not going to permanently solve the failures of any one hospital system unless we first consider the radical reforms we need to the way health care is delivered in this State and our nation."
In his report, Stringer first put forward short-term solutions to the problems raised in preparation for a future health crisis, including a potential second wave of COVID-19 this fall. He recommended that the state and city departments of health, the city's Department of Emergency Management, and other state and city government offices, and major public and private hospitals, should come together to form a plan that "provides clear chains of command and responsibility for different aspects of crisis management," in the event of an emergency. Stringer recommends H+H create the same plan for within its own system, too.
He also advises that a centralized inventory and procurement system for things like PPE and ventilators be created. This would help identify and obtain critical supplies in advance of the next health crisis and ensure supplies are available when needed. Stringer also recommended that innovations such as "mechanisms developed for the transfer of patients between and among H+H facilities" be formalized; that H+H doctors and nurses be cross-trained to support ICU and critical care staff; that transferred or volunteer personnel be provided with training in skills they have not had to use for some time; and that state and city departments of health, H+H and other hospitals develop health and safety protocols and guidance to avoid confusion and miscommunications.
Stringer also included in his letter to Cuomo a similar sentiment as expressed by Rivera — that larger issues played a role in creating and worsening problems for H+H and should be addressed.
According to Stringer, H+H hospitals were already at a disadvantage due to chronic underfunding, as well as hospital closures and downsizings that have resulted in about 20,000 fewer hospital beds in New York State since 2000. In his letter, Stringer mentions that Elmhurst Hospital serves over 372,000 New Yorkers, while private hospitals such as NYU Langone serve 127,000 and the citywide average is 174,000. This translates into public hospitals' abilities to serve their patients, as it can take as long as 12 hours to be admitted to some of them, compared to a citywide average that is half that long.
And public hospitals serve populations disproportionately impacted by COVID-19, such as Black and Hispanic New Yorkers who, as of mid-May, had an age-adjusted death rate that was twice as high as their white and Asian counterparts, according to Stringer. This added to the strain that was put on H+H hospitals during the pandemic.
"The City and State must address the underlying inequities in access to health care that both directly resulted in a disproportionately high death toll among the City's most vulnerable populations and threatened to overwhelm existing capacity and systems," Stringer wrote.