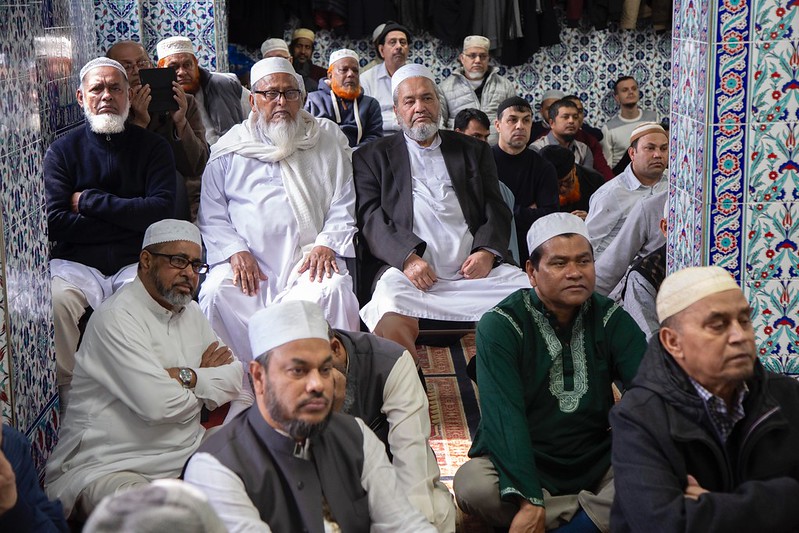 Bangladeshis at a past gathering (photo: John McCarten/City Council)
---
When Shippon Hoque, a Bangladeshi green cab driver from Astoria, Queens, started to feel unwell in early March, it quickly dawned on him that he might have COVID-19, the disease caused by the novel coronavirus.
When he developed a high fever and dry cough, the 65-year-old made his way to Elmhurst Hospital. There he was tested for the coronavirus and told to self-quarantine. Given his struggles with diabetes and high blood pressure, his nephew Naiful Bahri thinks that the hospital should've admitted him immediately. "He's older, yet for three days he was home while his condition got worse," said Bahri. He thinks his uncle's limited English made it hard for him to advocate for himself.
Finally on March 18, Hoque was hospitalized. During his first four days at the hospital, Hoque FaceTimed with his family and told them about the scene at an emergency room that would soon be drawing national attention. 'It's overcrowded, I feel like I'm in a warzone, people are dying," Bahri recalled his uncle saying. "He was just really worried for his life." Soon, the brother Hoque had visited days before he was hospitalized also tested positive for the virus.
Shippon Hoque and his 60-year-old brother, Iqbal Hoque Bhuyian, were close. Both migrated to Queens in the 1980s. Bahri said during his uncle's last days, Shippon Hoque seemed more concerned about whether his younger brother, who had the same pre-existing conditions, would make it. As Shippon's organs failed, doctors placed him on a ventilator, but on March 29, he passed away. His brother died six days later.
Hoque and Bhuyian are part of a long list of Bangladeshi New Yorkers who have died due to the coronavirus. The virus is hitting low-income communities of color especially hard and while much attention has been on the toll on Black and Latino communities, the Bangladeshi community is similarly largely confined to less-affluent corners of the city, in Queens, Brooklyn, and the Bronx, and crowded living spaces.
Near the end of May, JamunaTV, a Bengali language newscast, estimated that 239 Bangladeshis had died of COVID-19 in New York City. That number is an estimate based on word of mouth accounts since the New York City Health Department has not released specific data for the Bangladeshi population.
On June 8, the city Health Department reported that 7.6 percent of the city's coronavirus victims were of Asian descent. If the word of mouth counts are correct, the Bagladeshi community, which makes up less than 8 percent of the city's Asian population, accounted for about a fifth of those deaths.
"Often our community isn't seen because it falls into the South Asian category," said Thahitun Mariam, a Bangladeshi activist and community organizer from the Bronx.
While other South Asian groups like Indian-Americans rank near the top of many socioeconomic measures, Bangladeshis are among the poorest ethnic groups in the city, constituting an outsized share of New York's working class—they drive cabs, cook in restaurants, serve fast food, sell clothes, and run grocery stores. And many have risked their health by continuing to report to work for the much-needed income and to keep the city running to the extent it has.
Accurate data is crucial to identifying and helping vulnerable populations, advocates say.
"We see the South Asian data and we know it's mostly us, and the city needs to acknowledge that," said Moumita Ahmed, a Bangladeshi-American activist from Jamaica, Queens, who ran for a local District Leader position this past election, referring to the positive cases amongst Asians. "Bangladeshis need to understand the data so the people in the community can take measures and precautions they need to take as a collective. We didn't get a chance to do that."
Bangladesh is among the top 10 countries of origin for the city's 3.1 million foreign-born residents. The Bangladeshi population of the city stands at around 100,000 according to a 2018 report by the Mayor's Office for Immigrant Affairs. Yet many in the Bangladeshi community feel ignored by those in power.
An outbreak in the Bangladeshi community should have been anticipated and addressed, critics said. The Bangladeshi diaspora live in many of the city's hardest hit neighborhoods and many are undocumented and lack health insurance. Plus the community as a whole has high rates of diabetes and other underlying health conditions that are known to cause complications with the virus and lead to higher fatality rates.
Among the most glaring failures, critics say, is that information about the virus wasn't translated into Bengali and there was no outreach to the community despite the fact that it is the fourth most common language among foreign-born New Yorkers. Critics also said the city's limited halal food distribution system left many Bangladeshis, who are predominantly Muslims, hungry during Ramadan. Additionally, many Bangladeshis are self-employed and service workers who are encountering complications and delays in receiving unemployment benefits with little guidance and clarity from the state.
"What ends up happening when there isn't any government attention to reach vulnerable populations, we get left out," said Shahana Hanif, Bangladeshi-American who currently works as an aide to Brooklyn City Council Member Brad Lander and is running to replace her term-limited boss in next year's election. "We don't receive any real-time information and it creates a gap."
The de Blasio administration has pointed to its launch of a multi-million-dollar media campaign in multiple languages including Bengali to reach vulnerable communities. City officials also stress they have worked closely with Muslim New Yorkers to establish their halal food distribution, with served hundred thousands of halal meals provided during Ramadan.
While the community feels too-often ignored by city and state officials, Bangladeshi community leaders and activists are stepping up during the pandemic. "It's their job to serve us and I don't think they have and so the gap was created and we organizers have to fill that gap, find the resources, and disseminate to our community," said Mariam.
Why Bangladeshis?
Bangladeshis are among the poorest Asian ethnic groups in the city according to the AAFNY. The organization found that one in three Bangladeshis live in poverty, which is much higher than the citywide poverty rate of about 21 percent. They're also more likely to live in overcrowded households with 42 percent of households having more than one occupant per room compared to 9 percent citywide.
"Usually in Bangladeshi households, women will take care of the children and won't work. The single-income household makes it hard for those families to mobilize and save," said Mariam.
Pre-existing conditions also made the community especially vulnerable. Diseases like diabetes are common in Bangladeshi adults making them more susceptible to the coronavirus, according to the American Diabetes Association. "From a holistic medical perspective, the combination of chronic conditions such as diabetes compounded with socioeconomic factors such as being undocumented, uninsured, and coming from a low-income neighborhood is leading to a very high true mortality rate of Bangladeshi COVID deaths in NYC," said Bangladeshi internal medicine physcian Raihan Faroqui, who is also a community organizer.
Many Bangladeshi immigrants work at McDonalds and other restaurants around the city, Mariam says, which have remained open for pick-up and delivery throughout the pandemic. "Our community members are the essential workers at Dunkin Donuts and fast-food places," she said. "That consideration should've been made."
Among these workers are many undocumented Bangladeshis who are ineligible for unemployment and other government assistance programs. Hanif, along with her sister, Sabia Hanif, started a fundraiser for vulnerable undocumented Bangladeshis.
"With no clear timeline of when they can return to work, guarantee that they'll have a job, and savings to survive the upcoming waves of the pandemic, they are disproportionately overburdened by the impacts of COVID-19," the sisters wrote on their Launch Good Campaign. So far, they have raised over $40,000 as of July 9.
"We need representation and policy changes to shift the way we care about our family members who work in Dunkin Donuts," said Shahana Hanif.
The city could've also better prepared the low-income communities where many Bangladeshis live, Mariam said. "It's unfortunate, instead of doing work to prevent more deaths, they did flashy shows in Manhattan like setting up the Javits Center and having the [USS Comfort] ship come dock. But the deaths are happening in the Bronx, where are the makeshift hospitals here?" In the Bronx, there have been twice the amount of positive cases compared to Manhattan.
Language Gap
When news first broke about the importance of social distancing, the Trump administration had only released the guidelines to address coronavirus in English. After outrage from Congress and Latino groups, they released it in Spanish but the guidance was never released in other languages.
State and city officials failed to quickly communicate the severity of the virus and importance of staying home to low-income neighborhoods where languages other than English are prevalent.
During the early critical days of the pandemic, Bangladeshis, unaware of new social distancing rules, were living their daily lives like they always had. "Part of the issue is people weren't understanding the severity of the virus and were still going out," said Mariam. "Our community is full of essential workers, people continued to work and were pressured to show up to work in lockdown."
The Department of Health and Mental Hygiene published coronavirus fact sheets in nine languages including Bengali on March 15, but the site was only interacted with 92 times from March to June. The city also created other content in several languages about social distancing, COVID-19 testing, and available city resources, distributed through businesses and community partners.
Although virus information was available online, Bangladeshi activists say community members are often connected by phone. Navigating the internet is a challenge for many elders, says Hanif, who regularly finds herself on the phone walking Bangladeshis through applications, like for unemployment.
In April, when the city released data on the hardest hit zip codes and ethnicity groups, showing stark disparities wherein New Yorkers of color were the most devastated by the virus, the mayor launched an additional $10 million media campaign in more than 15 languages to inform people and attempt to slow the spread in those communities. Efforts included TV, radio, and digital ads in those areas as well as individual phone calls and texts, according to the city.
The health department also created an Emergency Partner Council, an advisory group including 80 community partners, to better inform New Yorkers through neighborhood-based sessions, according to a spokesperson. And officials participated in dozens of press and community events to ensure residents received up-to-date information in the languages they speak.
The mayor's office mass texted and shared messages in Bangla with hundreds of community members and organizations serving Bangladeshi communities. But their outreach wasn't as effective and didn't equip the community with accessible information from the start, community members said. "The city officials did not work with community members or leaders to make information language-accessible. There was no outreach to mosque leaders, there were still prayers going on," Ahmed said of the early going as the virus spread.
Hanif said the community should be able to rely on local City Council offices for adequate information and help with any concerns. But when people call, those offices likely don't have someone who speaks the language on staff.
Thousands of Bangladeshi New Yorkers tune into Bangla networks like TBN24 for coronavirus news. The television network is based out of Queens and translates news that runs on the mainstream media networks to Bangla. Habib Rahman, an anchor at TBN24, said he quickly realized the level of misinformation and confusion surrounding the virus in the Bangaldeshi community.
"We took the burden on our shoulders to translate the news. The people who live here should know what's happening here," said Rahman. The 24-hour network has 2.7 million followers on Facebook, averages roughly 20,000 views per show over multiple outlets, and has been a main news source for Bangladeshi New Yorkers.
But still the gap in language access left thousands of Bangladeshis at a disadvantage, Mariam said. "Lots of working class Bangladeshis don't speak English very well and a lot gets lost in translation," she said. Bengali is the fourth most common language spoken by foreign-born New Yorkers with limited language proficiencies according to the 2019 Mayor's Office of Immigrant Affairs report. "There should've been a concentrated effort to get them the information they need because so many are immunocompromised" said Mariam.
Likewise Faroqui, the Bangladeshi-American physician, understood how the complex health-care system would leave Bangladeshis, especially those who aren't fluent in English, vulnerable during the crisis. As a response, Faroqui and a team of volunteers created C-BASH, a smart hotline for Bangladeshis living in New York City experiencing coronavirus symptoms.
The hotline asks pre-recorded questions in Bangla that are put into a database that tracks symptoms. Later on, callers receive a call back from one of the 600 Bangladeshi health-care volunteers nationwide with advice on their situation. Volunteers also speak with families of COVID-19 patients to assist them with any concerns or anxiety. "We're not trying to be 911, we're trying to guide people to call 911," said Faroqui.
Food Insecurity
Throughout the lockdown, many vulnerable Bangladeshi families, who have members who are immunocompromised, have been unable to leave their house. The city's programs "were not designed to support certain neighborhoods and demographics," said Ahmed, founder of Queens Mutual Aid Network, referring to the city's coronavirus food assistance resources, which include meals provided at city schools and through the city's delivery program.
The city set up over 400 grab and go locations to give out free meals every weekday. It offers a halal option including peanut butter and jelly sandwiches and hummus. "The city's food distribution, it's very lazy," said Mariam referring to the lack of quality in the halal food.
For those unable to leave home, the city started a delivery program providing three days of food at a time for up to a month for two people and a maximum of 18 meals per household.
Many Bangladeshi Muslims fast from sunrise to sunset during the holy month of Ramadan and accessing halal food was particularly difficult this year. The city announced that they would provide 500,000 halal meals distributed at 32 pickup locations, soup kitchens, pantries, and community organizations throughout the month. However, some say these halal meals have been unacceptable. "The relief was not a relief, it was terrible options given to people," said Ahmed referring to the city's halal food distribution.
While filling out the delivery application, Rima Begum chose the halal preference and three days later, a box of nine halal meals showed up to her Queens home, she said. Inside were crackers, hummus, pretzels and a ready-made meal of chicken, beans, vegetables and potatoes. "It was mushy, had a bad smell and had ingredients we don't use, like corn. The halal meal looked nothing like anything I've eaten at home," Begum said. The readymade meal distributed by the city to Muslims was prepared by J&M Halal Foods, a U.S. military defense contractor.
Begum says the city could have used this program to invest money back into the community. "The city chose to contract with a military ration company out in Illinois when they could have easily worked with the thousands of small businesses that have been struggling to stay afloat during the pandemic," said Begum.
Representation matters, Begum said. "If the Muslim community was asked if they would eat these halal meals, you would have immediately gotten a response that the meals are not adequate for our community," Begum said.
Mayor Bill de Blasio named Department of Sanitation Commissioner Kathryn Garcia as "food czar" to coordinate emergency food distribution programs. Garcia told Civil Eats that the city has contracted with bigger firms to distribute food in a standardized way and avoid inconsistency. As of mid-July, New York City has served 83 million free meals since the covid outbreak led to a near-shutdown of the city.
Joshua Goodman, a spokesperson for Garcia and the city's emergency food program, told Gotham Gazette that their team has "been proud to work closely with groups representing halal-observant New Yorkers, serving hundreds of thousands of halal meals every month, including a major surge during Ramadan."
Bangladeshis in need have been contacting their local Mutual Aid Network in Queens, a borough home to over 43,500 Bangladeshis, according to a 2019 analysis by the AAF. The group of local volunteers has been delivering food to several hundred families every week and has fed over 1,600 families from March to early July since the lockdown. During Ramadan, "the most requests have come from Bangladeshis, over 500," said Ahmed.
The network provides groceries and basic necessities while specifically catering to ethnicity and religion. With 150 active volunteers, they focus on the immunocompromised, undocumented, and elderly populations and ensure access to quality and fresh food. Their funding comes mainly from donations and some from their own volunteers. Ahmed, the founder, said "we're neighbors who want to help our neighbors."
Mariam was inspired by her fellow Bangladeshi leader and created the Bronx Mutual Aid Network in early April, which has served over 600 families. "People have been waiting for a space like this in the Bronx," Mariam said.
About 16% of Bronx residents are food insecure according to the 2018 Food Metrics Report. "There's a high need in the Bangladeshi community," in the Bronx where 10,000 Bangladeshis reside, said Mariam. "These families are unable to go out for food because they are immunocompromised, sick, or lost their loved ones." The group has served over 150 Bangladeshi families multiple times as of late June.
Due to the high need, the two mutual aid networks are specifically catering to Bangladeshis with a package that includes lentils, dates, and peppers, among other basics. "There's a cultural and religious aspect to food," Mariam said. The city has "the data on which communities are where and the diets they have. The food distribution model needs to change."
Pending Status
There has been a surge of unemployment filing in the Bangladeshi community due to layoffs, lack of work, and immunocompromised conditions. Filling out the lengthy application is a challenge for some. "Explaining these services is not easy. It shows how disconnected the Bangladeshi community is from our government," said Hanif.
The New York State Department of Labor application isn't built for self-employed workers without W2 forms and during the early days of the pandemic, "self-employed people had no clue they could even file and the state did not put out this information," said Rahman, the anchor at TBN24. As a result many self-employed Bangladeshis like cab drivers and food vendors who had stopped working were in the dark with no guidance or outreach from the state. Some applied the week they stopped working without knowing if it was the right thing to do. Eventually, the city put out a guide for self-employed workers on April 4, weeks after many had stopped working.
Since self-employed workers don't usually qualify to receive unemployment benefits they were instructed to call the Department of Labor to verify their application. "I tried calling for days but was frustrated and gave up," says Fakrul Islam, a 33-year-old yellow cab driver, who had an experience shared by many New Yorkers as the state's system was completely overloaded by the unprecedented need. Islam stopped working night shifts in mid-March due to a lack of customers. For weeks, he was unsure if he would receive unemployment benefits and missed April rent.
Since then, the state initiated a call-back system for applicants like Islam and instructed self-employed workers to apply for the Pandemic Unemployment Assistance, which covers those who are usually ineligble for benefits. After almost two months of waiting with no response or outreach from the department, Islam woke up to a large sum of backdated payments in his account in late May.
Bangladeshis frequently call or write into TBN24 asking for guidance with the process and delays. Rahman's show, The Views, turned into a pandemic hotline for the thousands of Bangladeshis watching at home tackling many concerns but mainly unemployment issues.
The show features guests ranging from Bangladeshi organizers like Hanif to certified public accountants to Congressional Rep. Alexandria Ocasio-Cortez, a Democrat who represents parts of Queens and the Bronx, to help answer pressing questions and address concerns the city and state aren't. Throughout April and May, Rahman focused on assisting Bangladeshis who were stuck in pending status with the Department of Labor.
On air, Rahman helps thousands at once but off the clock, he assists community members in dire situations. "This has become my 24/7 job," said Rahman. While guiding Bangladeshis through the process, Rahman said he realized the system is set up so it can deny you for any small reason. "It's a system of denial," he said.
Bangladeshi activists are individually supporting their local Bangladeshi communities during the pandemic but many are also part of Bangladeshi Americans for Political Progress, also known as BAPP. The grassroots group formed late 2019 to focus on creating a Bangladeshi-American voting bloc in the city to elect political candidates and advocate for legislation that supports working-class communities.
Critics say that one of the reasons the community has been hit especially hard is because there are no Bangladeshis in elected office at city and state levels and very few on staffs, and thus no one to draw attention to the community's unique challenges.
"Given the scope of how many Bangladeshis are in this city, there isn't enough adequate representation," said Hanif, who is running for City Council in the 2021 Democratic primary in Brooklyn's 39th district. "It is not surprising to me that the community does not have what we need." If elected, Hanif would be the first ever Bangladeshi in the City Council.
City and state representatives don't reflect the communities they represent, said Moumita Ahmed, who recently ran for District Leader in District 24. "If we had someone in office that understood the culture and understood that the virus can impact one group way more than others," she said.
Meanwhile Bangladeshi New Yorkers like Naiful Bahri, whose uncle died at Elmhurst Hospital, have been struggling to cope since the crisis has engulfed the city.
By early April, Bahri organized two funeral services, known as a janazah for Muslims for his two late uncles. Bahri and his dad buried Shippon Hoque in Washington Memorial Park on March 31 and returned a week later to bury Iqbal Hoque Bhuyian.
"There was no one there by his side. No one from the family wanted to go to the burial site," said Bahri. "I had the job of Facebook Live-ing it for our family who couldn't make it. It's the worst way to die."
***
by Afia Eama for Gotham Gazette
@GothamGazette
Note: this article has been corrected to remove mention that an email address is needed for emergency food, it is not.