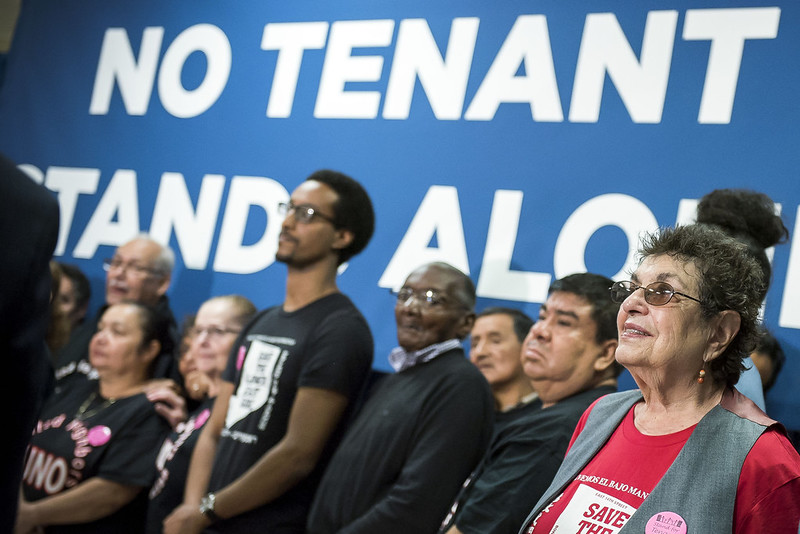 Tenants on edge amid eviction moratorium (photo: Edwin J. Torres/Mayor's Office)
---
A city-run emergency grant program that helps keep people in their homes has seen fewer applications during the COVID-19 pandemic, seemingly due to a moratorium on evictions. But housing advocates worry that the program will be hard pressed to respond to a "tsunami of evictions" that is likely to follow once the moratorium ends, which could happen as early as next month.
As the pandemic raged across New York City, more than a million people lost their jobs, income, and ability to pay rent, leading to skyrocketing applications for city benefits in the form of food stamps and cash assistance, which are provided by the city's Department of Social Services/Human Resources Administration. In March, Governor Andew Cuomo imposed a 90-day eviction moratorium, which was later extended for certain tenants through August 20, and negotiated a suspension of utility shutoffs with major providers (in June, he signed that moratorium into law as well).
As a likely result of those measures, the Department of Social Services gave out nearly half the number of "one-shot" emergency assistance grants in June as it did in February. One-shot deals are intended to provide housing stability by helping with rent, mortgage, and utility payments, staving off eviction, foreclosure, homelessness, and other negative outcomes through help to individuals and families during a rough patch. Two out of three one-shots are awarded for rent arrears, according to DSS.
These grants are distinct from recurring assistance that is provided on a regular basis to those in need who qualify for certain city subsidy programs. Isaac McGinn, a spokesperson for DSS, said eligibility is determined on a case-by-case basis, assessing whether a grant can prevent an imminent eviction and whether the client can continue to afford to pay the rent going forward.
Since the pandemic hit, one-shots have fallen dramatically, from 3,803 households (covering 8,021 people) in February to 1,814 households (3,993 people) in June, a 53.2% decrease. The number of cases in June was about 49.5% lower than in June 2019, according to DSS data.
"In these unprecedented times, as New York City reopens and continues to recover from the COVID-19 pandemic, and New Yorkers get back on their feet, helping New Yorkers remain stably housed is our top priority––and we are doing all we can to protect tenants and continue leveling the playing field," said McGinn.
Two looming potential deadlines could make for an expected flood of evictions and a corresponding increase in the number of people seeking assistance from the city. The governor has not indicated whether he will extend the eviction moratorium beyond August 20. First, on July 31 the additional weekly $600 federal unemployment benefit that was included in the CARES Act is set to expire. Congress is currently considering a second major round of stimulus funding, which could include direct payments as well as unemployment benefits, but it's unclear when that will pass and what it might include. And while housing courts have been closed in New York for months, they partially reopened a few weeks ago before the Office of Court Administration issued guidance to pause all eviction proceedings till August 5.
While the state did pass and is now implementing a $100 million rent relief voucher program for low-income New Yorkers who have lost income, some are calling on Governor Andrew Cuomo and the Legislature to take additional action along with more federal aid.
"We are about to go over a cliff here in this city, in terms of people potentially losing their housing and we have to stop it," Mayor Bill de Blasio said in his daily press briefing on Tuesday. "We need help from the federal government. We need rental assistance money for the people of this city and people all over the country who are facing this challenge. We need the State of New York to pass the laws that will give people the ability to pay the rent when they finally have an income but make sure no one is evicted simply because they can't pay the rent. We have so many things we have to do, and we're looking for every possible innovation."
Housing advocates are worried that the city and state aren't taking strong enough steps to prevent what could easily become a major additional homelessness crisis as a massive number of tenants are evicted from their homes. According to a July 8 Bloomberg Businessweek report citing the Community Housing Improvement Program, a trade association of rent-stabilized property owners, about one in four New York City apartment tenants had not paid their rent since March.
"There's going to be a huge demand for one-shots," said City Council Member Stephen Levin, a Brooklyn Democrat who chairs the Council's Committee on General Welfare, calling them a "valuable tool" in the city's belt. "The city should be prepared to process a huge influx of applications for one-shots and they should be prepared to be able to do that very quickly."
Levin said the state needs to cancel rent and mortgages if it wants to avoid the inevitable fallout at the end of August. "It's really hard to contemplate or even fathom how devastating it could be," he said. And he said there should be mechanisms where the city and state can cover future rent as well as back rent. "We don't have the capacity to deal with a huge influx into the shelter system. It's unsafe as a public health policy. We don't want people in congregate settings at all," he said, referencing the ongoing pandemic. "It's incredibly destabilizing to families. So all around, it's a better investment to prevent families from entering the shelter system to begin with."
One-shot assistance, which typically costs about $200 million annually, is among a suite of related housing and assistance programs that the city employs. McGinn of DSS said that the rent arrears program serves all New Yorkers who qualify and funding for it does not run out. The city also helps people with monthly rent payments and provides free legal assistance to many low-income tenants facing eviction in housing court.
Ellen Davidson, staff attorney at the Legal Aid Society, was not surprised that the number of one-shot grants have dropped, since they often require an individual to show a future ability to pay rent.
"We have no reason to believe that there's enough staff to even process all of the applications that are coming their way," Davidson said of DSS and the expected boom in need. "And considering that once someone is in housing court, time is of the essence, if applications get so backed up that they're not processed, people would be evicted who would qualify for rent arrears grants."
She said the city should ease some of the requirements for one-shots, particularly as many tenants may still be unable to show that they can make their rent in the months ahead, which is a prerequisite for the program.
Davidson worries that the administration could choose to use federal funds to balance the budget rather than provide rent relief to tenants, pointing out that the city received nearly $400 million and has not shown how that has been spent. "The amount of attention that this administration has put toward the extreme risk that tenants are facing? They've spent no time on it. It's not on their radar screen," she said of the de Blasio administration. "Everyone else has been talking about the eviction tsunami. It's just not something that the city seems to care about."
Cea Weaver, from the Housing Justice for All coalition, similarly said the city and state should not be waiting for federal funds when there are measures they can take right now. "We need Governor Cuomo and the State Legislature to act," Weaver said. "I don't think it's OK to pass it off to the feds when the state government has the ability to raise taxes on corporate landlords and all rich people. We have the ability to raise revenue in our state to pay for things like housing assistance and housing support and we should be doing them in this moment of crisis."
When asked about the plight of tenants who may owe months of back rent once the pandemic eases, Cuomo has repeatedly touted the eviction moratorium as a temporary fix without offering a long-term solution. In an interview with NY1's Roma Torre on Wednesday, he said the moratorium had "removed the anxiety and the pressure altogether of rent."
"It's for the entire COVID crisis," he said of the moratorium. "We have not yet determined when the COVID crisis is over, because the COVID crisis isn't over. And then obviously, it's not going to be one day the virus disappears. There'll be a recovery period. So we'll have to figure that out."
The city, Weaver said, should urge housing courts and marshalls to not carry out evictions while investing funds in the rent programs that have proven effective.