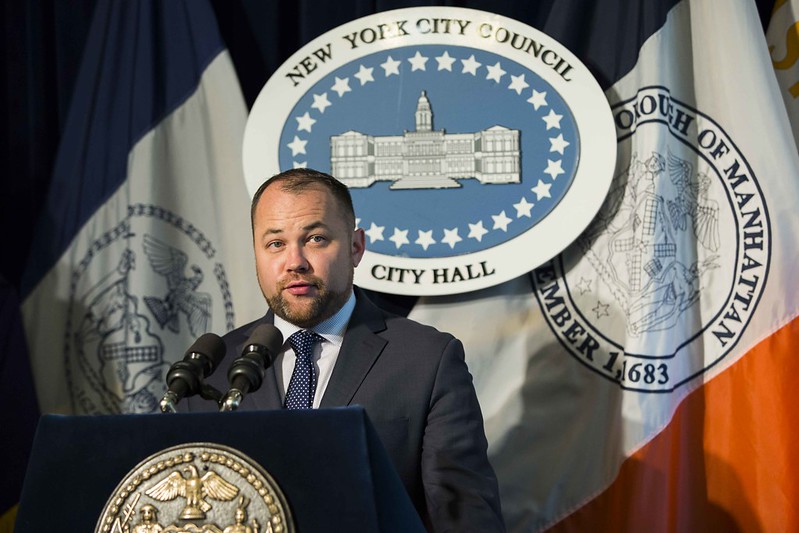 Council Speaker Corey Johnson (photo: Emil Cohen/New York City Council)
---
The union effort launched last year by City Council staff members could soon be recognized by the City Council as negotiations near conclusion, according to a Council spokesperson and a member of the union.
The Association for Legislative Employees, an unaffiliated union that represents hundreds of City Council aides working both for individual Council members and on the Council's central staff, launched with a card campaign in November, and a majority of staff members signing a union authorization card.
In January, the union requested voluntary recognition from City Council Speaker Corey Johnson's office, and negotiations began in earnest in February. But the COVID-19 pandemic derailed the process. "The pandemic hit and everything kind of got placed on hold," said Wilfredo Lopez, a core committee member of the union and legislative director to City Council Member Ben Kallos.
Communication resumed in May with the Council's general counsel, the city's Office of Labor Relations (OLR) and Office of Collective Bargaining (OCB). The union has retained the law firm of Stroock & Stroock & Lavan as representation.
In its January letter, the union called for recognition of three distinct titles – councilmanic aides, legislative finance analysts, and senior legislative finance analysts. The union envisioned two bargaining units between the titles but is now expecting to move forward with one bargaining unit.
"Every indication we're getting is that we're likely to continue as one big unit which I think benefits everybody from a logistical standpoint," Lopez said. "But that will be decided further along the line."
Lopez was optimistic that there could soon be an agreement on recognition. "It's gonna happen soon. I can't really answer what soon is because that will depend on a lot of dominoes falling into place," he said. "But every communication that we've received and every representation that has been made by OLR via the Council seems to indicate that there's going to be some sort of agreement reached soon. Could be days, weeks, hopefully not months."
Speaker Johnson also indicated that the negotiations are heading in the direction of recognition. "I come from a union household and I am a big supporter of labor, and I look forward to continuing to work towards recognizing the Council staff union," said the Manhattan Democrat in a statement to Gotham Gazette.
There may be piecemeal progress in the formation of the union as a spokesperson from the speaker's office also noted that Johnson only has direct purview over Council central staff, which includes legislative finance analysts but not councilmanic aides.
"The Council is taking steps toward voluntary recognition for the job titles of the Council central staff for which union organizers collected cards," said a Council spokesperson. "For district staff, Council members have some autonomy when it comes to their own staff, but Speaker Johnson supports voluntary recognition for his district staff. The process is ongoing."
Even if only the central staff are recognized, it would mean that the union has received recognition. Then, Lopez said, they could begin to accrete other titles into the union by petitioning the Office of Labor Relations and Office of Collective Bargaining. There appears to be something of a legal grey area in terms of who will recognize the staff of Council members and how bargaining will unfold.
The union has, in the meantime, been drafting governing documents and is in the middle of a membership drive. "We're essentially just crossing our T's and dotting our I's and making sure that when that agreement is reached, we're ready to move into bargaining day one," Lopez said. The union has also been advocating for safe working conditions as the City Council reopens its offices.
Though the negotiations seem to be amicable, the process has not been fast enough for some union members. Zara Nasir, a lead organizer of the union effort, has been regularly tweeting about the lack of recognition from the Council, recently noting that the time has surpassed 170 days since voluntary recognition was sought.
There had been rumblings about a Council staff union for years as aides -- who perform a wide variety of jobs from chief of staff and communications to constituent services and legislative work -- repeatedly raised concerns about low salaries and tough working conditions, including exceedingly long hours.
While the City Council voted to give its own members a large pay raise from $112,500 to $148,500 annually in 2016, staff pay has remained relatively flat, with big disparities between aides performing similar roles under different Council members. An analysis by Politico New York found that many staffers barely make over minimum wage.
The union was also spurred into action when the Council essentially gave Council Member Andy King a slap on the wrist in October after an internal investigation substantiated allegations of ethics violations against him, including for harassment of staff members. King has since faced another investigation by the Committee on Standards and Ethics and is also being sued by a former staffer for retaliating against her for cooperating in one of those investigations.