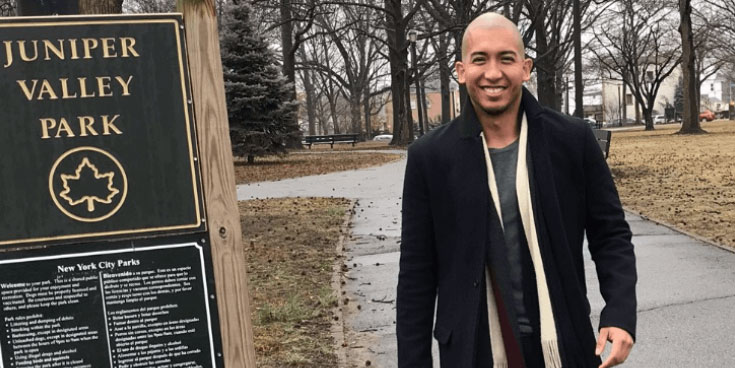 Juan Ardila (photo: campaign website)
---
First-term City Council Member Bob Holden, a conservative Democrat from Queens known for controversial statements and criticism of the de Blasio administration, is facing a 2021 challenge from Juan Ardila, a first-generation immigrant and Maspeth native who says Holden is failing the 30th Council District.
Ardila, the son of a Honduran-Cuban mother and Colombian father, says he is running to fight for working class families in a district plagued by rising costs of living, lack of mass transit, limited employment opportunities, and overcrowded schools.
Holden is expected to run for reelection, aiming to continue representing a district that includes Glendale, Maspeth, Middle Village, Ridgewood, Woodhaven, and Woodside. Though he is a registered Democrat, he narrowly won the 2017 general election on the Republican line after losing the Democratic primary to then-incumbent Council Member Elizabeth Crowley. Holden also appeared on the Reform and Conservative Party lines as well as a ballot line he created called "Dump de Blasio." Holden won that election attacking Crowley over her support for closing the jails on Rikers Island and for not taking a hard enough line against homeless shelters in the district.
Holden has consistently been among the more moderate or conservative members of his party in the 51-seat Council, regularly voting with a handful of other conservative Democrats and the three Republicans in the body. He's a staunch supporter of law enforcement, decrying the city's recent police reforms and opposing local limits on Immigration and Customs Enforcement (ICE).
Holden did not respond to a request for comment for this article. He has yet to create a reelection campaign committee and has not raised any funds for the race. Ardila has raised about $20,500 and spent $7,500 so far.
Ardila said in an interview that his path to public service began when his mother was almost deported when he was 17. He abandoned plans to become a forensic scientist and instead decided he wanted to study immigration law and public policy.
"I really focused essentially my entire adult life on public service," Ardila said in a phone interview. He had a two-year stint as office manager for Brooklyn City Council Member Brad Lander. He then worked as a consultant for the New York City Department of Education, helping with the expansion of universal pre-kindergarten and the 3-K for All program. He followed that with work at the International Rescue Committee, the humanitarian nonprofit organization, where he mentored and tutored refugee and asylee children, he said, and helped them with college and residency applications and employment authorizations.
Ardila is now at the Legal Aid Society where he helps New Yorkers get access to public benefits and legal representation. Just two months ago, he graduated from NYU with a Master's in Public Administration, with a focus on public policy analysis.
Ardila says that Holden has been a lackluster Council member, sponsoring few pieces of legislation while also failing to bring the resources needed back to the district. Unlike his predecessor, Holden did not opt in to the City Council's participatory budgeting program, which would have allowed residents to vote on roughly $1 million in infrastructure improvement projects for the 30th District.
"We used to have it and Holden forced us to opt out of the program," Ardila said of participatory budgeting. "Ultimately what it's done is just eliminated the opportunity for any form of decision-making and civic engagement from the people on how these public dollars are spent. That's a big problem."
There are programs that Ardila said would be invaluable in the district but haven't been implemented such as the city's FRESH Program, which provides fresh food options to grocery stores. He is also pushing to partner with Meals on Wheels so homebound seniors don't have to risk their health during this pandemic to buy groceries. And he faults Holden for not ensuring that residents have access to those services. "The leadership is just not there and it's just not going to be there, unfortunately," Ardila said.
For Ardila, most of the district's needs revolve around its lack of access to mass transportation. Much of District 30 is a transit desert with no access to the subway system and with few bus lines running through it. That makes it harder for residents to find affordable housing that is easily connected to the rest of the city, and thus jobs, and prioritizes vehicles at the cost of pedestrian safety and public health, he said.
Ardila is calling for a major expansion of bus routes and bus lanes, increasing bus speeds, expanding the Fair Fares discount Metrocard program for low-income New Yorkers, improving the Access-A-Ride paratransit system, and making more MTA subway stops accessible to those with disabilities.
District 30 is home to a large middle-class population of New Yorkers. Just over half its residents are white, and about 40% of the population is foreign-born. The largely residential district contains mostly one- and two-family homes besides large green spaces.
In 2017, Republican mayoral nominee Nicole Malliotakis handily won the district over Mayor Bill de Blasio, though there are more Democratic registered voters than Republicans in the district. As of February 21 of this year, there were 86,774 registered voters in the 30th Council District, including 45,321 Democrats, 16,010 Republicans, and 21,561 party-unaffiliated voters (often called independents).
The race could be a test for where and how much progressive groups and leaders, including elected officials, want to expend their resources in the 2021 election cycle, where all of city government will be on the ballot, including the citywide and borough-wide positions, and all of the 51 City Council seats, including roughly three dozen "open" Council seats where no incumbent will be running due to term limits. Holden's stances on a variety of issues don't match with some of the progressive currents sweeping through New York politics, nor even some of the more moderate Democratic views, as evidenced by often Holden votes in the minority in the Council. But, Holden's grasp on his district is another story, and he is sure to have a base of support heading into his expected reelection bid.
Though it is home to many home-owners, the district is not immune to the citywide unaffordability crisis, Ardila said. "A lot of renters are getting displaced throughout the district as a whole," he said.
On the issue of homeless shelter siting, one of Holden's main focuses, Ardila finds himself on the same side as the incumbent, though for different reasons. Holden won his election after helping to ignite a firestorm of controversy around a hotel used as a homeless shelter in Maspeth, as he criticized the de Blasio administration's homelessness policies at large. The Council member, known for his many "not in my backyard" stances as president of the Juniper Park Civic Association, made largely unfounded claims that the shelter was a severe public safety hazard, raising the spectre of crime and drug use by the homeless men housed there. He has similarly been an ardent opponent of another shelter that opened in Glendale in February, repeatedly calling for it to be shut down.
Ardila said homeless shelters are a "bandaid" to the larger crisis and he also believes the Glendale shelter should be closed, but he said it's because the district lacks the resources and interconnectivity that would give the shelter residents the services they need to get back on their feet. "Glendale is located smack in the middle of a transit desert. There's only one train station and very intermittent bus service," he said. "The challenge with that is when you're a homeless person in a location that is a transit desert, with expensive fares, in an area where there's essentially no employment opportunities and lack of social services that they need, you're not really supporting them. They're isolated. They're on the outskirts."
Though he would have little power over broader housing policies as a City Council member, Ardila said the solution is to build more affordable housing density around transit hubs and to fund it with taxes on the wealthy and by eliminating tax incentives for real estate developers, both of which are the purview of the state Legislature.
"Homelessness is intertwined with other factors leading to poverty," he said. "We're pushing for housing for all. We view housing as a human right and unfortunately the real estate culture in New York City views housing as a speculative investment." He said the city should follow the "Housing First" model that Columbus, Ohio put in place 20 years ago when it started building permanent supportive housing for homeless people.
The other major issue in the district, Ardila said, is overcrowding in schools. "Students do better with more individualized attention and we need bigger classrooms. We need to support teachers, we need to support counselors," he said. Ahead of the passage of this year's city budget, he criticized the mayor for proposing cuts to the Department of Education and for not reallocating funds from the "bloated NYPD budget" that could go to school resources.
Ardila is confident that he can win over a diversifying electorate. He believes the district is more "purple" than red or blue, and that residents care more for local issues than citywide ones. "We want to focus on the in-district issues," he said.