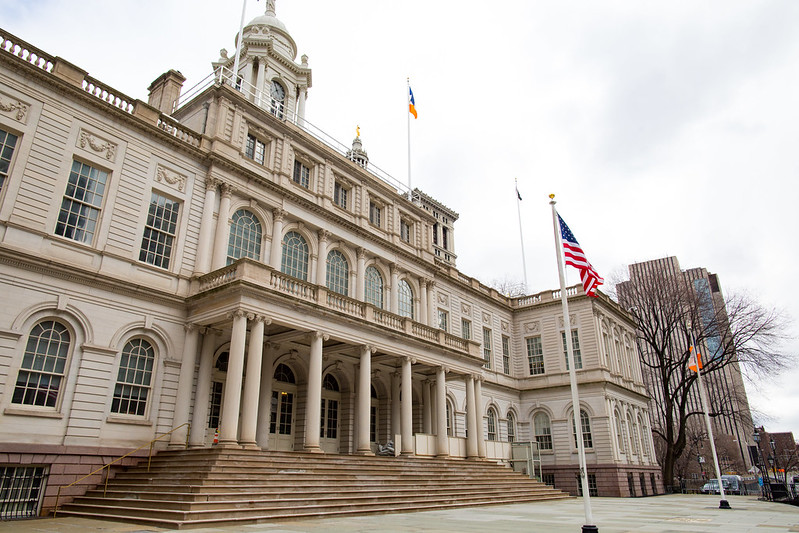 City Hall (photo: Benjamin Kanter, Mayor's Office)
---
With the 2021 party primary elections less than a year away, more than a dozen candidates have either declared or are openly exploring a campaign to become the next Mayor of New York City. But while that long list includes some prominent current elected officials, a few former public servants and several lesser known contenders, it contains few Republicans.
By all indications, there will be a fiercely fought Democratic mayoral primary as a crowded slate vies to replace outgoing Mayor Bill de Blasio, a term-limited Democrat. Republicans, on the other hand, are hoping to coalesce around a single candidate that can focus all their efforts on the fall general election rather than wage an internecine battle ahead of the June primary. But there still could be a Republican primary as several potential candidates have indicated they are considering a run, though none have made any official declarations.
The most prominent potential candidate that has expressed public interest is John Catsimatidis, the billionaire supermarket magnate who previously ran in the 2013 mayoral primary and lost the Republican nomination to Joe Lhota, who went on to lose to de Blasio. Curtis Sliwa, founder of the Guardian Angels, has said outright that he is running for mayor and has spoken with Republican Party officials about his campaign. Sara Tirschwell, a former Wall Street executive who is chief financial officer of Foundation House, a mental health nonprofit, is seriously exploring a bid. Kelly Mack, president of Corcoran Sunshine Marketing Group, is also rumored to be considering a run.
But none of them have created an official campaign committee yet. Republican Party officials are also casting a wide net as they try to recruit viable candidates to eventually land on the strongest nominee possible against daunting odds in the overwhelmingly Democratic city – they launched a website last month, as first reported by the New York Post.
Republicans are at an overwhelming voter enrollment disadvantage – as of February 21, there were 3.6 million registered Democratic voters compared to 530,000 Republican voters in the city, according to the State Board of Elections. But Republicans believe they can overcome that gulf by appealing to moderate Democrats and nearly 1 million "independent" voters who are registered to vote but unaffiliated with any political party (998,810 voters). Those voters, party members and officials say, are tired after two terms of de Blasio, his big-government progressivism, and his perceived failures on several fronts. But some say the first challenge will be to avoid a primary that could end up bruising their nominee and waste valuable resources that would be better spent targeting Democrats.
The potential candidates could provide polarizing choices for Republican voters in a primary that will not be open to the more moderate voters Republicans believe they need to win in the general election.
Catsimatidis, whose Red Apple Group owns the Gristedes supermarket chain, WABC radio station, and holds major real estate and oil and gas interests, is a vocal supporter of President Donald Trump, though he has in the past donated to both Republicans and Democrats.
Catsimatidis has repeatedly cited concern for public safety and quality of life as he has publicly mulled a decision to run for mayor. He's been broadly critical of the current Democratic leadership in the City Council and State Legislature, lambasting police reform legislation, the plan to close the Rikers Island jail complex, and the Black Lives Matter movement.
In a June interview on the Bernie & Sid show on WABC radio, he spoke of bringing together a broad swathe of voters that will believe in his "common sense" agenda. "I was a Bill Clinton Democrat…I'm a common sense guy. I've worked with Democrats, I've worked very closely with Democrats, I've worked very closely with unions. I've worked very closely with Republicans. I had the Liberal Party nomination and I was proud of it...Am I a liberal? Yes. I believe in helping people. Especially people of our inner city."
But he has also shared some of the same conspiratorial tendencies prevalent in portions of the Republican Party, including at the highest levels. For instance, in that interview, he questioned whether the "Antifa-type people" participating in Black Lives Matter protests are being paid to incite riots and even wondered aloud whether funding could be coming from Chinese government officials "getting even" for the Hong Kong pro-democracy protests.
Catsimatidis' representatives did not respond to an interview request for this story.
Tirschwell said in a phone interview that she is still in the exploratory phase and has been meeting with campaign management and finance experts, and closely consulting with Keith Wofford, a Republican who ran for state attorney general in 2018. "I'm not your average Republican," Tirschwell said. "I'm pretty fiscally conservative and I'm center-left socially. So I would consider myself kind of more in the mold of a Rockefeller Republican."
The next mayor, she said, will have to tackle the prevailing problems of racism, segregation in education, and the "baseline issue" of crime while also reforming the police. But at the core of it, she said the city needs to level the playing field for New Yorkers who continue to suffer from a lack of equal opportunities for success.
"The city needs somebody who is ready to fight what I call 'the man,'" she said. "I've spent my entire life fighting 'the man.' Anybody who knows me knows this is a woman who fights 'the man' and 'the man' is essentially a system with obstacles that serves to protect those in power...Those systems need to be dismantled."
Tirshwell previously worked as a distressed debt investor at TCW Group Inc, a major asset management firm. She sued the firm in 2018 after being fired, alleging that her former boss had retaliated against her for filing a sexual harassment complaint against him. The lawsuit, which made headlines as the #MeToo movement arriving on Wall Street, was partly dismissed by a New York State judge in June.
Staten Island Council Member Joe Borelli, one of three Republicans in the 51-member legislative body and a vocal Trump supporter, is convinced that this phase of Democratic leadership is about to end as it did when Rudy Giuliani became mayor in 1993. "Why were people willing to undo at that point 20 years of Democratic leadership and vote for Rudy Giuliani? It was because the city no longer felt safe to people and they no longer felt the city was generally heading in the right direction," Borelli said, citing the similarities between then and now as crime, though dramatically lower, has seen an uptick in recent months. "If you took the temperature of the city, I think you'd find that across the political spectrum."
He pointed out that five out of the last seven mayoral races were won by Republicans, citing the two terms served by Giuliani and the three terms of Michael Bloomberg (though Bloomberg was a Democrat before he registered as a Republican to win the mayoralty and had become a registered independent before he ran for his third term). Both Guiliani and Bloomberg ran and governed as immigrant-friendly, socially-centrist and at times liberal, fiscally-conservative, tough-on-crime city managers, significantly different from the Trumpian Republicanism of today.
Without large groups of moderate voters affiliated with both major parties and no party at all, Giuliani and Bloomberg wins would have gone to Democrats. "You have to be a moderate person who's focused on city management," Borelli said. "I bet you there are 51% of New Yorkers who, if polled, would answer the question in the affirmative that they would prefer someone who is a competent manager over someone who is an ideological leftist."
Catsimatidis could make that argument, Borelli said, given his success as a businessman.
J.C. Polanco, an attorney, commentator, and former Republican candidate for New York City Public Advocate, similarly said Catsimatidis can make an effective argument as an immigrant success story, a businessman, and a job creator. "He has an incredible story to tell," Polanco said.
"This is going to be a great opportunity for the party to reestablish itself as a centrist party," he said. But he insisted that he party will have to avoid the divisions that have characterized national politics where President Donald Trump looms large and hardline ideological stances are almost a prerequisite for Republicans. "If we're trying to attract voters in the New York City market, and we know that the market is a progressive, moderate, independent market, we can't shove a product into the market that has been rejected and expect success," he added.
The financial heft that Catsimatidis can bring to the race is also an appealing factor to some. According to the New York Post, he is ready to spend as much as $100 million of his own money on the race should he run.
Brendan Lantry, chair of the Staten Island Republican Party, said the race is "not a closed door process" and that the party is encouraging broad participation in selecting candidates for citywide office. "We need candidates for Mayor but we also need candidates for Public Advocate and Comptroller," he said of the three citywide positions, all of which are on the ballot next year, in a phone interview. He said the five county committee chairs, including Manhattan GOP Chair Andrea Catsimatidis (John Catsimatidis' daughter), are going to conduct interviews with candidates in January before they decide who to back.
But he emphasized that it would hurt the party's chances if there is a primary. "I think every cent spent in a Republican primary is one less cent that's being used to articulate our message to a broader group of voters and it's one more cent that's being used attacking each other rather than focusing on our Democratic opponents," he said, expressing a sentiment that was at times prevalent when Lhota had to fend off Catsimatidis in 2013 (52.7%-40.6%), for a September primary, before trying to restock his coffers and focus on the general election, which he lost 23.9%-72.1%.
In 2017, as de Blasio sought reelection in a largely uncompetitive Democratic primary (he won 65% of the vote), Republicans coalesced around Staten Island Assemblymember Nicole Malliotakis without a primary, but she still lost handily to de Blasio, 27%-65%.
Lantry is optimistic about the party's shot at victory in 2021. "I think eight years of Bill de Blasio are making people really long for the days of Giuliani and Bloomberg and sanity in City Hall," he said.
Note: this article has been corrected with the figures for registered Democrats, Republicans, and independents in New York City, the original figures were for New York State.