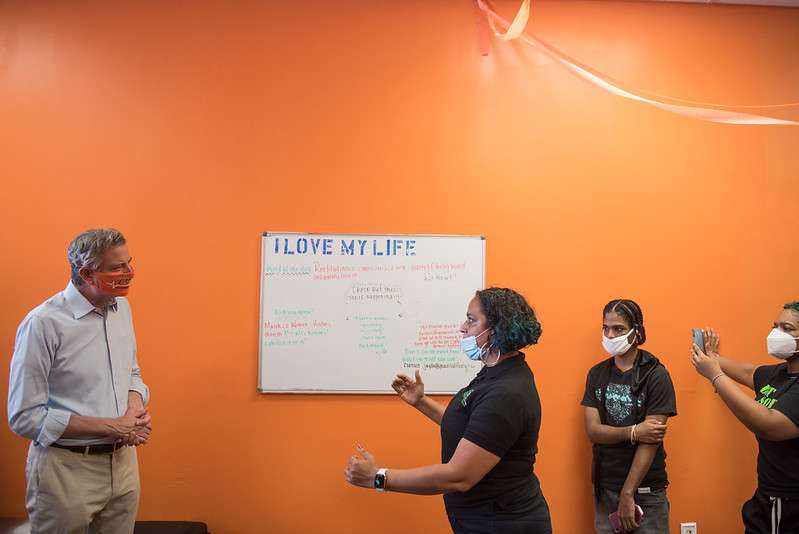 Mayor de Blasio with local activists (photo: Michael Appleton/Mayor's Office)
---
Every morning, Joaquin Soto wakes up to participate in Summer Bridge, New York City government's 2020 summer youth employment program. Instead of commuting to a work site, Soto turns on his computer, attends Zoom meetings, watches videos on professional development, and takes quizzes to show what he's learned.
"The application was really straightforward and very accessible," said Soto, a 17-year-old from Cypress Hills. "But I feel like there's definitely been some kind of trouble for people that are navigating it now and understanding the hours that are required, and what exactly is expected from them."
Soto is one of 35,000 participants working in remote job placements for young people this year. In April, Mayor de Blasio cancelled the summer youth employment program, or SYEP, citing the uncertainty of COVID-19 and tough economic straits -- its removal would save the city roughly $124 million, as outlined in his April savings plan. But after much criticism and intense lobbying by youth, advocates, and other elected officials, he agreed to partially reinstate it at the eleventh hour, on June 30, after a tumultuous budget negotiation with the City Council that centered on dealing with the coronavirus fallout, the city's dire financial picture given billions in lost tax revenue, an increase in gun violence, and calls to "defund the NYPD" amid renewed Black Lives Matter protests.
The push to save some version of the summer youth employment program included ideas for remote programming. The timing and scope of the summer jobs have proved challenging for teens and providers, though those involved generally feel appreciative to have work for youth at all given that the entire program was almost wiped away.
Once the city partially restored the youth employment initiative, the newly-named SYEP Summer Bridge 2020 program was set up for just five weeks, with the number of slots for young people cut from about 75,000 in last year's SYEP to 35,000. The cost came to about $51 million in a public-private partnership among the city, the Mayor's Fund to Advance New York City (a city-led nonprofit), and philanthropies. Participants scrambled to apply while organizations rushed to arrange programming for the almost-exclusively remote, scaled-down SYEP offering.
Once onboarded, the youth that did attain spots tackle the challenges of remote work, including completing hours on Hats & Ladders, a web program for professional development learning. SYEP Summer Bridge 2020 differs from the traditional SYEP because of its focus on online programming instead of in-person work. A DYCD spokesperson said students are participating remotely and the traditional "worksites," or where providers place youth for in-person work, do not exist this year, although providers are working with over 90 organizations and business partners to administer programming.
Providers designed jobs for youth with the city's Department of Youth and Community Development (DYCD) that had to be safe yet meaningful, while also managing a significant reduction in these temporary employees. The program features civic engagement skill-building, career exploration, and project-based learning on topics such as community service, COVID-19 recovery, and careers in STEAM. Older participants also complete a "workplace challenge," where providers team up with organizations and agencies that give youth real-world, on-the-job problems to solve.
To have their say in the new program, advocacy groups like Teens Take Charge said they worked with DYCD to launch an advisory council with Summer Bridge participants. Researchers have also pointed to the importance of summer youth employment programs in providing skill development, career knowledge, and financial opportunities, and have shown that they lead to improved long-term criminal justice, academic, and employment outcomes.
The widely-celebrated growth of New York City's SYEP to last year's 75,000 slots was many years in the making, and last year over 150,000 youth applied. This year, DYCD received over 135,000 applications for its 35,000 Summer Bridge slots, according to Cynthia Malave-Baez, the director of the SYEP program. The city retained 115,000 opportunities for young people this summer overall, the mayor and City Council said, but not all fall under the umbrella of SYEP programming. The other experiences included paid positions as social distancing and Test and Trace ambassadors, and at summer camps for kids through the COMPASS initiative and Beacon and Cornerstone programs, according to the mayor.
As for SYEP's future, providers and advocates have said they see an online summer with a smaller headcount as a one-time occurrence because of the pandemic. Brian Chen, the chief strategy officer from the Chinese-American Planning Council, said his organization aims to employ as many youth as possible and, if health and safety conditions permit, he would want to push for a full restoration of programming and possibly an expansion next year.
"In an ideal world, and speaking personally, if there was an opportunity for us to really service and enroll and enrich and empower every single youth that actually applied to the program, that would be kind of the North Star," said Chen. "Are we going to continue to push for funding? Yeah. Is it 75,000? I would say that would be the baseline because we've reached that number not too long ago."
Teens Have Their Say
Teens Take Charge led a significant part of SYEP advocacy, with a months-long campaign to reinstate the program and support from organizations and City Council members, and their involvement continued following passage of the city budget. The youth group, which is a program under nonprofit The Bell, provides programming for Summer Bridge participants for the first time this year.
Also, after what they called a "partial win" regarding the new youth employment program, Teens Take Charge proposed a youth advisory council to DYCD that would give recommendations and feedback on Summer Bridge, according to Jorge Morales, a 20-year-old alumni advisor and mentor for Teens Take Charge. He said the council has 13 young members, all current or former summer youth employment program participants. They had their first meeting on July 23 and will have two more, one in the middle of the program and another towards the end, according to Morales.
"We always told them, it's very crucial you create programming that the youth are gonna want to do," said Morales, who lives in Harlem. "Because if you're creating programming that you think they'll like, it doesn't mean that they will like it."
The youth council mostly works with the NYC Center for Youth Employment, which works as a private-public partnership to expand and improve opportunities for youth work experiences. The goal of each meeting, according to a CYE representative, is "for the city to understand young people's experience with the program to help inform planning for next year."
"Teens Take Charge was instrumental both in organizing young people to advocate for this year's SYEP Summer Bridge and informing this new remote program model," said David Fischer, the executive director of the Center for Youth Employment. "We're glad to be working with them to better understand how participants are experiencing Summer Bridge."
As for the program as a whole, Morales said the de Blasio administration should have expanded youth programming instead of cutting it. Some families rely on the stipend youth receive during the summer to pay for essentials, he stressed. On the timing, he described how the delay in a decision regarding SYEP led to uncertainty and insecurity, contributed to website crashes as students started applying, and sowed ambiguity around whether applicants had been accepted as DYCD held multiple lotteries.
"When this occurs, it's truly affecting our most vulnerable communities and those that live in a lot of areas that are very dangerous," said Morales. "When you take this source of revenue out, and there being very few jobs out in the city now because of covid, you don't really give them many options here."
Reflecting on the campaign Teens Take Charge ran since de Blasio's announcement in April, Morales said the mayor never mentioned youth efforts to save the program, and members of the City Council, most notably Speaker Corey Johnson, declined to meet with them. A representative from the speaker's office said Johnson receives hundreds of meeting requests during the budget process so he often has other members or staff attend meetings instead of or for him, and in this case Council Member Deborah Rose, the Staten Islander who chairs the Council's youth services committee and was a leading voice for restoration of SYEP, met with members of Teens Take Charge. Johnson focused on saving summer youth employment because he and the Council knew SYEP was "a lifeline for many New York City youth," according to Jennifer Fermino, the Council's communications director.
"It was a hard fight, but ultimately the Council's painstaking advocacy restored $700 million in programs and services that had been cut from the Executive Budget - including SYEP," Fermino said in a statement. "The Council was united on saving SYEP under the leadership of the Speaker and Council Member Debi Rose. The Council will continue advocating for New York City young people."
The number of youth slots the Council restored were not enough, said Morales, and Teens Take Charge's advocacy around employment for young people will continue in the next round of city funding.
"Regarding SYEP, we're going to be fighting for it next year because we already see that fight starting, just because we know there's still going to be discrepancies within budgets," said Morales. "And people are still going to make excuses about not being able to afford a program that is so crucial for the youth."
Participants Struggle Through Summer
Teens Take Charge is Soto's placement for the summer. That means every day he signs on from 10 a.m. to 12 p.m. to participate in Zoom meetings about advocacy work, an interest he said he partially developed from working with IntegrateNYC, a student-led organization working towards equity and integration in schools.
Soto said he enjoys the daily meetings. He listed topics such as social media campaigns, testimonies at hearings, and case studies throughout history as some of the focuses of these sessions, and also mentioned that the video calls are interactive so participants can share personal experiences related to their backgrounds, expanding learning beyond the planned lesson.
But when Soto finishes his video call, he faces hours of Hats & Ladders. The website provides short videos that explore career readiness and professional development. Soto said some subjects include dressing for a job, crafting a resume or managing a professional phone call. While he admits he likes that he can watch the videos on his own schedule throughout the week, Soto said building up to the 30-hour requirement of Hats & Ladders in the first three weeks, with videos running about five to ten minutes each, can become tiring.
"I just don't think the website and watching videos that you're getting kind of tested on is the best way," said Soto. "It just kind of feels like school all over again. I'd rather have someone really talk about it on the Zoom call, live, where people can comment on it, et cetera."
DYCD already had plans to include Hats & Ladders -- which the de Blasio administration called "a nationally recognized education software provider" -- as a supplement to youth programming even before the pivot to remote programming, according to Malave-Baez. She said DYCD decided to rely on the website's videos more heavily to facilitate remote learning.
"But we realized SYEP has been around for many, many years and that we thought it was important to start leveraging the information that's out there, and bring this aspect of career readiness and career exploration to the 21st century," said Malave-Baez. "And that's the opportunity that the Hats & Ladders platform gives us and gives young people."
When Summer Bridge started, Soto said he felt confused about how to complete his hours. Participants engage in 60 to 90 hours of programming, with teens ages 14 to 15 completing 60 hours, and youth 16 to 24 completing 90 hours, according to DYCD documents.
Soto said he noticed a discrepancy. The program requires his age group to work 18 hours a week, but with two-hour daily meetings with Teens Take Charge and about 10 hours of Hats & Ladders videos, that adds up to 20 hours a week, said Soto. He also described not knowing at first if he needed to complete 10 hours every week, or if he could work up to the 30 hours as he wished, and that a 45-minute orientation call did not help define the details.
"I remember it was very unclear at first, but after that, it's kind of just like they tell you the hours and you go about it yourself, and not much guidance, I would say," said Soto. "I've been emailing a lot of people from SYEP and they've been saying they're being more flexible with them. I mean, I have high hopes but in the beginning, honestly, it was difficult."
Malave-Baez said DYCD tries to connect with youth through social media platforms and their hotline Youth Connect, which is a resource and referral service for all youth-related city programs, as well as instruct providers on how to support youth throughout the summer.
For Soto, who plans to attend Yale University this fall, the timing of the program proved tricky. When he participated in SYEP two years ago, he said it ended in mid-August, but now he finishes August 28. Soto must move to Connecticut during the last week of Summer Bridge, but said he's unsure of how he will make up his hours.
Logistical issues aside, Soto still said he feels grateful the SYEP program can provide him with some pocket money as he heads to college. Teens who are 14 or 15 will receive a $700 stipend, while young people between the ages of 16 and 24 will collect a $1000 stipend, according to the DYCD website.
Providers Race to Create Programming
The Chinese-American Planning Council (CPC), usually relies on in-person summer work opportunities for youth, but this year pivoted to fully-online programming in just a few weeks. Chen said as the city shut down after the governor's PAUSE order, the CPC reimagined SYEP without knowing if it would be reinstated.
"We wanted to ensure the youth and young adults, many of whom are from low-income backgrounds or from immigrant families that were hit very hard when the pandemic rolled around, at the time, initially, this was a safety net for them," said Chen. "We didn't want to discount the fact there wouldn't be anything and for lack of a better term, that summer would be 'cancelled' for youth and young adults."
The timing of Summer Bridge challenged CPC, Chen said. The organization mobilized with different providers to advocate for SYEP, pitch ideas, and hold meetings with DYCD, he said, between the mayor's cancellation and budget deal reinstatement. He said his team learned the city saved part of the employment program the day the budget passed, and moved "really quickly from no offering to a virtual offering." They brought back staff, got word out to community members, and briefed families and youth on Summer Bridge all while handling enrollment and attending workshops and training provided by DYCD.
"It was a lot to do in a very truncated period of time," said Chen. "Just knowing that we had to adjust to the new deadlines but also trusting, that given our experience as an SYEP provider and just the capabilities of our team members and our staff to really get that done, we just powered through."
Chen said CPC worked closely with DYCD to conceptualize a remote summer. Instead of working at an in-person location, he said youth receive work readiness training and career exploration activities online, and then providers will present them with real workplace challenges so they can think through solutions. The nature of the activities and challenges depends on the providers, but Chen said he appreciated DYCD's flexibility on this summer's work model.
"As an organization and me personally speaking, I understand the challenges that the pandemic has brought in the decisions that had to be made on a macro and micro level," said Chen. "If I had a magic wand, and if I had to change anything, it would just really be the city really coming up earlier on and committing to the restoration on the program to give providers and youth and young adults enough time to do the work that's necessary. We're here now, we move forward, right?"
DYCD holds weekly online meetings and one-on-one calls with providers as necessary, and has partners like representatives from Hats & Ladders available for questions, according to Malave-Baez.
Last year, CPC worked with 2,200 youth for SYEP, while this summer they employ about half, 1,100 young people.
The reduction of youth slots and shift to online learning has left providers and their advocates wondering how future summers will look. Nora Moran, United Neighborhood Houses Director of Policy and Advocacy, said the best way to run SYEP is through in-person work and she wants to ensure this summer is a one-time experience because of COVID-19.
"We're obviously relieved and grateful that there was something back in place for young people this summer. It's very distressing that we're only serving half of SYEP this year as opposed to last summer, and it just makes you wonder what all of those 40,000 young people who don't have a job this summer, what they're doing," said Moran. "We don't want this to be an opportunity for the city to cut corners in the future and have a smaller and cheaper program."
UNH represents over 40 settlement houses around the city, many of whom help run SYEP. Moran said UNH advocated for their constituents when the city cancelled summer youth jobs, and while it received strong support from City Council members, it also confronted mixed messaging from the mayor's office and DYCD.
"Throughout the budget, the response from the mayor's office and from DYCD went back and forth between we don't have the funding to run this program and it's unsafe to run this program given covid and given the need for social distancing," said Moran. "So that was a challenge because it was hard to know what's the problem that we're trying to solve, is it funding or is it, you know, program design."
At the height of renewed Black Lives Matter protests, and calls to "defund the police," the mayor promised to move NYPD funding to youth and social services. Moran said it's difficult to say with certainty that "there was a one-to-one move from one area of the city's budget to another."
"Something I will say is that we don't have full funding for the summer youth employment program in FY 2021, the program is running at half capacity as it did the previous summer, young people are receiving stipends as opposed to an hourly wage so they technically took a pay cut," said Moran. "Though the statement was made that the funding is going to be moved from the NYPD to support social services, the budget still came up short in a lot of key social service areas."
Last year, SYEP collaborated with 67 providers, and this year works with 57 organizations on providing Summer Bridge programming, according to DYCD. In 2019, providers also worked with over 13,000 worksites. This year, because of the nature of remote projects and career exploration activities, there are no traditional worksites, according to the DYCD.
The scope of the program this year, especially with the drop in funding and youth slots, tightened providers' pockets. Michelle Jackson, the executive director of the Human Services Council, which represents a number of SYEP providers, explained how the city budget affects these organizations' operating budgets for the whole year because providers run youth programs all the time, just with a summer component.
"So when you cut out two months of someone's budget, you don't cut out two months of expenses," said Jackson. "You know, insurance is year-round, utilities are year-round, rent is year-round. So providers really scrambled to figure out how to cut two months out of their budgets, some by laying off staff, some by figuring out how to move people around, et cetera."
Providers previously collaborated with worksites during SYEP to place youth in job environments such as offices or camps, but with a remote program, many worksites have grappled with fewer employees for their summer offerings. Some have none. City Growers, a nonprofit that teaches children about nature and urban agriculture and a former SYEP worksite, employed 20 participants last year but this summer had none.
With the absence of city-funded youth workers, Executive Director Becca Di Meo said City Growers used its own budget to hire former SYEP participants to help run a shortened, virtual camp this year. She said they are waiting for discretionary funding from City Council members to help with the rest of their programming, but filling the learning gap is a top priority of theirs while children remain stuck at home.
"Our summer camp supervisor has been sending me messages saying the turnout is great, the kids are having a lot of fun," said Di Meo. "So I think a little goes a long way now in maybe ways that it hadn't before."
Research Support for SYEP
Boston's development of its SYEP program this year contrasts to New York City in terms of its timing and preparation. Alicia Sasser Modestino, an associate professor at Northeastern University and an associate director of the college's Dukakis Center for Urban and Regional Policy, described how she and her colleagues presented a plan to Boston Mayor Marty Walsh and showed him the benefits for youth, especially in terms of reducing violence, based on their studies.
"We went to the mayor's cabinet and presented not only our research on how impactful the summer jobs program is, but then also these four [program] tracks," said Modestino, who teaches in Northeastern's School of Public Policy and Urban Affairs and its economics department. "And basically the mayor's cabinet was like, 'You had me at crime.'"
After receiving full support from the mayor on their plan, and an additional $4 million, Modestino and other key SYEP players worked as quickly as possible to start programming in early July. Youth participate in four tracks: Boston's Blue Shirt program, which employs 500 youth for the beautification of outdoor areas; Earn and Learn, which allows students to take college-level courses for free while also receiving money; Peer-to-Peer COVID-19 Campaign, which engages youth in developing marketing materials around public health messages; and virtual internships, which facilitate a remote work opportunity for young people. Boston managed to expand its SYEP funding during COVID-19, totaling about 8,000 jobs.
Modestino's team at Northeastern University researched the effects of SYEPs on youth for about five years. In the short-term, they survey what young people learn during a summer job, like writing resumes, interviewing, managing emotions, resolving conflict with peers, and imagining future plans and aspirations. In the long-term they track trajectories in terms of criminal justice, academic, and employment outcomes.
She said they found SYEPs reduce violent crime by 40 percent and property crime by 30 percent after young people participated in a summer youth employment program, which is linked to youth improving soft skills like conflict and emotional management as well as other effects of being employed such as job readiness skills, work habits and college aspirations . They also increase high school graduation rates by six percent, which they correlated with increased attendance after working a summer youth job that requires punctuality. Finally, they found a higher likelihood of employment and increased wages among Black and brown young adults from the ages of 18-24 who participated in SYEP.
Modestino said she and other stakeholders in SYEP will continue to study Boston's summer youth employment program this year to see if the tracks they put in place replicated the outcomes of traditional summer employment opportunities. She stressed that, especially now during COVID-19, youth, particularly poorer or Black and brown youth, need SYEP to keep them engaged and provide gateways to opportunities.
"Even in good times this is a really good program to employ youth, especially low-income youth," said Modestino. "So it's been an important way for low-income youth to be able to get job experience that other wealthier, whiter kids living in the suburbs get on a routine basis because their parents brokered them a job."