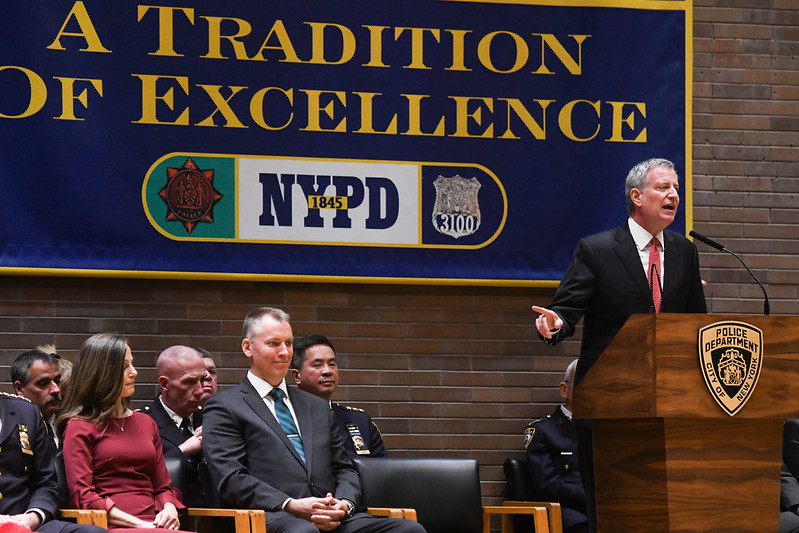 Mayor de Blasio & NYPD Commissioner Shea (photo: Michael Appleton/Mayor's Office)
---
As New York City continues to see an increase in gun violence, concentrated largely in Brooklyn and the Bronx, Mayor Bill de Blasio and his police department have gone with a familiar playbook of shifting resources to hot spots, holding gun buy-backs, and coordinating with community groups that seek to prevent shootings in vulnerable neighborhoods. But as shootings and murders have jumped by especially large numbers amid the pandemic, its resulting mass unemployment, and a movement for police reform, the city's approach is being called into question from the left and the right.
After slowly recognizing the urgency of the spike in gun violence that has hit the city this year, de Blasio, NYPD Commissioner Dermot Shea, and other administration officials announced a series of steps they said the city would take to combat the problem, all while a battle raged over 'defunding the NYPD,' de Blasio and Shea were regularly at odds in public, and President Trump threatened to send in federal troops.
Some activists and elected officials say the plan de Blasio and Shea have offered is stale, utilized repeatedly when shootings have spiked in the past and at best a stopgap solution to a perennial issue, relying too much on throwing more police at a problem rather than addressing its systemic roots. On the right, police unions, some elected officials, and others argue that de Blasio and Shea have handcuffed and demoralized officers by acknowledging racism in law enforcement and police brutality and agreeing to a series of reforms. Even prior to those reforms, however, police had begun to make far fewer arrests – as of August 19, arrests were down by 39%, according to a NY1 report, despite an uptick in shootings that started early this year.
Gun violence has fallen dramatically over decades and some cries to the contrary notwithstanding, New York is nowhere close to the "bad old days" when the city was rife with crime. Except for some relatively minor annual fluctuations at times, shootings, murders, and major crime in sum have generally fallen since the early 1990s, reaching historic lows under de Blasio's tenure. Overall, the seven categories of major index crimes are even down slightly in 2020, about 2.6% according to NYPD data, compared to last year, though murders, burglaries and car thefts have jumped.
Shootings -- largely done with illegal handguns despite New York's stringent ownership and carry laws -- tend to spike in the hot summer months and the set of solutions offered by the mayor and his three police commissioners have been similar throughout de Blasio's six-plus years in office. But this has been far from a typical year. As of August 16, according to NYPD data, there had been 896 shooting incidents citywide, an 82.1% increase from 492 in the same time last year. The number of incidents has already surpassed the 772 shootings in all of 2019, which itself was 23 more than in 2018.
There has also been an increase in homicides this year so far, from 199 as of that same period last year up to 259 this year – in 2019, there were 315 murders in total.
Even after being repeatedly pressed on the issue, Mayor de Blasio's plan has been light on details and results, as a month after he announced it, shootings continue apace. He said on NY1's Inside City Hall on Monday that gun arrests began to climb last week, reaching similar levels as the same time last year.
Amid the debate over solutions, some have called for what they say is re-empowering the police through less scrutiny, more street stops, and higher incarceration rates. On the other hand, Black Lives Matter and 'defund the NYPD' activists who have been pushed to offer their own alternatives to the mayor's plan have pointed to demands they've made for years for greater community investments in lieu of police presence.
De Blasio's Approach Met by Criticism
On July 17, after months of increased gun violence and just after the particularly horrifying shooting death of a one-year-old in Brooklyn, the mayor announced his "End Gun Violence" program, which included reliable methods from the past – increasing patrols and deploying more detectives to hot spots; organizing gun buy-backs in those areas; sending more Community Affairs Officers to engage with the neighborhoods; increasing coordination between the police department and Cure Violence groups, which are part of the city's Crisis Management System to prevent gun violence through authentic local voices trained to deescalate; and an "omnipresence" of officers from the Critical Response Group and Strategic Response Group of the NYPD – the SRG is the unit otherwise tasked with responding to terror incidents and civil unrest.
At the announcement, de Blasio emphasized the success the city has had in combining community engagement with targeted policing that the NYPD has employed. "We depend on grassroots efforts to stop violence, like the Cure Violence movement, the Crisis Management System. And we depend crucially on putting our police officers in the right locations with the right approaches and strategies," he said. "And that's what precision policing is all about. That's what CompStat has taught us for years," he added, referring to the NYPD's crime statistics tracking system and departmental accountability paradigm. He's used analogous approaches in the past few years, when there were upticks in shootings in specific neighborhoods, often under the through the Summer All Out banner signifying deployments.
Police Commissioner Shea noted that the recent violence was also largely localized in particular parts of the city. "We are moving all available resources to those areas," he said. "You'll see increased foot patrols, as well as officers in uniform, in marked police cars. We'll also be overlaying that with increased technology, everything from cameras that are mobile to license plate readers and everything in between, and all of this is being done to really focus on that small number of people that frankly just don't get it."
To activists, the city's approach fundamentally misunderstands the factors that underpin crime and gun violence, and skews the balance they would like to see between community-led and police efforts to pursue public safety.
Part of the disagreement stems from what they see as the reason for the increase in shootings and what the mayor, the NYPD, and moderate and conservative elected officials believe.
It's a time of global upheaval, and the coronavirus pandemic has taken the lives of more than 23,600 New Yorkers (of more than 32,000 across the state). It has forced nearly a million people in the city out of their jobs and bankrupted thousands of businesses, shuttered schools and places of recreation, created fears of a looming eviction crisis, and left thousands of city residents struggling for basic necessities. It has left people stuck at home, idle, fearful, desperate, and angry -- in multiple ways increasing the chances for neighborhood, gang, and crew tensions to escalate, some have noted.
The mayor, while primarily pointing to the effects of the pandemic, which has taken an incalculable toll on New Yorkers, has also placed blame on the courts, insisting that with their closure to in-person proceedings and not calling grand juries, the city cannot prosecute suspects in gun violence cases. That rationale has, however, been debunked. Commissioner Shea has broadly attributed the spike in gun violence to the courts but also to the release of prisoners from Rikers Island during the pandemic and on recent bail reforms approved by the state Legislature (which went into effect January 1 but were later partially rolled back for July 1). Those theories similarly are not backed up in a significant way by available evidence. The mayor has refused to contradict Shea and has largely shied away from reprimanding him publicly, despite those and other false, misleading, inflammatory, or undermining statements.
"These are sort of easily proven lies," said Katie Schaffer, director of advocacy and organizing at the Center for Community Alternatives, Inc. "But they're also dangerous lies because they are intended to move forward Commissioner Shea's desire to stymie any kind of liberatory change, de-carceral change, investment in communities rather than in policing and jailing." Schaffer emphasized that the mayor should stop resisting cuts to NYPD resources and instead restore funding to youth programs and social services cut under the recently-passed budget. "The reality is if you lie about the causes, then none of your solutions will make sense and in fact, they will be actively harmful," she said.
Republicans and some conservative Democrats say the police have been demoralized and hamstrung by several police accountability measures implemented in the wake of recent Black Lives Matter protests. They point to Shea's decision to disband the 600-member plain-clothes "anti-crime" units, known for taking guns off the streets in neighborhoods with high crime but, as Shea explained it, also responsible for a disproportionate number of shootings of civilians and disruption of attempts to improve community relations.
"We should immediately reinstate the anti-crime teams," said City Council Member Joe Borelli, a Staten Island Republican, in a text message. "If de Blasio wants to call them something else, so be it, but we need dedicated cops to go after those carrying guns on our streets."
De Blasio and Shea have said that those anti-crime-unit officers, who were reassigned to the neighborhood policing program and the detective bureau, would continue to pursue more targeted policing methods while building more trust in communities. "[T]here's ways to pinpoint the specific individuals who are causing most of the violence and to do that more effectively. I think one of the things the Commissioner came to feel about the 'anti-crime' approach was that it was too broad. It was not providing enough focus on the individuals doing the greatest violence and putting together the information needed for successful prosecutions," the mayor said at a July 21 news conference.
Critics like Borelli also took particular issue with a City Council-led measure that criminalizes the use of chokeholds and other restraint methods by police. That particular law, they say, is one reason police officers have significantly reduced arrests, leading to a spike in shootings. They have called for the law to be repealed or at least reformed to remove a provision that forbids any maneuver that would compress a suspect's diaphragm during an arrest. "You have police officers that are paralyzed because the only person likely to become a felon for making an arrest is the officer themselves," said Eugene O'Donnell, a former NYPD officer and professor at John Jay College of Criminal Justice.
But even as the mayor and other officials have expressed openness to adjusting the law, those critics haven't reconciled the fact that de Blasio only signed that bill into law on July 15. Shootings had begun to increase well before then. They also often don't take into account that the increase in shootings isn't unique to New York City, that other major cities like Philadelphia, Chicago, Oakland, Houston, and Denver, to name a few, have seen a similar rise in gun violence.
What Reformers Want
For reformers, particularly activists of color, conservative critiques and the mayor's response to gun violence amount to reinforcing the adage that if all you have is a hammer, everything looks like a nail. More crime means more police, rather than more investment in say education, affordable housing, anti-poverty initiatives, workforce and economic development, food insecurity, social welfare and community benefits.
"Police are almost by definition a reactionary solution," said Mark Winston Griffith, executive director of the Brooklyn Movement Center and a long-time police reform activist. "Police show up at the scene after someone has already fired their gun....For the most part, when you're talking about shootings, when you're talking about violence between people, that is caused by a whole series of factors that police almost have nothing to do with."
The solutions that the mayor and police commissioner tout are the very things that communities of color are already rebelling against, Griffith said. "If you create a culture of incarceration, which also creates a culture of repression and violence and anger and captivity, then I think that that contributes to shootings," he said.
Activists like Griffith readily concede that there are no simple fixes. But the city's knee-jerk policing response, he said, fails to address the underlying socio-economic factors that create the conditions for increasing violence. "When you talk about putting more police on the street, that does not speak to gun violence, it speaks to control," he said. "It speaks to surveillance. It speaks to punishment and incarceration. It doesn't speak to what leads to someone picking up a gun and deciding that they want to use it on somebody else."
The pandemic has only worsened the desperation in those communities that have historically suffered from government apathy and where mistrust of police was well ingrained well before George Floyd was killed. While de Blasio has repeatedly pointed to the socioeconomic dislocation of the pandemic when discussing the gun violence crisis, he has often been criticized for moving in too-limited fashion to help spur the city's economic revival.
In such a situation that the city finds itself, a social problem shouldn't be met with a police response, said Anthonine Pierre, a spokesperson for Communities United for Police Reform, a coalition of activist groups. "Safety is not just about keeping a gun from being waved in your face. It's about making sure that I don't feel like I have to wave a gun in someone's face to feed my family," she said. "What are we doing to make sure that people don't get to the point where they feel like violence is their only option? I think the answer to that is jobs." Pierre specifically warned of the "storm brewing" as the city could face a second wave of the coronavirus and as the mayor prepares to lay off as many as 22,000 city employees.
Among elected officials of color there are degrees of difference in the response they want to see from the city. There's consensus that violence interrupters and community outreach workers are valuable in preempting shootings, but varying perspectives on other pieces of the equation. These divisions could also be seen in the debate over defunding the NYPD in the new city budget.
Public Advocate Jumaane Williams last month proposed three short-term solutions to gun violence that the city should implement, acknowledging that the NYPD would have to work in close collaboration with community groups to curb the recent increase in shootings. He called for implementing 'Community CompStat' where the NYPD proactively shares crime data with anti-violence groups; pushed for an "Advance Peace" model that would expand the Crisis Management System and provide mentorship and financial incentives to at-risk youth; and urged the NYPD to do its job with "with equity, transparency and accountability" without blaming the recent bail reforms, 'defund' debate, and Council legislation for the rise in shootings.
"Those who believe that law enforcement have no role to play in our public safety discussion are wrong," Willias said. "Those who believe law enforcement is the only role needed in public safety could not be further from reality."
Brooklyn Borough President Eric Adams, a former NYPD officer, has pushed for partially reinstating a version of the 'anti-crime' unit, if not at a citywide level than at least in certain precincts. "I think that a total elimination is something we need to reevaluate," he said at a news conference last month, according to a CBS2 report. "Right now, bad guys are saying if you don't see a blue-and-white [police car] you can do whatever you want." Adams also praised the work of the CMS and has additionally called for the creation of a tri-state task force to directly address the proliferation of illegal handguns.
City Council Member Donovan Richards, who chairs the public safety committee, said, "The solutions lie within the community. That's just the bottom line." He did raise concerns about the increased mistrust among communities of color about police leading to lower morale, and a clear slowdown in police activity. Richards has now floated the possibility of amending the police chokehold law (being called the diaphragm law by critics) in exchange for a return to vigorous policing. But he also said the city failed to be ready for the expected consequences of a massive public health crisis.
With people out of jobs and wondering how they will make rent or buy groceries, Richards said "it becomes survival mode, it becomes Game of Thrones out here, right now in real life."
"So the question is which strategy will the city move towards in the long-term that will prevent something like this happening ever again?," he continued. "And those safeguards have to be in place before a pandemic...These are largely the things communities were screaming for for decades and no one heard them."