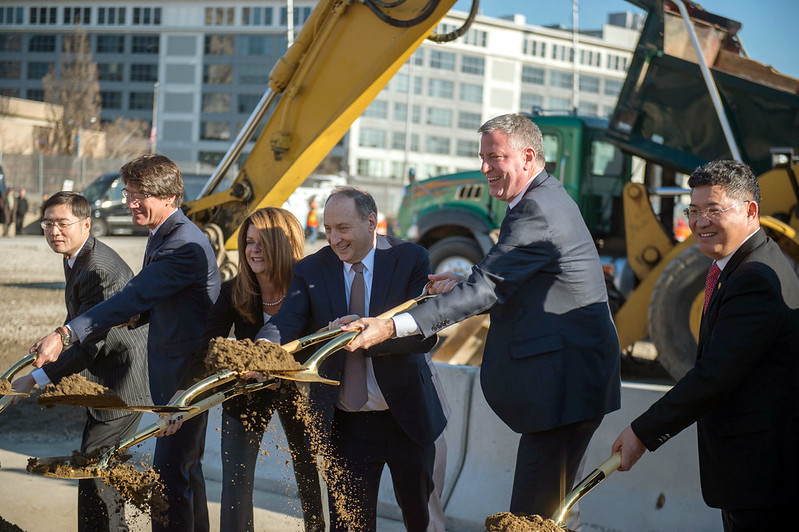 Mayor de Blasio breaks ground on an affordable housing project in Brooklyn (photo: Demetrius Freeman/Mayor's office)
---
New York City's housing stock has failed to keep pace with job growth over the last decade and most newly created housing continues to be attainable only for higher-income residents. A panel of experts examined those trends, presented in a new report released Wednesday, and the policy choices that led to them, and recommended solutions that the city and state should adopt if they hope to mitigate a housing crisis that has been further exacerbated by the coronavirus pandemic.
Between 2010 and 2018, the number of jobs grew by 22% in the city and housing stock increased only 4%, according to the report released by Citizens Budget Commission, a nonprofit fiscal watchdog organization. The city issued fewer permits for new housing units in the last decade than in the 2000s and most of the new growth was concentrated in a few neighborhoods, the report found. The city's per capita rate of issuing building permits was about 25 units for every 1,000 residents in that time, far below other cities, including those that already have high population densities. For instance, Seattle approved 126.9 units per 1,000 residents, Washington D.C. approved 71.2 and San Francisco approved 41. The report also found that housing production rates in suburbs such as Westchester, Rockland, Nassau, and Suffolk were some of the lowest across the U.S.
"New York's low housing production is the product of decades of policy choices made by City and State officials – some deliberate, others unintended – that have slowed the pace of new construction in many neighborhoods," the report stated. Besides outdated construction codes and liability laws specific to New York that increase costs, the report also points to the high cost of land, an inequitable property tax system and state policies that limit density in the city and fail to incentivize the building of housing in the suburbs. The effects have led to large swathes of low-density zoning districts, a shortage of as-of-right development sites, uneven capacity for density, and leftover vacant lots that can be hard to develop.
CBC's report, authored by senior research associate Sean Campion, recommends that New York City create a comprehensive citywide housing plan rather than take a neighborhood-by-neighborhood approach, update zoning codes to encourage more density and fix building codes to reduce the cost of construction. It also urges the state to pass laws that can mandate zoning for growth, reform the property tax system and amend laws that limit affordable housing production.
Following the report's release, CBC hosted a panel of experts who weighed in on the problems with housing in New York, and the findings and recommendations in CBC's report. The panel included Vicki Been, deputy mayor for Housing and Economic Development in the de Blasio administration; Hal Fetner, President & CEO of Fetner Properties; Jessica Katz, executive director of Citizens Housing and Planning Council (CHPC); Jenny Schuetz, a fellow at the Metropolitan Policy Program at Brookings Institution; and Barika Williams, executive director of Association for Neighborhood & Housing Development (ANHD). CBC President Andrew Rein moderated the discussion.
"However you slice it, every single measure of whether or not we have enough housing suggests that we don't," said Been, who took over as deputy mayor last year. Been previously served as commissioner of the Department of Housing Preservation and Development in de Blasio's first term, and played a prominent role in helping create the mayor's Housing New York plan which aims to create and preserve 300,000 units of rent-restricted housing by 2026. That plan has been criticized for largely rezoning low-income communities of color to create more density, while doing little to build deeply affordable housing units.
ANHD's Williams said there's a "mismatch" between housing supply and the city's population, noting that half of New Yorkers fall under the income band of 80% of area median income (AMI), a measure that is used to assess eligibility for affordable housing. New York City's AMI is about $113,700 for a family of four. Households making up to 60% of AMI qualify for low- and extremely-low income housing. "What we really need is supply specifically at the bottom end of the housing market," Williams said, noting that new housing construction that isn't supported by city subsidies is largely aimed at the higher end.
As a housing developer, Fetner said a major obstacle is a lack of understanding among city and state legislators about building affordable housing. "They don't understand how it works. They don't understand the math behind affordable housing," he said, insisting that developers cannot afford to build fully affordable housing without subsidies. He also lamented the lengthy approval process for new developments and how they can be derailed even as they approach the finish line after years in the works. And he urged the state to ease regulations such as the Scaffold law, which mandates strict liability for construction insurance and increases the cost of development by as much as 7%, and the cap on Floor Area Ratio (FAR) which limits the height of buildings in certain neighborhoods.
CHCP's Katz sought to emphasize how the prevalence of overcrowded housing has been particularly detrimental during this pandemic, contributing to the spread of the virus. "In the housing business, we're fond of saying housing is health care...We kind of use it as a catchphrase, but now I think it's really viscerally hit home for people how really true that is," she said, noting that the city does not have specific policies to target overcrowded households.
Schuetz from Brookings Institution said that the government needs to use its powers where possible to reduce the "hard" and "soft" costs of building housing. Though officials can do little about "hard costs" such as the dearth of land that can be developed or the cost of steel and concrete, she said they could improve onerous building codes. The "soft costs" she pointed to included the process for borrowing funds, designing buildings and engaging with communities to get their input on developments. "So the soft costs of the process are in some ways, where the government levers are most powerful," she said. "Making the process shorter and simpler and more transparent will save money to the developer which translates into lower cost to consumers of the final product."
The panellists seemed to agree that the city requires a comprehensive housing plan to combine the numerous aspects of affordable housing policy pursued by the city. As CBC's Campion pointed out in a presentation prior to the panel discussion, "We have a lot of plans. We have a fair housing plan, an affordable housing plan, a public housing plan, a homeless plan, a sustainability plan, and we have a strategic plan, but nothing that brings them all together."
Williams said the lack of a comprehensive plan leads to "siloed conversations" about affordable housing development, and urged the adoption of a plan that looks at the "totality of how people are accessing and being housed in New York City." Any plan, she said, should also take note of neighborhood differences to analyze how housing is distributed and to ensure it occurs equitably.
Katz said that a comprehensive plan should include a focus on public housing, homelessness and reducing regulations so middle-income housing can be built without requiring deep government subsidies. But she also noted that allowing neighborhoods to play a strong role in development can allow NIMBYism to hamper the city's plans. "The challenge with creating a comprehensive strategy is creating an even more uneven ability for neighborhoods to kind of self-determine their way out of any responsibility for new housing," she said.
Having faced off against NIMBYism as part of the de Blasio administration, Been acknowledged that the balance between a comprehensive plan and neighborhoods interests may be near impossible. "I think that there is a possibility of a grand bargain, but I think it would be exceptionally difficult," she said.
"Part of the issue is, how do we keep a plan from becoming a veto point?" Been said, noting that opponents to neighborhood rezoning efforts could use a potential comprehensive plan as a roadblock. Already, she said, the city has faced repeated legal challenges in trying to build housing and more density. She pointed to the Inwood neighborhood rezoning, which was approved by the City Council in 2018 but was held up for two years after a neighborhood group filed an unsuccessful lawsuit against the city.
A better approach would be to reduce construction costs, she said. "We can plan till the cows come home for lower income housing. Until we lower the costs of building, we're not going to get that."
Though several of the panellists said that the city could reduce costs for developers by streamline the planning and development process, Williams took issue with how that could affect low-income communities of color that typically have less political leverage in determining housing policy than richer, whiter neighborhoods.
Schuetz echoed Williams. "This discretionary process was intended to benefit neighborhoods that didn't have political power," Schuetz said. "What's happened is it's been co-opted by wealthy neighborhoods that already have political power that have basically shut down development." She pointed to neighborhoods like the Upper East Side and Greenwich Village where prices and demand are high but that have the least amount of housing.
Fetner and Katz, however, said that the city needs to create more predictability for developers who want to build affordable housing, particularly as the city recovers from the pandemic. "In the last several disasters, affordable housing construction has been the economic driver that has gotten us out of the hole," Katz said, noting that it has a multiplier effect on jobs and commerce and is one of the few economic activities that the government can boost on its own. "If we've reached a tipping point where the uncertainty of the circumstances and the process is so bad that we're not going to be able to use the economic development of affordable housing to get us out of this, then we're in real trouble," she said.