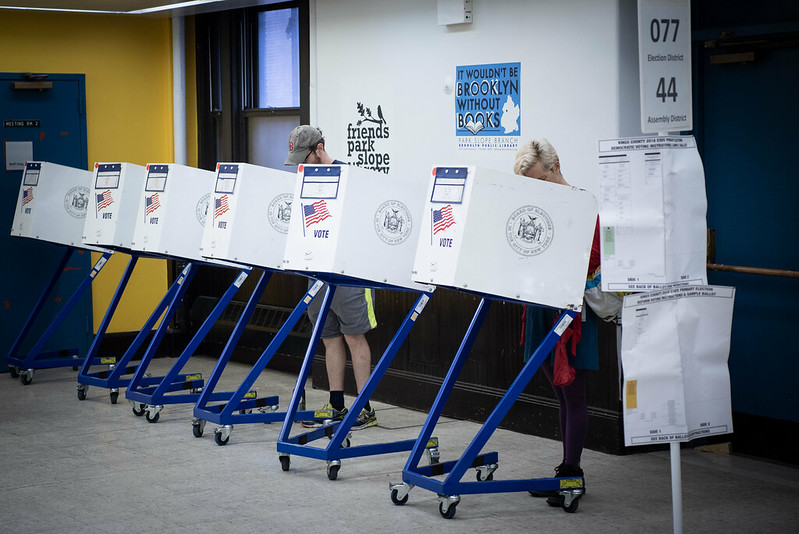 Ranked-choice voting will be implemented for the first time next year (Michael Appleton/Mayor's office)
---
The New York State Board of Elections is continuing the process of certifying new voting machines sought by New York City elections administrators to improve the city's early voting system. But, while those machines could help the city take a step toward county-wide early voting centers – which many early voting supporters are pushing for – voting reform advocates say they may not be viable for ranked-choice voting, which will be implemented for the first time in the city next year.
Ranked-choice voting, also known as instant-runoff voting, lets a voter rank up to five candidates by preference, so that if no candidate wins a majority of votes, the last-place candidate's ballots are redistributed based on their voters' second choices, a process repeated until a winner emerges with 50% of the vote. RCV, which will only be in effect for special elections and party primary elections (not general elections) for New York City government positions, helps avoid costly and labor-intensive runoffs, which often see exceedinly low voter turnout. New Yorkers approved the change by ballot referendum last year to go into effect in 2021, when several City Council special elections as early as February could be the first RCV contests.
A document obtained by Gotham Gazette indicates the New York City Board of Elections believes its current voting machines will work for RCV in 2021, and is taking the necessary steps to upgrade their software. However, one leader of the State Board of Elections, which has to approve technology used by local boards, says no attempt to certify new software has been made.
In a report sent to Mayor Bill de Blasio and City Council on July 1, the BOE said that as early as June 2019, the board's voting machine vendor, Election Systems & Software, confirmed that "the current hardware and firmware utilized to conduct elections in the City of New York and as certified by the New York State Board of Elections 'has the ability to layout a ballot that will accommodate RCV.'" New York City's current machines, the DS200 optical scanners, are designed to receive a handmarked paper ballot, while the new machines, Express Vote XL, are combined voting-and-tabulation machines that use a touch screen and have greater memory to store multiple ballot designs.
The BOE's executive director, Michael Ryan, came under criticism in 2018 for his affiliation with ES&S, particularly his undisclosed participation in an advisory board of the company, which paid for Ryan to take trips to conferences around the United States. Ryan has denied any conflicts of interest with ES&S and stepped down from the advisory board after it was first reported by NY1.
In March 2019, in a letter to the State BOE, reported again by NY1, Ryan asked to be able to use the new Express Vote XL machine from ES&S before it had been certified for use, but the request was denied. Ryan said the new machine, with its great memory capacity, could store more ballot styles and thus accommodate voters from a wider swath of election districts – a necessary hurdle to overcome if the city is going to set up county-wide early voting centers sought by advocates.
When it looked like the Express Vote XL was nearing certification by the State Board in January, good government groups and elected officials raised alarms about its history of inaccuracy, including an election in Pennsylvania where the machines failed to count 26,000 votes. Critics said the machines would also be costly and could damage confidence in the new RCV system during its first year if they failed.
"The ExpressVote XL has never been used in a Ranked Choice Voting election," read a January letter from good government group Common Cause NY and current and former public officials, including Public Advocate Jumaane Williams and former CCRB Chair and Counsel to Mayor de Blasio, Maya Wiley, who is exploring a run for mayor in 2021. "The largest New York City election cycle in recent history, with wide open races for Mayor, Comptroller, four Borough Presidents, and 35 City Council seats, is no place for a trial run with a machine that has failed in other jurisdictions."
A spokesperson for ES&S said the Express Vote XL is compatible with RCV without a software upgrade and has a good track record.
With the latest confirmation that the current machines can work with a software update, advocates are enjoying a moment of relief. "This is what we have said all along that New York City has the voting machines it needs to implement ranked-choice voting in 2021, which is great news," Common Cause's deputy director, Sarah Goff, told Gotham Gazette. "That means that there will be no additional costs to the taxpayer in this regard."
The city BOE can get the required tabulation software upgrade from ES&S or through the Ranked Choice Voting Resource Center, she said ("Both are great options"), "and that is the only infrastructure upgrade that we'll need to scan, count, and tabulate votes in New York City."
The RCV report states that the city BOE will use vendor-provided software and "has communicated with the State Board for a determination whether State Board vendor approval and/or certification of software is required." But Douglas Kellner, the Democratic co-chair of the State Board, denied his agency had received any such communication. "If the DS200 requires a software update that requires certification and as far as I know that software update has not been submitted to the state board for certification or for a determination that it's not subject to certification," Kellner said by phone, referring to the current machines used by the city board.
The New York City Board of Elections did not respond to a request for comment for this story.
While acknowledging the immense challenge of administering elections during a pandemic, advocates looking ahead to ranked-choice voting in 2021 are worried that the city BOE is not moving quickly or deliberately enough to have the new format in place and ready for voters.
Meanwhile, the Express Vote XL certification process is still ongoing. "There have been some issues that arose during the testing process and we're still at least a couple of months away from a final certification report, assuming that there are no new issues," Kellner said.
At a certain point, the city may need to adopt new, larger machines if it is going to allow county-wide polling centers, which many of the same RCV advocates have been pushing for. But that does not need to happen all at once, especially before the RCV roll-out and while the current machines still work, advocates say.
"The DS200s, I believe have a shelf life of ten to fifteen years," Goff said, which she said was a few years away. "So some kind of new voting machine would need to happen."
"We've obviously taken the public position that it should definitely not be the ExpressVote XL," she added, "but that is a decision that will have to be made in the next few years."
Kellner said the city board can be "overly reliant on ES&S on how to address the problem."
"It is very easy to become dependent upon a vendor for solutions to issues that really should be addressed in-house, because it's easier," he said. "It's easier to just pick up the phone and say, 'Can you guys do it for us and we'll pay you for it?"