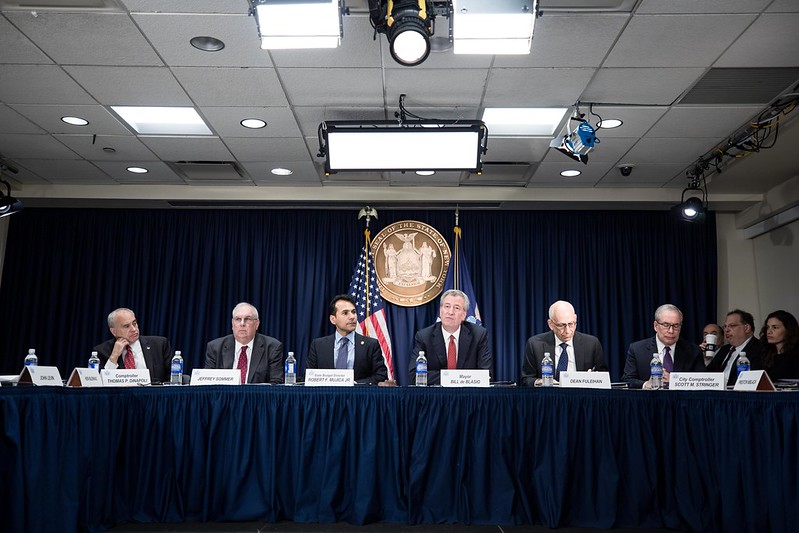 The Financial Control Board meets (photo: Benjamin Kanter/Mayor's Office)
---
Mayor Bill de Blasio has until the end of September to present a state fiscal oversight body with a plan to find $1 billion in savings that will help balance the city budget for the current fiscal year. In lieu of a federal aid package to help replace lost tax revenue due to the coronavirus pandemic, the mayor and labor union leaders are pushing the Legislature and Governor Cuomo to allow the city to borrow billions of dollars to cover operating expenses, a proposal that many city and state leaders have generally balked at but might soon be seen as necessary if the city wants to avoid thousands of municipal layoffs.
Both City Comptroller Scott Stringer and City Council Corey Johnson initially opposed a borrowing plan but have warmed up to it in recent weeks. State Comptroller Tom DiNapoli has pointed out that the de Blasio administration has yet to lay out a detailed plan that takes into account uncertainties, particularly about future revenue. Legislative leaders have similarly demurred on giving their approval, while Cuomo has expressed opposition to the idea.
The approval of the $88.2 billion city budget for the 2021 fiscal year, which began July 1, was predicated on the mayor's promise that he would negotiate with labor unions to find $1 billion in recurring savings going forward or be forced to resort to mass layoffs. By October 1, the mayor has to present that savings plan to the state Financial Control Board (FCB), which monitors the city's fiscal practices.
Short of identifying those savings, and without federal stimulus funds, the mayor has warned that the city will be forced to lay off roughly 22,000 municipal employees. Preparations for those layoffs began last month and, on Monday, the city was meant to send out 30-day layoff notices to workers. But the mayor said he would delay that process as discussions with union representatives continued and as labor unions sought to convince state leaders about the borrowing plan. "What our labor partners asked for is time to bring back the Legislature, to talk to the Legislative leaders and members and ask them to come back on an urgent basis," de Blasio said. "I've said we will work with them on that, but it's going to be a day to day basis."
Even as he held out some hope for federal help, the mayor has for months pursued long-term borrowing permission from Albany, which he now argues is essential to overcoming the city's fiscal woes. Since May, he has been asking the Legislature to authorize borrowing to pay for the city's operating expenses. His latest plan is to borrow $5 billion, to be paid off over 30 years. The mayor has expressed confidence that the city's tax revenues, including personal income tax, will rebound as the city recovers and will be able to accommodate the added debt. He specifically said that he expects property taxes, which are an important base of revenue, to remain strong.
According to a spokesperson for the Mayor's Office of Management and Budget, the city would add about $70 million in annual debt payments for every $1.5 billion borrowed. For the current fiscal year, the city's debt payments amount to $7.4 billion, and will increase to $8 billion for the next fiscal year. Paid through the annual operating budget, the debt service payments are virtually all for capital expenses.
The $5 billion would not only cover the labor savings for this year but also nearly the entire expected $4.2 billion budget gap for the next fiscal year. In order to come within the $1 billion of closing this year's gap, de Blasio dipped significantly into the city's reserves, using $4 billion of roughly $6 billion the city had set aside.
At his daily news briefing on Thursday, de Blasio reiterated the call for borrowing, warning that the city also faced the prospect of budget cuts from the state, which has its own $13.3 billion fiscal gap to worry about. That includes $8.2 billion in state aid to localities for education and healthcare, among other things.
"[O]ur central concern, of course, is where is the federal government with the stimulus? Well, nothing yet. Where is the state government with long-term borrowing? Nothing yet," de Blasio said. "In fact, there's a threat of cuts from the state government that will cause us to have to cut even more New York City personnel...Let's get to the work of figuring out what is healthy and safe for New Yorkers. And then let's get to the work of giving us the resources to actually protect people. And what Albany needs to do is give us that long-term borrowing authority."
The city has lacked the power to unilaterally borrow funds for operating expenses since the state passed the Financial Emergency Act in 1975, when the city overleveraged itself to the brink of bankruptcy, in part by borrowing for operating expenses. That legislation, which also created the Financial Control Board, was meant to rein in the city's shoddy fiscal management and ensure that the budget was balanced each year. The city could only plan to spend as much as it expected to receive in revenue. Borrowing authority was last granted to the city after 9/11, when the city was given permission to borrow as much as $2.5 billion, though it did not avail of the full amount.
The lessons of the 1970s, however, haven't faded, which is why Cuomo, the state Legislature, and fiscal watchdogs have all been reluctant to support the mayor's recent borrowing proposition.
Cuomo's office did not respond to a request for comment for this article, but in May he said it was a "fiscally questionable" notion. On June 29, the governor again made it clear that he has misgivings about the proposal. "What is the loan? How do you pay it back? What is fiscally responsible?" he said. "Borrowing in of itself is not a great thing, but it's not a bad thing. The question is how much? How are you going to repay it? What do you think is going to happen with the economy?" As governor, Cuomo chairs the Financial Control Board and has recently taken more of an interest in its workings. As NY1 reported in July, Cuomo nominated three close associates to the board – former Secretary to the Governor Steve Cohen, former City Comptroller Bill Thompson, and sitting Secretary of State Rossana Rosado – who were all confirmed. The board's other three members are de Blasio, DiNapoli, and Stringer.
Assembly Speaker Carl Heastie has expressed support for giving the city borrowing authority, according to a NY1 report. Senate Majority Leader Andrea Stewart-Cousins, on the other hand, has been circumspect to approve the city's borrowing proposal, but has also not ruled it out entirely.
"As we have said from the beginning we are willing to work with New York City to identify the best course forward without hurting working men and women and at the same time pursuing a fiscally responsible course," said Mike Murphy, communications director for the Senate majority, in a statement to Gotham Gazette.
In a June 27 statement, Stewart-Cousins had also said the Senate was "open" to allowing limited borrowing authority, but stressed the need for more detail from de Blasio. "Prudence requires the development of a plan not rushed through before action is actually necessary, especially when the possibility of additional federal aid remains unresolved," she said at the time, noting that there were still several months until layoffs were on the table.
Spokespeople for Heastie did not respond to a request for comment for this article.
DiNapoli has significant reservations about the city being granted borrowing authority. "There are too many unanswered questions right now to say if borrowing would be prudent," he said in a statement. "Those unanswered questions include whether this year's balanced budget will hold, whether there will be additional federal aid, whether economic progress will ease budget gaps in the out-years or whether the risks I and others have identified will make the situation more difficult. We certainly know that in the long-term, borrowing your way out of a problem, and committing future budgets and burdening future taxpayers, is not the best solution if it can be avoided."
Stringer, who had previously warned against the amount of total debt the city could take on if it borrowed in the billions, recently seemed warmer to the idea. But he nevertheless emphasized that it would have to be approved with strict controls and an airtight spending plan, which, if it exists, the mayor has not presented publicly and his office did not provide to Gotham Gazette despite a request.
"We are in an unprecedented economic crisis, and so far the federal government has walked away from its responsibility to provide the relief we need," Stringer said in a Thursday statement to Gotham Gazette. "The mayor needs to stop threatening to fire frontline workers and propose a transparent, comprehensive financial plan with borrowing as one component to balance our budget and protect workers while preventing irremediable damage to the economic and social fabric of our City. The mayor doesn't get a blank check."
De Blasio has said that he does not want carte blanche to spend all $5 billion and that the long period of repayment will impose a manageable burden on future budgets. "We do not want to use that authority if we don't have to," he said Thursday. "For example, if a [federal] stimulus was passed and made us whole, we wouldn't borrow at all. If we only needed to use a small amount of the borrowing, we would use a small amount. But when you're talking about repayment on a 30-year basis, the debt service is quite modest. It does not change the fundamental reality of the budget."
Fiscal watchdogs have argued that the city need not borrow funds nor implement layoffs to close the $1 billion budget gap. The Citizens Budget Commission, a nonprofit group, released a report on Wednesday that recommended a series of steps including reducing the costs of employee benefits (particularly health care spending) and implementing broader productivity reforms.
There are also several bills before the state Legislature that would increase taxes on the wealthy to raise more revenue, but they have been resoundingly rejected by the governor who has warned that it may drive high-income residents out of the state. Surprisingly, de Blasio has shared a similar sentiment despite his long-standing support for such taxes. The Democratic majorities in the two legislative houses have been in talks aimed at deciding which revenue-raising measures to pursue.
City Council Speaker Johnson has also recently shifted his opposition to long-term borrowing and has said the Council will discuss and vote on a resolution, sponsored by Council Member Helen Rosenthal and introduced on August 27, calling on the state Legislature to approve it. "Layoffs should be a last resort," Johnson said in a Thursday statement to Gotham Gazette. "The State should give the City borrowing authority to avoid layoffs. That does not mean the City should not look for savings where it can."
"I think that New York City deserves the authority to borrow funds to meet our immediate needs given the impact of COVID-19 on our revenue," Johnson said at an August 27 virtual news conference. "When we do borrow, it needs to be responsibly to avoid the absolute worst options becoming our only options like a significant number of layoffs for workers and families at the height of a dire economic recession."
The Council hearing on the resolution will be on September 21, and it may be voted on in committee and, if it passes there, by the full Council later that week.
Brooklyn Borough President Eric Adams, also a Democrat and likely mayoral candidate like Stringer and Johnson, told Gotham Gazette he too beleives the city should be granted borrowing authority, but he also offered caveats and criticism. "Because the City has waited to find necessary cost savings, Washington is failing New York, and we must not balance our budget on the backs of Black and Brown New Yorkers, I believe some borrowing may now be necessary to avoid even deeper inequality," Adams said in a Friday statement. "However, the City must also explain its plan to pay the debt and find a dollar in savings for every dollar borrowed. I believe we can identify these savings without laying off City workers or cutting vital services on which lower-income New Yorkers depend. We also must consider temporary revenue raisers like an ultra-millionaires tax and a fairer property tax system."
Public Advocate Jumaane Williams has also lent his support to long-term borrowing, stressing that it would help prevent cuts to crucial services for New Yorkers. "This is a fiscally-sound and clearly-necessary strategy to meet the current economic crisis without further irreparable damage to vital programs and the New Yorkers who rely on them," he wrote in a June 28 op-ed for Gotham Gazette, just prior to the passage of the city budget. "Borrowing is not a radical idea. Unlike short-term borrowing, it is not an imprudent proposal. In past crises, we have taken on long-term debt and been able to move forward and build a strong recovery. I believe we must do so again, and fear if we do not, that recovery will not come."
Note: this story has been updated with comment from Eric Adams and info on the hearing on the City Council resolution, and then updated with a new date for the Council hearing on the resolution.