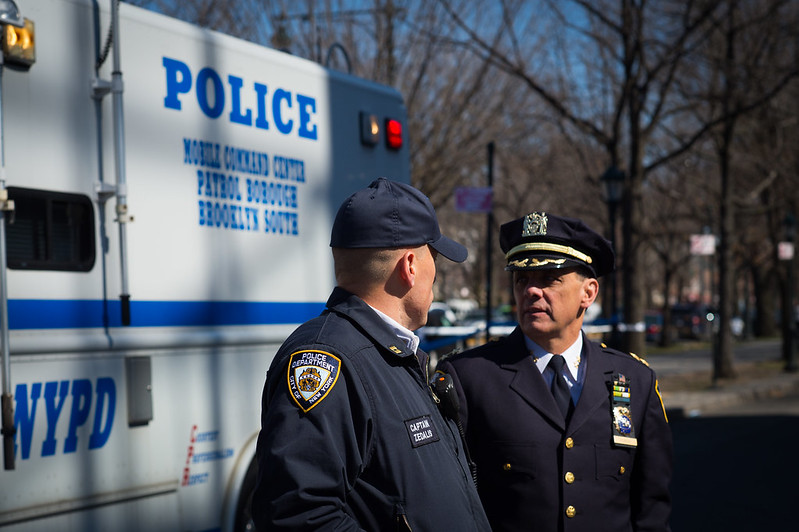 NYPD officers; the department remains under multiple investigations (photo: Edwin J. Torres/Mayor's Office)
---
The New York City Department of Investigation (DOI) and Law Department have missed the August 31 benchmark set by Mayor Bill de Blasio to submit a final report in their joint investigation into the NYPD's response to summer protests that broke out in the aftermath of the killing of George Floyd by Minneapolis police.
Officers' frequently violent engagement with demonstrators marching against police racism and brutality led to hundreds of allegations of police misconduct and excessive force, and numerous city and state investigations, none of which have made final determinations.
In the days after Floyd's killing on May 25, peaceful marchers were corralled, beaten with batons, and arrested by NYPD officers; pepper spray was commonly used, even on nonviolent crowds; officers drove their vehicles into protesters and used helicopters to whip-up debris around them; many officers covered their badge numbers; and many didn't wear masks, against city and state guidelines, in the midst of the first widespread public gatherings of the pandemic.
The demonstrations were accompanied by destruction on the part of some protesters and others who appeared to take advantage of the moment of chaos, with police cars smashed and burned and sprees of looting. Meanwhile, persistent questions were raised about the degree of systemic police aggression. De Blasio and Police Commissioner Dermot Shea frequently discussed violence perpetrated upon NYPD officers while also offering unproven allegations of the dangerous presence of "outside agitators" and plots to harm police. They largely dismissed clear evidence of repeated incidents of unprovoked use of force by police, though in a few instances both condemned specific officers' actions.
After two days of unrest in New York City, Governor Andrew Cuomo asked Attorney General Letitia James to investigate the NYPD's response. The same day, de Blasio said the city would conduct its own "independent review" of police-civilian interactions and the next day, May 31, he announced Department of Investigation Commissioner Margaret Garnett and Corporation Counsel Jim Johnson would lead the investigation. The NYPD is conducting its own misconduct investigations through its Internal Affairs Bureau, as well as a broader analysis by the department's operations unit and top leadership, including Shea and Chief of Department Terence Monahan. Separately, complaints from the public have initiated hundreds of investigations by the Civilian Complaint Review Board.
"The whole idea of having an independent review is to look at all the video and determine discipline for anyone who needs it, actions that should be taken additionally towards those who incited violence amongst the protesters, and any changes we need in our approach to policing," de Blasio told reporters when he announced the investigation.
"The first results will come back in June and we'll take action immediately on the initial findings," the mayor said.
On June 20, he signed an executive order outlining the scope of the investigation, in which he directed the two entities to assess the NYPD's "planning and response to the protests" and make factual findings about the events. The order also directs the Corporation Counsel to conduct a separate review of "the factors that may have impacted the events at protests" during the period under review from the first demonstrations on May 28 to the date of the order. (Members of the Office of the Inspector General of the NYPD, which is housed within DOI, are part of the team conducting the investigation, according to a DOI spokesperson.)
The order calls for a status report and for the agencies to "make best efforts to produce a final report on August 31, 2020."
But protests continued for weeks and in a June 24 letter to the mayor and other elected officials Garnett said the timeline was too short to analyze a period over 20 days long. Other investigations, either by the NYPD's Internal Affairs Bureau or by District Attorneys, also hampered the review, she wrote. "If there is to be individual accountability for officers involved in specific incidents, the disciplinary process and criminal investigations must be given precedence," Garnett wrote.
On September 1, DOI spokesperson Diane Struzzi told Gotham Gazette the investigation was still in progress.
"As we indicated in our June statement, the investigation is active and ongoing and DOI would endeavor to meet an August 31, 2020 deadline requested by the Mayor's Executive Order, but that the timing of the report, or series of reports, would be determined by the fact-finding process and the status of parallel proceedings," she wrote. "That has not changed."
"As we indicated in our June statement, until the completion of this investigation, DOI will not comment publicly on the investigation's status, or provide updates to City or elected officials on our findings, unless unforeseen circumstances arise that warrant a further update," Struzzi added.
"This is vital work. We are committed to getting it right," wrote a Law Department spokesperson in an email.
The mayor's office did not provide a comment on the missed deadline.
De Blasio and Shea have also said there needs to be discipline for officers who committed specific transgressions during the protests.
"I want to see real action quickly on individual cases of discipline that need to be addressed," de Blasio said on May 31, the same day he announced the Law Department-DOI review. "I want to see real action on any officer who should not be in the police force, real action on any officer who needs to be transferred from one command to another because of performance and approach. These can all happen immediately and they will."
The NYPD did not respond to Gotham Gazette inquiries about its internal review of misconduct during the protests. At least two officers have been suspended without pay and one supervisor transferred to another precinct, according to Shea in June. One of the suspended officers has also been criminally charged with assault after he shoved a demonstrator into the curb in a particularly high-profile incident, which was caught on video and went viral on social media. His supervisor, who was present at the scene of the crime, was transferred for failing to take action. Another officer, who was caught on film pulling the mask off a protester to pepper spray them at close range while their hands were up, was suspended without pay.
The Civilian Complaint Review Board, a city entity with board members appointed largely by the mayor and tasked with investigating certain allegations of police misconduct, received over 750 complaints stemming from 250 separate incidents during the protests, a spokesperson said. According to initial figures provided by the CCRB, roughly one-third of those complaints are for inappropriate use of force, and one in five are claims that officers abused their authority.
"I strongly believe what New Yorkers saw during the protests in support of Black lives warrants fact-based, independent, civilian-led investigations into allegations of individual misconduct," wrote CCRB Chair Fred Davie in a statement to Gotham Gazette. "The CCRB is undertaking these investigations, and will be making disciplinary recommendations in the near future."
The CCRB has the power to make recommendations for discipline when it substantiates misconduct claims, but the police commissioner retains ultimate decision-making powers about punishment.
The CCRB spokesperson told Gotham Gazette that information on final determinations, if there are any, are not available at this time.
In addition to the incident where a protester was violently shoved by an officer, district attorneys have launched several criminal investigations into other police actions.
At the state level, Attorney General James is performing a parallel investigation into NYPD behavior during the protests at the request of Governor Cuomo. The directive, issued on May 30, after two nights of demonstrations, called for the attorney general to issue a public report within 30 days.
That investigation is still ongoing, according to a spokesperson for James. In June, she held multiple day-long hearings to solicit testimony from New Yorkers who protested, some of whom testified to police brutality, as well as Shea. The police commissioner testified that officers exercised "extreme discretion" when dealing with protesters and that many of the aggressive tactics witnessed were in response to dangerous situations created by protesters. He said he had not heard of "kettling" -- a strategic maneuver in which lines of officers cordon and charge a barricaded crowd -- which was common throughout the first week of protests.
On July 8, James held a press conference announcing a preliminary report, in which she made a series of recommendations for police reform. But James prompted confusion and criticism for not making any material determinations about the behavior of police during the protests.
"I don't know if we were tasked with the ability to judge the police," James told reporters. "We were tasked with the responsibility of looking at the interactions between police and protesters during a certain period of time."
"While OAG's investigation into NYPD's response to the protests remains ongoing, it is clear that real, meaningful reform cannot wait," reads a statement accompanying the report. The recommendations range from major changes to NYPD structure to more frequently sounded calls.
At the top of the list is the creation of a commission to oversee the police department with the power to hire and fire the commissioner. The preliminary report also suggests the CCRB and Office of Inspector General of the NYPD (which is within DOI) both be strengthened and certain public-response duties be moved away from the NYPD. James also wanted to see codified use of force standards "with real legal consequences for violations" (per legislation passed by the City Council and signed by the mayor, the city published a "disciplinary matrix" on Monday, with a mandatory range of punishments for certain officer misconduct).
James' final report will include an assessment of police use of force and kettling tactics, arrest practices (including the use of "extremely tight zip-tie" handcuffs), and the treatment of members of the press, legal observers, and essential workers, according to a statement from her office.
In terms of passing judgement on the NYPD's actions, James demurred.
"Well I do know that the testimony of Police Commissioner Shea was at odds with the vast majority of the protesters who came before us," she told reporters at a July press briefing. "And so what we are trying to do is continue to examine the testimony."
"Other protesters have come forward and submitted additional evidence," she added, "and we are still in the process of examining all of the evidence before us."