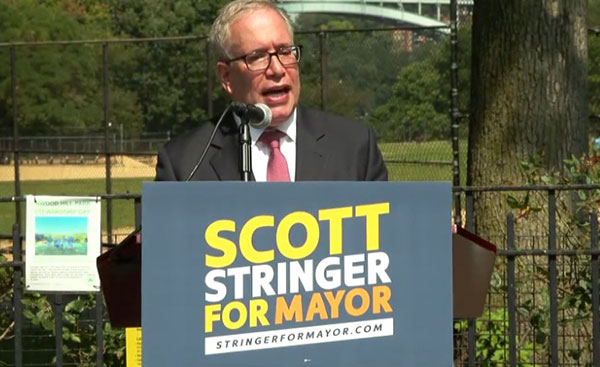 Scott Stringer launches his 2021 mayoral campaign
---
Comptroller Scott Stringer, a term-limited Democrat, officially launched his campaign to run for mayor on Tuesday, seeking to replace outgoing Mayor Bill de Blasio in what is expected to be a hard-fought contest that has drawn more than a dozen exploring or declared candidates so far.
Stringer, a Manhattanite serving his second term as the city's top fiscal officer, pledged to "bring leadership back to City Hall" and centered his campaign pitch on fighting inequality, much like de Blasio had done when he won his first term in 2013. But Stringer presented himself as a contrast to the two-term mayor, taking direct aim at de Blasio's failings and what Stringer depicted as his inability to make good on his promise to create a more equitable city.
"We never closed the book on the tale of two cities," Stringer said, evoking the message that got de Blasio elected. "If anything over the last eight years, we've written more chapters."
Speaking near Inwood Hill Park in Upper Manhattan, close to his childhood home, Stringer addressed long-standing and new crises assailing the city and its most vulnerable communities, borne of the decisions of successive administrations and dramatically worsened by the coronavirus pandemic. He noted that that the neighborhood he stood in and grew up in was among the hardest hit by COVID-19 and is also home to many of the New Yorkers of color who have been considered essential workers throughout the pandemic.
Accompanied by his wife, Elyse Buxbaum, and two young children, and surrounded by a diverse group of state legislators from four boroughs announcing their endorsements of his mayoral bid, Stringer went through a variety of key issues during his remarks, centering affordability, especially affordable housing, child care, racial justice, climate resiliency, and more.
At the same time, he spoke in deeply personal terms of how it has affected him and his family, including the death of his mother from the virus. "It's because we love the city, that we must acknowledge that we have a public health crisis, an economic crisis, and a social justice crisis raging all at once," he said, "and I believe we can overcome them all."
The Democratic mayoral primary, which will be held in June 2021, will likely decide who becomes the next mayor because of the party's overwhelming seven-to-one voter enrollment advantage over Republicans (there are more party-unaffiliated registered voters than Republicans in the city). It will also be the first citywide primary that employs ranked-choice voting, requiring candidates to appeal to a broader swathe of voters than they may otherwise.
Besides Stringer, several candidates have declared or are exploring a mayoral bid including Brooklyn Borough President Eric Adams, City Council Speaker Corey Johnson, former Counsel to the Mayor Maya Wiley, former Obama and Bloomberg commissioner Shaun Donovan, former Commissioner of the City Department of Veterans Services Loree Sutton, former Sanitation Commissioner Kathryn Garcia, former nonprofit executive Dianne Morales, and others.
Stringer made a long list of promises to tackle the many problems that de Blasio too had sought to fix but on which the mayor has shown insufficient progress, sure to make him a punching bag throughout the race. Repeatedly contrasting himself with a mayor seen as aloof and ineffective, Stringer vowed to "manage the hell out of this city."
He said he would fill the city's expected $4.2 billion budget gap for the next fiscal year by cutting wasteful agency spending, curtailing outside contracts, and measuring spending by performance. He also said he would push for increasing taxes on the wealthy, a step that would require state legislative action and that stymied de Blasio for years. Stringer touted his plan for rebuilding the city's economy, which has been decimated by the pandemic, and investing in small businesses, and businesses run by women, people of color, and immigrants.
Taking aim at the mayor's housing plan, which critics say has failed to build sufficient amounts of low-income housing while encouraging real estate speculation, Stringer referred to his own plan in promising a stronger approach. He reiterated his legally-dubious proposal for "universal affordable housing" that would mandate 25% of units in any new development be made permanently affordable. He also said he would triple new affordable housing for homeless families and create the city's first land bank.
"When I'm mayor, we're going to end the crushing cycle of speculation, eviction, and displacement," he said. "No more giving away the store to developers. No more unaffordable 'affordable housing.' We will put an end to the gentrification industrial complex, and end policies that perpetuate a cycle of segregation in our neighborhoods."
How Stringer would ensure new housing is built or that neighborhoods become more integrated remain open questions. As he did again on Tuesday, he has repeatedly railed against the neighborhood rezonings de Blasio has ushered through, all in low-income communities of color, to add more housing density, including rent-capped units, but he did not offer a vision for areas of the city he believes should see significantly more housing development.
Referencing others among the many policy plans he's offered as comptroller, Stringer vowed to triple the number of children receiving city-funded childcare and a "full-court press" on climate change, in part through resiliency projects and forbidding fossil fuel infrastructure. He also pledged to take on school segregation, but did not say how.
Some of Stringer's harshest criticism for de Blasio came on the mayor's approach to police brutality and accountability. De Blasio came into office promising to hold the NYPD to account but has since disappointed his supporters and others by regularly capitulating to the police department, taking a conservative approach to transparency, and making mostly modest reforms around accountability. Stringer pointed to the recent mass protests sparked by the police killings of George Floyd and Breonna Taylor, and the NYPD's often violent response against protesters. "The mayor and the police commissioner repeatedly excused the inexcusable, defended the indefensible, and failed to take responsibility for violence against New Yorkers. That ends the day I'm sworn in as mayor," he said. "As mayor, I'm going to say to the NYPD what Bill de Blasio has not. 'You work for the people of the city and you're not an independent agency. You work for us.'"
Stringer added that he would make sure the NYPD knows it is not an independent agency and that its officers, whom he offered some praise, work for the people.
Stringer also made assurances that his administration would be more transparent, with a less-than-oblique reference to Mayor de Blasio's ill-fated attempt to shield his communications with several outside advisers that his administration termed 'agents of the city' when blocking Freedom of Information requests a move later overturned in court when NY1 and the New York Post sued for access.
"There will be no 'agents of the city' in a Stringer administration," he said, in a jab that could also double as critique of Wiley, who came up with that tenuous legal formulation when she was the mayor's counsel.
Stringer's mayoral campaign is a culmination of years of preparation. A career elected offiicial, he first won office in 1992, securing a state Assembly seat. He became Manhattan Borough President from 2006 through 2013, and he briefly ran for mayor in 2012 before dropping down to the comptroller's race, where he cleared the Democratic field until former Governor Eliot Spitzer decided to run. Stringer impressed many in the political world, as well as voters, in the campaign against the far-better known though scandal-plagued Spitzer, in part by calling on long-standing connections within the Democratic establishment and labor unions, especially his close ties with the teachers union, the United Federation of Teachers. He also had the support of the Working Families Party and major local newspaper editorial boards, among others, and exceeded expectations in their debates.
In 2017, Stringer again eyed a mayoral run as de Blasio faced the risk of legal entanglements or even prosecution from one state and one federal investigation into his fundraising activity. When prosecutors did not indict the mayor nor any of his close associates, Stringer demurred from challenging him.
In recent years Stringer has made a concerted effort to court the left, progressive wing of the party, building significant political capital with some while raising questions about where he stands ideologically and whether he's playing cynical political games in the interest of his own ambitions. Similar questions have been raised as he's shifted from a more developer-friendly borough president to a mayoral candidate disavowing campaign contributions from major real estate players.
Like Johnson and Donovan, Stringer is facing questions about being a white man running for mayor in an increasingly diverse city, and running against at least two, if not three candidates of color, two of whom are women. New York has never elected a woman as mayor and has not elected a person of color since David Dinkins became the city's first Black mayor in 1990. Asked after the announcement about whether the city may want to see a person of color elected next year, Stringer insisted that he can build a broad base of support and will represent the interests of communities of color as he has throughout his career. "I've assembled what I think is the beginning of a multiracial, intergenerational group of supporters. And I'm going to go to every community...and I'm going to make my case," Stringer said. "I believe people vote for the mayor who best represents the hopes and dreams of every diverse community...I ask people to vote on the basis of how we bring the city back economically for communities of color. Who's the best person who has the track record and experience and the social justice credibility from a government lens to get this done."
In state elections over the last few cycles, Stringer endorsed a lengthy list of progressives, including a number of women of color, some of whom were challengers who successfully ousted Democratic incumbents and helped shift the balance of the state Legislature to give Democrats full control. Several of those he endorsed introduced him on Tuesday, reciprocating the support, including State Senators Allessandra Biaggi, Robert Jackson, Jessica Ramos, and Julia Salazar, and Assemblymembers Catalina Cruz and Yuh-Line Niou. Other elected officials also joined in support, including State Senator Brian Kavanagh, Assemblymembers Al Taylor, Linda Rosenthal, and Robert Carroll, and state Assembly candidate Amanda Septimo. The initial wave of endorsers represents parts of four boroughs other than Staten Island and a large group of the state's younger, more diverse vanguard of progressive leadership.
Stringer has also in recent cycles endorsed the far-left candidacies of Jamaal Bowman, who successfully ousted Rep. Eliot Engel, and Tiffany Cabán, who narrowly lost in the 2019 Democratic Primary for Queens District Attorney. Both Bowman and Cabán, like Salazar, are members of the New York City Democratic Socialists of America.
Asked on Tuesday about seeking the DSA endorsement for mayor, Stringer demurred, saying he would be pursuing support from many groups and he did not want to get into a specific list at today's announcement.
Ben Max contributed to this story.