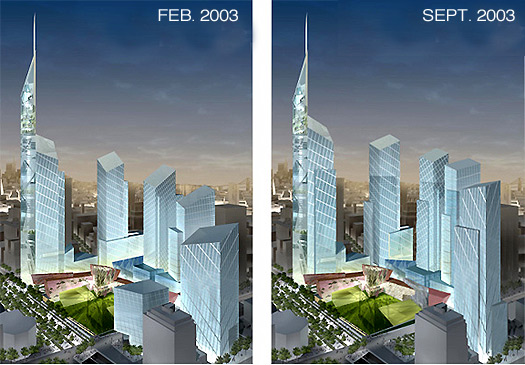 Rebuilding officials released a revised master plan for the World Trade Center site on September 17. At first glance, architect Daniel Libeskind' s revised design looks much the same as it did when first revealed in February (click here for a virtual tour of the original design), with a ring of towers rising in a spiral from south to north up to a 1,776-foot-tall spire.
But in the new version, the five towers that surround the sunken, green memorial area are slimmer, and three of them are taller. Libeskind modified the towers to make them less bulky, and allow more sunlight to shine into the site. They also allow for more retail space. Other major changes to the design include a new park at the southern end of the World Trade Center site, and reconfigurations below ground.
"I stand by all of the changes," Libeskind said when he presented the new design. "I was not forced to make them by anybody. They create spaces that are viable commercially and buildable and that recognize all the complex interests that are not only on the ground level but also what's below."