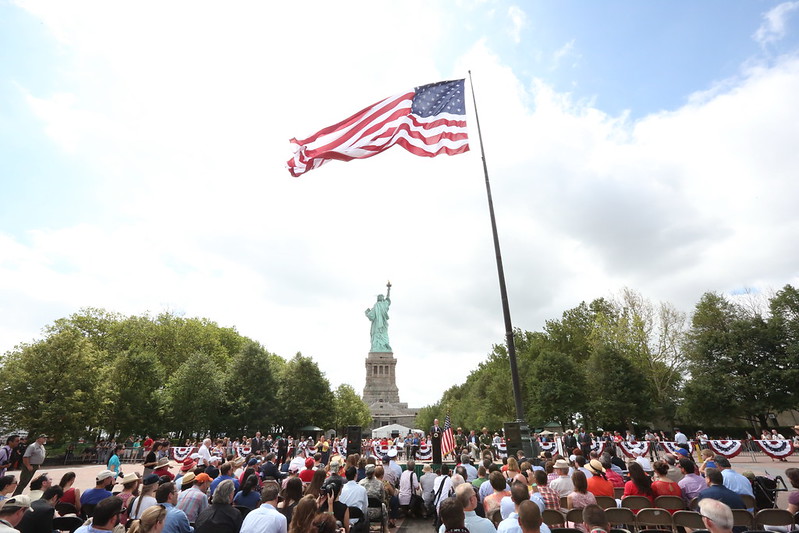 Visitors to the Statue of Liberty (photo: Spencer T Tucker/City Council)
---
New York City's tourism industry has a long road to recovery and a lot to learn from other cities like London, which has kick-started its economy through hyperlocal tourism, to come out of the coronavirus pandemic recession. During a virtual policy forum this week hosted by the Center for an Urban Future, top tourism officials from other major cities and New York-based stakeholders discussed laying the groundwork for tourism recovery here and elsewhere.
The city's tourism industry thrived in 2019 for the tenth consecutive year, with 66.6 million visitors whose spending generated about $70 billion in economic activity and supported almost 400,000 jobs, according to NYC & Company, the city's official marketing organization. Domestic travel accounted for 53 million people whereas international visitors accounted for 13.5 million. The industry expected around 68 million visitors in 2020, a 2% increase from last year, but instead the effects of the pandemic have made it among the most decimated sectors of the economy, in company with other related and interdependent industries.
Industries and sectors reliant on tourism, such as restaurants, retail, arts and entertainment, and travel accommodation saw sizable declines, with over 200,000 jobs lost since February, according to CUF. "In New York City today, we're experiencing an economy with 67 million fewer consumers," said Fred Dixon, president and CEO of NYC & Company, a position he was appointed to by Mayor Bill de Blasio in early 2014. "The ripple effect it has on not just the hotels and attractions but the cultural fabric of our city, on the restaurant and the hospitality workers, on retail, it is profound."
The pain experienced by those in the tourism and related industries has also been part of the city's massive, sudden drop in expected tax revenue, leading to a significantly reduced city budget passed July 1.
During the first of two panel discussions at the event, tourism officials from Montreal, London, San Francisco, and New York City discussed marketing initiatives their cities have taken to revive affected industries. Because of quarantine protocols and travel restrictions, these cities have launched hyperlocal campaigns to target their own residents and support local businesses to boost their economies.
In London, the city shifted its focus from the international market to the domestic market with the "Because I am a Londoner" campaign, which encourages Londoners to support small businesses and safely rediscover their own city. They've also launched campaigns like "Eat Out to Help Out" offering 50% off at select restaurants throughout August, where the government picked up the other half of the tab, and the "Pay it Forward" campaign, which crowdfunded for small businesses.
Similarly, Montreal's tourism officials have been targeting Montrealers to sightsee in their own city by providing real-time information about open businesses and attractions and offering deals and discounts on their upgraded website. The city also reinvented their downtown area with art, created large terraces, and hosted popup events to attract residents in outdoor spaces.
In the United States, California banded its popular cities to create the "Calling All Californians" campaign encouraging locals to explore destinations within the state. "For the first time ever we're focusing on in-state visitation," said Joe D'Alessandro, president and CEO of San Francisco Travel Association, the city's travel and tourism organization.
In comparison to other top tourist spots, New York City is behind. This is in part due to having been hit so hard by the coronavirus, according to Dixon. "New York is a little bit further behind some of the other destinations because of the impact of the epicenter and our government leaders have been very slow to respond, I would say to make sure there is public health safety in mind first of all but as things start to reopen I am hopeful we will see more of these pieces," Dixon said, referring to the city's "reopening," a process that has largely been dictated by state officials led by Governor Andrew Cuomo, with some input from Mayor de Blasio and others.
In July, New York City launched "All In NYC," a campaign created to kick-start 'tourism' by targeting New Yorkers. The campaign was created by Arulidenen, a city marketing firm, in partnership with NYC & Company and is aimed at inspiring New Yorkers and those close by to explore within the five boroughs and support local businesses.
Dixon said the second phase of "All In NYC" would take off mid-September and it has since done so, including a new program, Neighborhood Getaways, which promotes offers on attractions, dining, hotels, shopping, and tours across the city. It will run until the end of the year and has potential to expand into next. "This recovery needs to be arts and culture led," said Dixon. NYC & Company partnered with 50 emerging artists to create public art across the five boroughs. The next phase will also feature free programming at museums and art centers that have reopened.
The program will be promoted "through press outreach, digital media and out-of-home placements on LinkNYC screens and JCDecaux bus shelters throughout the five boroughs," according to NYC & Company's website. As tourists return, the campaign will gradually shift its focus toward the regional market and eventually the domestic and international markets.
A vital step on the path to tourism recovery is increased public funding for NYC & Company, said President of Times Square Alliance Tim Tompkins. "The organization's overall budget of $38.6 million has not stayed competitive with that of tourism promotion agencies in other global destinations," CUF reported.
In contrast, Los Angeles spends almost $50 million, Barcelona spends $78 million, and Shanghai spends $210 million annually on marketing. The center also found the city spends less than $4.50 on tourism promotion per resident, a small amount compared to other cities like Denver, which spends $40 per resident. Although Mayor de Blasio nearly doubled funding during his tenure, an investment into the organization can help the tourism industry recover.
Broadway, one of the city's biggest tourist attractions, is decimated, Tompkins said. About 70% of jobs were lost in the performing arts industry due to closures, according to CUF. In a survey by the National Independent Venue Association, 90% of independent venue owners said they will be forced to close forever without government aid.
The "Save Our Stages Act," a bipartisan federal relief bill to help struggling independent venues, was proposed by U.S. Senators Amy Klobuchar and John Cornyn in July and later co-sponsored by Senator Chuck Shumer of New York. It would provide financial support to "keep venues afloat, pay employees and preserve a critical economic sector for communities across America" for six months, according to a press release. It has yet to pass Congress despite that bipartisan support, whereas overseas, the United Kingdom and France each announced $2 billion bailouts to protect their arts and cultural sectors and their workers.
Small museums are also facing similar challenges, said Olga Tirado, executive director of Bronx Tourism Council and host of the Go Bronx podcast. CUF reported almost 34% of jobs were lost in the museum industry due to closures, and with low capacity rules, small-scale museums need money to make changes and abide by the guidelines as they reopen.
During the second panel, New York City stakeholders also discussed the importance of small businesses and how to support them during this uncertain time. "We need to get the engine and the soul of the city back," said Marcus Samuelsson, chef and owner of Harlem's Red Rooster, referring to small businesses and retail. As a restaurant owner, Samuelsson said he is extremely disappointed by city government's leadership with regard to supporting businesses. With no clear indication at the time of the forum as to when indoor dining would be allowed to resume, Samuelsson said a date and criteria were vital for restaurants in order to prepare and survive. Shortly after the forum, Governor Andrew Cuomo announced indoor dining is set to reopen in New York City on September 30, with restaurants limited to 25% capacity and several other required safety measures in place. It is a milestone for the city and a major stride toward tourism recovery, assuming it goes according to plan and the city is able to continue its reopening process, which would include 50% indoor restaurant capacity in the next phase.
Frustration with city and state government was shared by other panelists including City Council Member Keith Powers. "It is a massive failure that we don't have a real plan to help out small businesses," he said, referring largely to the de Blasio administration. "They need guidance, certainty. They need relief." Powers released a report in August on further actions that can be taken for small business recovery including rent relief, waiving the commercial rent tax, eliminating fines, extending outdoor dining, and more. Some of the pieces can be passed by the City Council he is a member of, while other parts could be moved by the mayor.
Tourists are coming back, Alexandra Dagg, senior policy director for the Northeast and Canada at Airbnb said. There has been a rise in searches and bookings for U.S. cities, she said. In order to attract more tourists, Tompkins and Powers both agreed that the city has to tackle its issues and the perception that New York City is 'dead' or in steep decline. "This has got to be dealt with," Tompkins said. Before tourists return, "efforts must be made towards safety and security."
Reminding locals and visitors that the subway is safe is also crucial to reviving the economy, according to Powers. "Covid has not gone away, but we are doing much better than other places and it is safe to ride mass transit," said the Manhattan Democrat. The virus is under control here and New York City is a good destination right now, said Powers, referring to the state's low positivity rate of under 1% for well over a month. The mayor and governor should be riding mass transit, Powers said, to demonstrate it's safe and combat the stigma behind it.
Full recovery from the virus could take until 2024, the experts said. "This is an opportunity to help us reset," Dixon said regarding the tourism industry, "to not only recover but make sure it's more equitable in it's recovery."