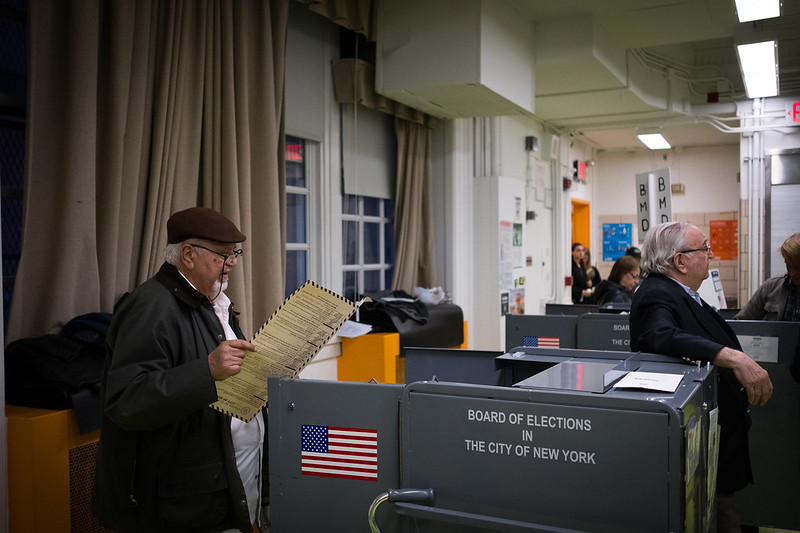 New Yorkers soon head to the polls (photo: Edwin J. Torres/Mayoral Photo Office)
---
The 2020 general election results in New York City may not be known until mid-December, six weeks after Election Day, according to Michael Ryan, the executive director of the New York City Board of Elections.
Ryan told members of the New York City Council Friday that New Yorkers could expect election results between December 8 and 15, around the same length of time it took in the primaries but ages beyond the unofficial results New Yorkers have come to expect on election night. The timeline means certified results will come just in time for the Electoral College to formally select the next president by the mid-December deadline.
"We have to complete certification in order for the electors in the Electoral College [to vote], so I would say in the December 8 to December 15 range." Ryan said at an oversight hearing Friday in response to questions from members of the Council's Committee on Governmental Operation.
"But we're already working on all of that and the idea is to try to get it done as quickly as we possibly can. We don't want to play brinkmanship," he said.
The Electoral College is set to formally elect the president on December 14.
State regulators said Ryan's projection misses the deadline to certify results set in New York's election law by about two weeks.
"I will simply remind the city board that the statutory deadline for completing the canvass is November 28," said Douglas Kellner, co-chair of the State Board of Elections, which has oversight power over local boards, in his testimony later in the Council hearing.
"I point out that that's the Friday after Thanksgiving and the state board has made it very clear that the counties must gear up to meet that," he added.
As was the case in the June primaries, finding out the winners will take weeks due to the high volume of absentee voting expected in the general election. On the ballot this year along with president and vice president are races for all of New York's seats in the U.S. House of Representatives and both houses of the State Legislature, among other state and local offices.
Traditionally, local boards of elections have been able to confidently publish "unofficial" results on election night, a tally of all the in-person votes cast. In a typical New York election, these account for a vast majority of votes, with official results released later once a relatively small number of military, overseas, absentee, and affidavit ballots are counted. But with absentee voting expanded to all registered voters due to the coronavirus pandemic, mailed ballots could make up nearly half the total ballots. In New York City, the BOE is anticipating as many as 1 million absentee votes, Ryan said.
Absentee and other mailed-in ballots take more time to be counted. Along with other requirements, officials must crosscheck each ballot with those received at each of New York State's 62 county boards of elections to ensure that no absentee voter voted at a poll site -- any in-person vote nullifies a mailed vote.
There are some steps administrators can take to try to speed up ballot canvassing (the actual counting of votes), but they are limited by statutory requirements.
One method is to maximize the number of ballots cast in person, which can be tallied almost immediately by ballot scanning machines at each poll site, but which in the pandemic comes with some health risk, especially for the most vulnerable populations. The BOE and other city agencies have been promoting early voting as an option for in-person voting that does not carry as much risk of exposure to COVID-19 as a crowded poll site would. There will be eight days of early voting offered from October 24 through November 1; Election Day is November 3.
The New York City Board of Elections has also purchased ballot counting machines for each borough, which have the capacity to digitally scan and copy two-sided ballots and ballot envelopes. The technology will save hundreds of BOE staff person-hours typically required to make photocopies of ballot material to be used as evidence in court challenges. The scanners mean more efficiency in handling ballot challenges and more personnel and space available for canvassing.