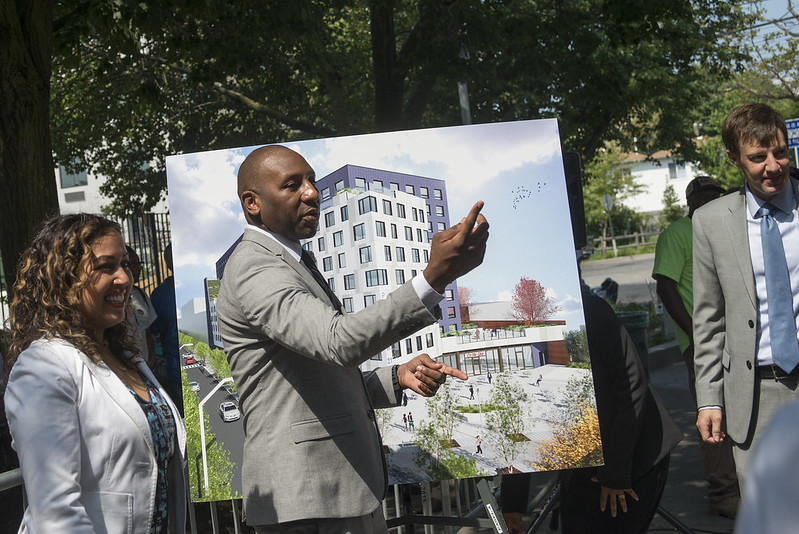 City Council Member Donovan Richards (photo: Jeff Reed/City Council)
---
Donovan Richards' likely ascension to become the next Queens Borough President at the start of 2021 would trigger a special election to replace him in the City Council in the 31st District in Southeast Queens. With several candidates already in the race to replace Richards -- a Democrat who is term-limited out of his current position at the end of 2021 anyway -- and additional potential candidates circling, the likely special election is already shaping up to be one of the most contentious City Council races of next year.
The entire 51-seat Council will be on the ballot, along with the rest of city government, through the 2021 June primaries and fall general election, but several special Council elections, including in the 31st District, are likely for earlier in the new year. Bronx Council Members Ritchie Torres and Andrew Cohen are both also likely to win new positions, creating vacancies at the start of the year that could be filled via special election in late February or March -- elections that are slated to be the first city use of ranked-choice voting, which will apply to special and party primary races beginning in 2021.
The 31st Council District includes portions of Laurelton, Rosedale, Far Rockaway, the Rockaways, South Ozone Park, and Springfield Gardens. It is split between "mainland" Southeast Queens neighborhoods like Laurelton and Rosedale, and the Rockaways, which are somewhat separated largely by John F. Kennedy Airport (also one of the district's main employers) and Jamaica Bay. According to Census data, the district is 68% Black, 16% Hispanic, and 11% white.
The "mainland" portion of the district consists predominantly of older and Black residents. In one neighborhood, Laurelton, which is 90% Black, the percentage of owner-occupied housing units is 70% and the median household income is $87,780. The Rockaways portion of the district has a higher percentage of white residents, includes a mix of younger people, and also a significant Orthodox Jewish community.
Southeast Queens has garnered a reputation in recent years as being a stronghold for the Queens County Democratic Party, in part because the area is home to the new county party chair, Rep. Gregory Meeks, and provided the strongest base of support for county party-backed Melinda Katz in her 2019 Queens District Attorney primary against public defender Tiffany Caban, now a Council candidate herself in Western Queens, and for Richards among a crowded field in this year's Borough President race, which only occurred because of Katz's shift to the DA position.
While the area has supported such county-backed figures with strong ties to the political establishment, its voters have also elected progressive State Senator James Sanders Jr. and, this year, community activist Khaleel Anderson, who won decisively in a primary for State Assembly against a county-backed opponent. But it's not always as simple as county party-backed establishment figures versus progressives within the Democratic Party: Richards has a progressive track record, and recently voted against this year's city budget because he believed it did not go far enough in defunding the NYPD's budget.
The 31st Council District in some ways represents why ranked-choice voting was seen as desirable for Democratic primaries and special elections. In a 2013 special election, Richards barely won his Council seat, by a margin of just 70 votes, over Pesach Osina, an Orthodox Jewish candidate, with both garnering around 29% of the vote. Richards was among six Black candidates vying for the seat, all of whom together earned roughly 70% of the vote combined, while the lone non-Black candidate nearly won the race with less than half their total.
Now, as the likely special election approaches, Osina is back, though among a different field and with the new ranked-choice system in place.
Candidates and Potential Candidates
With several candidates already running or considering runs, this change could prove especially pivotal to the ultimate outcome of the race. Six people have either entered the race or expressed interest in doing so in some form, including Manuel Silva, Richards' chief of staff; Franck Joseph, Deputy Commissioner for the City's Human Rights Commission; Latanya Collins, a 2017 candidate for the seat; Monique Charlton, a consultant for the Department of Education; Latoya Benjamin, director of economic development in State Senator Sanders' office; Osina, who previously worked in the New York City Comptroller's office; and Jazmine Outlaw, an activist with the Rockaway Youth Task Force.
Gotham Gazette spoke with Silva, Joseph, Benjamin, Charlton, and Outlaw, while Osina has not responded to an interview request and Collins was unreachable. Silva, Collins, Charlton, and Benjamin are currently in the race, while Osina and Outlaw have not yet officially entered.
In a statement to Gotham Gazette, Joseph said "my focus right now is to help New Yorkers as I fulfill my duties at my agency." He indicated that, while he does have a campaign account open, he is not actively campaigning at the moment and is still undecided as to whether he will enter the race.
One person familiar with the district said that they thought Assemblymember Alicia Hyndman, whose 29th Assembly District overlaps with the 31st City Council District in Laurelton and Rosedale, could enter the race. Hyndman's office declined an interview request. If she were to enter the race, Hyndman would immediately be a frontrunner, if not the clear favorite, given success rates for state legislators moving to the City Council and vice versa.
Four candidates had open campaign accounts at the time of the last filing deadline on July 11. Osina had $10,403 in cash-on-hand; Silva had $7,100; Benjamin had $3,219; and Joseph had $3,925. Osina led the candidates with 169 donors to Silva's 127, while Benjamin had 30. The other candidates and potential candidates did not have open campaign accounts with the city Campaign Finance Board at the time of the last filing deadline.
A Unique District
"This is a very unique district. It has extremes of wealth and poverty. And then there's a geographic difference between the Rockaways and the mainland, if you will," said Sanders Jr., the state senator who preceded Richards in representing the 31st Council District. As Sanders notes, Laurelton is one of the few neighborhoods in the country where Black income surpasses white income. At the same time, there are seven NYCHA public housing developments in the Rockaways alone.
"The Black community in Southeast Queens is politically liberal, but socially moderate," said Sanders, who attributes his electoral success as "an unabashed progressive" to his ability to deliver effective constituent services.
"This is going to be a fascinating race," Sanders said. "This is going to be one for the history books."
Khaleel Anderson surprised many by winning the June Democratic primary for the 31st Assembly District (which overlaps significantly with 31st Council District). "It should've been covered like every other race," he said, and "I was surprised" it was not.
"We're probably the farthest away from Manhattan possible," Silva said, when asked about the lack of attention races in the area receive.
"Southeast Queens is more open-minded than folks give us credit for," Anderson said, when asked about the area's reputation as of late as a political-establishment stronghold. "Southeast Queens definitely can be and is a bastion of new ideas and ambition, but they love to see folks who have fought the fight alongside them."
"Progressives have been running and they've been winning, but [the Queens Democratic Party] is still in denial that we exist," said Milan Taylor, the CEO of the Rockaway Youth Task Force, noting Anderson's recent victory. "It's like they're trying to wish it away. To a certain extent, this is a changing of the guard. These candidates are young. They're literally the future of Southeast Queens and of our city."
Manuel Silva
Like some other chiefs of staff to term-limited City Council members, Silva is running for his boss' current job. However, unlike counterparts Erik Bottcher (Corey Johnson, CD-3) and Nicholas Roloson (Costa Constantinides, CD-22), Silva does not currently have his boss' endorsement. He identifies himself as a "100% hardcore progressive" and said he would be seeking the Working Families Party's backing.
"City Council is probably the most important seat in local politics," Silva said, when asked why he had decided to run. He pointed to flooding, budgetary issues, and reforming public safety as important issues for the local community. "We need leaders who are going to make bold decisions and push our city into the 21st century."
"We need to demilitarize the NYPD and look at our public safety system in general," said Silva, who said he supported reallocations of at least $1 billion away from the NYPD budget but "I just wouldn't use that terminology," referring to the "defund NYPD" slogan.
"I want to create programs around affordable home-ownership," Silva told Gotham Gazette, while also expressing his support for affordable housing throughout the city, pointing to his work with Council Member Richards as something he would want to replicate.
Jazmine Outlaw
In addition to her work with the Rockaway Youth Task Force, Outlaw has been president of the 101st Precinct Council and is an EMT. "I've been doing this since I was 17 and it just snowballed from there," Outlaw said, of her organizing background.
"There's a difference between a career politician who's worked for a senator and then people who've built things from the ground up and understand the community's needs," Outlaw said, when asked why she would run for Council."I think we need more of those people stepping up and holding a seat at the table."
"Things were wrong in our community and our voices weren't being heard, from a youth standpoint," Outlaw said, about why she joined RYTF, at which Anderson also grew his organizing chops. Outlaw said ending the school-to-prison pipeline and public safety are among her top priorities, pointing to her work on her local police precinct council.
"It's really about police officers and the police department not taking the time to learn about our communities," Outlaw said. "At the place we are now, we really need to take a different look at what we think of as community safety. I know for a fact that our community members don't think of the police as a means of safety." She said mental health services, youth programming, and affordable housing are necessary for public safety; and, she supports defunding the NYPD by at least $1 billion out of its roughly $6 billion annual operating budget.
"We need to focus on community-based alternatives to police and having a restorative-based approach," Outlaw said. "A lot of the time police officers are band-aids to community problems and don't deal with the root causes."
"We need to prioritize making sure that health care is accessible for all. There needs to be a major shift in making sure that communities of color are getting the services they need," Outlaw said, noting that the Rockaways were among the hardest-hit communities in New York City during the pandemic.
"There's a progressive movement within Southeast Queens," she said, noting this year's Black Lives Matter protests. "I think we need somebody who sees those issues and is ready to bring lasting change. This is something that is possible, despite what naysayers may say."
Latoya Benjamin
Benjamin, who serves as the director of economic development in State Senator Sanders' office, said she's running because the Council has a more direct role in economic development projects than the State Legislature. "I want to advocate for the changes in development I want to see in the community," she said in an interview.
Benjamin points to the effects of COVID-19 as the top issue facing the local community, noting that one of the first coronavirus cases in New York City emerged in Far Rockaway and that "A lot of the leadership positions in our community are our elders and they're no longer here.
"Covid further exposed the disparities that take place within our communities," said Benjamin, who said she'd focus on bringing more public health resources to the local community.
"I'm a native, born and raised here," Benjamin said, arguing that her experiences make her uniquely qualified to bring jobs and public resources back to the district. She diagnosed the failure of the Amazon 'HQ2' deal (which Richards supported) to Amazon "failing to do community outreach," contrasting it to the recent expansion of John F. Kennedy Airport, where "The public and private sector worked hand-in-hand to get the local community's support."
Benjamin said her criteria for supporting new developments in the land use process would be "If the development meets the needs of the local community," particularly noting that the local district has a deficit of health-care facilities.
On public safety, Benjamin said, "I support reevaluating the entire system" and "I believe that there are other ways to improve police-community relations." While she supports reallocating resources away from police programs "that aren't really useful," she said, "I don't think the blanket statement of 'defunding the police' is going to solve that."
Monique Charlton
"I'm a part of a demographic that is underrepresented in the City Council," Charlton said. "I'm a Black woman, a mother of a child under 18, and I'm running to represent a voice that's not frequently heard."
"I do think that with some of the decision-making in our legislative body, it's not necessarily thoughtful or demonstrating concern for the family. Putting family people, specifically mothers, into a body that has been failing mothers will definitely make a difference," Charlton said.
She lists education, health (particularly women's health), housing, and jobs as her top issues. One of her focus areas if elected to the City Council would be "Ensuring that hospitals and health institutions see that Black mothers and all expectant mothers get the care they deserve." She proposes that "The city assist new moms four months post-birth." Details of this plan would be forthcoming, Charlton said.
"I see the shortcomings of the schools, particularly when it comes to funding," Charlton said. She is also advocating remerging schools that were formerly divided, saying "It worked for a while but now with several changes that have occurred it's time to bring schools back together." She believes this will help with funding issues.
Charlton praised Council Member Richards' land use policies, saying, "I think it's important that the community be involved in the decision-making and how it affects our families."
On public safety, Charlton said, "I would agree that we should reallocate some of [the NYPD's] money to social services," such as moving mental health crisis responses away from the police department.