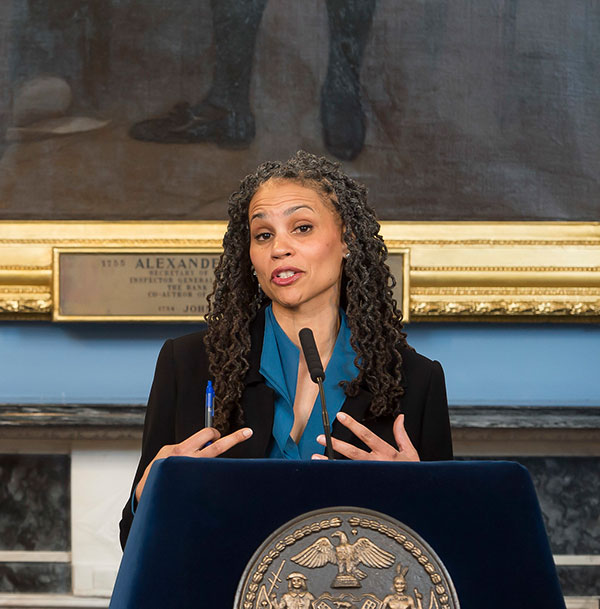 Maya Wiley at City Hall (photo: Rob Bennett/mayor's office)
---
Maya Wiley, a civil rights attorney and former counsel to Mayor Bill de Blasio, is running to succeed the term-limited de Blasio as mayor of New York City in the 2021 election.
Wiley, a Democrat, officially announced her campaign in a video posted online Wednesday evening, which will be followed by a launch event outside the Brooklyn Museum on Thursday. In the video, Wiley offers an initial message of a city with greater equity and unity and presents herself as "not a conventional candidate," needed now to tackle new and long-standing crises New York City faces, especially amid the continued fallout of the coronavirus pandemic and a resurgent Black Lives Matter movement in response to police brutality.
While she provides no specifics about her background or her plans for the city in the video, Wiley strikes key themes that promise to be the foundation of her campaign. Like every candidate, she will have to offer solutions to the socioeconomic devastation wrought by COVID-19, but Wiley is also expected to place police reform and racial justice, education equity and the desegregation of city schools, and economic opportunity at the center of her candidacy.
Most recently, Wiley has been a professor of social justice at The New School and an MSNBC legal analyst, though she stepped away from both roles as she has prepared to run for mayor. Previously, Wiley was appointed chair of a police oversight board by de Blasio in mid-2016 when she left his office, where she had been his top counsel and worked on issues including internet access equity.
Pointing to the devastating impacts of the COVID-19 outbreak in New York and "a crisis of confidence in our city's leadership" -- a line clearly meant to differentiate herself from de Blasio -- Wiley says in the video that "some will say I don't sound like past mayors, or look like them, or think like them — and I say, yes, I don't, that is the point."
"The risk," she says, is not "changing it up" with a candidate like her, who has not held elected office before and would be the city's first woman and first woman of color to be mayor, but in "electing the same kinds of people bringing the same kinds of broken promises over and over again."
Wiley joins a still-developing Democratic primary field that includes declared or exploring candidates such as city Comptroller Scott Stringer, Brooklyn Borough President Eric Adams, former nonprofit executive Dianne Morales, former city Sanitation Commissioner Kathryn Garcia, former city Veterans Affairs Commissioner Loree Sutton, former top official in the Bloomberg and Obama administrations Shaun Donovan, and finance executive Raymond McGuire. The primary, the first mayoral election to use ranked-choice voting, will be in June of next year. All of city government is on the ballot next year, with most offices, including mayor, seeing turnover due to term limits.
Never having run for elected office before, Wiley joins a likely field where that characteristic is more common than not -- only Stringer and Adams have run for or held an elected government post. While Wiley has no existing political base of voters, a challenging place to start, she also has the opportunity to capitalize on her many political and civic connections, relative fame from MSNBC, and large social media following. She does not have a government record to tout or defend beyond her work for de Blasio, which will likely offer several hurdles she must leap but allows her to try to make her campaign mostly about her larger resume, ideas for the city's future, and ability to connect with voters personally.
Like declared candidates Adams and Morales, and McGuire if he runs, Wiley is seeking to become the city's second Black mayor. Morales is the only Latino candidate in the field, while Stringer, Donovan, Garcia, and Sutton are white.
In order to win, Wiley will likely have to assemble a coalition similar to de Blasio's when he won the crowded 2013 primary: white progressives and voters of color, especially Black voters. But she likely won't be seeking de Blasio's endorsement, a reflection of the mayor's limited popularity, even among Democrats. Like other former de Blasio administration officials Garcia and Sutton, Wiley will have to navigate many questions about the current mayor's record.
For Wiley, that will include de Blasio's ethical problems, particularly when he tried to shield email communications with outside advisors that Wiley termed "agents of the city," a classification that did not hold up in court when news organizations NY1 and the New York Post successfully sued to overturn denied Freedom of Information Law requests. Having chaired the Civilian Complaint Review Board (CCRB), which investigates some forms of police misconduct, Wiley will also be asked about NYPD reform, or lack thereof, an issue she has recently been outspoken about, most notably by calling for the firing of Police Commissioner Dermot Shea amid what she deemed as inappropriate NYPD response to protests against racist policing.
Wiley has a long history, prior to joining the de Blasio administration, of working to protect civil rights and foster greater racial and social equity, including at the NAACP Legal Defense Fund, and she appears poised to make police reform a major focus of her mayoral campaign. She may also choose to separate herself from the mayor based on her work co-chairing a task force that de Blasio assembled to tackle the city's deep school segregation but the most aggressive recommendations of which the mayor ultimately sat on for many months leading up to the covid outbreak, which put the proposals deeper on ice.
And, among other issues, Wiley is likely to make universal internet broadband access a key tenet of her pitch after having worked on such issues both in the de Blasio administration and since joining The New School faculty.
Wiley will give more insight into the initial focus areas of her campaign at her Thursday launch event, where, according to her campaign, she will be joined by supporters from all five boroughs and elected officials endorsing her including State Senate Deputy Leader Michael Gianaris of Queens.
Wiley's campaign has staffed up in the lead-up to her launch. Her strategist and general consultant is Jon Paul Lupo, another veteran of the de Blasio administration. As is Alison Hirsh, a senior advisor to the campaign who has deep labor connections and other political relationships in the city. They've brought on campaign manager Maya Rupert, who was deputy campaign manager for Senator Elizabeth Warren's presidential run and campaign manager for Julian Castro's bid. Akilah Ensley, a veteran of Andrew Gillum's Florida gubernatorial campaign and Michael Blake's Bronx run for Congress, is also on the team. Wiley has hired consultants from Precision Strategies for communications and press, Brilliant Corners Research for polling, GPS Impact for digital strategy. New York City Council veteran Matt Gewolb is leading her policy planning; Cathy Albisa is her campaign treasurer.