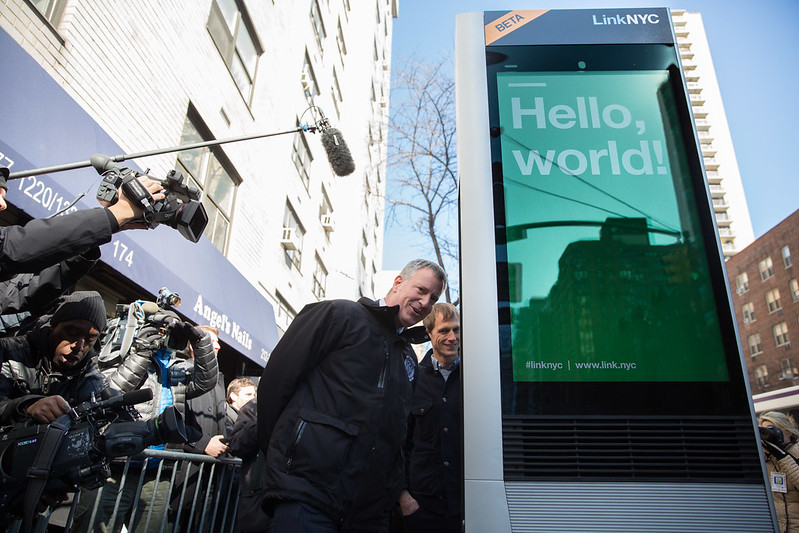 Mayor de Blasio at a LinkNYC kiosk (photo: Appleton/Mayoral Photography Office)
---
As the pandemic forced New Yorkers to shelter at home, Mayor Bill de Blasio's administration launched several efforts to assist those who lacked the necessary access to the internet to adapt to working and learning virtually. But there remains a deep digital divide across the city, particularly in terms of lack of access in low-income communities of color, creating significant challenges for students, residents of homeless shelters and public housing, and others.
According to city data, 40% of households in the city -- home to roughly 3.4 million people -- don't have both home and mobile internet connections, and 18% have neither. At a hearing on Tuesday, City Council members sought solutions to the major gaps as they and advocates decried a slow pace of progress that has left far too many New Yorkers behind. While city officials acknowledged that progress has taken years, they pointed to accomplishments over recent months and predicted that the administration's efforts will scale up significantly next year, providing internet access to hundreds of thousands of New Yorkers who currently lack it.
"The pandemic and its consequences of online transition highlight the disparities between those with home internet access and internet-capable devices and those without," said Council Member Bob Holden, who chairs the Committee on Technology, in his opening remarks. Given that city agreements with internet providers are also part of the picture, the hearing was held jointly with the Subcommittee on Zoning and Franchises, chaired by Council Member Francisco Moya.
As Holden and others at the hearing noted, the lack of internet access is an issue of inequity as New Yorkers go online to seek city services. "Internet access is not a luxury. It is a basic right that can open numerous doors. But we still have thousands without reliable access," said Public Advocate Jumaane Williams, noting that the city shifted to providing welfare benefits such as food stamps and rental assistance largely online during the pandemic and that many in-person enrollment centers continue to remain closed. "This compounds inequalities for the poorest New Yorkers," he said.
Before the coronavirus hit New York, the mayor had in January released an "Internet Master Plan" that was years in the making and aims to provide affordable and accessible high-speed internet across the five boroughs. In July, in response to the pandemic and the desperate need for more at-home internet, the city announced an acceleration of the plan with a $157 million capital investment aimed at expanding internet access to 600,000 underserved city residents, including 200,000 residents living in New York City Housing Authority (NYCHA) public housing developments, by the end of next year.
In testimony before the committees, John Paul Farmer, the city's chief technology officer, touted the internet master plan as the "most ambitious" plan of its kind across the country, noting that it would create $142 billion in gross city product and 165,000 jobs by 2045. "The current system is broken. Letting the market alone determine how to serve New yorkers has left 3.4 million people behind," he said.
Farmer said the administration had recognized the need to implement parts of that plan on a faster timeline in response to the pandemic, with a specific focus on public housing. The city has already distributed 10,000 internet-capable tablets to older adults living alone across 288 NYCHA developments; the city also issued a bid for vendors to provide internet service options at NYCHA housing and is expected to make an announcement on it this fall, he said.
The next major step will be a solicitation for universal broadband – which would create broadband access in every nook and cranny of the city by contracting multiple providers to fill gaps where they exist and use city real estate and municipal buildings to facilitate that expansion. Farmer said a Request for Proposals (RFP) for that bid is being finalized.
The Department of Education also gave out about 321,000 tablets to students to facilitate the shift to remote learning, though the mayor recently said another 100,000 devices are needed and being ordered.
Council Member Holden said he was "very, very skeptical" of the administration's plans, noting that the mayor had first talked about broadband expansion in 2014, his first year in office. Even when announcing the acceleration of the internet master plan, de Blasio had promised that new pilot programs for internet access for NYCHA would be announced by the end of the summer, a deadline that came and went. "It seems to be that it's another one of the mayor's many promises that are not being delivered," Holden said, pushing Farmer to explain what, if any, progress had been made in six years.
Farmer emphasized, however, that much of the work had been done behind the scenes and that the city was "on the cusp of a transformation" in 2021. "The master plan didn't just come out of the blue," he said. "It has received praise from nationally-recognized experts in this space because it's so responsive to the reality and recognizes that there is no silver bullet."
The committee hearing also covered a proposed authorizing resolution submitted by the mayor to grant franchises for telecommunication services, specifically for the installation of fiber optics and cables across the city.
Michael Pastor, the deputy commissioner for legal affairs and franchises at the city's Department of Information Technology and Telecommunications (DoITT) said that resolution, along with the approval of pending legislation in Albany, would allow the city to "be able to immediately solicit proposals for additional residential broadband franchises to bridge the digital divide and drive down residential broadband prices, all while generating millions of new revenue for New York City."
Council Members Rory Lancman, Barry Grodenchik, and Ben Kallos all sought to ensure that any new franchises are accompanied by strong labor protections. They pointed to the ongoing labor dispute between Charter/Spectrum and the International Brotherhood of Electrical Workers (IBEW) Local 3, members of which have been on strike for three years. Pastor, however, said the city was constrained from including any collective bargaining mandates in the franchise agreement because of federal law, but could require greater reporting that would give the city a window into a company's labor practices.
Representatives of the major internet service providers – Verizon, Altice, and Spectrum – testified before the committees as well, laying out the challenges they face in providing broadband options across the city while also emphasizing their own responses to the pandemic, like discounted plans for students and educators, deferred payment for delinquent customers, bill forgiveness for low-income subscribers, limited free internet access, and more.
"We have an obligation to this city, to the people who are suffering the most throughout this pandemic," Council Member Moya told them. "The poor, the people in communities of color, that have been suffering throughout this entire pandemic still don't have the necessary basic needs to get through this. And you as the providers, the main providers here in the City of New York, have to take on a real responsibility here."
Smaller, independent providers sought to stress at the hearing that the city needs to encourage more competition to ensure more affordable broadband options for New Yorkers, allow access to city buildings and infrastructure, and build out its own fiber network to reduce costs.
"The digital gap in New York City is not about access, it's about affordability," said Virginia Lam Abrams, senior vice president of government affairs and strategic advancement for Starry. "Superfast broadband is available but it remains frustratingly out of reach for millions of families due to costs, the consequences of an uncompetitive broadband market."
"The woeful state of New York City's internet infrastructure should be ringing alarm bells throughout the City Council," said Robert Veksler, co-founder of Brooklyn Fiber.
Advocates emphasized urgency in solving the city's digital divide, particularly as the city's schools have reopened and more than half of students have been opted into all-remote learning by their parents and guardians Thousands of students live in homeless shelters and risk falling behind without adequate internet access. Senior centers are closed, leaving many older New Yorkers without ready access to information and services. And those seeking to leave homeless shelters cannot easily search apartment listings or connect to the city's online affordable housing portal since shelters lack basic access to the internet.
"Obviously, the pandemic has exacerbated the impacts of the digital divide and raised the stakes to literally life or death," said Sandra Gresl, a member of the New York City Bar Association's Social Welfare Law committee. "New Yorkers now need internet to apply for essential government benefits like food stamps, and homeless parents are now forced to risk their child's health and safety for the sake of their education or allow them to fall further behind with limited or inconsistent access to remote learning due to poor internet and cell service in shelters."
"Whichever approaches the city chooses, it must ensure that those with the most acute need are prioritized, that broadband is affordable and that any new broadband comes equipped with privacy and net neutrality protections," said Allie Bohm, policy counsel at the New York Civil Liberties Union. She pointed to the LinkNYC wi-fi kiosks around the city as an example of the wrong approach, saying the kiosks are mostly located in affluent neighborhoods and collect personal data from people who use them.
What the advocates agreed on is the need for a municipal broadband network. "Internet access must not be contingent upon someone's ability to pay or on whether it's profitable for a private company to connect them," said Will Luckman, a volunteer organizer with the New York City Democratic Socialists of America Tech Action Working Group. "The onus is on the government itself to ensure everyone is connected."
Lance Van Arsdale, assistant business manager for IBEW Local 3, pointed out that city agencies are already laying fiber optic cables in city-owned buildings. "That should be used as a stopgap, not to wipe out private competition but to be part of the competition, to make it honest," he said.
Note: this article has been corrected to remove mention of the LinkNYC kiosks collecting data from people who walk by them.